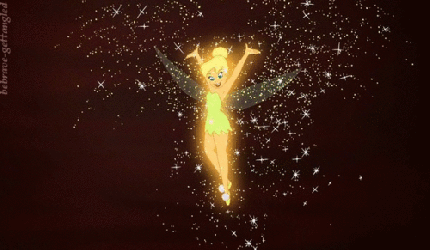 "Star Wars: The Last Jedi" is the most recent reminder Disney (DIS) still has the magic. It exceeded over $1 billion in revenue just three weeks after its release. But, everyone knows Disney is great at creating and promoting content. What I'm focused on here is pixie dust. The little known Disney magic that spreads throughout the organization that goes unnoticed by most investors. Seventeen of the top analysts cover Disney. If you want to know what everyone else knows, I suggest you pull up the analyst summary on nasdaq.com. However, if you want to know about the magic, read on.
Disney Controls Its Own Government
Think about it. How special would it be if you controlled the government? Improvements leading up to your house would be the best money can buy and it would all be financed with long term, highly rated tax exempt bonds. That's right. You get to pay a third less in debt service than the other guy. You could also set your own utility rates. And, as such, your electric bill would be half of your neighbors. Welcome to the magical world of Disney!
Reedy Creek Improvement District (the "District") was created in 1967 by a special Act of the Florida Legislature, the purpose of which is to support and administer certain aspects of the economic development and tourism within District boundaries. Mainly, The Walt Disney Company.
"The District is responsible to oversee land use and environmental protections within the District, and provide essential public services (e.g. fire protection, emergency medical services, potable water production, treatment, storage, pumping & distribution, reclaimed water distribution, chilled and hot water systems, wastewater services, drainage and flood control, electric power generation & distribution, and solid waste and recyclables collection & disposal); regulate the EPCOT Building Code; and operate and maintain all public roadways & bridges."
Per the District's charter, the Board is the governing body of the District. The Board consists of five members that hold the office for four years. A majority of the members of the Board have to be landowners. You guessed it, Disney. In other words, Disney controls the government that was created to govern Disney. How's that for a little magical pixie dust!
The World's Largest Talent Pool
If you've ever visited a Disney resort at Walt Disney World, you were greeted by an army of bubbly, smiling, very bright young men and women eager to please. With a tight labor market, have you ever thought about where they come from? Well, wonder no more.
Think of a continual wave of bright college graduates lined up for an opportunity to work for next to nothing at the Walt Disney Company. The University of Central Florida in Orlando, Florida, the home of Walt Disney World, is one of the best kept secrets for young talent. It has an undergraduate enrollment of over fifty-five thousand students. It has rapidly become the largest University by enrollment in Florida and one of the largest in the nation. Below is what the university's growth in degrees looks like.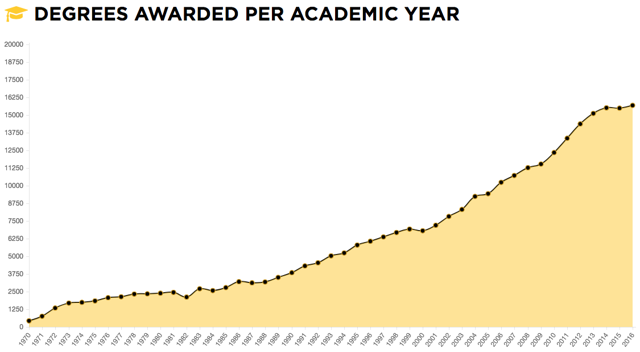 Rosen College of Hospitality Management, as part of the University of Central Florida, was recently ranked No. 2 in the world as a hospitality and hotel management school, according to CEOWORLD Magazine.
At Walt Disney World, not only do you control your own government, but you have a state supported university, that's one of the largest, highest ranked universities in the world at your doorstep.
Magical Margin Growth
So, Disney is unlike most other companies. It gets to set its own utility rates, pay a portion of its debt at tax exempt rates, and utilize one of the largest, best state educated talent pools in the world. And, that's only a glimpse at some of the magic. As an investor, what's important is how does the magic translate into bottom line results.
Based on data from macrotrends.net, Disney has a net profit margin of 16.29%. Below is what Disney't margin growth rate looks like over a 10 yr period.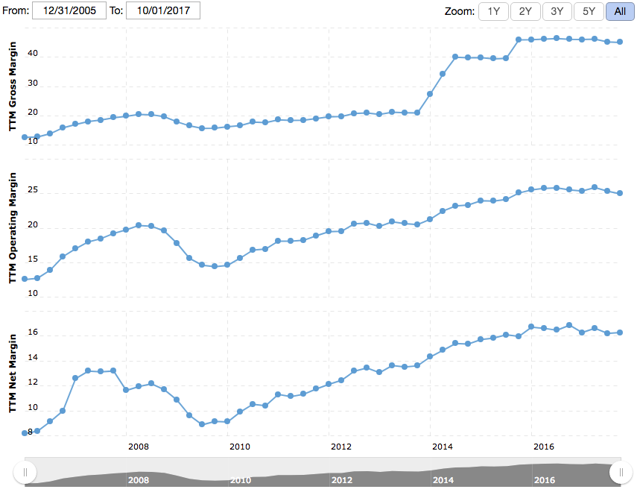 Disney is a profit machine. Over 16% of every dollar Disney generates in revenue makes it to the bottom line. Compare that to the average net margin in the entertainment industry of 12.5%. As an investor looking for high profit margin companies that outperforms the competition by a wide margin, that's magical!
Spreading The Magic
I would be remiss if I didn't touch on the recent announcement of the proposed acquisition of 21st Century Fox by Disney.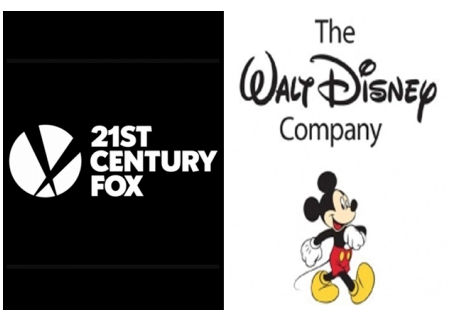 The enterprise value of the assets to be acquired by Disney is estimated by analysts at $67.9 billion. Disney is buying the assets for $52.4 billion in an all stock deal. Disney stock, like the market itself, is riding one of the best bull markets in history. Now is the perfect time to monetize its worth to by assets that complement the Disney platform. Once the assets are acquired and sprinkled with a little Disney pixie dust, they should in short order become accretive to the bottom line.
Conclusion
Everybody needs a little magic in their life. By buying Disney stock you can spread a little pixie dust in your portfolio to boost returns. The 21st Century Fox acquisition is a perfect compliment to Disney's existing entertainment platform. And, acquiring the assets by monetizing stock at the upper end of an extended bull market makes perfect sense. It bodes well for the future of Disney and it's ability to continue the magic. So, it's only fitting, I leave you with this famous quote from Walt Disney himself, "Disneyland will never be completed. It will continue to grow as long as there is imagination left in the world."
Disclosure: I/we have no positions in any stocks mentioned, and no plans to initiate any positions within the next 72 hours.
I wrote this article myself, and it expresses my own opinions. I am not receiving compensation for it (other than from Seeking Alpha). I have no business relationship with any company whose stock is mentioned in this article.