This article is the first of my planned series covering U.S. legal marijuana, or cannabis, stocks. Recreational marijuana is now legalized in eight states and DC, including California where sales began on January 1. The total U.S. legal marijuana sales are estimated between to be around $7 billion in 2017. While it depends on other states legalizing marijuana, future growth is expected to be strong. After the December rally, the group booked a 19% gain in 2017 (author's calculation), roughly in line with the general market. All companies in the U.S. marijuana space are still very small; and while recent gains attracted some media attention, they get no mainstream analyst coverage.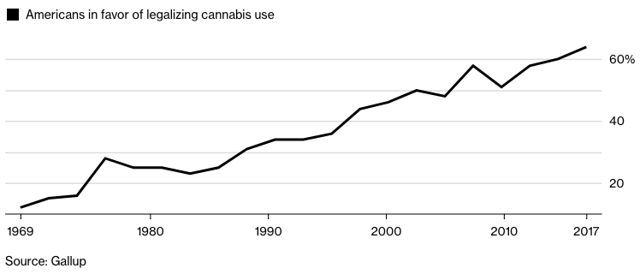 With this series of articles, I'm planning to shed light on the U.S. marijuana space. I refer to all legal recreational and medical marijuana and related infrastructure (such as greenhouse equipment), as "marijuana space," and use "marijuana" and "cannabis" interchangeably. This article gives a general outline and the reasons for expected continued gains in 2018. In an upcoming article, I plan to cover individual sub-sectors in more detail: growers/distributors, retail, and infrastructure - highlight leading individual companies in each and stock recommendations.
To get a sense of how the U.S. market might develop, let us look north of the border where it's been legal for a while at the provincial level, and federal legalization is expected in mid-2018.
Oh, Canada!
There are now at least 80 cannabis companies listed on Canadian exchanges whose combined market value has ballooned to more than C$20 billion (US$16 billion), according to Bloomberg. Canadian cannabis stocks delivered breathtaking gains to investors in 2017, up about 250% as a group (author's calculation). This chart shows 2017 performance for the largest three stocks: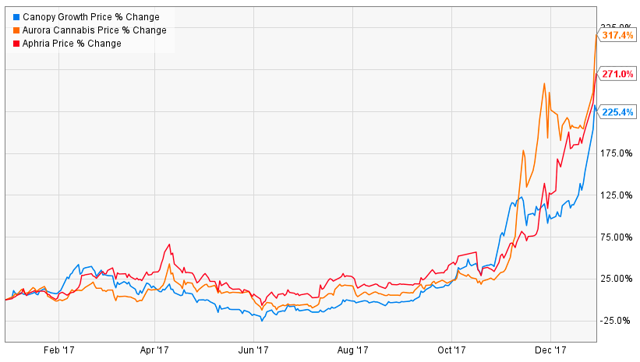 The largest three Canadian cannabis companies are:
Canopy Growth Corp. (TWMJF), market cap C$5.5B
Aurora Cannabis Inc. (ACBFF), C$4B
Aphria Inc. (APHQF), C$2.5B
They trade primarily in Canada, and the U.S. tickers shown above are traded OTC in the U.S. Here are other financial details for the largest five companies (estimates by my firm, Model Capital Management LLC, are shown under blue headers):

The U.S. Market
Brightfield Group, a cannabis market research firm, estimates total legal sales to be $7 billion in the U.S. and about $600 million in Canada. This is critical to gage value: $600 million in total sales, $16B market cap in Canada. $7B in U.S. sales, and the total market cap of U.S.-listed cannabis stocks is only about $1.3B. So, Canada's cannabis market cap is about 12x of U.S., with only 1/10 in sales - an amazingly large discrepancy. With the Canadian cannabis market being much more mature, this gives us a sense of where the U.S. market is likely to go - a tremendous growth potential. On the other hand, it suggests that Canadian cannabis is likely near its peak - also evidenced by the price-to-sales ratios between 75 and 463 (see table above).
The U.S. gains were much more muted in 2017: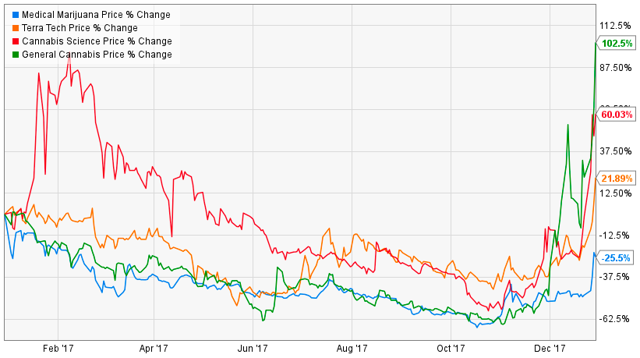 And here are the details for the U.S. cannabis companies, sorted by market cap:

A brief description of the largest three companies in the space:
Medical Marijuana Corp. (OTCPK:MJNA): An investment company in the medical marijuana and industrial hemp markets. Its products include patented cannabinoid products, seed and stalk, and extracts. It has 85 employees, $480B in market cap, and our revenue estimate for next year is $23.6m (a price-to-sales ratio of 20.3).
Terra Tech Corp. (OTCQX:TRTC): Manufactures hydroponic equipment to grow plants in liquid rather than soil. It sells its products to Fortune 500 companies, horticulture farmers and greenhouses. It has 175 employees, $300B in market cap, and our revenue estimate for next year is $40.4m (price-to-sales of 7.3).
Cannabis Science Inc. (OTCPK:CBIS): Sells marijuana-based pharmaceutical and recreational products. Two of its licensed dispensaries are opening in Los Angeles at the beginning of January, and the third is planned to open in Q1-2018.
Lastly but very important to remember: these are very small companies, and all except one are penny stocks. That is to say, they can be very volatile. As an example, one of the stocks was up 15%, then down 15% from the prior close, on the same day recently. So, exercise extreme caution and consider the risks carefully before investing or trading.
Summary
Comparing U.S. marijuana equities to the more mature Canadian market reveals an order of magnitude higher valuation in Canada.
Canadian cannabis stocks gained an estimated 250% as a group in 2017, while the U.S. counterpart gains 19%.
Strong revenue growth is estimated for the space by cannabis research firms and industry executives. The Brightfield Group expects global total sales to soar to $31 billion by 2021 from $7.7 billion in 2017.
Returns for the space are uncorrelated with the overall stock market - in fact, most stocks have negative Betas.
Institutional investors are currently limited (example: Advisorshares Vice ETF, ACT), but several new ETFs have been filed, with some already approved.
For these reasons, we expect strong gains in U.S. cannabis stocks in 2018.
Disclosure: I am/we are long MJNA, TRTC, CBIS, GRNH. I wrote this article myself, and it expresses my own opinions. I am not receiving compensation for it (other than from Seeking Alpha). I have no business relationship with any company whose stock is mentioned in this article.
Additional disclosure: Roman Chuyan, CFA is a partner of Model Capital Management LLC, a Registered Investment Adviser. This article is for informational purposes only. There are risks involved in investing, including loss of principal. The author makes no explicit or implicit guarantee with respect to performance or the outcome of any investment or projections made by him or Model Capital Management LLC. There is no guarantee that the goals of the strategies discussed in this article will be met. Information or opinions expressed may change without notice, and should not be considered recommendations to buy or sell any security.
Editor's Note: This article covers one or more microcap stocks. Please be aware of the risks associated with these stocks.