Thesis
Three independent big data crunching technology vendors Cloudera (NYSE:CLDR), Hortonworks (NASDAQ:HDP), and MapR (not yet public) are competing to be the enterprise data layer of the future. Hortonworks stock soared in 2017, while Cloudera's sank in September 2017 and has yet to recover. MapR, for the most part, is left out of this discussion because it is not yet publicly traded.
Investors who want to trade in this promising, high-growth space will be curious about product differentiation, how each company positions itself in front of prospective investors and customers, and approaches to growth. Third quarter results have been discussed at some length in other Seeking Alpha articles, but it may be worth reviewing them again. A thorough understanding of Hortonworks' and Cloudera's business strategies, as well as their ability to focus and execute on strategies is important because their current revenue-generating products are based on some of the same Apache Open Source projects and are somewhat interchangeable.
Hortonworks Product Overview
Hortonworks is best known for its big data crushing enterprise Hortonworks Data Platform built on a unique distribution of open source Apache Hadoop. It differentiates itself from its primary competitors Cloudera and MapR (private) in that it contributes all of its product development to the Apache Software Foundation open source ecosystem and partners and is considered by some to be the de facto Enterprise Hadoop standard.
Hortonworks employees are among the top contributors to Apache Hadoop and the other open source projects that make up HDP. Hortonworks' business strategy is to generate revenue by providing subscription support and professional services to companies that use HDP. To be successful with this strategy Hortonworks needs not only to dominate the enterprise big data marketplace, much the way Red Hat (NYSE:RHT) dominates Linux, but HDP must also become widely adopted.
HDP is the "Intel Inside" of big data solutions from Microsoft (NASDAQ:MSFT) HDInsight (Microsoft's fully-managed Hadoop cloud service, IBM (NYSE:IBM), Pivotal and many Open Data Platform (ODPi) member distributions. This gives HDP relevance in the market for years to come provided that the aforementioned partnerships where HDP is like the "Intel Inside" don't change.
Hortonworks offers other products including Hortonworks Data Flow (HDF), which processes streaming data from the Internet of Things (IoT). Hortonworks is pitching the combination of HDP and HDF as a "connected data platform."
In October Hortonworks introduced the Hortonworks DataPlane Service (DPS) to address the challenges in managing data with common access, security, data governance and operations across multiple clusters with data from many different sources. DPS is a "tool wrap around big data" according to Hortonworks CEO Rob Bearden. It's worth noting that both Cloudera and MapR would likely claim to have a product in their portfolios that get the same job done.
Hortonworks also intends to make it easy for its partners to plug into DPS. Plans for products with IBM's Data Science Experience are already in the works. Hortonworks also boasts a data science platform, but for this it's still early days.
Hortonworks products, like Cloudera's and MapR's, can be used both on-premises and in the Cloud.
Cloudera Product Overview
Cloudera brands itself as the "modern platform for machine learning and advanced analytics optimized for the cloud." However many enterprise buyers tend to think Cloudera much the same way as Wikipedia defines it, namely as a provider of "Apache Hadoop-based software, support and services, and training to business customers." Cloudera was founded in 2007 and was incorporated in 2008. It is known in the marketplace as the vendor who first introduced an enterprise-grade version of Apache Hadoop and as the employer of Doug Cutting who is credited with naming and co-inventing Hadoop.
Cloudera earns most of its income selling subscriptions to and services around its Enterprise Data Hub of which Apache Hadoop is a critical component. Cloudera's recently introduced products include Cloudera Altus (Cloudera's platform-as-a-Service), Cloudera Data Science Workbench, Cloudera SDX (shared data experience, which is not a revenue producer but is bundled into Cloudera's base product) and Cloudera Altus Analytic DB which is now in limited beta.
Cloudera has said on numerous occasions that it sees itself as a competitor to IBM Watson (including here and here,) as well as IBM's data science platform. If Cloudera's CEO Tom Reilly is correct about this then Cloudera, by default, is also competing with Microsoft's (NASDAQ:MSFT) AI Platform and its Azure Data Science Virtual Machine, SAS' SAS Enterprise Miner (EM) and the SAS Visual Analytics Suite (VAS), Alteryx (NYSE:AYX), Amazon (NASDAQ:AMZN) Web Services AI Services, Alphabet AI (and Google Cloud Platform is also going after the same customers), OpenText (NASDAQ:OTEX) OpenText Magellan, Oracle (NYSE:ORCL) Oracle AI, SAP (NYSE:SAP) SAP AI, startup Databricks among many, many others. Moreover, when IT analyst Gartner released its Magic Quadrant report for Data Science Platforms (see below) in 2017, Cloudera didn't even hit the qualifiers list.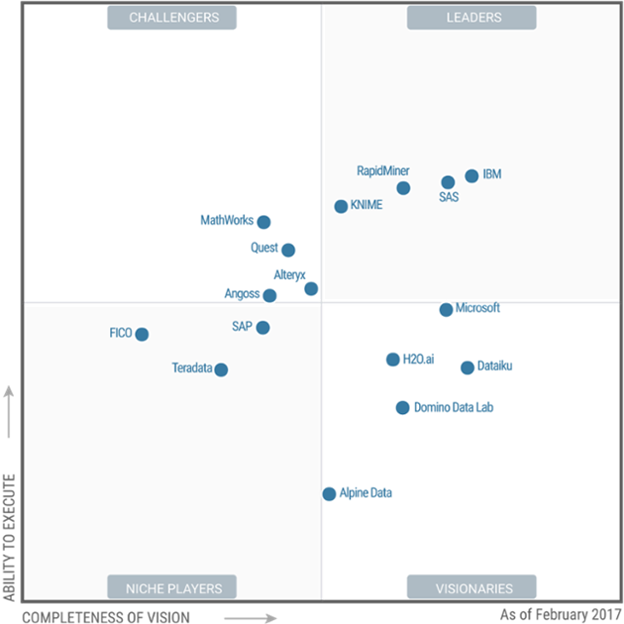 So, perhaps Cloudera CEO Tom Reilly's statement of "Cloudera Data Science Workbench was named the "Winner" in the "Best Data Science Platform" category of the prestigious Datanami Readers' Choice Awards" in the Q3 earnings call should be taken with a grain of salt.
Also Worth Noting
Cloudera and Hortonworks have a competitor, MapR, which has yet to go public. MapR sells a patented "Converged Data Platform" which also leverages Apache Hadoop and is marketed as "plug and play" software product. Cloudera, Hortonworks and MapR each excel in different areas in their capabilities around providing Data Management Solutions for Analytics according to Gartner.
Follow the Money
Hortonworks Q3 Results:
Hortonworks delivered impressive revenue growth in Q3, ending the quarter at $69 million, up 45 percent year over year and up from 42 percent from Q2. Analyst consensus estimate was $ 63.1 million.
Support subscription revenue grew 64 percent, notably better than the 48 percent growth in Q2. Hortonworks non-GAAP losses shrank to $0.24 cents per non-GAAP diluted share with respect to losses of 68 cents year-over-year. Non-GAAP total op expense was down 6 percent year-over-year or $65.2 million compared to $69 million for the same period in 2016.
In other words, total revenue increased by 45 percent year-over-year while total non-GAAP operating expenses decreased by 6 percent.
Hortonworks raised its outlook for Q4. On the Q3 earnings call, CFO Scott Davidson said that he expects total GAAP revenue of $70 million, GAAP operating margin between negative 65 and negative 60 percent including stock-based compensation and related expenses and amortization of purchased intangibles of about $28 million. He further indicated a non-GAAP operating margin between negative 25 and negative 20 percent, excluding the same stock-based comp and related expenses of $28 million.
Davidson indicated that Hortonworks is on its way to hitting its target of operating cash flow breakeven in the fourth quarter of 2017.
Hortonworks stock steadily rose in 2017 from $8.42 where it opened on Jan. 1, 2017 to $20.11 where it closed on the last day of trading in 2017.
Cloudera's Q3 Results
Cloudera delivered, 41 percent year-over-year revenue growth in Q3, ending the quarter at $94.6 million. It had guided for 32-33 percent revenue growth with sales at $85-86 million. Though this is great news, it is worth noting that the rate of growth is slowing which some analysts have said comes with the territory as a product becomes more established in the market.
Subscription software revenue, which is where Cloudera wants to grow the most, was up 48 percent year-over-year. (Subscription software now represents 83 percent of Cloudera's revenue, up from 78% in Q3 of last year.)
Cloudera's operating loss was $56.6 million, up from $44 million one year ago. While this might be more forgivable if the loss was the result of a customer acquisition, driving sales or R&D, it is instead due to high stock compensation costs post-IPO. Cloudera's operating cash flow shrunk to $2.4 million from $32.5 million a year ago.
It is worth noting that Cloudera announced a follow-on offering in mid-September after which its share prices tumbled from a one time high of $23.35. Cloudera priced its follow-on offering at $16.45 per share. The offering included 10,432,114 shares of common stock. Cloudera noted that certain selling stockholders have granted the underwriters a 30-day option to purchase up to an additional 2,014,816 shares of common stock. The company said that the funds from the follow-on offering would be used to fund the tax withholding obligations it incurred "upon the net settlement of certain equity awards, the settlement of which was concurrent with the pricing of this offering. In addition, this offering is intended to facilitate an orderly distribution of shares for the selling stockholders in this offering, including certain employees and investors."
Cloudera said it does not expect to be cash flow break even for 4-6 quarters.
Cloudera's management has left all but its earliest investors underwater. Cloudera closed 2017 at $16.52.
Beyond Technology, Strategy and Revenues
Both Cloudera and Hortonworks have compelling big data offerings that, together with MapR and others, are becoming the enterprise data platforms of the digital era. Cloudera had a three year head-start in this space; consider that Hortonworks wasn't founded until 2011, so it should have higher revenues by default. (If they didn't and even sales were poor it would mean that customers were dropping off and moving to other big data crunching solutions.) It's also worth noting that it isn't difficult to drop one Hadoop solution and move to the next, which is nothing like trading an Oracle database for something from Microsoft or SAP.
Hadoop vendors most commonly use land-and-expand sales strategies which are great for enterprises who want to try proof of concept. The unique difficulty and unpredictability this strategy leaves vendors with is this: An enterprise can run a PoC with a Cloudera, Hortonworks, or MapR product and, even if it is successful, then choose an alternate product for adoption. It is also not uncommon for the same enterprise to use more than one "brand" of Hadoop.
Investors should also be aware that enterprises can implement Hadoop without paying any of these vendors a dime and, according to some industry analysts, more than one-third are attempting to do exactly that. While that may initially seem like bad news for Hadoop vendors and their investors, it generally ends up working in their favor, because companies who go for non-enterprise grade Hadoop first end up happily paying for the subscriptions and support that they need.
Final Thoughts
The big data crushing "Hadoop" market is hot and will continue to grow for years to come. Hortonworks' success, and investor rewards, are dependent on wide spread adoption since its products are based on providing services and support around free Apache Software Foundation software. Because the adoption of big data crushing technologies is rapidly growing, this looks to be a successful and expanding business proposition.
Cloudera sells subscription software which many of its customers seem to be happy to pay for and to then increase their spend. While it would be great if that was Cloudera's only story, it's not, there are at least three others.
The first, which many investors will probably find most problematic, is Cloudera's unapologetic spend on tax-based compensation as well its seemingly unchecked willingness to issue new shares to fund growth. Both dilute shareholder investments. The second n centers on Cloudera's lack of focus and continuous pivots which may be confusing prospective buyers and short-changing investors in top line growth. In 2012 the big data crushing market was practically Cloudera's birthright, today Cloudera is merely on the shortlist. One has to wonder if this would be the case if Cloudera wasn't always focusing on the next shiny thing. The third concern is around how level-headed Cloudera is around its AI and data science aspirations. While Cloudera acquired a handful of great minds when it bought Fast Forward Labs at the end of Q2, labeling itself as a leader in AI as a result is a bit problematic given that it's not even on Gartner's Magic Quadrant radar in the space. Moreover, noting that Cloudera won website Datanami's "readers' choice" award for machine learning and data science during an earnings call seems a bit desperate. It could have been a "friends and family" type win. The editors chose SAS in the category. Enterprise buyers will also, undoubtedly, consider, and probably be impressed by Amazon's, Google, IBM's, Microsoft's and SAP's capabilities in this space which, at least in concept, is less difficult than Hadoop to grasp.
All of that being said, Cloudera does offer other highly-rated, trusted and proven products and it employs some of the big data industry's finest minds. So while Cloudera could be a good bet if the rest of Cloudera's house was in order, it's not.
Disclosure: I/we have no positions in any stocks mentioned, and no plans to initiate any positions within the next 72 hours.
I wrote this article myself, and it expresses my own opinions. I am not receiving compensation for it (other than from Seeking Alpha). I have no business relationship with any company whose stock is mentioned in this article.