About the Company
S&P Global (SPGI), formerly known as McGraw-Hill, is a leading provider of transparent and independent ratings, benchmarks, analytics and data to the capital and commodity markets worldwide.
As of January 1, 2018, SPGI adopted a new operating market model consisting of 4 divisions, which explains the company's core business.
S&P Global Ratings: The world's leading provider of independent credit risk research and benchmarks.
S&P Global Market Intelligence: A leading provider of financial & Industry data, research, news and analytics to investment professionals, government agencies, corporations and universities worldwide.
S&P Global Platts: The leading Independent provider of information and benchmark prices for the commodities and energy markets.
S&P Dow Jones Indices: The world's largest, global resource for index-based concepts, data and research.
Competitive Advantages
SPGI has built very strong market positions within these four divisions of the company and continues to streamline its overall business in order to fortify its leadership within the segments.
An example of SPGI's strong competitive advantage is within the Global Credit Rating division where the company is the world's leading provider of credit ratings among the three major credit agencies comprising of SPGI, Moody's (MCO) and Fitch. This market space is a natural oligopoly and increased competition is very unlikely. The credit rating business is a very large profit pool for SPGI and generates a reliable income stream for the company.
Strong brands also show the competitive advantage of SPGI outside the traditional credit rating business. The company is the owner of the iconic indices such as the Dow Jones Industrial Average and the S&P 500, which are widely recognized benchmarks and indices in the world. Strong brand recognition creates durable competitive advantages for the company.
SPGI vs. key competitor (Moody's)
Over a five-year period, SPGI has had a significantly better return vs. the S&P 500 index and slightly better vs. its key competitor Moody's.
P/E Ratios (Forward) show that the two companies are traded at a similar P/E valuation, but also that the two stocks are traded at a slightly higher valuation vs. historical levels.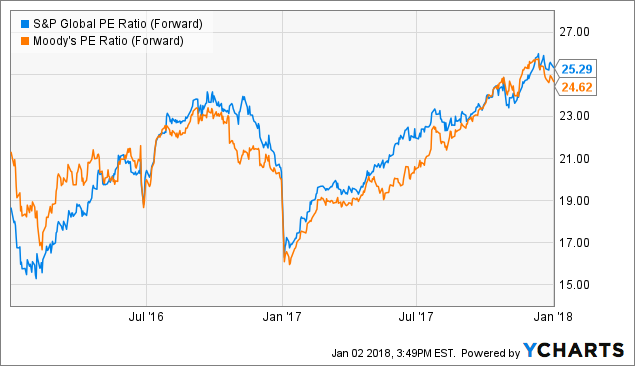 Both SPGI and Moody's have wide operating margins showing the profitability of the industry. SPGI has managed to improve its operating margins by streamlining its business and comes out slightly better than Moody's in this regard.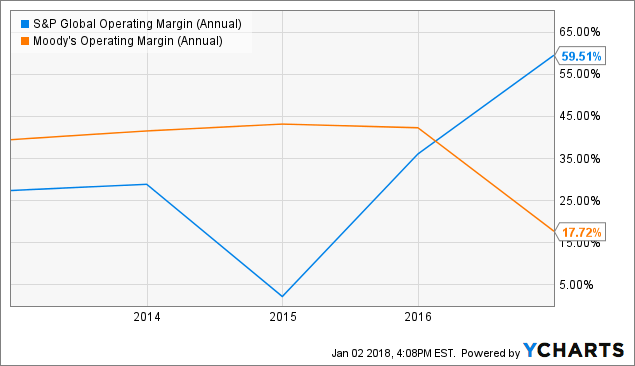 SPGI also demonstrates a faster revenue growth YoY vs. Moody's in 2017.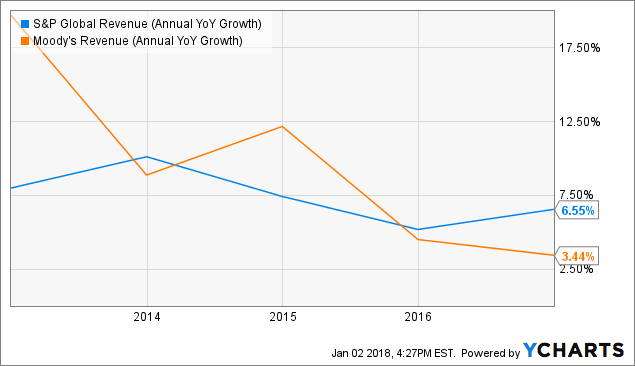 Taking these metrics into account, SPGI comes out as the winner of the two companies, despite slightly higher P/E ratio.
Long-term outlook
SPGI has a long track record of delivering strong revenue growth, margin improvement and return of capital to shareholders. Several factors are expected to continue to drive the results for SPGI and position the company for long-term growth.
Its strong durable competitive position in the credit rating space enables it to grow revenues through its pricing power and continued organic growth.
Assets continue to shift to index-related investments where SPGI has a strong market dominance.
Other drivers for growth are increased demand for real time data and analytics among investors and increasing demand for daily commodity price assessments used to provide transparency and manage volatility (Services that are provided by SPGI).
As the company has a high exposure to the financial market, a recession will have a negative impact on the company's results. Historically, such an event has only had a temporary impact on the company's revenue; and for long-term investors, such an event should provide an excellent buying opportunity.
SPGI is currently traded at a premium price with a P/E ratio of 25 and a dividend yield of 0.96%. New investors should wait for a better buying opportunity, possibly triggered by a market downturn.
Conclusions
SPGI is a company with strong durable competitive advantages, driven by its well-established presence in the market and strong brands. SPGI's scalability of its operations and market position facilitate continued margin expansion and profit growth. The company is expected to continue to reward shareholders with capital appreciation and rising dividend.
Disclosure: I am/we are long SPGI.
I wrote this article myself, and it expresses my own opinions. I am not receiving compensation for it (other than from Seeking Alpha). I have no business relationship with any company whose stock is mentioned in this article.