Note: This article was originally published on Dec. 13, 2017, to subscribers of the Gold Bull Portfolio.
Top Gold Stocks for 2018
It's about that time again, when I release my top overall gold stock picks for the upcoming year. As always, my goal is to beat the benchmark indexes, such as the VanEck gold miners index (GDX), the junior miners index (GDXJ), the NYSE Gold Bugs Index (HUI), and any other gold or silver index.
As a whole, I expect these picks to outperform. My strategy focuses mainly on targeting gold companies with low operating costs, low financial leverage (little to no debt and strong cash positions), strong exploration and development projects, and an undervaluation compared to peers.
I put a strong focus on takeover candidates, as takeovers are typically done at a substantial premium, which has helped my portfolio outperform.
Over the past three years, my performance has been strong.
Out of my Top 10 Gold Stocks for 2016, seven out of 10 picks outperformed the GDX, and these picks returned 95.57% on average, easily beating the GDX.
Out of my top picks for 2017, seven out of 10 picks outperformed the GDX and the picks returned 39.21% on average.
Below is a look at how my Top 10 Gold Stocks for 2017 performed, and some quick analysis on gold prices and gold stocks. The article was published on Dec. 7, 2016, and the performance is from that date to as of writing on Dec. 13.
Top 10 Gold Stocks for 2017: Average Pick Return
Average pick return: 39.21%
GDX return: 5.11%
Top pick Kirkland Lake Gold (KL) was the big winner of the bunch, returning 174.28%, while my No. 2 pick returned 87%.
Are Gold Stocks a Buy in 2018?
Ending 2017, gold miners traded at a discount when compared to the price of the physical metal and when compared to stocks.
Last year, when I published my top picks for 2017, the HUI to gold ratio traded at about .15X, which means that one share of the HUI bought you .15 of an ounce of gold.
Over the past 20 years, the normal range of that ratio is between .20 - .50. The ratio peaked at .64X in 2013, and hit a low of .10 in early 2015.
(Credit: MacroTrends)
As of writing this article, the ratio sits at about the same exact level that it was at this point last year, at .15X, so one share of the HUI ($196) buys you .149 of an ounce of gold ($1,308), which indicates gold stocks may still be undervalued when compared to the price of the yellow metal. Personally, I think a ratio above .25X is fair value for gold stocks, so if gold trades at $1,500 per ounce, the HUI should be worth around $375 per share.
When compared to stocks, gold looks even more underpriced here.
To compare both asset classes, we can use the Dow to Gold ratio, which says how many ounces of gold it would take you to buy one share of the Dow. Right now, the ratio is nearing 20X, which is the highest level seen in over a decade.
Investors are perhaps a little too bullish on the GOP's new tax plan and the lower tax rate it would bring to corporations, with not enough attention being drawn to the negative impact the tax plan could have on federal deficits, the national debt and inflation (and the positive impact that could have on gold).
There's also a bit too much enthusiasm surrounding Bitcoin (OTCQX:GBTC) in my opinion, which has perhaps drawn some investors away from gold. This could change if Bitcoin undergoes a major correction in 2018. And yes, you can count me as one of the many who think Bitcoin is in a bubble.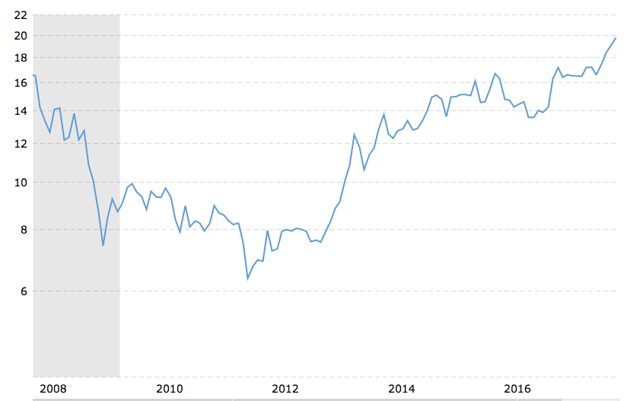 (The Dow to Gold Ratio. Credit: MacroTrends)
For 2018, I'll be measuring the performance on these picks on both the date of article publication as well as the start of 2018.
Here's a look at some of my top picks (#10 - #7) for 2018. Please note that my top ideas (#6 - #1) are only available to subscribers of my marketplace service offering.
A subscription also gets you updates and access to my real-life gold portfolio holdings (breakdown by stock symbol and weighting), exclusive investment ideas and live chat access. I'll be publishing more exclusive articles to subscribers in 2018.
I choose these stocks mainly because I think they are entering 2018 in a very strong position, and have catalysts ahead that could be positive for their share price. Some of these companies as strong takeover targets, while others may be undervalued (in my opinion) when compared to peers.
Readers should do their own due diligence before making any investment decisions, and there's no guarantee these picks will perform well.
Gold Stock Picks for 2018
#10 Sandstorm Gold (SAND)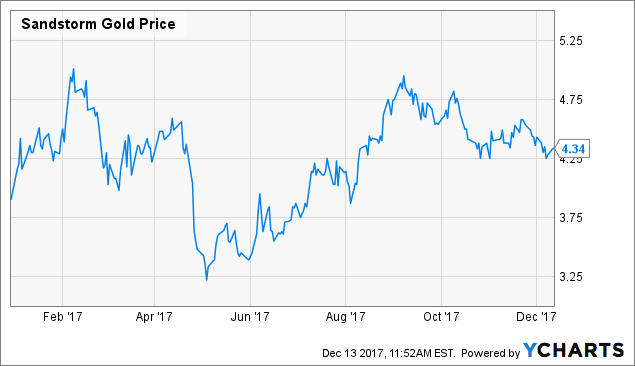 Sandstorm is entering 2018 in a very strong position. As CEO Nolan Watson recently pointed out, the company added 38 streams and royalties in 2017, including a purchase of a 30% interest in Hot Maden.
Following a sale of debt and equity in Trek Mining, the company should have around $32 million in cash currently, with no debt and a $110 million undrawn revolving credit facility. The company also is looking to increase the size of this revolver, so it should have at least $150 million-plus available liquidity early on in 2018 to complete new deals and grow its business.
For 2018, the main catalysts I see is a positive pre-feasibility study on Hot Maden, positive drilling/exploration results on its producing and development assets, commissioning at the Cerro Moro mine, monetization of non-core investments, and potential production at the Aurizona mine by year's end.
Sandstorm's valuation looks pretty reasonable when compared to peers. Currently, shares trade at an EV/EBITDA of approximately 15X, which is favorable when compared to peers Royal Gold (RGLD) at 17X, Wheaton Precious Metals (WPM) at 18X, Osisko Gold Royalties (OR) at 25X and Franco Nevada (NYSE:FNV) at 27X, according to its most recent corporation presentation. By 2022, the company sees this ratio dropping to 6X.
Sandstorm isn't higher on this list because outside of positive updates on Hot Maden, and the other potential catalysts for the share price aren't as strong. The real growth for the company will come in 2021-22, when its Hot Maden asset comes into production (Sandstorm's production is expected to double at that point in time).
Still, I like shares here and continue to maintain a large position in the company. I expect market-beating returns in 2018.
#9 IAMGOLD (IAG)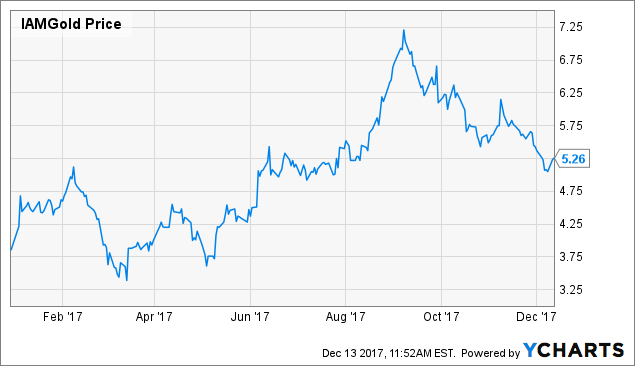 IAMGOLD has the wind at its back. It continues to make strides on reducing its all-in sustaining costs and this year's partial sale of the Cote mine really strengthened its balance sheet. It's entering 2018 in really strong shape.
Last quarter, IAMGOLD reported an increase in gross profit for the third straight quarter. It produced 217,000 attributable gold ounces at $969 AISC, down 7%, and lowered its 2017 AISC guidance. The turnaround at Westwood continues, with AISC falling from $1,391 last year to $907 in Q3 2017.
As for the balance sheet, IAMGOLD is in an enviable position, ending the third quarter with $835.7 million in cash, cash equivalents and short-term investments, and restricted cash.
Out of this war chest, $583.6 million is held in cash and cash equivalents with $227 million in short-term investments, with very little held in restricted cash. Combined with $247 million in available credit, IAMGOLD has more than $1 billion available to invest, which is pretty incredible for a company with a $2.45 billion market cap. This compares to a reasonable long-term debt position of $388.7 million, which is down from $485 million last year.
I see a number of potential catalysts in 2018.
First, I expect the trend of falling costs to continue as Westwood ramps up production, energy costs are reduced at Essakane (a solar plant will be completed in Q1 2018), and productivity improvements are made at the Rosebel mine.
Second, look for further positive exploration results at the Saramacca project and a preliminary reserve estimate. This will help economics at the Rosebel mine.
Third, I expect positive exploration results at several of IAMGOLD's other development projects, including Boto, Pitangui (updated resource expected soon) and Diakha-Siribaya.
Another possibility is the potential for M&A given IAMGOLD's very strong liquidity position. IAMGOLD has more than enough liquidity to complete deals, although it may be content on just investing in its own development/exploration properties.
Overall, I'm pretty confident with having IAMGOLD as my No. 9 overall gold stock pick for 2018, and I may even come to regret not putting the stock higher up on the list.
#8 Corvus Gold (OTCQX:CORVF)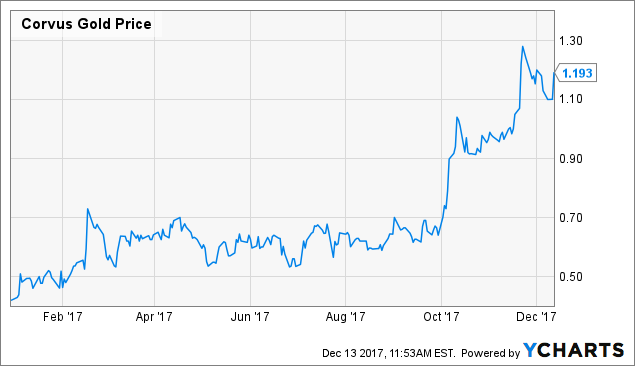 Corvus is not higher on this list because shares have already soared YTD and currently trade well above my previous price target of $1 per share (when I first covered the stock for subscribers, it traded around $.60). Yet I still think the stock is a must own for gold bulls given the progress made in 2017 and the potential for outperformance in 2018 as more work is carried out on its properties.
Since acquiring the Mother Lode property from Goldcorp (GG), Corvus has done nothing but impress me. Its exploration work is confirming that Mother Lode (10km away from North Bullfrog) will be a satellite pit and is likely to improve the economics of its North Bullfrog mine.
For some background, North Bullfrog in Nevada (1.5 million ounces of gold in resources) already carries a post-tax NPV of $317 using $1,300 gold prices based on a 2015 PEA study. Initial capital estimates are reasonable. Mother Lode is located nearby and contains a historic resource of 433,00 ounces of gold at 1.6 g/t. But it carries the potential to hold a much larger resource as minimal exploration work has been carried out and early exploration work by Corvus has been positive (the Mother Lode was mined in the late 1980s and it shut down due to low gold prices).
Previous coverage:
Evaluating the Potential at the Mother Lode
Checking in on The Mother Lode at Corvus Gold
On Oct. 11, Corvus hit 37.2 meters of 2.69 g/t gold in the Upper Zone, which included 11 meters of 5.78 g/t (high-grade Mother Lode Structure). On Oct. 25, the results improved, with Corvus striking 54.8 meters of 2.95 g/t gold in the Upper Zone. And more recently, the company drilled 94.5 meters of 1.2 g/t gold, extending the Mother Lode gold system to at least 450 meters along strike. The company also added to its claims by staking 75 additional claims surrounding the property.
The catalysts for Corvus in 2018 are clear: I expect further positive drill results at Mother Lode (expect 30-50 meter intervals with gold grades greater than 2-3 g/t, and possibly wider intersections with gold grades between 1-2 g/t), a positive resource update on Mother Lode and North Bullfrog, and the combination of both deposits into a new PEA study. I think this updated PEA study to give the combined project a much higher NPV than in the previous study.
Hopefully, shares will take a breather soon to give new investors a better entry point.
#7 Orezone Gold (OTCPK:ORZCF)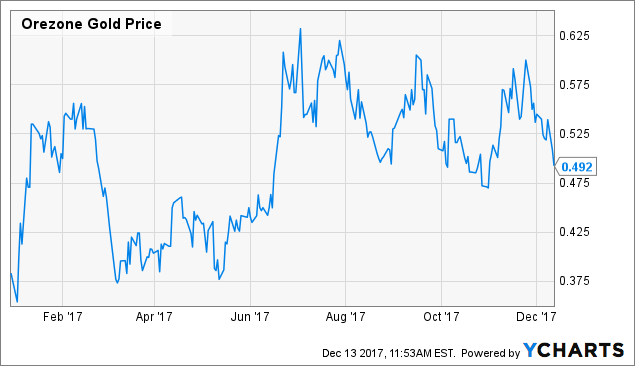 Orezone is perhaps one of the riskier picks on this list (discussed below), but I think it has arguably the most upside in 2018. With an enterprise value of approximately $75 million as of writing, shares are deeply undervalued for this company, which is advancing its 90% owned Bombore project, a 4 million-plus ounce gold deposit in Burkina Faso.
It's been mostly a positive year for the junior following a rough 2016. Back in September of 2016, shares were hit hard when Orezone announced a 29% reduction in measured and indicated resources at Bombore, with one-third reduction related to the impact of the flood plains (240,000 ounces of oxide gold) and environmentally sensitive areas at the deposit.
However, take note of this update recently provided by Orezone:
"Orezone had several meetings in Burkina Faso to discuss this exclusion and have subsequently contracted with WSP Canada Inc., the firm that completed all of the most recent environmental work, in order to submit a plan of operations for these areas to show that they can be mined during the dry season and properly rehabilitated.

If this plan of operation is accepted by the Minister of Environment, these areas should then be reinstated for mining so that they can be included as a Mineral Resource, which would have additional positive impacts on overall project economics."
The other reductions came from changes in resource modeling and methodology. It is a much more conservative resource estimate, but the deposit remains quite large nevertheless, and should get larger.
In January, the company released an updated 2017 mineral resource statement. Out of its 4.77 million ounce resource (measured and indicated), 1.6 million of these ounces are in oxidized resources at an average depth of just 45 meters. These drills are cheaper for Orezone and will be more profitable to mine, lower sustaining capex and lower capital costs.
Orezone has been actively drilling at Bombore and has had success intercepting high-grade gold very close to surface.
The main catalysts in 2018: the company will apply for reinstatement of up to 240,000 ounces of oxide gold resources from zones currently restricted, provide an updated resource estimate in Q1 2018 to incorporate recent drilling, and will look to complete a detailed feasibility study in H2 2018 that will be based on Orezone's updated resources and reserves at Bombore, as well as a simplified flowsheet at Bombore (which would result in savings to both capital and operating costs).
Insiders have been buying shares of Orezone in 2017, which I see as a positive sign. Purchases were made by key insiders on Dec. 11, and on several dates in November.
Finally, Orezone's 4.77 million ounces of gold are currently valued at just $19 per ounce.
Risks: Readers should caution that like Corvus, Orezone is a gold explorer/developer with no cash flow from operations. Therefore, it loses money every month as it explores and develops its gold project. There's no guarantee the company will be able to successfully establish an economical gold mine at Bombore, and there's no guarantee they will get taken over at a premium by a larger gold miner.
Other risks: Orezone will likely need to raise money in 2018 or 2019, so there's some financing risk, as there's no guarantee they will be able to raise the necessary funds to advance Bombore (especially if gold prices fall back down to $1,200 or lower). There's also the possibility shareholders get diluted in a future financing. Finally, trading volume on the US exchange listing is very low with average volume of 14,061, according to Yahoo Finance. Investors should be aware of the risks of trading low-volume stocks - mainly, they can be harder to buy or sell within a short timeframe, and you may not be able to sell at the market price.
Despite the risks, the company is among the strongest takeover targets in the sector in my opinion, and I see a late-2018 or 2019 takeover as a possibility. I think any price below $.55 is a great entry point.
What are your top gold stock picks for 2018? Please comment below.
Disclosure: I am/we are long KL, SAND, IAG, CORVF, ORZCF.
I wrote this article myself, and it expresses my own opinions. I am not receiving compensation for it (other than from Seeking Alpha). I have no business relationship with any company whose stock is mentioned in this article.
Editor's Note: This article covers one or more microcap stocks. Please be aware of the risks associated with these stocks.