Some like to ring in the new year by looking back over the past 12 months. Others are eager to close the books and look forward. But when dealing with one's portfolio, both can be worthy exercises. And given how eventful the past year was geopolitically, not to mention this past month (hello, tax reform), there are likely to be some big ramifications from 2017 for 2018.
The market proved remarkably resilient amid a number of potentially disruptive events in 2017, whether talking about the first year of the Trump presidency, rising tensions globally, or Mother Nature's wrath. Despite these possible headwinds major indexes notched record highs time and again. Punctuating these plucky marches upward was the CBOE Volatility Index® (VIX®)—the market's "fear gauge"—which ended December at a tepid 11.04, down more than 17% in 2017.
Many observers highlighted market hopes of a new tax code as a consistent, stabilizing force throughout the year. And those hopes became reality in December when Congress passed the nation's first sweeping tax bill since the Reagan administration. And it's one that some believe could help keep this extended bull market intact for longer.
From a macro perspective, Federal Reserve Chair Janet Yellen offered this about the tax reform after announcing the fed funds rate had been increased for a third time in 2017: "We see changes in tax policy as supportive of a modestly stronger economic outlook." In line with that statement, and healthy gross domestic product (GDP) prints in the second (+3.1%) and third quarters (+3.3%), was the Fed's decision to increase its 2018 GDP estimate from 2.1% in September to 2.5%.
We can put December and 2017 in the books, but there's much to look back on in prep for 2018. In this month's market commentary we walk through a few of the most notable events from the past year.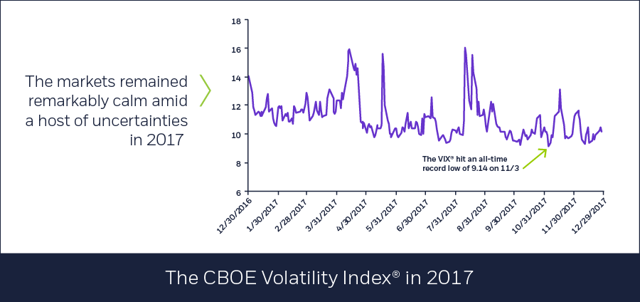 Source: CBOE
Domestic equities
Investors expecting an immediate pop after lawmakers passed the tax bill didn't get it—the Dow fell 0.11%, the S&P dipped 0.8%, and the Nasdaq closed 0.4% lower on Wednesday, December 20. Perhaps it was a mild case of "buy the rumor, sell the news" playing out after a year-plus of tax chatter. For the month, though, stocks followed the 2017 script to a "T"—a positive gain and more record highs.
The corporate tax rate moving from 35% to 21% in 2018 likely has investors looking for winners in companies with high US income and effective tax rates, including energy, financials, industrials, and telecoms (soon to be free of net neutrality regulations too), as well as domestically oriented small caps.
Technology, which was the runaway sector winner in 2017, could be poised to capitalize on the tax bill's repatriation provision as well. Lawmakers hope to entice companies that keep significant earnings overseas back to the US with a one-time rate of 15.5%. And it's not just cash overseas. The bill also includes a zero tax for three years and a low 12.5% rate on future income from intellectual property, including patents and trademarks.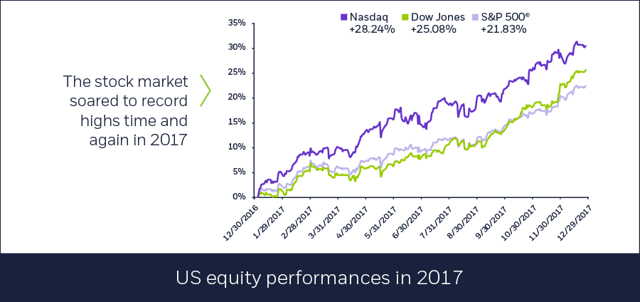 Source: FactSet
International equities
Is home really where the heart is? Because investors with international exposure in their portfolios may be quick to point out that the MSCI World ex USA Index outpaced the S&P's return in 2017.
Momentum in emerging markets was particularly noteworthy, and that trend continued in December, as stocks in Europe, the Middle East, and Africa helped emerging markets beat out developed markets for the month. The MSCI EM Asia Index ended the month with a slight gain, but strength in emerging Asia helped power EM's robust 2017.
Likely contributing to EM's strong performance was a combination of a strengthening global growth story and improving fundamentals in key markets like China, as well as higher oil prices, which typically helps the likes of Brazil and Russia. Market observers also pointed to still-low developed-market interest rates and a weaker dollar (and the corresponding strength of some emerging market currencies) as catalysts.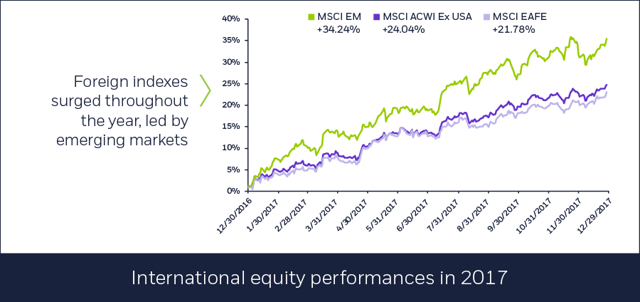 Source: MSCI
Fixed income
In 2017, the predominant story in the bond market went something like this: The Fed's continued monetary policy tightening, despite low inflation, helped flatten the yield curve, which plots Treasury yields against the length of time they have to reach maturity.
Many believe that course will continue in 2018 as the Fed, now with a fed funds target rate at 1.25–1.50% and three more forecasted hikes, moves further toward neutral monetary policy. But the yield curve flattening script seemed to undergo somewhat of a revision after a December sell-off. A common measure of the yield curve, the spread between the 10-year Treasury yield and the two-year Treasury yield, widened after hitting a decade-long low on Friday, December 15. Whether that proves to be part of a larger trend or a blip remains to be seen.
Bonds were slightly weaker on the month, with most segments in a tight range, as they were for much of the year. All major fixed income markets were positive for the year. Corporate bonds, US Treasury bonds with maturities 10 years and longer, and foreign bonds led all segments, aided by a strong economy, declining long-term interest rates, and a weak dollar, respectively. Though still positive for the year, 1–3 year Treasuries was the weakest area, likely hurt by rising short-term rates.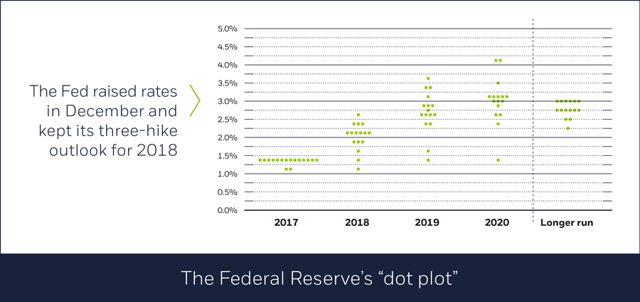 Source: The Federal Reserve
The bottom line
Many investors use the start of a new year to review their portfolios and adjust accordingly. For others who don't, well, maybe consider it for this year's resolution. No matter the year, or market developments, the moral of the long-term investment story remains the same:
Diversifying across assets is key to staving off uncertainty when it rises.
It's the performance of the overall portfolio that matters most, not its individual segments.
So what should investors keep an eye on?
Market observers note that prospects for equities look bright. The lower corporate tax rate and the increased deductions for capital expenditures could incentivize companies to deploy additional capital (for more, see Tax bill tossing and turning). Even if the majority of it goes to buybacks and dividends, equity investors could be pleased, as both outcomes can support higher stock prices.
Some analysts believe bond prices could jump if corporate cash flow increases as expected following the tax bill and corporates issue less debt, though corporate spreads are well inside of historic averages already. Of course, the market will be watching which way the yield curve goes too; historically, a steepening curve indicates economic growth, while sustained flattening or inversion—when the yields on long-term rates falling below short-term rates—raises questions about a potential recession on the horizon.
And a looming consideration: The tax bill is frontloaded and potentially costly. The individual tax savings are not permanent and certain corporate provisions are temporary, including the repatriation incentive. The bill is also expected to add to the federal deficit, which according to Yellen does suggest that in dealing with a future downturn "the amount of fiscal space that would exist for fiscal policy to play an active role will be limited".
On that front, it's worth noting that nothing lasts forever. The market hasn't seen anything close to a correction in nearly two years, and some would say we're overdue. Notable, though, is that a pullback would be natural and healthy. What could upset the longer, generally positive outlook for equities? Geopolitical turmoil could be one, and interest rates another. Equities may get a shock if a Jerome Powell-led Fed increases the pace and magnitude of its hikes should inflation rise above expectations, unemployment remain low, and GDP accelerates.
Disclosure: I/we have no positions in any stocks mentioned, and no plans to initiate any positions within the next 72 hours. I wrote this article myself, and it expresses my own opinions. I am not receiving compensation for it. I have no business relationship with any company whose stock is mentioned in this article.