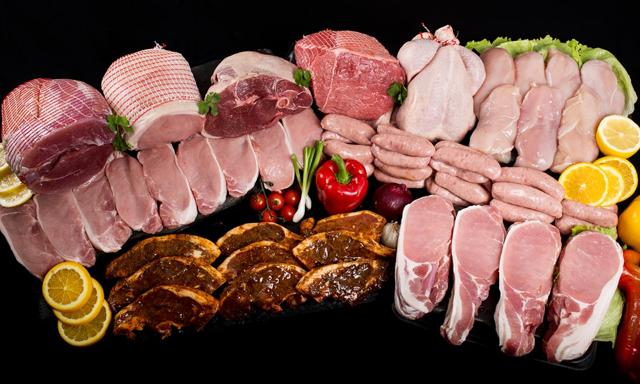 Source: Google Images
Overview
There are a few ways to play the meat producer industry through stock investments. For the purposes of this article, I will be focusing on core U.S.-based companies including Tyson Foods (TSN), Pilgrim's Pride (PPC), Sanderson Farms (SAFM) and Hormel Foods (HRL).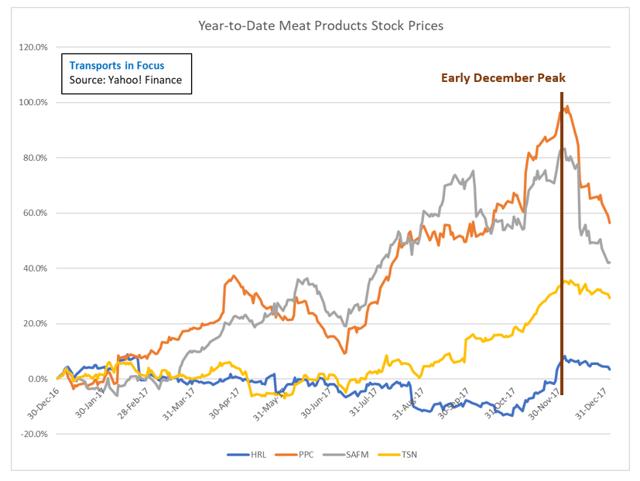 Since early December peaks, all of these companies have seen varying stock price declines for late 2017/early 2018. Since early December, Sanderson's stock price was down -22.5 percent, Pilgrim's was down -21.3 percent, Tyson was down -4.7 percent, and Hormel was down -4.5 percent.
As can be seen above, the declines have been more pronounced for companies like Sanderson and Pilgrim's with more exposure to chicken production. Since early December, there have been two events impacting chicken producers. First was Sanderson's recent earnings report, and second was Jefferies' negative stance on chicken production for 2018. Jefferies is calling for double the production of chicken versus what the United States Department of Agriculture (USDSA) has forecasted for 2018.
Beef production has also been on the rise as Oklahoma State University estimates are calling for nearly a 4 percent production increase for 2017, while domestic consumption per capita is projected to increase by just over 2 percent. This type of growth in supply is expected to weigh on beef prices for 2018, with exports being a wildcard to offset oversupply. At the same time, the USDA has reported that the U.S. hog inventory expanded by 2 percent for 2017. Overcapacity woes have been a headwind for Hormel's Jennie-O turkey line depressing profits despite increasing volumes.
On the demand side, the U.S. economy continues to show resiliency and strength. Oklahoma State University's December Food Demand Survey displayed an uptick willingness to pay for multiple foods from the previous month. Red meat and chicken wings witnessed increases of 16.5 and 22 percent from November. However, many meats were down from a year-over-year (YoY) basis.
In the Daily Livestock Report, published by The Steiner Group, it was stated that the supply of red meat and poultry in cold storage was higher than the past year, but that demand, evidenced by drawdowns was still healthy. Beef, pork, and chicken in cold storage was up nearly 5 percent from a year ago, and up over 10 percent from the 5-year average. November drawdowns were at nearly 11 percent, versus the nearly 9 percent five-year average.
In addition to the USDA's production estimates, Sterling Marketing also has projected pork, beef and chicken production at 6 and 2 percent for 2018. While expectations remain positive, stated wildcards include export demand and labor, especially as the near-term future of trade agreements with Mexico, Canada and Japan are uncertain, and a burgeoning economy will lead to inflationary pressure for labor.
For Jefferies, the risk of over production is not something pulled out of nowhere. There have been many recent announcements from major producers for plans to construct new facilities, including Tyson and Sanderson, as well as Costco Wholesale Corporation (COST), among many others within the fragmented meat market. As prospects have improved, everyone wants to increase net sales and profits, with expansion being the primary organic means to achieve growth.
Summary
For investors, meat commodities are not at equal places today. Chicken pricing has been strong over the past year, turkey prices have remained challenged, and beef and pork prices have also improved of late. For analysts, concerns regarding overcapacity and weaker pricing are not irrational. But as stated by Sterling Marketing, demand and exports will likely be the catalyst either way.
The recent pullback for Sanderson and Pilgrim's has been part profit taking and part uncertainty surrounding major meat trading partners as mentioned earlier. Tyson and Hormel have benefited from stronger diversification. As commodity-based companies tend to gyrate in a volatile manner, investors are best suited to ride out the recent negative trend. Taking a wait-and-see approach will allow for market dynamics to play out and offer better entry prices at a later date. If demand does indeed improve sufficiently, stock prices should appreciate back towards prior levels this past month.
Disclosure: I am/we are long HRL, SAFM, COST. I wrote this article myself, and it expresses my own opinions. I am not receiving compensation for it (other than from Seeking Alpha). I have no business relationship with any company whose stock is mentioned in this article.