Market Intro

IB: S&P 500 Futures
US equities (SPY, DIA, QQQ, IWM) reversed strongly from the sharp decline into year end, and in particular experienced positive price action in Wednesday's morning session. This is in keeping with a good day for the bulls in European shares (EFA, EWG, EWU, VGK).

This week's US economic calendar has a number of potentially market moving events, with Friday's NFP likely the most important, especially given the burst of strong data we've received in the last month or so.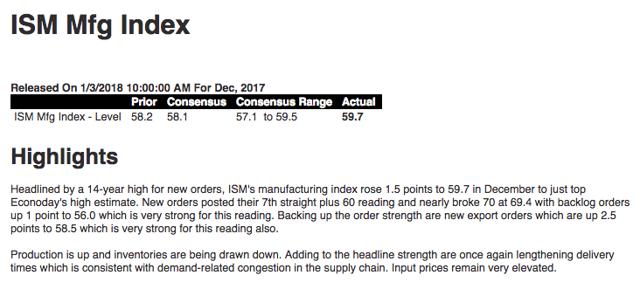 Economic data streamed in with a positive bend today. The Mfg Index tore higher, to a fourteen-year high. More details related to this and volatility below. Improved economic data may be pushing sentiment indicators to extremes:

Gold (GLD) has broken higher in spite of the relatively positive mood in risk assets: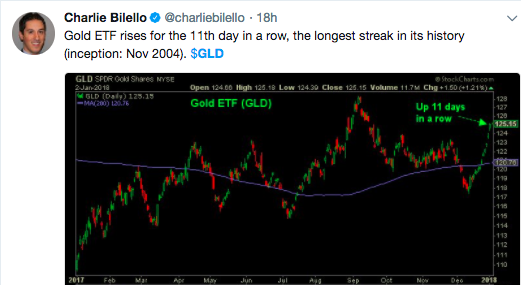 We think of gold's strong gains of late as being less linked to a defensive trade from a standpoint of bank failures or economic stress, and more linked to the potential for inflation.
Thoughts on Volatility
Spot VIX appears to be contemplating an all-time low close, below the 9.14 set on November 3:

IB: VIX
S&P futures have climbed 40 points since last Friday's last print. This has emboldened the short vol trade (XIV, SVXY, ZIV), and the front month Jan contract has taken a beating in Wednesday's afternoon session.
Still, contango at the M1-M2 has not blown out as the M2 has dipped down, which has kept the M1 from falling in isolation relative to the rest of the term structure.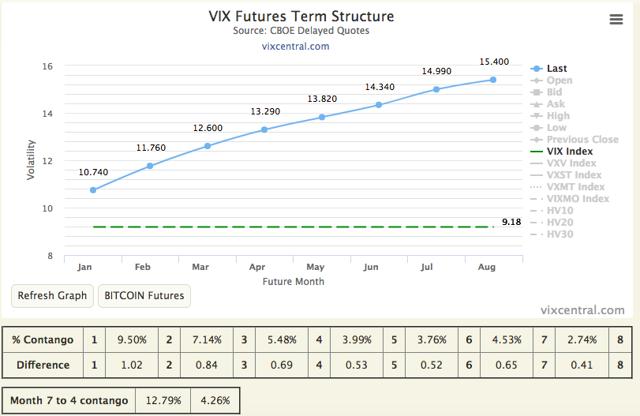 Reader Insight
We're fortunate to have excellent insights from readers, and in this vein we want to share a message from atom&humber as it relates to essentially taking advantage of cheap vol.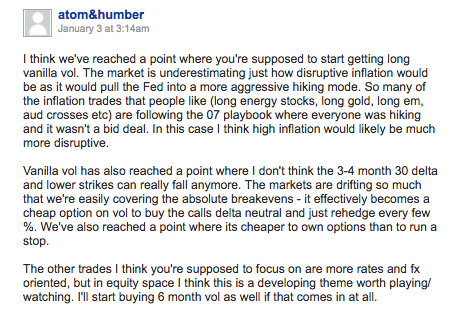 As I read him, the argument is that vol is now so cheap that from a mechanical sense this becomes decent delta replacement. I'd mention that A&H is not someone that I'd consider intrinsically long vol, and he has offered up an idea based on macro outlook but also trade mechanics.
We'll do a separate write-up discussing this in greater depth, but for now we wanted to get this in front of readers for consideration and discussion.

Organic ATM volatility has declined a good deal since last Friday's close. The weekly is trading the lowest relative to its own historical range, suggesting that the flurry of activity over the last couple days will mellow and we'll rest at around 2710 for the next few sessions. Remember, vol is not about "down side", it's about big moves. Naturally, the options market does not always call things correctly, and many hedge and reposition with regularity. But low vol corresponds to low movement, and that's what the weekly contract is communicating.
Monthly and quarterly are each about half a vol point above the lows (quite possibly all-time lows) they marked in late October. This in contrast to early and mid November, where spot VIX was crushed but the monthly and in particular the quarterly held firm. We take the current readings, particularly on the monthly, as an argument against big breakouts in volatility. For VIX longs (VXX, VXZ, TVIX, UVXY), we'd say at best this argues for a low but range-bound vol profile.
Reader-Suggested Trade

Now, that trade idea was from Dec. 23, and even with the holiday breaks some time has passed. ICCS shared more on his mindset for this trade with readers in the comment thread of a recent MVB. We encourage you to read his thoughts.
We do have an update from ICCS yesterday, and we'll feature this before looking at the current pricing and explanation: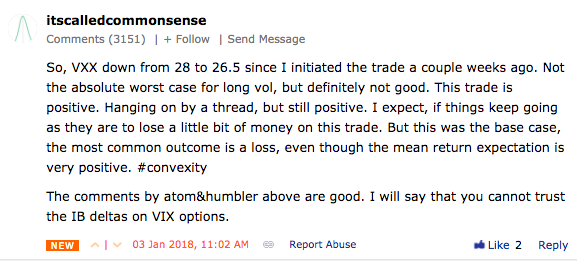 Let's look at the current price on this suggested position:

The trade has given up some ground since its peak profit point last week, but indeed is still a touch positive. The term structure softened the blow on this trade, and as we discussed in our Seeking Delta piece, it is not so much a pure "long-vol" position as long VIX gamma. We'll update the greeks on our next MVB. We are glad for the suggestion and think this is an interesting trade to follow, especially given the carnage for those with positive exposure to volatility over the last couple sessions.
Conclusion
If this is your first time reading Market Volatility Bulletin, thanks for giving it a try. If you're a regular, we thank you for your ongoing contributions in the comments section.
Take a look at our most recent instablog, which provides some supplementary images relating to our 2018 Outlook piece from last week.
For those who have been following that trade we recommend reading through the comments section of that session.
Thanks to all for the great conversations in the comments section this past year!
Please consider following us.
Disclosure: I am/we are short SPY. I wrote this article myself, and it expresses my own opinions. I am not receiving compensation for it (other than from Seeking Alpha). I have no business relationship with any company whose stock is mentioned in this article.
Additional disclosure: We actively trade the futures markets, potentially taking multiple positions on any given day, both long and short. It is our belief that the S&P 500 is meaningfully overvalued. As such, we typically carry a net short position using ES options and futures.