It should come as no surprise to buy-and-hold, common stock investors in the Bottom of the Barrel companies, that 2017 was like sledding down a ski slope … in the middle of summer. For many, the bumps and bruises hypothetically suffered from falls on the mountain would pale in comparison to actual monetary losses from having invested in companies that lost real economic value.
As long-time readers of this series of articles on the Bottom of the Barrel Club group of companies know, my focus is largely on common stock investments, not preferred issues or debt, except as they impact common equity or come into play in severely distressed companies. This particular article will be the last in the series for 2017, essentially serving to summarize certain activities and stock performance through yearend before moving on to more in-depth articles looking forward to 2018. Of course, the caveat to that is that a company's history often does tell investors a lot about its future prospects.
The data included herein was obtained from press releases, presentations and public filings. It is primarily intended to provide a broad overview of activities in the second half of 2017 for this group of companies, rather than an intensive, deep-dive analysis. No specific stock recommendations are made, and readers are cautioned to do their own follow-up research and due diligence before making their own investment decisions.
Market Performance
It was nearly an 0-for-2017 performance for the BOTB Club. As the chart below shows, on an overall, equal-weighted basis, the BOTB Club had a return of (-40%) and a return of (-37%) for those companies who survived.
Only one company, W&T Offshore (WTI), managed a gain (+19%) for the year. The next "best" performers for the year were Abraxas (AXAS) (-4%), California Resources (CRC) (-9%), Eclipse (ECR) (-10%), Approach (AREX) (-12%) and Comstock (CRK) (-14%). From there, results deteriorate fairly significantly.
Three companies exited the BOTB Club in 2017 by declaring bankruptcy: Bonanza Creek, Memorial and Stone. Of those who remained in the Club throughout the year, the worst performances were turned in by Exco (OTCPK:XCOO) (-95%), Jones (OTC:JONE) (-78%), EV Energy (EVEP-OLD) (-76%), Rex Energy (REXX) (-71%), EP Energy (-64%), Mid-Con Energy (MCEP) (-55%) and Contango (MCF) (-50%).
All was not dismal throughout 2017, however. Beginning in September, several companies rallied, as shown in the column titled "Price Chg. From 8/31/17." Overall returns for the BOTB Club for that period were +31%. Among individual performers from that date through year-end, CRC rallied +149%, Northern Oil & Gas (NOG) +109% and Denbury (DNR) +108%, with Gastar (+78%), WTI (+73%) and Barrett (+72%) also rising significantly. Only XCOO (-40%), REXX (-40%) and EPE (-20%) posted losses.
Although included within the period from 8/31, the results from the 4Q are also interesting. Although NOG, CRC, and DNR continued to lead the pack, many other companies saw performance drop off. The comparison between the results from 8/31 to 4Q (9/3) shows how much of each stock's performance was due to having owned the stock in September (a lot!).
From inception of the Club on 12/1/15, the clear winner continues to be Resolute Energy (REN) (+677%), with only 3 other companies, AXAS (+86%), Approach (+33%) and Sanchez (SN) (+6%) generating positive returns. Overall returns were (-43%) including all companies and (-1%) excluding the bankrupt companies … largely driven by REN's gains. Excluding REN, returns would have been more like (-20%). As it turns out, the inception date turned out to be a turning point for both oil and gas prices, with oil prices +44% and natural gas prices +33% since then. Needless to say, the correlation between product prices and stock prices has not been close in the past 2 years.
The returns from 6/30/14, the cycle high for oil prices, shows catastrophic losses across the Club, and there is little sense in comparing across companies that all lost -90% or more. The data is included for informational purposes only, although I suppose one of the reasons to include it is to remind investors that protection of principal is a key, if not THE key, to investing. Setting appropriate position size, risk/reward tradeoffs, loss limits, etc. are all very important to avoid losses of that magnitude going forward.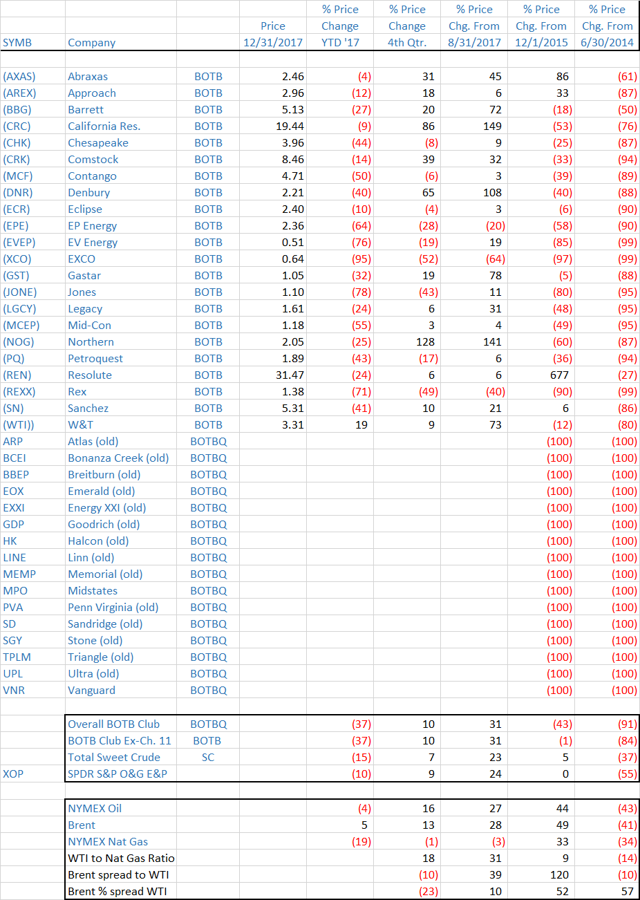 So, what were results like outside the BOTB Club? I've included data similar to that provided for the Club in the chart, but do not plan to discuss the results in detail. Suffice to say that the Sweet Crude Club companies as a whole have outperformed their BOTB Club counterparts over every time period modeled. In 2017 the comparative #s were (-15%) for the SCC and (-37%) for the BOTB group, although in the recent periods (since 8/31 and in 4Q) as traders bid up the most oversold, most leveraged companies with the recovery in oil prices (in my opinion). Since the start of the BOTB Club, returns are actually positive overall for the Sweet Crude group (+9% vs. -43%), and returns from the cycle high in 2014 produced losses "only" half of the BOTB Club. It turns out that the two watchlists have been a pretty good overall indicator of winners vs. laggards so far. Of course, individual company returns vary, and timing is crucial.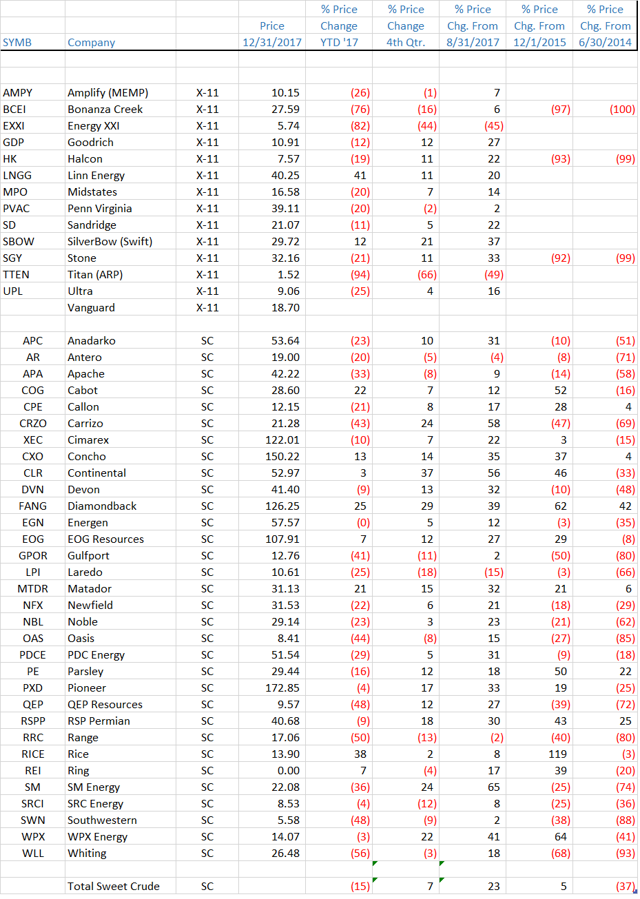 ACTIVITY
EQUITY.
Bill Barrett issued 21 million shares of common at $5/share ($105 million in gross proceeds) in December, becoming one of very few companies to do a direct offering in 2017. The sale came on the heels of BBG's announcement of a plan to merge with 5th Creek Energy, as described below, although technically the offering predates the merger closing date.
DEBT
California Resources obtained a 5-year 2L term loan for $1.3 billion to repay amounts owed to other secured creditors. In extending the term to '22, CRC agreed to pay a 2% upfront fee and a rate of LIBOR + 4.75%, roughly 1.5% higher than its existing debt, translating to total increased interest cost of approximately $100 million during the term. CRC also filed a shelf registration for up to 6 million shares, which would be available for use at the company's discretion.
Chesapeake Energy completed its $850 million debt offering of 8% Senior Notes due '25 and '27. It then tendered for $550 million in 2L and Senior Notes due '20 -'22. It also negotiated a private debt repurchase of $237 million in 2L notes due '21 in October. The primary purposes of the transactions were to extend maturities and to reduce secured debt.
Denbury Resources privately negotiated a $610 million exchange of existing debt due '22-'23 for $467 million in new securities, $382 million in 9.25% Senior Secured 2L loans due '22 and $85 million in new 3.5% Convertible Subordinated Notes due '24 (i.e. at a discount of 23%). The shares into which the notes convert, 39 million, amount to approximately 9% of total outstanding shares, with the exercise price set at $2.18.
DNR followed up its private exchange with a public tender for notes due from '21-'23, which is currently ongoing. New securities would be $182 million in 9.25% Senior Secured 2L Notes due '22 and $147 million in 5% convertible notes due '23. Offer prices range from $750-800/$1,000 face value (or discounts of 20-25%), with the convertible notes converting to 41 million common shares at a price of $2.07/share. The total shares issued in the two exchanges would be 80 million, or roughly 18% of the total shares after the exchanges.
EPE Energy also did a debt exchange, trading $1.2 billion in new 9.375% Senior Secured Notes due '24, primarily for notes due '20 but also for existing notes due '22-'23.
Gastar experienced operational issues in drilling and completing wells earlier in the year. To continue its development program, GST agreed to increase its loan rate from Ares and to PIK (pay in kind) interest due. The effective rate of its loans now ranges from 13-15%.
Legacy Reserves (LGCY) agreed to pay a joint venture partner an Acceleration Payment of $141 million to trigger a larger reversionary interest in properties drilled by the partner. While many might consider this an acquisition of properties, its structure is more like buying back debt (that carried an implicit rate of 15%) with 12% 2L financing from GSO. The payment will increase debt, production and cash flow immediately, and incrementally up to the prior reversion date (1-2 years out), at which point LGCY will still have the same reserves and production going forward. Reserves attributable to the payment were 6.3 mmbo (50% PD) and 9.9 bcfg (56% PD), or roughly 8 mmboe. SEC value was $78 million, net of $46.5 million in future development costs. An 8-K with Pro Forma financials is [here]. GSO extended the availability of another $95 million in 2L loans to October, 2018.
Northern Oil & Gas entered into a new credit facility with TPG 6th Street Partners, a non-bank financial company. The 5-year $400 million facility had an initial draw of $300 million, with $165 million going to take out the existing bank group. Technically, $235 million remains available, while NOG faces upcoming maturities of its unsecured debt ($691 million) in 2018, along with a working capital deficit of (-$200) million. Although the facility has a nominal expiration date of 2022, there is a springing maturity date ahead of the 2018 maturities if those balances exceed $30 million, essentially giving NOG 18 months to repair or fix its balance sheet.
Borrowing bases. As expected, the fall redeterminations produced little movement in bank borrowing bases. This is largely because strip prices, despite the impressions of many readers, were lower than they were in the spring, not higher. Banks left most bases unchanged, with EV Energy experiencing the biggest cut ($50 million, to $325 million) and Eclipse obtaining the biggest increase ($50 million, to $225 million).
M&A.
The biggest news on the M&A front for the BOTB Club was Bill Barrett's plan to merge with 5th Creek Energy in a transaction valued at $649 million when it was announced, including assumption of $54 million in debt. 5th Creek, a portfolio company of PE firm Natural Gas Partners, was formed in 2014 by former executives of Bonanza Creek, and both BBG and 5th Creek's properties are in the DJ Basin.
5th Creek owns interests in 81,000 net acres, which have 1,179 estimated horizontal locations. Proved reserves are 113 mmboe, and production is 2,900 boepd (roughly 70% oil). Applying rough metrics to the announced value of the transaction, using $30,000/net flowing barrel would yield a PDP value of $87 million, with the 81,000 net acres being valued at roughly $7,000/net acre. The proved reserve figure likely includes a high percentage of PUD reserves which will require substantial future development to convert to PDP status, so coming up with a reserve acquisition cost of $5.74/boe ($649 mm/113 mmboe), with no value attributed to acreage, would be misleading.
In connection with the sale, BBG also obtained an agreement with a holder of $50 million of its 7% notes due '22 to exchange such notes for common shares. That was in addition to its equity offering cited above. Separately, BBG agreed to sell its Uinta Basin properties for $110 million; such properties contained 12 mmboe of proved developed reserves and were producing 2,900 boepd (91% oil).
In effect, the transaction is structured as a takeover of BBG by 5th Creek through a reverse merger. 5th Creek shareholders will end up with 50% of the "new" BBG, with current BBG shareholders exchanging their shares for new BBG shares on a 1:1 basis and 5th Creek shareholders (NGP) receiving 100 million shares of new BBG. BBG management will remain in place.
The market has reacted negatively to the transaction, which was announced Dec. 5. From its price of $5.95 on the day before the announcement, BBG traded as low as $4.27 before rebounding recently to $5.13. That price would make the total acquisition price $577 million, vs. the $649 million announced price.
Approach Resources acquired Permian production and acreage from Aristad, a portfolio company of Kayne Anderson, for $18 million in AREX shares. Proved developed reserves are estimated at 1.8 mmboe (42% oil), and the properties produce 550 boepd (51% oil).
Eclipse Resources acquired 44,500 net Marcellus acres ($1,900/acre) from Travis Peak, a portfolio company of EnCap for $94 million in ECR shares. It also acquired Cardinal Midstream for $18 million in ECR shares to service the same area. EnCap controls ECR and owned over 60% of its shares before the transactions.
Gastar announced that it plans to sell its interest in the West Hunton Upper Lime Unit, and marketing is ongoing. Proceeds from the sale would go towards its 1 rig development program in the STACK area in '18; proceeds in excess of $100 million would be expected.
Petroquest acquired 24,600 gross acres in Louisiana for $14.75 million cash plus 2 million common shares.
Resolute sold its interest in the Aneth Field, one of its legacy assets in Utah, for up to $195 million to Elk Petroleum, the U.S. subsidiary of an Australian company. Funds were initially applied to bank debt, leaving $20 million outstanding against a borrowing base of $210 million. Availability will be used to fund its conversion to a pure-play, Delaware Basin development company.
Sanchez sold 7,000 net acres containing 450 locations in the EagleFord to Vitruvian IV, a Quantum portfolio company, for $105 million ($15,000/net acre). Of particular note is that Vitruvian/Quantum recently sold out of their position in the STACK area before moving to the EagleFord.
Restructuring. Exco remains the company in the most dire financial condition. It recently announced forbearance agreements with its creditors until early January. It had previously hired PJT Partners, Alvarez and Marsal and Kirkland Ellis as its advisors in the restructuring process, and its auditors have issued "going concern" statements, meaning that bankruptcy is an extremely high probability. XCOO now trades on the Pink Sheet market.
EV Energy remains on the critical list as well. Its borrowing base was cut by $50 million, but more importantly, it faces covenant breaches and an upcoming maturity beginning in '18. Enervest, its sponsor, is also facing major problems with another institutional fund it sponsored where Wells Fargo, the bank lender, is threatening to foreclose on a $2 billion fund.
Jones recently engaged Credit Suisse to advise it on corporate financial alternatives, as well as Tudor Pickering Holt to assess potential joint venture opportunities. No legal firm was announced, making it likely that the firm is seeking a merger or a financial partner to address its finances before considering more drastic alternatives. JONE received a listing notice from the NYSE and plans to address its price deficiency at some future date by a reverse split.
Mid-Con recently engaged Sagent Advisors to assess corporate financial alternatives. After selling a number of waterflood properties in Oklahoma for $22 million in cash, its net debt stands at $84 million vs. a $105 million borrowing base, but it has another $35 million in preferred units that may be put back to the company beginning in 2021. Alternatives might range from seeking merger partners to finding joint venture partners to seeking additional capital.
Joint Ventures. Eclipse entered into a $325 million joint venture with Sequel Energy, an affiliate of private equity firm GSO. An additional option of $162.5 million might be exercised if initial results warrant it.
It is also worth noting that several other members of the BOTB Club have utilized drilling joint ventures. As readers should know by now, I am not at all a fan of these, but distressed companies try to do what they feel is necessary to protect their liquidity. The deals come at a high cost, usually at least 20-30% all-in, and take away from future prospects due to that cost. The companies who have such joint ventures include CRC, CRK, ECR, EPE, LGCY and SN
PIK
Payment in kind (PIK) features remain popular with cash-strapped companies. Often (although not always) these are referred to as "extend and pretend" features, since the main objective is simply to delay cash payments which based on current prices, valuations, etc., would not be feasible today. XCO, CRK, REXX, PQ, SN and GST are all currently using PIK features in some fashion.
Results
As I began to tally 3Q financial data to update results from 2Q, it occurred to me that most of the data did not change materially from 2Q figures. Therefore, I refer you to my article #17-4 (parts 3 and 4) for the more detailed figures. The chart below reflects summary data that is often considered most useful in analyzing company results, with the caveat that it represents a snapshot as of 9/30/17. Projections and guidance for 2018 will not come out, for the most part, until sometime later in 1Q '18, often in connection with year-end reserve and/or financial result reporting.
The chart below reflects (1) the name of the company; (2) the accounting method; (3) 3Q EBITDA; (4) 3Q net income/(loss); (5) long term debt; (6) preferred equity; (7) market cap of common; (8) total enterprise value; (9) total enterprise value/EBITDA (annualized based on 3Q #s; (10) debt/annualized EBITDA; (11) interest paid 9 months; (12) discretionary cash flow 9 mos.; (13) cash flow from operations; (14) cash from investing activities; (14) financing activities; (15) free cash flow; (16)borrowing base and (17) liquidity.
I could spend several articles explaining what the results indicate to me, but in the end, that would be only my own opinions. Readers can review the data themselves and draw their own conclusions as they affect one or more companies.
Columns 3-4 indicate that, although E&P cos. will likely always have EBITDA, net income remains elusive even at recent prices. Overall the BOTB Club had a net loss of $(-641) million with EBITDA of $1.5 billion, and not one company had net income for the 3Q.
Columns 5-10 show the components of each company's total enterprise value. The Club as a whole has debt and preferred of almost $38 billion and an equity market cap of $11 billion. This is what I would classify as an "upside down" capital structure. That is, healthy companies who have access to the capital markets would normally have $24-36 billion in market cap against $12-24 billion in debt. Although market cap is a sentiment-based indicator, it is indicative of how far the market has to go with respect to recapitalization of balance sheets, and also helps explain why companies have had little to no access to the unsecured debt markets … or equity.
These columns also highlight the companies that are in the most financial distress: XCOO, EVEP, REXX, and PQ. On the other end, companies like AXAS, AREX, MCF and REN continue to sport the lowest debt ratios.
Columns 11-12 illustrate EBITDA multiples against total enterprise value and debt. XCOO, REXX, GST, ECR and AREX are currently trading at the highest multiples to EBITDA, although for different reasons. The first 2 companies are severely distressed, while the remaining 3 companies all have expected growth somewhat built into their stock prices already.
EBITDA multiples against debt present a slightly different picture, in that other distressed companies enter the picture: EVEP and Mid-Con. What is key here is that, as the chart below shows, debt/EBITDA ratios in the 2000s were typically < 2:1, while the current picture shows an average multiple of > 4:1. Banks have already begun ratcheting down their covenants to approach that longer-term metric, and the OCC is also tightening up standards that banks must adhere to. Where once the ratio was for bank debt only, more covenants are now using a senior secured debt (1L/2L) total. In fact, the OCC proposed preliminary recommendations in 2016 that would have tightened overall debt limits to include all debt, but they were convinced to back off when lenders explained that virtually all of their credits would have to be classified if the tighter standards were adopted. Still, given the proliferation of different types of debt securities, expect to see more tightening if or when the industry improves more.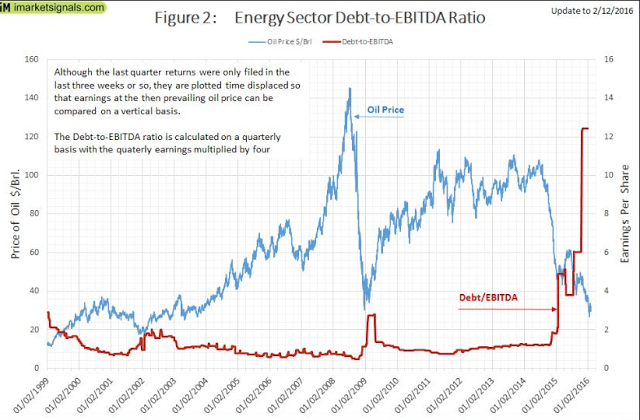 Columns 13-14 are included to show how much interest was paid during the 9-month period, as well as the discretionary cash flow remaining after interest payments. Readers can see that companies like CRC, CHK, CRK, EPE and others all paid more than 50% of their cash flow before interest to service debt, leaving that much less to be used for CAPEX and debt repayment.
Columns 15-18 show the components of the cash flow statement, including free cash flow, which has become a focus of certain investors and the media. The BOTB Club generated $2 billion of cash flow from operations against $4.5 billion in CAPEX, yielding a negative free cash flow of (-$2.5) billion for the period (including all CAPEX, not just drillbit CAPEX).
Free cash flow (or lack thereof) is one of those terms that people have latched onto as a "cause" of E&P companies' distress, when in reality that is not true. The reality is that cash from operations is a backwards-looking indicator that takes all prior CAPEX and results to date into account, while the cash from investing activities (CAPEX) is forward-looking, capital that will produce results in future periods. Therefore, unless projections of future production, reserves, debt repayment, revenues, etc. are taken into account, the terms in isolation are relatively meaningless. A company that is growing or is starting from a small production base may have CAPEX that exceeds cash flow, while a company that is limited by its lenders and is in severe distress may have CAPEX that is less.
The final two columns 19-20 show the current borrowing bases and liquidity for each company. As I said earlier, borrowing bases in the fall redetermination cycle were little changed, because strip prices were actually slightly less in the fall than in the spring. A key point to note there is that total borrowing bases are roughly $13 billion, while total debt/preferred totals $35 billion. Right now, the capital markets for this group are virtually closed except for refinancings or new secured debt, so the unsecured markets have to re-open by the time the wall of debt hits beginning in 2020. Liquidity of $8 billion is clearly insufficient to retire debt as it comes due.
CHART (described above)

One strange perception I have noticed among many SA readers is the belief that all debt can simply be rolled forward. That is not at all the case. In a home ownership situation, if I said that since my original purchase (80% debt-financed) the market price had declined by 50% and my income had gone down by 75% or more, and I wanted to refinance at the full 80% of original purchase, the lender would not only deny my application but might seek to foreclose on my house if I couldn't keep up with payments.
In oil and gas, the issue is actually direr, because depletion means that reserves that used to be there have been produced, or if the overall level has not changed, has required dramatically more capital to be diverted from debt payment. Refis will eventually become a big issue, but for many companies' maturities have been pushed out beyond the expected holding period of the investment. Nimble traders just need to be aware of the issue as maturities approach.
Even professional traders sometimes get it wrong when it comes to valuation of debt, as the rash of bankruptcies in recent years showed. Then unsecured debt begat 2L debt, and in some cases 1.5L debt and even 3L debt; much of that "smart money" investment was washed away in the resulting bankruptcies. In many cases, debt of companies was trading very close to par even as the company's finances became more dire; witness the chart from XCOO here..
As I said, this data is presented for information only. They will not serve to give a complete picture of any company's financial picture, nor will even the much more detailed data presented in the #17-4 articles. Additionally, the more important data will come out from companies shortly, in the form of new CAPEX budgets, financial guidance for '18 and '17 reserves. It is worth noting that SEC prices to be used for year-end '17 reserves are $51 for oil and $3 for natural gas, roughly the same as for year-end '15. That may allow for some very interesting comparisons and for evaluation of the effectiveness of companies' CAPEX programs in the interim.
Trading Environment / Conclusion
The 4Q unfolded pretty much as expected. Sept. was a great month for stocks, they then sold off into mutual funds' tax year-ends at Oct. 31, rallied into the OPEC announcement, sold off for year-end tax filers, and after Dec. 15 the void created by all that selling gave stocks a chance to rebound. That is more than most buy-and-hold investors like to hear or take into account, but that is my assessment of cause and effect for traders.
Heading into 2018, the first week is continuing the strong move up. Last year early Jan. marked the peak for oil prices, which then sold off for much of the year. With the extension of the freeze in production from OPEC and stronger demand, oil prices may stabilize, although the first half of 2018 is not expected to bring much relief for inventories.
I would advise anyone interested in following the discussion regarding supply/demand to read an excellent series of articles by Richard Zeits, which contains many useful and cogent points on both (several?) sides of the debate/discussion. I have long been of the opinion that the "OPEC cuts" were actually "faux cuts", and as far as I am concerned that has been borne out by subsequent data. Nevertheless, stronger demand than expected has helped oil prices recently, although frankly with quite a bit of "noise" in the form of hurricane disruptions, pipeline leaks, geopolitical saber-rattling, etc. I tend to focus less on the headlines and more so on stocks' reactions to those headlines for direction.
The Aramco IPO is universally known and expected in 2018. To me, more interesting than Saudi Arabia's attempt to prop up prices will be the detailed look into Aramco's reserves, etc., that will have to be furnished. The valuation desired by the Saudis has been stated at $2 trillion, but no firm amount has been set yet. In addition, because the IPO is expected to be so huge, portfolio managers may have to "dump" other energy stocks to make room for such a large allocation. Then too, pension funds like those in Norway, as well as a growing number of funds selling for environmental and social reasons, may be selling E&P stocks during the year, and that may create buying opportunities.
One other, brief point I will make now and you may have noticed already; private equity has taken an outsized role in the E&P industry, both in private companies and, lately, in public companies as well. With $50-100 billion in capital on the sidelines and more funds being raised, they remain a significant force, as well as one that retail investors may not realize is as significant as it is. Many of the transactions cited above involved private equity managers either as buyer or seller, or as lender. The sharks continue to circle, and so far they have avoided investing directly in the BOTB Club companies, preferring instead to buy from them, sell to them or climb the capital structure "just in case." Witness all the situations where non-banks have taken over for banks in providing 1L debt (LGCY, GST, REXX, NOG), and others where 2L or other secured debt has been provided above the level of unsecured debt and equity.
More detail regarding my outlook for 2018 will be published at a later date. In this article I merely hoped to set the stage for 2018 numbers to come in beginning later this month, as well as just to put 2017 in the rear-view mirror, even though it was a very good year for nimble traders who trade both long and short.
Discussions in my articles are usually left as free-flowing, up to a limit I have not yet had to exercise. Reasoned discussion is encouraged, and if the comment section ends up looking more like an extended chat session, so be it.
Good luck to everyone in 2018! Remember: protection of capital is job #1, and proper position size, risk tolerance and reasoned entry/exit points will help the year be successful (in theory, anyway!)
Disclosure: I/we have no positions in any stocks mentioned, and no plans to initiate any positions within the next 72 hours. I wrote this article myself, and it expresses my own opinions. I am not receiving compensation for it (other than from Seeking Alpha). I have no business relationship with any company whose stock is mentioned in this article.
Editor's Note: This article covers one or more microcap stocks. Please be aware of the risks associated with these stocks.