I am fond of pigs. Dogs look up to us. Cats look down on us. Pigs treat us as equals." ― Winston S. Churchill

The biotech sector opened with a bang here in 2018. Solid rallies Tuesday and Wednesday were followed by a quick reversal this morning. After opening up, it seemed a huge program trade took most biotech stocks quickly 15 minutes into trading today. The main biotech indices are slowly recovering from that quick swoosh of profit taking as we submit this post for publication.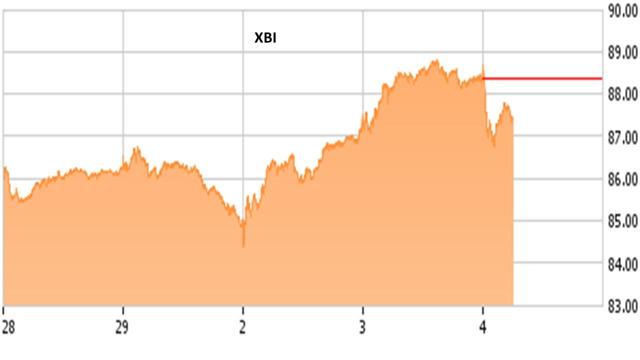 Author's note: To get these Biotech Forum Daily Digests as soon as they are published, just click here on my profile, hit the big orange "Follow" button, and choose the "real-time alerts" option.

Nano-cap AmpliPhi Biosciences (APHB) got a boost in trading on Wednesday. The company announced positive results from a single-patient expanded access program involving severely ill antibiotic-resistant patients showed treatment with the company's bacteriophage therapeutics proved positive. Specifically six of the seven patients receiving treatment showed "complete resolution of the infection or significant improvement of baseline symptoms and signs". The stock was up almost 20% in trading on Wednesday.
Another nano-cap Cellect Biotechnological (APOP) is roaring ahead some 50% in early trading today. The company reported positive results from a Phase 1/2 clinical trial assessing ApoGraft-processed donor-derived peripheral blood cells transplanted into blood cancer patients.
Rounding out our notable news from microcap land, Celsion (CLSN) is getting a bit of a pop today on trial events as well. The FDA agreed to the structure for its Phase 1/2 clinical trial assessing its DNA-based immunotherapeutic GEN-1 for the localized treatment of ovarian cancer. Enrollment should commence before the first half of the year is done with a projected 25% of total subjects enrolled by year end.

ANI Pharmaceuticals (ANIP) was reiterated as a Buy with a $77 price target at Cantor Fitzgerald Tuesday after the company picked up some assets from AstraZeneca (AZN) in a small purchase. Cantor's analyst cited that deal in his positive view on the company and stock.
We view ANI's recent purchase of four tail branded assets from AstraZeneca positively and we think the transaction is consistent with prior value-creating moves at the company. From the transaction, ANI will gain four modest but highly profitable branded products with the opportunity to expand margins further through in-sourcing manufacturing for the basket. Additionally, ANI enhanced its BD flexibility through a new credit facility that gives the company ample capacity to pursue additional transactions. With a solid core business and significant optionality associated with the Cortrophin development asset, we view ANI as one of the best-positioned names in our emerging generics space."
Cantor Fitzgerald also had positive things to say about Paratek Pharmaceuticals (PRTK) Thursday when they reissued their Buy rating with a big $50 price target (the stock currently trades at just over $18.00 a share). Fitzgerald's analyst noted the following for her optimism on the shares.
This morning, Paratek announced three things that support our positive investment thesis. It: 1) Initiated a rolling NDA submission for omadacycline (ABSSSI and CABP), and is on track to submit final components 1Q18."
Audentes Therapeutics (BOLD) got some love from analysts after releasing positive trial results Thursday. The company stated preliminary results from a Phase 1/2 clinical trial assessing its gene therapy candidate AT132 in patients with X-Linked Myotubular Myopathy (XLMTM) were positive. Six adverse events were reported in the study, two of which were deemed serious. Nonetheless, positive analyst commentary was forthcoming Thursday. H.C. Wainwright reiterated their Buy rating and $37 price target right after trial results were disclosed.
Note: New analyst ratings are a great place to begin your due diligence, but nothing substitutes for deeper individual research in this very volatile sector of the market. Many of the small-cap names highlighted in "Analyst Insight" will eventually appear in the "Spotlight" section, where we do deeper dives on this type of promising but speculative small-cap concerns.

We have seen a lot of 'worst to first' trading action in the first few days of 2018. Several of the stocks in the Busted IPO Forum are up 15% to 20% in opening month of the New Year. The 'January Effect' seems to be actually happening in January for a change this year.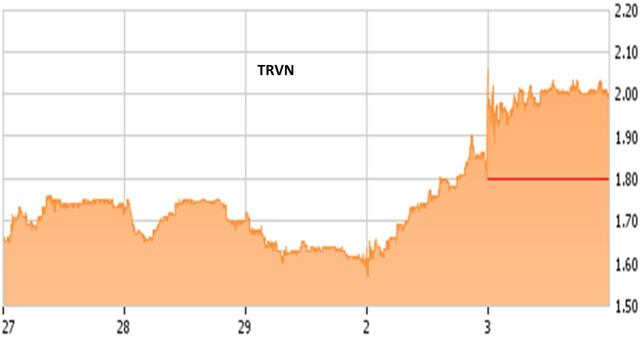 One beaten down small biopharma stock that has made a major move early in 2018 is Trevena (TRVN). After crushing shareholders in 2017, the opening of the New Year has brought some renewed hope as can be seen from the chart above. We revisit this name in the first Spotlight feature of 2018.
The stock had a good day on Tuesday and rose nearly 12% Wednesday. It was announced before the market was open that the FDA has accepted the company's NDA seeking approval for its primary compound 'OLINVO' injection for the management of moderate-to-severe acute pain. OLINVO is the first G protein biased ligand of the μ-opioid receptor and has Breakthrough Therapy designation from the FDA. In late stage studies it was found "colorectal surgery patients who received OLINVO showed return of bowel function 28 hours faster than similar patients treated with conventional opioids". The product, if approved, has the potential to improve pain management or reduce opioid addiction.
At the close of the third quarter, Trevena had just over $75 million in cash and marketable securities on hand. Management has guided this is sufficient for the next 12 months of operations.
The stock hit a high early in 2017 of $8.00 a share but was trading close to its 52 week low of $1.35 to close out the year. The recent rally is a testament to how absolutely abysmal sentiment had become on the stock, that was probably held down by tax loss selling late in the year as well.
Analyst Commentary & Outlook:
In November, Oppenheimer ($5 price target), Needham ($7 price target) and H.C. Wainwright ($7 price target) all reissued Buy ratings on Trevena. I think Needham's analyst captured the view on the company's prospects accurately:
Trevena provided a 3Q17 update in a conference call today. Company announced submission of Olinvo NDA on 11/2/17. Given Breakthrough Therapy designation, priority review is a possibility. We nevertheless assume PDUFA date in early Nov 2018 (Jul 2018 if priority review). Mgmt expects an AdCom mtg. Trevena announced a restructuring in Oct 2017 to conserve cash for Onlinvo launch. Cash constraints are still a concern, however, and we have adjusted our model to reflect a slower sales ramp. Discussions w/ potential U.S. and ex-U.S. partners are underway, but we have conservatively shifted out our collaboration revenue estimates. Although we are lowering our price target to $7 (was $9), we continue to believe Olinvo stock is undervalued. BUY."
Verdict:
The stock finally seems to be seeing some momentum returning to its shares. With a market cap of approximately $125 million and some $75 million of cash in its coffers, even with the recent rally the equity seems underpriced from a longer term perspective. While not adding to my core holdings, I am a bit more optimistic on Trevena that I was through the back half of 2017.

Cats are intended to teach us that not everything in nature has a purpose."
― Garrison Keillor
Disclosure: I am/we are long ANIP,CLSN,PRTK, TRVN. I wrote this article myself, and it expresses my own opinions. I am not receiving compensation for it (other than from Seeking Alpha). I have no business relationship with any company whose stock is mentioned in this article.