Investment Thesis
December marks the second month that John and Jane have had a well-established portfolio as they continued to receive their normal dividends (along with a few increases) and one final dividend distribution from Pioneer Fundament Growth Fund (PIGFX). This review specifically focuses on John and Jane's Taxable account.
The goal of this article is to track monthly dividend income changes and to establish a long-term database that will allow for year-over-year (YoY) comparisons. I also like to use these articles to track dividend increases within John and Jane's portfolio. I want to make it clear that this is not a mock portfolio and involves real people and real trades.
Dividend and Distribution Increases
Similar to my article from November (Here), another four stocks in John and Jane's portfolio announced and delivered increased dividends or special dividends in the month of December. The following is a summary of the increases:
No More PIGFX
While I appreciate the year-end payments from PIGFX, I can say that I am happy we have crossed into 2018 so I could sell PIGFX from the taxable account and redeploy the funds into some shares I have had my eye on (more to come on this next month)! In the month of December John and Jane received $95.75 from PIGFX in December which is a total distribution of $2452.71 from PIGFX in 2017.
December Income Chart
As an easy way to keep track of received and estimated dividends/distributions for John and Jane's portfolio, I have created the following chart to track received and estimated numbers (estimates are simply based on historical figures). Green is used to signify confirmed dividends.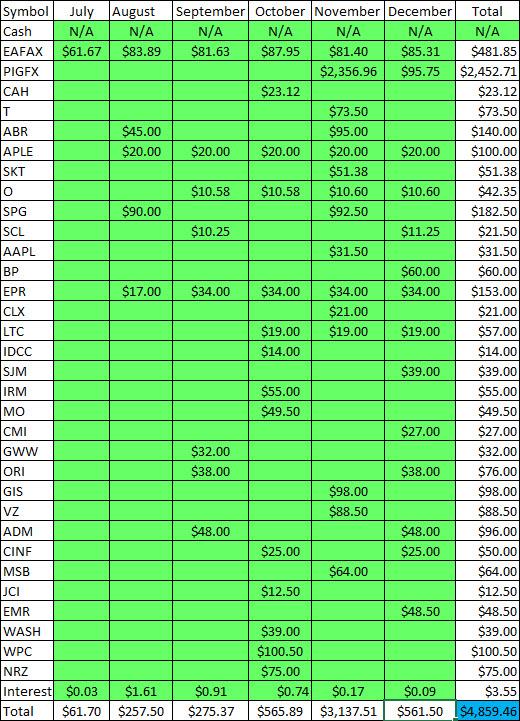 Source: Consistent Dividend Investor, LLC
For those wondering why the dividends are always the same, it is because I am choosing to collect all dividends as cash so that they can be distributed to John and Jane as income or collected to purchase other undervalued securities. Although I believe reinvesting dividends is powerful, I believe that this method is better suited for John and Jane's lifestyle.
Conclusion
PIGFX represents the last mutual fund needing to be sold from John and Jane's account. With the proceeds, we intend to add to existing positions and add a few stocks not currently held in their portfolio. I will also be writing another two articles, with the first focusing on the transformation of Jane's Roth and Traditional IRA Portfolios and the second on John's Roth and Traditional IRA Portfolios. As mentioned previously, I plan to maintain the majority of John and Jane's position in Eaton Vance Floating Rate Fund (EAFAX) as I believe it represents one of the better floating rate funds available on the market.
Final Note: If you enjoy my articles, please take the time to follow me. While I enjoy performing analysis, following me is the best method for showing me that SA subscribers are finding my work useful.
If you have any suggestions to improve my articles or if you would like me to perform analysis on a stock or your portfolio please feel free to message me and I will do my best to make it happen. I truly appreciate thoughtful feedback and would love to create content that is meaningful for my followers.
John and Jane are currently long the following mentioned in this article: EAFAX, AT&T ( T) Archer Daniel Midland (ADM), Altria (MO), Apple REIT (APLE), Arbor Realty (ABR), Cardinal Health (CAH), CINF, EMR, EPR Properties (EPR), General Mills (GIS), IRM, Johnson Controls (JCI), New Residential (NRZ), Old Republic (ORI), Realty Income (O), Simon Property Group (SPG), SCL, Tanger Factory Outlets (SKT), Verizon (VZ), WP Carey (WPC), Washington Trust (WASH), Cummins (CMI), Apple (AAPL), British Petroleum (BP), Hormel (HRL), Clorox (CLX), LTC Properties (LTC), Interdigital Corp (IDCC), Spectra Energy Partners (SEP), Smuckers (SJM), Mesabi Trust (MSB), Westlake Chemical (WLKP).
Disclosure: I am/we are long ABR, T, VZ, SKT.
I wrote this article myself, and it expresses my own opinions. I am not receiving compensation for it (other than from Seeking Alpha). I have no business relationship with any company whose stock is mentioned in this article.
Additional disclosure: This article reflects my own personal views and is not meant to be taken as investment advice. It is recommended that you do your own research. This article was written on my own and does not reflect the views or opinions of my employer.