Welcome to the Weekly Natural Gas Storage Report Edition of Natural Gas Daily!
The EIA reported a -206 Bcf change in storage, bringing the total storage number to 3.126 Tcf. This compares to the -76 Bcf change last year and -99 Bcf change for the five-year average.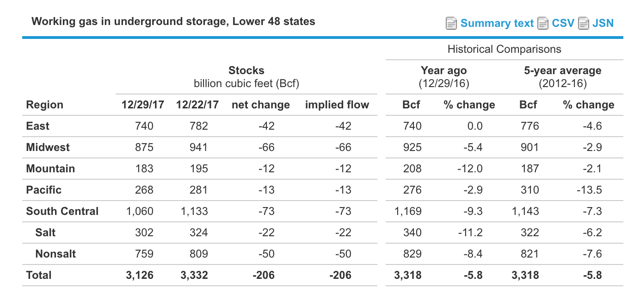 Source: EIA
Going into this storage report, a Reuters survey of traders and analysts pegged the average at -221 Bcf with a range of -205 Bcf to -235 Bcf. We expected -225 Bcf and were 4 Bcf above the consensus. We were off by 19 Bcf on this storage report.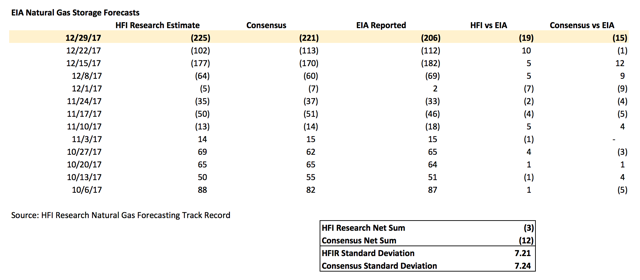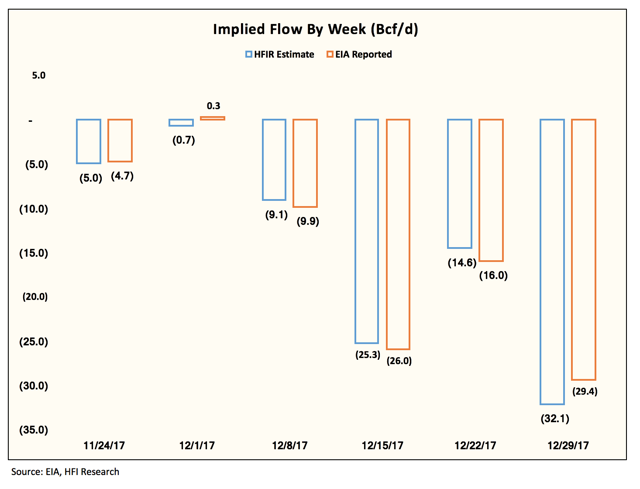 We were off quite materially in this report. By our estimate, we overestimated demand by as much as ~2.7 Bcf/d and most of that likely came from residential/commercial demand (or heating demand). But if you look at the last two weeks, we were off by a total of 9 Bcf or ~0.65 Bcf/d.
This storage report was definitely a surprise to the bear side. Everyone, including us, expected a relatively bullish report only to be disappointed. Going forward, however, December 29 week will pale in comparison to what January 5 is expected to report.
To give you an idea, our preliminary estimate of -330 Bcf will knock out a little over 10% of natural gas storage from one-week of demand. We estimate that on Jan. 1, we saw total demand spike close to ~150 Bcf/d! That's insane.
But for those of you wondering whether the market is pricing in the storage report next week already, we have bad news for you - it's most likely already priced in.
In the natural gas trading world, these storage reports get priced in far more in advance than you think. For example, we already knew what storage draws would look like for January 5 week on December 22nd. We started revision storage draws higher because weather was turning bullish. Sadly, by the time you read it in our public reports, they are usually already too late, and the price has already moved.
But nonetheless, although this week's EIA storage report was a bearish surprise, next week's report will be a record-shattering one. We have preliminary estimate of -330 Bcf for Jan. 5 week.
We have recently just introduced a new section called, "HFIR's long-range weather outlook" where we discuss what we are seeing for weather longer than 15 days out. This will help subscribers gauge whether the trend is shifting bullish or bearish. If you would like to start receiving weather updates along with natural gas fundamentals, please see here for more details on our premium offering.
Disclosure: I/we have no positions in any stocks mentioned, and no plans to initiate any positions within the next 72 hours.
I wrote this article myself, and it expresses my own opinions. I am not receiving compensation for it (other than from Seeking Alpha). I have no business relationship with any company whose stock is mentioned in this article.