Investing in Greek assets has been a rather poor proposition over the last 10 years as the Greek crisis consumed shareholder capital and banks raised new equity at a large discount, thereby heavily diluting existing shareholders. As a results losses of over 95% since 2007 are the norm.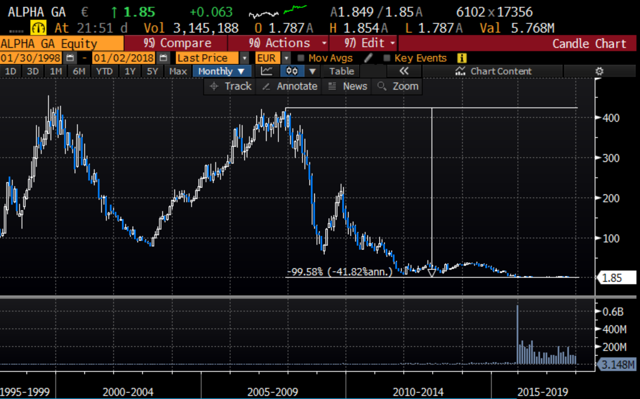 After all the pain of the recent years, we are in all likelihood at a turning point and returns for investors in Greek banks will be positive and potentially very high. Indeed, this is the most attractive trade for 2018 in my opinion.
Value proposition for a contrarian
This trade has received some coverage in recent months as investors ranging from Kyle Bass to John Paulson have advertised their bullish positions in the media. A fellow Seeking Alpha contributor has been writing quarterly updates on the Greek lenders' results since early 2016 and is also positively disposed towards the sector. However, apart from these isolated cases, most money managers would not touch these stocks with a barge pole, as Greece's reputation has been tarnished during several iterations of the crisis. We are thus looking at a contrarian trade in an asset class which has received little attention and buying interest in recent years.

The four largest Greek banks are listed at the Athens stock exchange and have a combined market value of 9.3bn Euros and over 30bn Euros of tangible book value. In other words, the sector trades at a 70% discount to tangible book value - this is where the value proposition begins.
What about NPLs
Although the share of non-performing loans (NPLs) is considerable at around a third of the loan book, reserves have already been set aside to cover these. As Jan pointed out a couple of months ago, the coverage ratio (reserves + collateral values) exceeds the value of NPLs by 11%-25% for the top four lenders. Furthermore, is has been pointed out that considerable legislative changes are in progress to streamline the repossession process and allow debt restructuring without seizing collateral. These legal changes will give banks more tools to recover bad loans. There is also a plan to significantly reduce bad loans. The lenders committed to reduce their NPLs through a mix of liquidations, sales and write-offs during 2017-2019 and the plan is so far on track. Finally, an improvement in the economy will be very helpful in dealing with the pile of bad debt, as collateral values rise and more borrowers are able to repay.
The Economic Recovery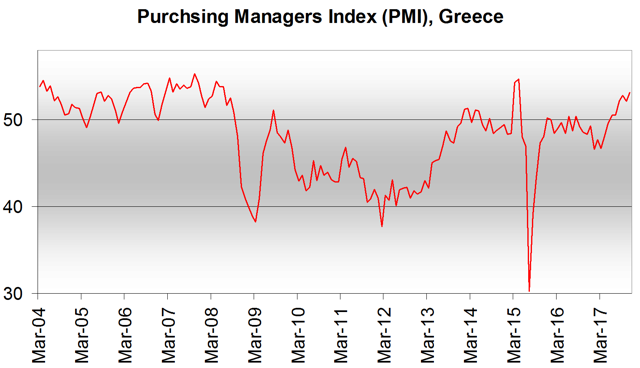 The Purchasing Manager's Index for Greece has spent the vast majority of the past 10 years in contraction territory (below the 50 mark) reflecting the depression-like collapse. Currently the index is at its highest level since 2018 (excluding two months in early 2015). GDP will grow around 2.5% over the next two years according to Bank of Greece, and although it may not seem like much, it will be the best economic performance for the country in over a decade. Along with aforementioned measures aimed at tackling NPLs, improving growth will allow the banking sector to heal and eventually grow.

Over the past year short-term Greek bond yields fell from the 8-9% range to below US levels (see chart below). This drop in yields reflects the ongoing compliance with the troika program, better prospects for the sovereign and better liquidity in the banking system. Bank share prices haven't moved nearly as much, but price action is encouraging.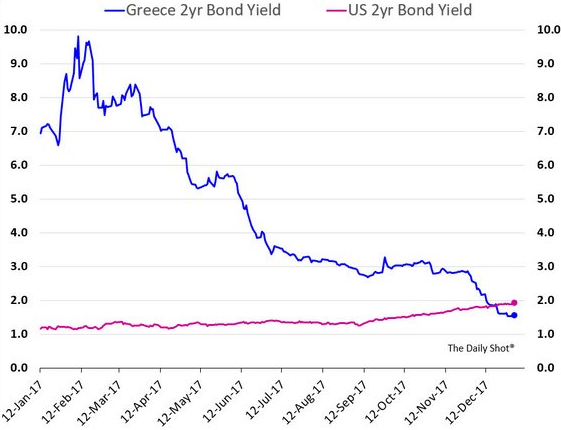 Price action speaks louder than words
It is also worth mentioning the bullish price action in recent weeks. The Greek banking sector is forming an inverted head and shoulders pattern, which suggests a high chance that the bottom is in.
Alpha Bank (OTCPK:ALBKY):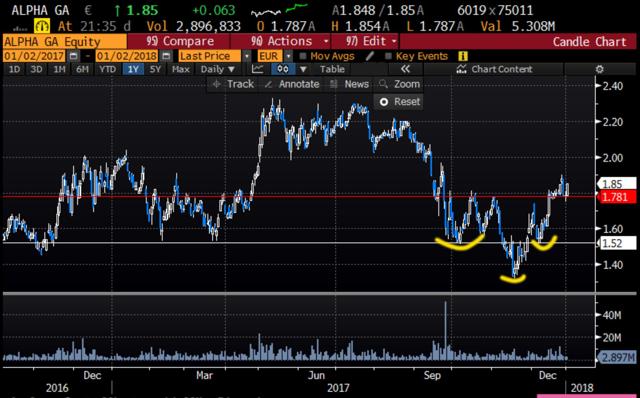 National Bank of Greece (OTCPK:NBGIF):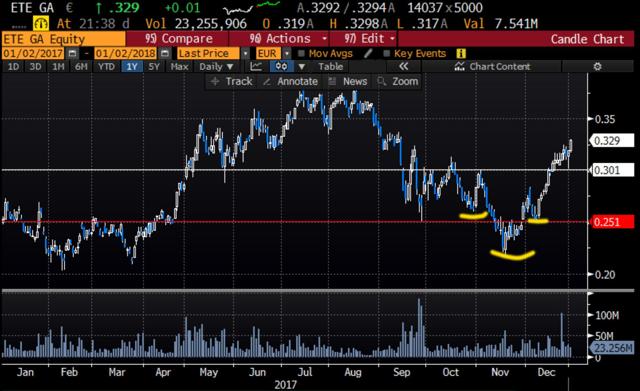 And Eurobank Ergasias (OTCPK:EGFEF)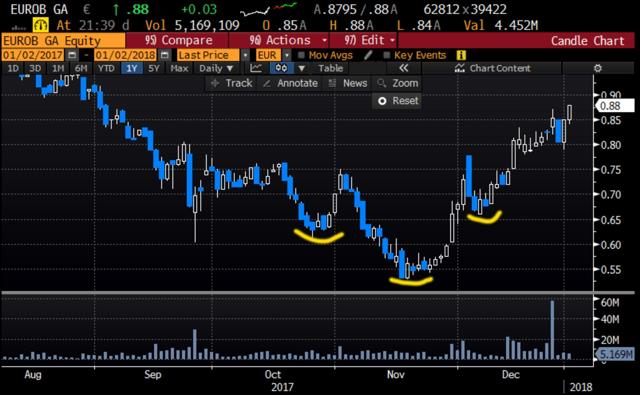 Which bank to pick?
The sector is bottoming, while the major issue of NPLs is being addressed as the economy recovers. Valuations of the sector are extremely compelling. The next question you may rightly ask is "what do I buy?".


Your best option is to trade the four banks listed on the Athens Stock Exchange via a broker who covers Greek equities (Interactive Brokers don't unfortunately). The riskiness and beta of each name is roughly reflected in the valuation, thus National Bank of Greece is the safest (and least volatile), while Piraeus Bank is the riskiest with the highest upside and downside. John Paulson has considerable stakes in Alpha Bank and Piraeus Bank for what it's worth. I don't have a top pick within the sector, but rather strongly believe in the sector as a whole.
If you can not access the Athens Stock Exchange, you may trade the ADRs in the US (see table above for tickers), however they appear pretty illiquid. The next best option would be to buy the Greek ETF (GREK), which will be correlated with the banks, but is less punchy as can be seen from the 90-day volatility comparison. It also contains many other Greek non-bank stocks.
Finally, this trade although very compelling, has its obvious risks. Were politicians to turn against Europe and were talk of "Grexit" to make a come back, deposits would again leave the country and banks would come under pressure. I don't believe this is likely, as Syriza has staked their political future on a successful recovery, but it's one of the risks in this trade.
Disclosure: I am/we are long NBGIF, ALBKY, BPISF. I wrote this article myself, and it expresses my own opinions. I am not receiving compensation for it (other than from Seeking Alpha). I have no business relationship with any company whose stock is mentioned in this article.
Editor's Note: This article covers one or more microcap stocks. Please be aware of the risks associated with these stocks.