The Permian Basin, the largest onshore US hydrocarbon basin both on the surface (75,000 square miles) and in depth (up to twelve productive zones), is often divided into three parts: the eastern Midland and the western Delaware sub-basins, separated by the Central Basin Platform. The Permian has produced oil since the 1920s and according to the EIA's most recent Drilling Productivity Report its production is 2.8 MMBPD of oil and 9.6 BCF/D of natural gas. A 2016 US Geological Survey report projects technical recoverable reserves from just the Wolfcamp Shale benches of the Permian of 20 billion barrels of oil, 16 trillion cubic feet of natural gas and 1.6 billion barrels of natural gas liquids.
Following up my 2017 article with a deeper dive, the Midland sub-basin is of particular interest because it contains the cheapest break-even target benches, at $25/barrel. The Midland sub-basin has been a favorite for drilling vertical wells into the Spraberry trend since the 1940s; however, it was only after horizontal drilling launched several gas fields and the North Dakota Bakken oil field that producers took a fresh look at what else could be done in the Midland sub-basin. This area was also slow to test horizontal wells because a) the vertical wells already operated as needed, and cheaply, and b) much of the acreage was held by production. Thus, it was difficult to accumulate the larger acreage positions needed to drill 5000-foot, 7500-foot, or longer, laterals.
So despite the 600 million barrels already produced from this sub-basin, producers are finding new oil in old zones (upper and lower Spraberry) and new oil in new zones (Wolfcamp A, B, C, and D). Together the Spraberry and Wolfcamp are sometimes called the Wolfberry.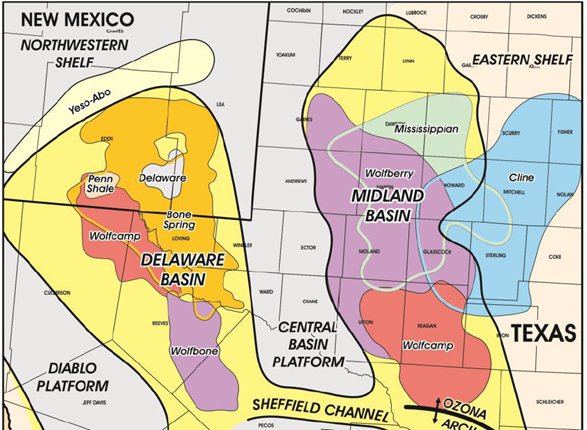 Credit: Shale Experts
On the surface, the Midland sub-basin can be further divided into the north (oiliest), central, and south (gassiest) regions. With oil more valuable than gas, the effort and drilling dollars primarily go north. In the diagram above, the northern Midland sub-basin counties of most interest to producers are: Martin, Howard, Midland, Glasscock, Upton, and Reagan.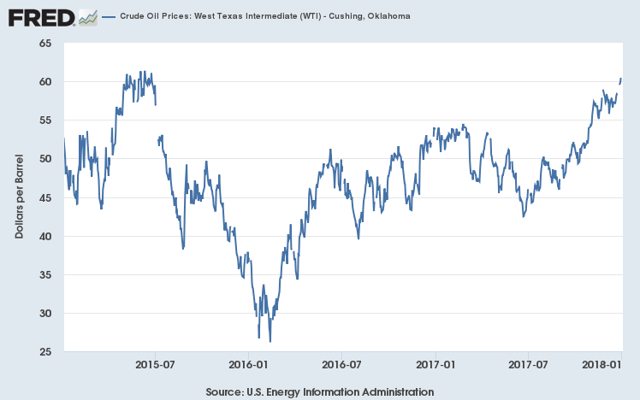 Oil Prices
Oil prices matter most to the Midland sub-basin producers: natural gas and natural gas liquids prices are important but not determinative in well economics. Oil prices have recently found support from a decline in inventories, tension in OPEC countries Iran and Libya, and the short-term reduction in North Sea supply due to a Forties pipeline leak (now resolved) that took 450,000 barrels per day off the market.
Competitors in the Midland Sub-Basin
Competitors in the Midland sub-basin range from very large public companies (Chevron and XTO/Exxon) to smaller ones (Ring Energy and Earthstone) but also include a host of long-time private operators (for example, Fasken Oil and Ranch) and non-public companies backed by private equity. Investors' focus on capital efficiency has also led many public companies to narrow their focus, either acquiring more leases or buying companies such as Silver Hill, Double Eagle, and Henry Petroleum.
On my EBEI Marketplace platform, I profile the investment attractiveness of several Midland sub-basin companies: Earthstone Energy (ESTE), Callon Petroleum (CPE), Energen (EGN), QEP Resources (QEP), Parsley Energy (PE)). I will be profiling others in the future.
Competitive Oil Supply: US and International
Shale oil production competes with oil produced from other countries—especially Canada—and imported into the United States. It also competes with US conventional production and offshore production. The Trump administration has just proposed leasing a much bigger area of offshore. While ultimate approval is far from certain, at a minimum this might encourage companies to evaluate offshore reserves. Typically offshore projects require massive chunks of capital and long lead times, so competition with the nimbler, smaller onshore horizontal producers will not be an even match. However, the possibility of increased supply could put downward pressure on oil prices.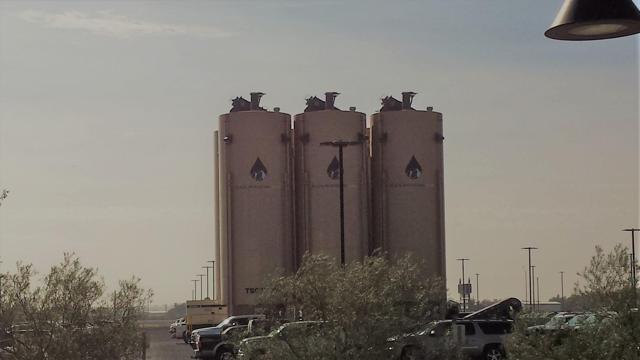 Black Mountain Sand Trucks, Photo Credit: Laura Starks
Supply-Chain Issues
Similar to the shortage of North Dakota housing during the Bakken rush, producers in the Permian are experiencing shortages or tightness in experienced drilling crews, housing (again), pipelines--especially for water--and pressure pumping capacity. Nearby Texas sand supplies are expanding, in addition to those from Wisconsin, although producers still contend with last-mile delivery. Pipelined (vs. trucked) water is preferred but not universally available. Similarly, projects continue to optimize environmentally-friendly and inexpensive methods for recycling or disposing of flowback and produced water. After the frenzy of lease acquisition in the last few years, there is no shortage of prospects, although even with $60/barrel oil, producers require projects that are economic at $45-$50/barrel.
Financial Issues
Investors have pivoted to the need for capital efficiency. And while oilfield jargon about "draining tanks and cubes" along other metaphors, suggest shale production is simple manufacturing, production and decline rates can be unpredictable. Indeed, the only predictable aspect is that decline rates are steep, necessitating considerable drilling just to maintain volumes, thus requiring considerable capital investment. This need has been met with billions of dollars raised by private equity investors—a financial system at least in parallel and often much greater than public company financing.
Tax Law Effects and Overall Stock Market
Profitable companies will enjoy the drop to the new lower 21% corporate tax rate. While this includes some oil producers, the lower tax rate will more profoundly benefit the refining and chemicals sectors.
More broadly, investors should consider the current all-time highs of the stock market in developing their strategies. While the proverbial rising tide lifts all boats, it can also mask operational issues.
Recommendation
Keeping both the overall high level of the stock market and the currently-high oil prices in mind, potential oil company investors should consider companies operating in the Midland sub-basin of the West Texas Permian for their advantages of lower costs, established production (and living) infrastructure, and extensive vertical well drilling data.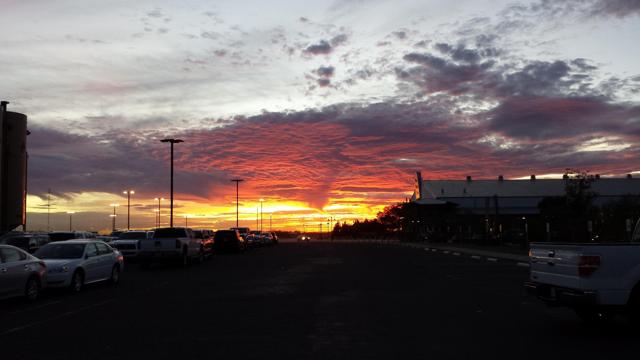 Midland Horseshoe Arena at dusk; Photo Credit: Laura Starks
While you're here, consider subscribing to Econ-Based Energy Investing, a Seeking Alpha Marketplace platform. Weekly in-depth articles provide you with recommendations for long energy investments
Subscribers get actionable ideas, make decisions with larger industry context, and save time on research. EBEI's service focuses on publicly-traded small & mid-cap oil producers (by basin) & refiners (by area). Econ-Based Energy Investing draws from public energy space spanning more than 400 companies
CEO is industry insider with +30 years' experience working for & investing in energy companies. As you plan your research and investing strategies for the new year, consider Econ-Based Energy Investing.
Disclosure: I am/we are long PE, CPE. I wrote this article myself, and it expresses my own opinions. I am not receiving compensation for it (other than from Seeking Alpha). I have no business relationship with any company whose stock is mentioned in this article.