Next Friday, on January 12th, 2018, the financial sector, traded using the Financial Select Sector SPDR ETF (XLF), kicks off its Q4 earnings with releases from JPMorgan (JPM), Wells Fargo (WFC), PNC Financial Services (PNC), and BlackRock, Inc. (BLK). While the companies' earnings will be very different, trends in financial markets will have effects felt across the entire sector, which means their results will be linked. The charts below demonstrate how this results in similar movements, which will also be evident on the trading day after their earnings.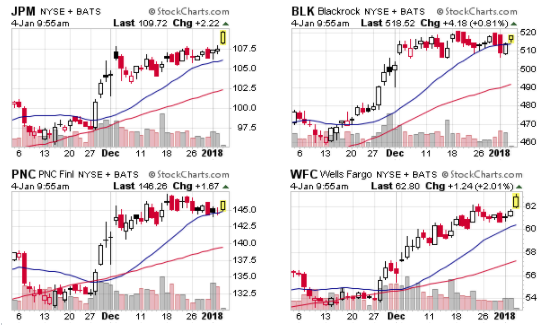 From Stockcharts.com
FactSet Research reports on earnings trends in the S&P 500 by sector and noted some important statistics to consider for Q4 2017. With an overall year-over-year 10.9 percent average EPS growth projected in the S&P 500, financials are expected to post an earnings growth of 3.7 percent (originally 11.7 percent but the AIG release is misleading due to unusual expenses last year). Within the sector, two industries, Insurance and Consumer Finance, are expected to reach double-digit growth at 36 percent and 24 percent respectively. This compares to an 8.3 percent loss that was observed in Q3 2017.
In revenues, the S&P 500 in total is expected to grow 6.7 percent year over year with financials growing 2.3 percent. Only Insurance is expected to see a small loss in revenues out of the five industries within the sector. Financial revenues grew at about the same rate in Q3 2017. However, in that quarter, the financial sector showed some margin weakness with 42 percent of companies seeing margins fall and 3 percent with no margin expansion.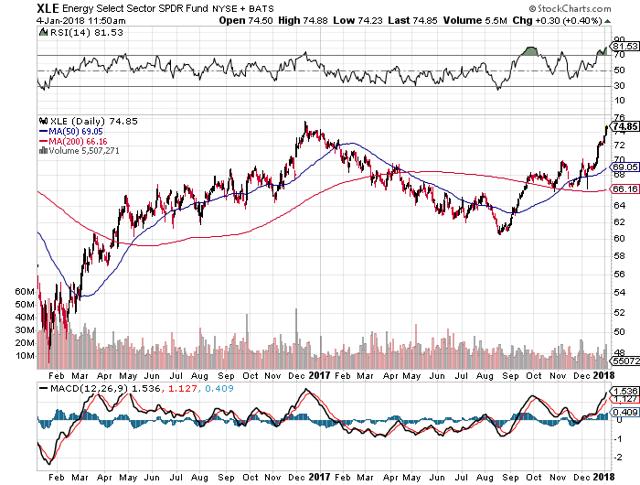 From Stockcharts.com
Financials saw a great rally after Trump was elected, but the sector looked a little jaded after the summer in 2017 and managed to end the year just under the performance of the S&P 500. It took a hotly contested tax bill, a rate hike, and further reductions in regulation to convince capital to rotate back into the sector. These three factors were certainly bullish for the financial sector but had little immediate fundamental effect on the sector. As mentioned above, financial EPS and revenue estimates are below average among the sectors in the S&P 500 despite Trump's favorable political policy.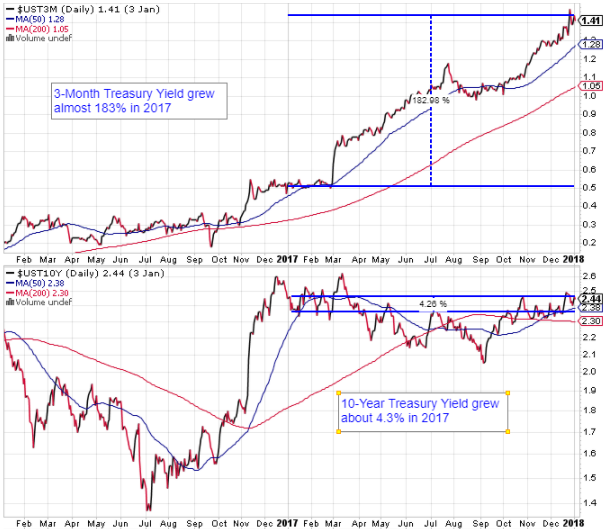 A large reason financial companies' margins were under pressure was the movement of market set interest rates, trends visible in the 3-Month Treasury yield and 10-Year Treasury yield charts. In 2017 (and the last quarter of 2017), short-term rates grew rapidly ending the year 183 percent higher, but long-term rates fell through the first half of the year and recovered for a growth of 4.3 percent by the end of the year.
The movement described above is characteristic of a flattening yield curve and has a negative impact on most firms in the financial sector. Banks, which are a large component of the sector (and 3 of the 4 companies that report next Friday), tend to "lend long and borrow short" meaning that net interest margins are closely related to the movement of long- and short-term interest rates. In the context of the most recent earnings report for Q4 and the 2017 year, banks saw a huge increase in the cost of borrowing (short-term rates) and a relatively flat growth in its revenue from lending (long-term rates).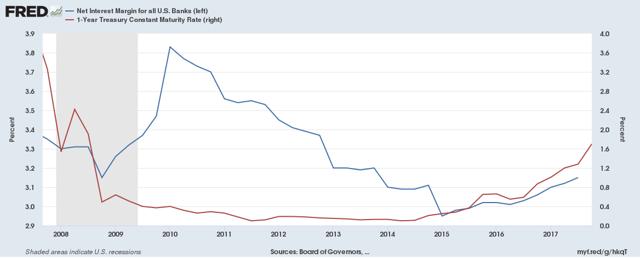 Together, the trends show an immense amount of pressure on net interest margins of companies that lend out money in 2017. Interestingly enough, if one looks at a bigger picture, net interest margins for banks are finally increasing after the heavy contraction that began in 2010, and this was part of the reason financials performed so well in 2016 and at the end of 2017. However, it hasn't been enough. Financials continue to have one of the lowest sector returns on equity, and the fundamentals continue to lag the valuation.
For JPMorgan, Wells Fargo, PNC Financial Services, and BlackRock, Inc. earnings next week, don't expect strong beats or large revenue increases. Most of the positivity that will come out of the conference calls and press releases will be on lower tax rates and hopes for less regulation, both factors that won't have any impact on Q4 2017 numbers.
As an investor, there's no reason to jump into these stocks or XLF for their earnings as the movements that result should be muted. A general financial sector earnings trend should be visible by next Friday and will set the stage for 2018. The sector looks a bit speculative at the moment and should underperform the market until fundamental changes reveal themselves.
Disclosure: I/we have no positions in any stocks mentioned, and no plans to initiate any positions within the next 72 hours.
I wrote this article myself, and it expresses my own opinions. I am not receiving compensation for it (other than from Seeking Alpha). I have no business relationship with any company whose stock is mentioned in this article.