Sector ETFs: the state of correlations
A couple of years ago my article on correlations between US sector ETFs received some positive feedback. With 2017 now in the rearview mirror, it is a good time to update the old piece and reflect on the year past.
For the purpose of analysis, I once again used Select Sector SPDR ETFs. One change though was the addition of The Real Estate Select Sector SPDR (XLRE), which was only launched in late 2015. Here is a full list of them, including SPDR S&P 500 ETF (SPY) as a proxy for the overall market: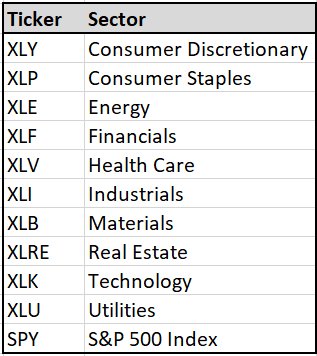 Source: Select Sector SPDRs
Utilizing daily returns data from 2017, the correlation matrix estimated on InvestSpy looks as follows:

Source: InvestSpy, 01/01/2018
Most correlated sectors
First and foremost, comparing to earlier years, correlations between sectors look exceptionally low. Only one (!) pair of ETFs had a correlation above 0.7: it was Materials (XLB) and Industrials (XLI) with 0.71. The second most correlated pair of ETFs was Financials (XLF) and Industrial (XLI) with 0.66, whilst the third one was Financials (XLF) and Materials (XLB) with 0.60. It is not surprising to see Materials, Industrials and Financials moving closer together than others as companies in these sectors are typically in the same phase of a business cycle. Meanwhile, all other pairs had correlations below 0.6. Looking at separately calculated correlation averages with all other sectors, XLI (0.42) and XLB (0.42) featured as the most correlated ones.
Least correlated sectors
2017 was a truly special year as correlation between sectors looked more like correlations between different asset classes. By far the lowest correlation was observed in the pair of Utilities (XLU) and Financials (XLF). The negative coefficient value of 0.23 was more reminiscent of stock vs. bond market relationship that a comparison of two sectors. Even though Utilities have always had features of both stocks and bonds, its longer term correlation with the same XLF typically used to be positive (0.21 over the last 5 years). Generally, Utilities was the least correlated sector across the board with an average correlation with other sectors of a meagre 0.08. XLU excluded, the only other pair with a correlation not exceeding 0 was Financials and Real Estate (XLRE).
Summing up
With the stock market marching higher in the last several years, correlations between US sector ETFs have declined to unseen lows. This offers great diversification benefits for investors and makes portfolio construction relevant again. However, one should not forget that correlations tend to shoot up and converge in a period of crisis. Measured caution will be your best friend then.
Disclosure: I/we have no positions in any stocks mentioned, and no plans to initiate any positions within the next 72 hours. I wrote this article myself, and it expresses my own opinions. I am not receiving compensation for it (other than from Seeking Alpha). I have no business relationship with any company whose stock is mentioned in this article.