To begin 2018, California legalized the recreational use of marijuana. It was a big day for marijuana users and activist groups within the state - but it was also a big day for the markets. Companies in the industry have added $2 billion in value since dispensaries began selling recreational marijuana on January 1st. The new law in California allows people aged 21 or older to possess up to one ounce of marijuana. It also legalizes the selling of the drug for recreational purposes.
In 2017, the legal sale of marijuana in the United States were estimated at $7 billion. Analysts expect strong gains on this figure following the legalization of the marijuana market. The Canadian market for marijuana is a strong indicator of where the United States' market is likely to go. To give a reference point, courtesy of the Brightfield Group, Canada's marijuana sales account for 1/10 of the United States. However, marijuana stocks have a combined $16 billion in market capitalization compared to a $1.3 billion market capitalization in the United States. While it is possible that the Canadian cannabis industry is overvalued, there is enough evidence to suggest that the U.S. market will likely go up.

Source: Seeking Alpha
Above is a figure that highlights the largest marijuana companies in the United States in rank. As you can see, their prices are extremely low at the moment and are therefore fairly risky investments at the moment. Because I only have limited expertise in the field and do not want to make recommendations for things above my pay grade, I will focus on a variety of other companies that are profiting off of the recent legalization. If you want to read more on the budding companies in the cannabis industry - no pun intended – then take a look at this article by fellow Seeking Alpha writer Roman Chuyan.
While marijuana start-ups have a volatile future, the future of marijuana use for medicinal purposes is a little more certain. It used to be rumored that tobacco companies would buy large acres of cannabis fields to take advantage of the drug's eventual legalization. However, the disorganization of the industry as well as the federal government's unwillingness to legalize the drug at the federal level have caused these big tobacco firms to stay away. The firms that are publicly traded in this market are unestablished and do not offer a strong line of products or services - so there's really not much to invest in except for hopefulness.
This is why I have been looking at other companies that are taking advantage of the legalization of cannabis - but not relying on it. Many already established companies are experimenting with the marijuana industry to add to their bottom lines.
Investopedia highlights four companies that are using or pursuing cannabis-based products on the market today. These are AbbVie Inc. (NYSE: ABBV), The Scotts Miracle-Gro Company (NYSE: SMG), Corbus Pharmaceuticals (NASDAQ: CRBP), and INSYS Therapeutics, Inc. (NASDAQ: INSY).
What all of these companies have in common – and the reason they are likely to be successful in the marijuana industry – is the fact that they are not overexposed to marijuana. Take AbbVie for example. This is a pharmaceutical company that has an FDA approved drug which includes the ingredient of marijuana. Marinol is an AbbVie drug that helps patients undergoing chemotherapy alleviate their symptoms of nausea. Marinol is not one of AbbVie's most successful products and it is only offered domestically. These might seem like downsides to investors, but it again highlights how AbbVie is not overexposed in the cannabis market. This way AbbVie can dabble in the marijuana market without bringing too much risk to its investors. The 2.94% dividend appeases investors who might see this stock as too risky. The stock has realized a steady increase in the past 6 months.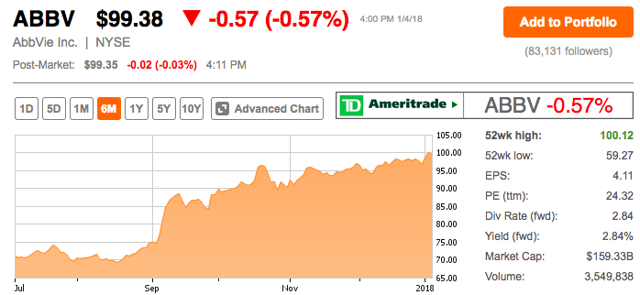 Scotts Miracle-Gro is also playing a card in the cannabis game. Commonly known for its lawn care products, Scotts is developing a line of products that range from pesticides to growing products for cannabis farmers. Scotts already takes up about half the lawn care market in the United States - giving it some stability to pursue riskier endeavors such as marijuana.
28 states have legalized the cultivation of cannabis and Scotts would like to corner the hydroponic market for marijuana. The company is expected to grow EPS by 9% through 2018 and maintain that growth into 2019. Although the company has traded horizontally for the past month, it reached its 52-week high this past week. For now, this seems like a company to watch while horticulture methods continue to advance for cannabis.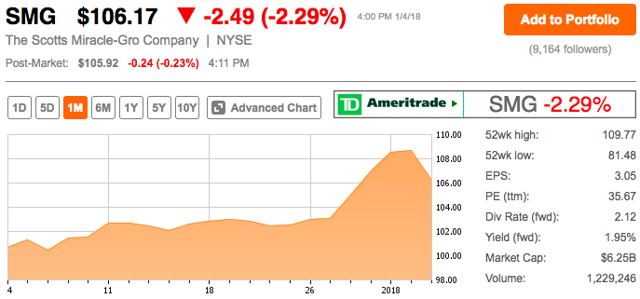 Both Corbus Pharmaceuticals and INSYS Therapeutics are in the early stages of developing cannabis drugs. Corbus has marijuana-based drugs in clinical trials while INSYS is developing a cannabis drug to treat epilepsy.
Corbus has put a lot at stake into its drug anabasum. There have been positive results in the clinical trials of this drug and it has been successful in treating inflammatory diseases. However, the company's EPS is -$0.61 and has not been ringing in much income or revenue. Regulatory approval will follow the success of the Phase 3 Trial, which is already in motion.
INSYS is developing a synthetic cannabis drug as well as a spray technology to deliver pharmaceutical drugs that involve cannabis. EPS is also in the negative here at -$2.57 and the company does not offer a dividend to counteract the risk involved in investing in this company.
Corbus and INSYS are risky but the products they are developing are exciting investors. Volatility is inherent with companies such as these so although I would not recommend giving them your money at the moment, they are something to watch into 2018.
The novelty of legal cannabis has brought with it a highly questionable industry. With Attorney General Jeff Sessions pledging to revoke policies that allowed the spread of legalization across the United States, the possible market capitalization has diminished. While the U.S. cannabis market will likely not reach the prominence of Canada's, it will continue to grow. For now, established companies such as Scotts and AbbVie will realize profits in their bottom line as they experiment with technology in this business.
Major marijuana indexes fell as a result of Sessions' pledge - including the Global Cannabis Competitive Peers Index (-22%). The largest pure marijuana ETF, ETFMG Alternative Harvest also fell 9.3 %. United States lawmakers will have to get on board if the cannabis industry hopes to take off. It will take lobbying of lawmakers by activist groups and also company's in biotechnology proving to the world that medicinal marijuana is a worthwhile endeavor to invest in.
For now, the future of cannabis is fairly hazy – but there is surely some green to be made.
Disclosure: I/we have no positions in any stocks mentioned, and no plans to initiate any positions within the next 72 hours. I wrote this article myself, and it expresses my own opinions. I am not receiving compensation for it (other than from Seeking Alpha). I have no business relationship with any company whose stock is mentioned in this article.
Editor's Note: This article covers one or more microcap stocks. Please be aware of the risks associated with these stocks.