The new calendar year is under way. With it comes the start of a new quarterly earnings season, which is set to get under way starting next week. As a result, it is worthwhile to establish the baseline for corporate earnings expectations for the coming year and to consider what we might expect from corporations and their stock prices in the year ahead.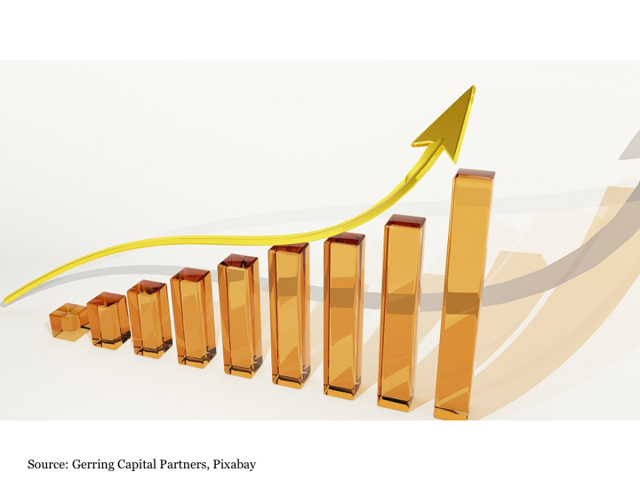 Setting The Bar
The following is the forecast for as reported "GAAP" annual earnings per share on the S&P 500 Index for the next five quarters, with the 2017 Q4 earnings season just about to get under way:
2017 Q4: $114.69
2018 Q1: $119.05
2018 Q2: $125.35
2018 Q3: $131.71
2018 Q4: $135.92
This represents a fantastic growth forecast for corporate earnings over the coming year. The following are the projected year-over-year growth rates in earnings if corporations are able to hit their targets in the coming year:
2017 Q4: +21.30%
2018 Q1: +18.70%
2018 Q2: +20.51%
2018 Q3: +23.00%
2018 Q4: +18.52%
Stocks love earnings growth, so the fact that earnings estimates are so strong heading into the year bodes well for further stock price gains in the year ahead.
Now one of the challenges for markets is the fact that stocks are priced at a historically high price-to-earnings multiple at 25.4 times trailing 12-month GAAP earnings. This ranks among the highest valuations the stock market has held throughout its history. But one thing that past bull markets have taught us is that stocks can not only maintain but also expand on these premium multiples as long as corporate earnings continue rising. And rise they are projected to do in the coming year.
For example, if corporations hit these earnings forecasts in the coming year and the stock continues to carry its 25.4 times P/E ratio throughout 2018, it implies an S&P 500 Index trading at 3,345 by the end of the year. Not too shabby to say the least given that it just broke through 2,700 for the first time in recent days.
Hitting The Target
Of course, the big question going into any calendar year is whether corporations can actually hit these earnings forecasts. The historical track record of companies hitting these initial marks by the time the calendar year draws to a close is checkered at best. Consider, for example, the forecasts for 2017 annual earnings per share at this very same time last year just as 2016 had drawn to a close on December 30, 2016.
2016 Q4: $99.40
2017 Q1: $105.79
2017 Q2: $112.76
2017 Q3: $119.06
2017 Q4: $123.10
So where did the final earnings per share numbers end up at the end of 2017?
2016 Q4: $94.55
2017 Q1: $100.29
2017 Q2: $104.02
2017 Q3: $107.08
2017 Q4: $114.69 (latest forecast)
Now, it should be noted that 2017 was considered an outstanding year for corporate earnings performance. I will be among the first to state that the 2017 calendar year brought us some of the best corporate earnings results we have seen in several years. But despite what was a very good 2017 for corporate earnings, the final numbers still ended up coming in well below expectations going into last year. The final downward adjustments to initial forecasts are shown below:
2016 Q4: -4.88%
2017 Q1: -5.20%
2017 Q2: -7.75%
2017 Q3: -10.06%
2017 Q4: -6.84%
Getting this out right upfront, it should be recognized that a great year for corporate earnings in 2018 may still have current forecasts revised lower by -5% to -10% along the way. And if it turns out to be a less than great year, expect these downward revisions to be far more dramatic (and subsequently the underlying support from earnings to support current prices much less than currently projected).
Reasons For Optimism
As we enter 2018, investors have particularly good reason for optimism about the ability of companies to potentially come even closer than they did in 2017 in hitting their initial earnings forecasts this year.
This is primarily due to the changes in corporate taxes that came with the recent legislation that passed through Washington at the end of 2017. How much these tax law changes result in a sustainable boost to economic activity over time remains to be seen. But the expected boost to corporate earnings resulting from the recent tax law changes is far clearer and is likely to be far more pronounced. Put simply, if there was ever a year when we should expect corporations to meet or exceed their lofty earnings forecasts going into a calendar year, it is 2018.
The Risks Associated With Optimism
Of course, I am likely not alone in holding such high expectations for corporate earnings performance in the coming year, particularly given that I have typically resided on the more cynical side of the earnings expectations spectrum throughout the post crisis period. And the downside to so many investors already having high expectations about corporate earnings performance heading into 2018 is that it leaves a lot less room for corporations to exceed expectations and a lot more room for them to disappoint and fall short of expectations. This may help explain why corporations have been largely silent and slow to revise up earnings expectations for the coming year at least so far in the wake of the recent corporate tax law changes. Earnings expectations are best when they are carefully managed, and corporations are well versed in doing so in various market environments. Nonetheless, this will be a challenge for corporations to overcome in 2018, particularly given how strong the stock market performed in 2017, potentially already pricing in many of the earnings gains investors may now be anticipating to be delivered.
Hoping For A Happy And Healthy 2018
So here's hoping for a happy and healthy 2018.
Happy in that if corporate earnings continue to rise, even if it is at a measurably slower pace than what is currently being forecasted heading into the year, that stock prices are likely to continue rising regardless of how expensive they may already be today.
Healthy in that 2018 presents the first true opportunity in the post-crisis period for corporate earnings to begin meaningfully filling the void underneath asset prices including stocks that were deliberately inflated by extraordinarily aggressive monetary policy for so many years during the post financial crisis period. For if we can finally put in a year where the growth in corporate earnings can match or even better exceed the increase in stock prices, then we will have begun making good progress toward a stock market that can realistically maintain into the long-term at least a good portion of the robust gains that they have been afforded by investors willing to bid their prices up almost solely on valuation for so many years now.
To this point, it is very possible that 2018 could end up being a "healthy" repeat of years past where stocks paused and allowed underlying earnings to catch up and fill the valuation gap beneath the market.
Consider the following past examples:
In 2004, annual corporate earnings increased by +20.13% to $58.55 per share, or $75.89 on an inflation adjusted basis in today's dollars. Yet the stock market increased by just +9% on a price basis to 1,211 on the S&P 500 Index (SPY) over the course of 2004.
In 2005, annual corporate earnings increased by another +19.44% to $69.93 per share, or $87.65 per share on an inflation adjusted basis in today's dollars that was roughly equivalent to where real earnings were in September 2016 on the S&P 500 Index (VOO). Yet the stock market barely budged in 2005, rising by just +3% on a price basis to 1,248 on the S&P 500 Index by the end of the calendar year (IVV).
In 2006, we saw more of the same in a market that bears some notable resemblances to what we saw take place with stocks in 2017. Corporate earnings increased by yet another 16.56% to $81.51 per share, or $99.63 on an inflation adjusted basis in today's dollars that effectively matched where corporate earnings finished in 2017 Q1. And while the S&P 500 Index also rose solidly that year, it increased by a marginally less 14% on a price basis to 1,418.
Of course, a freight train of market disruption lies not far ahead for these markets in 2004 to 2006. But the fact that corporate earnings were able to rise in excess of stock prices over this three-year period helped keep underlying stock valuations in check and at least made for a healthier market than it otherwise might have been heading into the financial crisis.
We saw similar healthy trends in the initial years after the financial crisis.
In 2010, annual corporate earnings increased by more than 50% to $77.35 per share on the S&P 500 Index as companies recovered from nearly cascading over the cliff during the financial crisis. Yet stocks only increased by 13% on a price basis in 2010.
In 2011, corporate earnings continued to improve by another 12% to $86.95 in a year that came and went with a fair amount of uncertainty along the way. Yet stock prices ended 2011 effectively flat on a price basis for the S&P 500 Index.
So while it has not been the norm in recent years, as the increase in stock prices has been steaming ahead well in advance of the growth in underlying corporate earnings for five years running now, it should not be surprising to see a reversal of this trend in 2018 where the rate of stock price appreciation slows so that corporate earnings can catch up. As we saw in 2004 to 2006 and again from 2010 to 2011, stock prices can continue to rise in this scenario. But with corporate earnings growing well in excess of stock price appreciation, it helped create a healthier market with sounder fundamental foundations from which to continue increasing while better protecting them from future potential downside that may unexpectedly arise in the future.
The Bottom Line
The corporate earnings forecast for 2018 is robust. And while corporate earnings can still notch a good year in 2018 even if they fall somewhat short of today's lofty expectations, this year may be the year when corporations may have a good shot in hitting these high marks on earnings thanks to the tailwinds provided from corporate tax cuts.
The expected ongoing strength in earnings growth bodes well for continued increases in stock prices over the coming year. But a potential outcome that should be considered by investors as we begin moving through 2018 is that we could see a year where corporate earnings may rise well in excess of stock prices. This potential outcome particularly warrants consideration given the fact that the central bank liquidity injections that have been powering stocks higher for so many years are set to start coming off in earnest in 2018.
Of course, such an outcome of both stocks and corporate earnings rising but earnings rising at a rate well in excess of stocks would be a good and healthy thing for the stock market longer term, as it would imply that stock prices would be gaining much needed fundamental support to help maintain the impressive gains that they have been able to accumulate for so many years during the post-crisis period despite what has been an otherwise lackluster and uneven period of economic growth and corporate earnings performance.
Here's wishing everyone a safe and healthy 2018!
Disclosure: This article is for information purposes only. There are risks involved with investing including loss of principal. Gerring Capital Partners makes no explicit or implicit guarantee with respect to performance or the outcome of any investment or projections made. There is no guarantee that the goals of the strategies discussed by Gerring Capital Partners will be met.
Disclosure: I am/we are long RSP.
I wrote this article myself, and it expresses my own opinions. I am not receiving compensation for it (other than from Seeking Alpha). I have no business relationship with any company whose stock is mentioned in this article.