Real Estate Weekly Review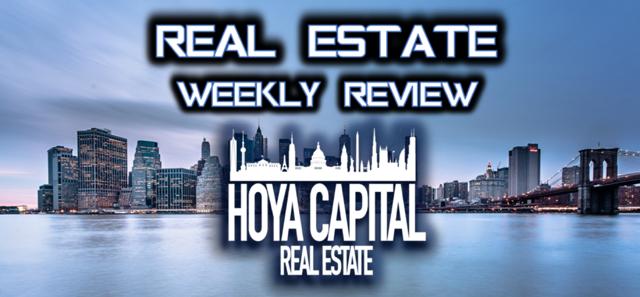 The REIT ETFs (VNQ and IYR) finished the week lower by 2.3% even as the US equity markets (SPY) surged more than 2% to reach yet another record high. Expectations of stronger economic growth sparked by tax reform have renewed concern about rising interest rates and resulted in sector rotation into more growth-oriented sectors. The 10-year yield climbed 7 basis points, yet again flirting with the 2.50% level. The defensive and yield-sensitive REIT sectors have underperformed over the past month as the tax package progressed through Congress. Hotel and data center REITs were the best performing sectors of the week.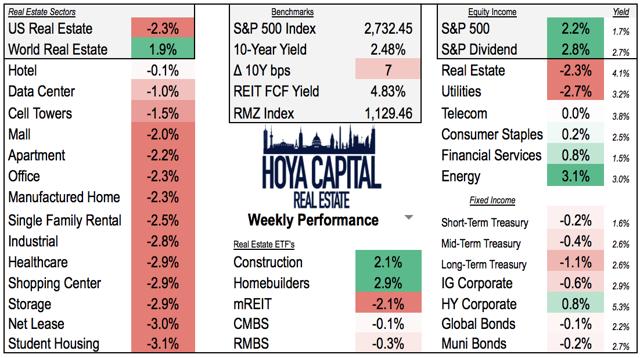 (Hoya Capital Real Estate, Performance as of 2pm Friday)
Homebuilders (XHB) started off 2018 right where they left off, climbing another 2% after finishing 2017 higher by more than 60%. Housing data has improved modestly into year-end after a very weak spring and summer. Even with the recent improvement, new home sales were higher by a modest 7% in 2017. Economists forecast 4-6% growth in home sales for 2018.
That said, we believe that the tax reform package will reduce the incentive for homeownership, particularly at the high-end of the housing market. The lower cap on mortgage deductions and the reduced deduction of property taxes will significantly raise the cost of homeownership of luxury houses. We continue to question the media narrative that the tax plan will disproportionately benefit the wealthy. We discuss this in the economic data section below.
Mortgage REITs (REM) dipped 2.1% while international real estate (VNQI and RWX) climbed 1.9%. Within the Equity Income categories, we note the performance and current income yield of the Utilities, Telecom, Consumer Staples, Financials, and Energy. Within the Fixed Income categories, we look at Short-, Medium-, and Long-Term Treasuries, as well as Investment Grade and High Yield Corporates, Municipal Bonds, and Global Bonds.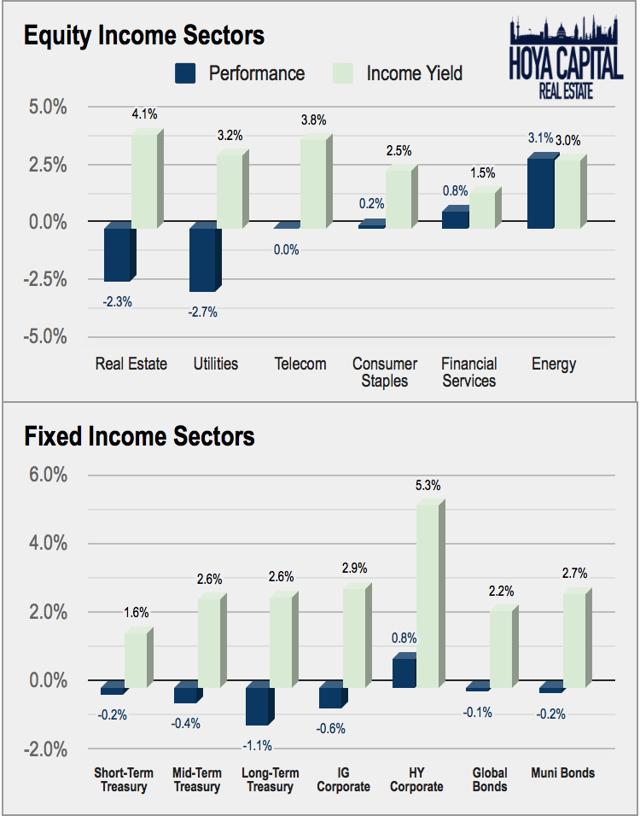 The winners this week were primarily in the "Growth REIT" sectors: hotels and retail. Ryman (RHP), RLJ Lodging (RLJ), Pebblebrook (PEB), LaSalle (LHO), Host Hotels (HST), GGP (GGP), and Digital Realty (DLR) were among the best performers this week.

We continue to note the pressure on the yield-oriented and defensive REIT sectors over the past several weeks. Net lease, student housing, and apartment REITs have stumbled as investors have rotated into more growth-oriented sectors. Preferred Apartments (APTS), Spirit Realty (SRC), HCP (HCP), Mid-America (MAA), UMH Properties (UMH), and Healthcare Trust of America (HTA) were among the weakest performers this week.

Real Estate Economic Data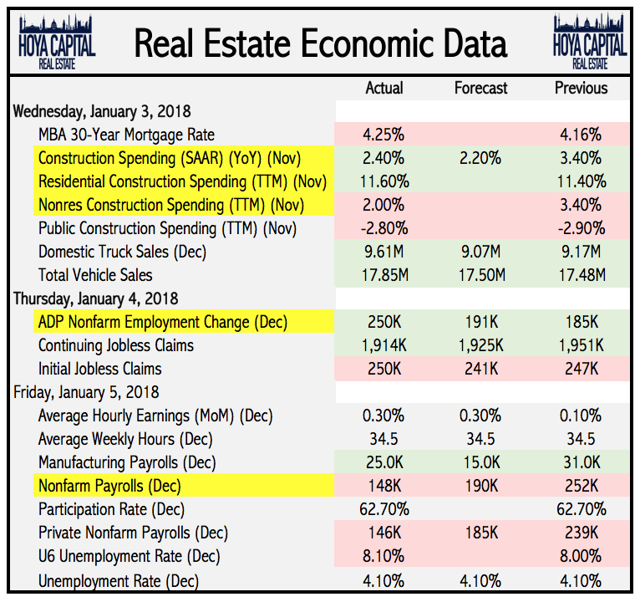 (Hoya Capital Real Estate, HousingWire)
Labor Market Continues to Exceed Expectations
Broad-based strength in the labor markets continued in December as nonfarm payrolls rose 148k, coming in shy of expectations, but capping off a strong 2017. The US economy added 2.1 million jobs in 2017, the seventh straight year that job growth exceeded 2 million. Average hourly earnings were in line with expectations, a sign that the "Goldilocks" economy of solid growth and low inflationary pressure may have further room to run before overheating. ADP data on Wednesday showed that private employment growth is back above 2% while the BLS data on Friday showed employment growth ticking up to 1.4%.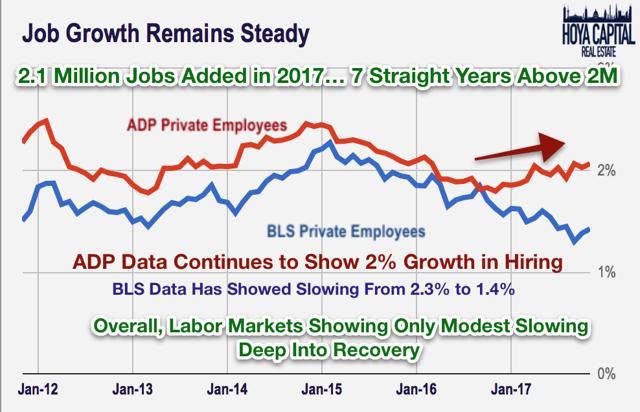 While nominal wage growth has seen slow growth since the end of the recession, real wage growth continues to be modestly impressive, a result of low inflation. Real wages have seen one of the best periods of growth in 40 years. Real wages have increased 7.5% since 2014. Real wage growth is primarily a function of productivity growth and low inflation. Structural reforms to the economy under the GOP leadership through deregulation and tax reform could be expected to further improve productivity growth and raise real wages.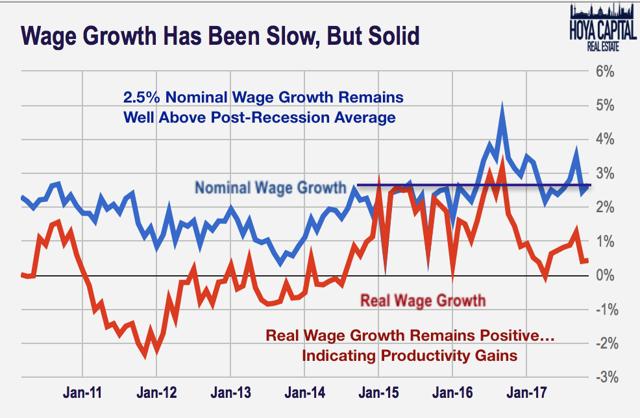 Made in America: "Goods-producing" sectors have seen a dramatic resurgence since the election. This has occurred even as construction employment has slowed after several years of robust growth. The mining and manufacturing sectors have accounted for much of the recent strength in hiring.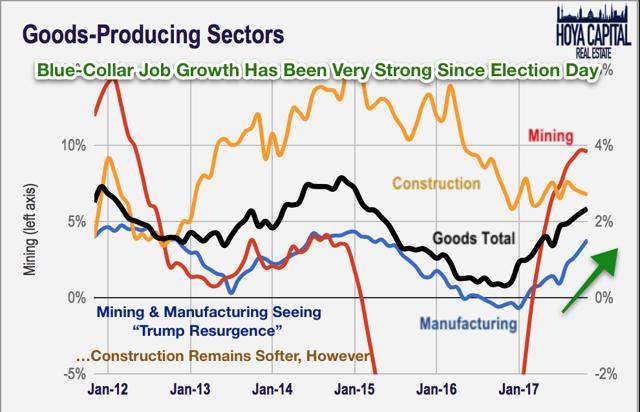 Services job growth has continued to slow in 2017, perhaps an indication of tight markets for higher-skill labor. We've noted in our reports on healthcare REITs that facilities are dealing with shortages of nurses and doctors. Healthcare employment growth has slowed from 3% to 2%. The office-using "Professional Services" sector has been modestly strong, however. Retail employment was very weak in early 2017, but has stabilized this holiday season.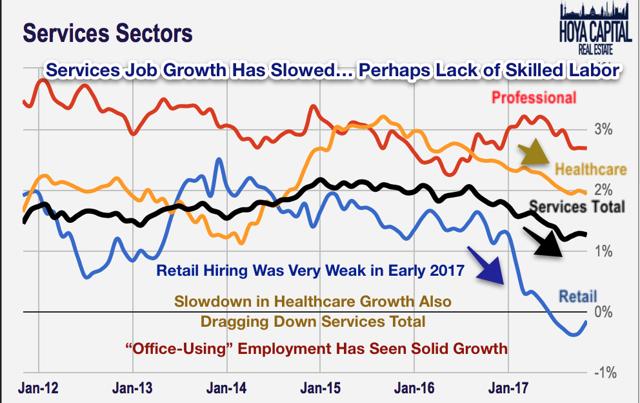 The unemployment rate remained at 4.1%, but the prime working-age labor force participation rate remains stubbornly low and remains nearly 300 bps below the 2000 peak, representing more than 3 million prime working-age people that are not working or seeking work. There are several common explanations for the sustained decline in prime-working age labor force participation: longer time spent in the education system, the opioid crisis, and the expansion of government welfare programs, particularly disability assistance. Structural reforms may be needed to fully unleash that segment of the workforce. We believe this suggests further slack in the labor markets and continued modest pressure on wage growth.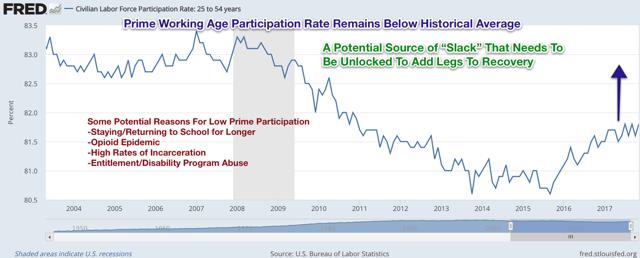 Construction Spending Slows, Residential Solid
Construction spending data was mixed in November as the headline number came in above expectations but prior months were revised lower. Residential spending is higher by 11.7% TTM while nonresidential spending is higher by 2.0%. Public spending is lower by 2.8%.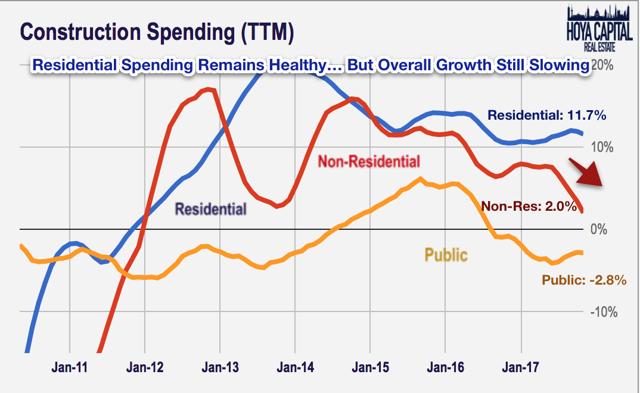 After several years of above-trend supply growth, all of the major nonresidential commercial real estate have seen slowing construction activity. Tighter financing conditions, higher construction costs, and moderating asset valuations have sidelined incremental projects. Construction job growth data is consistent with the construction and housing data.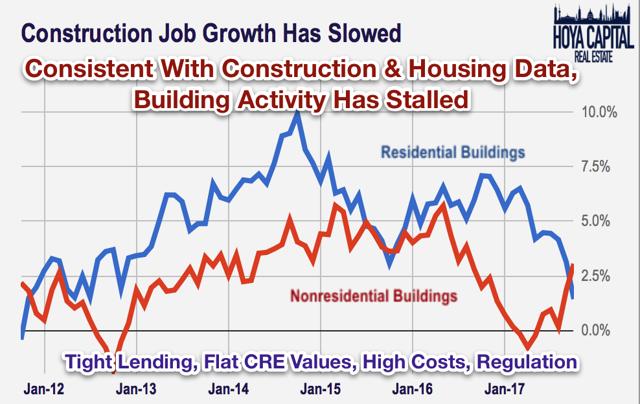 If we are indeed at or near the end of this construction cycle, it's fair to say that supply growth was more moderate than past cycles. Overbuilding in the 2000s was a contributing factor to the "bust" in commercial real estate valuations during the financial crisis.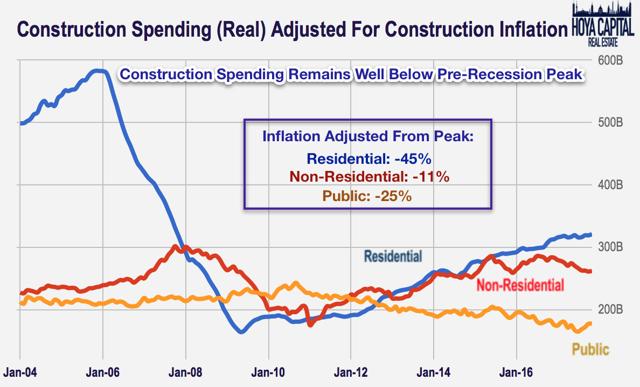 Holiday Spending Data
In our most recent report, "Retail Apocalypse Becomes Retail Euphoria," we forecasted a robust and record-smashing holiday shopping season. Financial conditions are ideal for robust growth in retail sales and the sentiment around the retailing sector remains far too negative. Consumer confidence is near multi-decade highs, household net worth is surging, and wintery weather conditions have been favorable. Brick and mortar sales trends have seen a resurgence in 2017 amid weakening growth in e-commerce. Retailers like Wal-Mart (NYSE:WMT) are proactively emphasizing and encouraging the higher margin in-store sales channel. After getting hammered in early 2017 amid a wave of store closures, retail REITs have rallied into year-end.
We have begun to get the early holiday spending data and it does indeed look robust. Mastercard (NYSE:MA) reported that holiday spending grew 4.9%, setting a record for total dollars spent, and growing at the fastest rate since 2011. From Mastercard:
"Electronics and appliances increased 7.5 percent, the strongest growth of the last 10 years. The home furniture and furnishings category grew 5.1 percent, as did home improvement. Specialty apparel and department stores, which both traditionally see the bulk of sales happen in-store, saw moderate gains. This is particularly impressive given recent store closings."
Another promising early data points this holiday season comes from First Data's SpendTrend Report. Through mid-December, First Data sees the strongest rate of holiday retail spending growth over the last four years, highlighted by 8% growth during the Black Friday weekend. During the Black Friday weekend, brick-and-mortar sales grew by more than 6% while e-commerce sales grew 15%.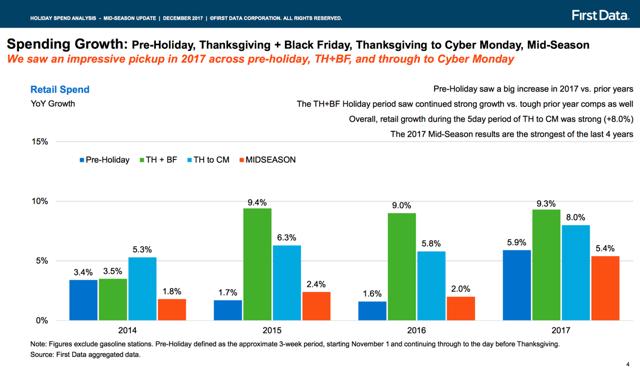 The apparent strength in retail sales is consistent with economic data showing a resurgent and optimistic American consumer. Consumer sentiment in October topped 100 for just the second time since 2004. The unemployment rate remains near its lowest level since the BLS began tracking it in 1948. Household net worth is on pace to rise more than 8% in 2017, buoyed by a 6% rise in home values, a 20% rise in equity market values, and an estimated 4-6% growth in median family income, capping off a 30% surge in these metrics since the end of the recession. Nearly every economic data metric that correlates with retail sales has broken out to the upside.
We have been pounding the table for most of 2017 that retailers - particularly retail REITs - were "priced for apocalypse" when underlying fundamentals showed no such indication. November retail sales were stronger than expected, led by a resurgent brick-and-mortar segment. Brick-and-mortar (Retail & Food ex. auto, gas, nonstore) retail sales rose 4.1% from last November, the second strongest month since late 2015. When we also include the online sales purchased from the primarily brick-and-mortar retailers, the growth rate rises to 4.4%. E-commerce bounced back after a negative print in October. We continue to point out that, while online sales growth continues to take incremental market share away from traditional retail, the sentiment around brick-and-mortar retail appears to be far too negative given the otherwise solid data.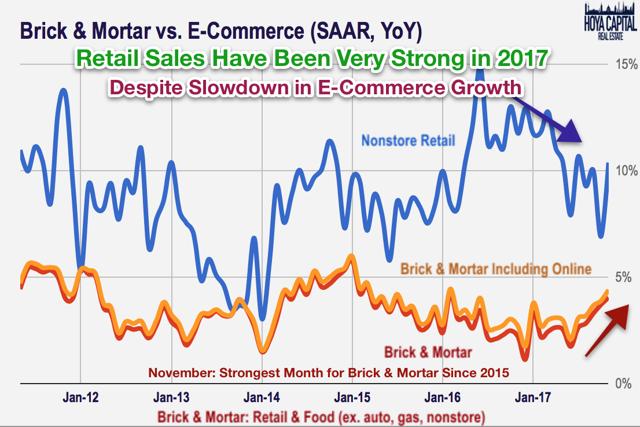 2018 Outlook
Last week we published our 2018 Real Estate Outlook where we reviewed the performance in the real estate sector over the past year and analyzed the potential catalysts that will move markets in 2018. While performance hasn't been spectacular for US real estate over the past three years, REITs delivered their ninth straight year of gains in 2017. REITs continue to climb the "wall-of-worry" about rising rates. REITs traded in an incredibly tight trading range in 2017 as volatility remains near record lows. As always, though, the intra-sector divergences were significant.
The "e-REIT" sectors (data centers, cell towers, and industrials) were the winners yet again in 2017. Residential REITs also topped expectations as new home construction came in lighter than expected as the constraints on supply growth remain. Retail REITs showed signs of resurgence late in the year as sentiment became far too negative given the relatively strong underlying data.
Overall, we are quite optimistic about US real estate for 2018 and believe that valuations are cheap relative to the post-recession averages. Going forward, absent continued cap-rate compression, it is reasonable to expect REITs to return an average of 6-8% per year with an annual standard deviation averaging 5-15%. This rate of return is healthy and is roughly in line with expectations for the S&P 500.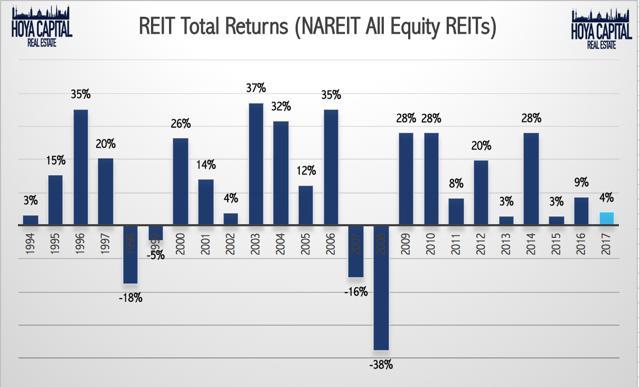 That being said, there are risks to that outlook. Interest rates appear to have bottomed after a 30+ year bull market. Lower interest rates were responsible for much of the property value appreciation in commercial real estate over the past several decades as capitalization rates compressed. Near and medium-term values of REIT shares are highly sensitive to interest rates, but over the long-term, higher interest rates can have positive effects on real estate markets as it discourages further new development.
We believe that the path of interest rates will be largely dependent on inflation. Since real estate has inflation-hedging properties, we believe that REITs would outperform bonds in a rising inflation environment, but would likely still underperform equities which are even more inflation-resistant. We think that inflation will tick modestly higher in 2018, but it remains well-grounded given the deregulatory environment in the energy and mining sectors and the recent trends of modest healthcare and housing inflation. These three components, housing, energy, and healthcare, account for more than half of the total inflation basket. As always, there are risks related to a potential slowdown in the global economy, natural disasters, terrorism, policy, and geopolitics that need to be monitored.
Bottom Line
On another record week for US stock markets, REITs stumbled out of the gate to start 2018. Expectations of stronger economic growth and higher inflation have pressured yield-sensitive sectors. Homebuilders resumed where they left off in 2017, climbing more than 2% after rising more than 60% in 2017. This surge comes as home sales rose a modest 7% in 2017.
For the seventh straight year, the US economy added more than 2 million jobs in 2017. Wage growth remains modest, but hiring continues to be robust. Made in America: The "blue-collar" goods-producing sectors have seen a resurgence since election day. Mining and manufacturing have been leading recent employment growth. Construction spending data continues to show modest but slowing growth. Supply growth appears to have peaked across most commercial real estate sectors.
We continue to update our REIT Rankings where we analyze the quarterly performance of each real estate sector. So far, we have updated our reports on the Hotel, Cell Tower, Single Family Rental, Industrial, Healthcare, Apartment, Mall, Net Lease, Data Center, Manufactured Housing, Student Housing, Office, and Storage sectors.
Please add your comments if you have additional insight or opinions. We encourage readers to follow our Seeking Alpha page (click "Follow" at the top) to continue to stay up to date on our REIT rankings, weekly recaps, and analysis on the real estate and income sectors.
Sector ETFs Mentioned: VNQ, IYR, SPY, XHB, ITB, PKB, REM, VNQI, IYZ, IDU, KXI, IYF, LQD, JNK, IEF, VDE, VGLT, ISTB, BNDX.
Disclosure: I am/we are long VNQ, SPY, MAA, CPT, OHI, PLD, GGP, STOR, SHO, SUI, ELS, ACC, EDR, DLR, COR, REG, CUBE, PSA, EXR, BXP, EQR, INVH, SPG, HST, TCO, AMT, SBRA.
I wrote this article myself, and it expresses my own opinions. I am not receiving compensation for it (other than from Seeking Alpha). I have no business relationship with any company whose stock is mentioned in this article.
Additional disclosure: All of our research is for educational purposes only, always provided free of charge exclusively on Seeking Alpha. Recommendations and commentary are purely theoretical and not intended as investment advice. Information presented is believed to be factual and up-to-date, but we do not guarantee its accuracy and it should not be regarded as a complete analysis of the subjects discussed. For investment advice, consult your financial advisor.