A few weeks ago, I received a question from a subscriber asking if I had noticed a slowdown in the number of new mergers announced and whether there was monthly seasonality in effect or if it was a real drawdown in activity compared to past years.
The question was an important one for merger arbitrageurs because fewer deals meant fewer opportunities in an environment where arbitrage spreads have been slim for most deals.
2017 started out great with 119 mergers announced in the first half of the year but as the year progressed merger activity moderated. When the dust settled, we saw $686.89 billion worth of mergers and acquisitions announced in 2017 across 217 deals. This compares with $794.04 billion worth of mergers and acquisitions in 2016 across 228 deals, a nearly 13.5% drop year-over-year*.
This is the second year in a row both the number of deals and the total size of deals declined. Combing through the eight years of data we have in our database, I noticed that the peak was in 2015 with 230 mergers announced with total deal value of $1.17 trillion. Incidentally it was also the year with the most failed deals with 14 deals failing, including Walgreens' (WBA) attempt to buy Rite Aid (RAD).
Slim spreads on deals and a smaller number of deals not withstanding, there were several interesting opportunities in 2017 including four deals that received new higher offers. The bidding war for Straight Path Communication (STRP) between AT&T (T) and Verizon (VZ), which saw the price of the deal jump from the original $95.63 to $184 provided a boost to arbitrageurs. The opportunity to double dip in ChemChina's acquisition of Syngenta (SYT) as discussed in the June 5, 2017 edition of Merger Arbitrage Mondays also yielded outsized profits.
Merger Statistics: 2010 to 2017
With another year behind us, I decided to update the deal statistics we originally published in the article Collecting Pennies In Front Of A Bulldozer: How Likely Are You To Be Run Over?. As you can see from the table below, the success rate for deals improved in 2016 and has remained around 96%.

Source: Image created by Asif Suria from InsideArbitrage.com data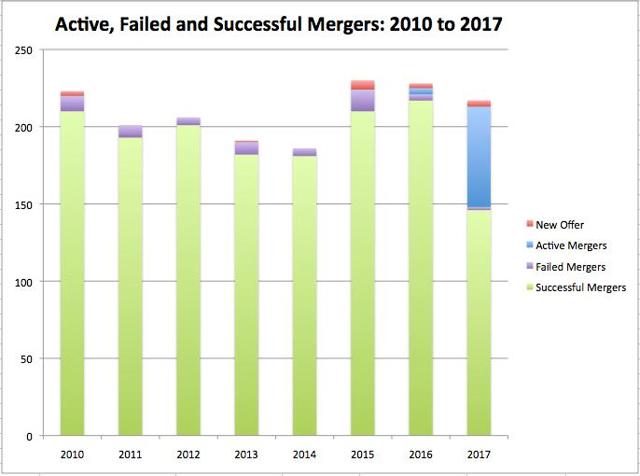 Source: Image created by Asif Suria from InsideArbitrage.com data
Looking ahead to 2018
With the exception of Superforecasters, attempting to forecast most things in the stock market is a fool's errand. Looking at the data over the last two years and based on conditions we are going to encounter in 2018, including a new tax plan that penalizes excessive debt and higher interest rates, one could reasonably conclude that deal activity is likely to continue trending down in 2018.
While we might see more tuck-in acquisitions fueled by excess cash flow from lower corporate tax rates, the big debt-fueled acquisitions may decline. Considering we are in the ninth year of a bull market and asset prices have appreciated, corporate boards may find it difficult to convince shareholders of synergies from acquisitions that yield a great return on investment.
Conclusion
With narrow spreads on most deals except the ones where the risk is high, I have been focused on some of the smaller deals recently and hopefully the tuck-in acquisitions I expect to see in 2018 will continue to provide some interesting opportunities. In this environment, managing risk through the use of position sizing, avoiding mergers with large spreads and in some cases the use of protective puts (even if it takes a bite out of returns) starts to make a lot of sense.
*Note: We only track US deals. Certain mergers that don't present an arbitrage opportunity because they lead to the creation of a new company such as the merger of Potash (POT) with Agrium (AGU) and the merger of Praxair (PX) with Linde were not included.
Disclosure: I am/we are long RAD. I wrote this article myself, and it expresses my own opinions. I am not receiving compensation for it (other than from Seeking Alpha). I have no business relationship with any company whose stock is mentioned in this article.