The U.S. Economy
2017 was a great year for investors as strong returns pushed domestic equities to fresh all-time highs. Robust equity performance was seen across many of the major indices both domestically and abroad. Most fixed income sectors posted healthy gains as well.
At the same time, strong returns have been amid an environment of very low volatility. The CBOE Volatility Index (VIX), a popular measure of equity market volatility, is at all-time lows. Volatility in other asset classes such as fixed income is depressed as well. The combination of robust equity market returns and low volatility has reached historic levels as, for example, the S&P 500 posted gains each month of 2017 for the first time in its long history.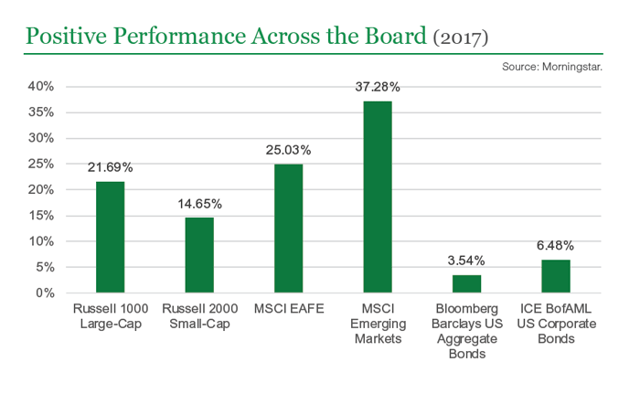 The positive performance of equity markets in 2017 adds to what is already one of the longest bull markets on record. While the length of the current expansion may unnerve some investors, it is worth noting that bull markets have not historically died of old age. Rather, unsustainable extremes typically bring about the end of an expansion. Still, investors should temper expectations after several years of strong returns.
Since the U.S. Presidential election in late 2016, investor expectations have remained high and are currently at levels last seen in the late-1990s. Though expectations are elevated, they do not appear to be extreme. Instead, complacency appears to be more prevalent than euphoria or exuberance, perhaps due in part to the lingering impact of the Global Financial Crisis (GFC). The sharp downturn may have depressed expectations for much of the past decade, which are only now recovering.
Contained growth expectations can be seen in consensus forward looking estimates for domestic real GDP growth. While 2018 growth expectations have moved higher, the shift is marginal and remains well within the post-GFC range for real GDP growth. Growth expectations for 2019 are actually lower than where they began at the start of 2016. Considering the ongoing structural growth overhangs of aging demographics and high debt levels, we believe that expectations for a slow growth outlook with room for incremental upside remain appropriate.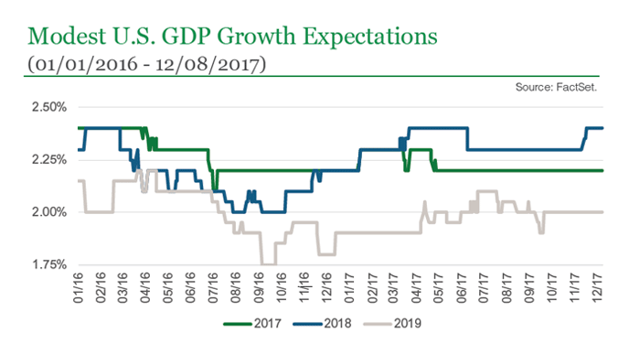 As the U.S. economy continues to move in a later cycle, albeit at a slow growth pace, we remain on the lookout for accumulating risks within the system. In general, though we see few extremes, some early warning signs have materialized. One such risk is that the U.S. economy has fully closed its output gap and is now growing slightly above potential. While not a red alert sign, it warrants concern. Other examples include labor market tightening, a flattening yield curve, central bank policy uncertainties, and a generally complacent investing environment alongside pockets of speculation.
At this point, we see the key risk of a recession and/or bear market is that of a normal economic cycle playing out. This environment could be characterized by an overheating economy, rising wage pressures, accelerating inflation, and central bank tightening, all of which would lead to a chilling of credit expansion and a typical economic downturn. While the last two recessions have been punctuated by extreme events - the internet technology bust and the housing bubble - our base case would be for a more traditional downturn, though we do not yet see this as imminent or characterizing where we are today.
The Global Economy
Most regions across the globe are exhibiting some degree of expansion as well, even if the growth rate is slow. As is the case domestically, the synchronized global expansion is amid relative calm and complacency for most international markets. Several major international equity markets capitalized on this global backdrop and experienced strong performance in 2017. Both international developed (i.e., MSCI EAFE) and emerging markets outperformed U.S. peers. International bonds experienced healthy performance as well.
Notably, certain key commodities have also seen an uptick in prices. In December, West Texas Intermediate crude oil prices traded above $60 per barrel for the first time in over two and a half years. Meanwhile, copper prices have been on the rise too, reaching a near four-year high last month. The direction of crude oil and copper prices will play a key role in global markets in 2018, given their connection with the overall health of the global economy.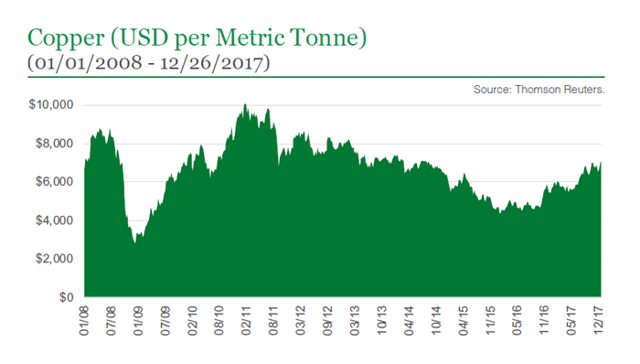 While we have expectations for the upcoming direction of many global markets, we do not do point forecasts for a certain index level at a certain period of time. Instead, we take a weight of the evidence approach as we look at the markets and economy when making investment decisions. Going forward, we see economic activity and sentiment as key for 2018 as certain economies move later cycle, and we see the greatest risk occurring when stretched valuations combine with economic or sentiment extremes.
Our Perspective
Despite an uptick in economic activity, global growth remains slow. Investor complacency is elevated, volatility across various asset classes remains low, and valuations across most global equity markets remain at or somewhat above what we consider fair value. However, we continue to see few unsustainable excesses that would suggest the U.S. or global economy is at risk of imminent recession. In this environment, discernment and flexibility are critical.
Given the slow global growth environment, in portfolios geared toward capital growth, we are focused on targeting investments in fundamentally strong businesses with unique growth drivers, although we have become incrementally more comfortable owning economically-sensitive names. In general, we continue to believe that the key to generating attractive returns in today's environment is through owning innovative companies that achieve growth by creating new markets or disrupting old ones.
Regarding fixed income, we recently trimmed our corporate allocations and marginally increased duration. These changes were driven by an increase in yields and tighter credit spreads. Although credit spreads are tight, they are relatively attractive on a fundamental basis, and we remain constructive toward credit. As such, portfolios maintain a sizeable allocation to investment-grade corporate bonds, although some portfolios may contain high yield exposure as well. As we are in the later stages of the economic cycle, we continue to monitor corporate credit allocations to determine if further action is warranted. Portfolios also have a notable allocation to U.S. Treasuries and Agencies as well as pass-through securities, including asset-backed securities. Generally speaking, portfolios are underweight non-agency mortgages.
We continue to believe a modest duration remains in clients' best interests, despite the recent marginal increase in duration. Over the intermediate term (which we define as the next 12 to 18 months), we expect that there will be continued pressure for interest rates to gradually move higher. We think the Fed will remain opportunistic, looking to hike the federal funds target rate when economic conditions allow, while also remaining sensitive to domestic and global market conditions, particularly as they reduce the size of their balance sheet by decreasing reinvestments of principal in Treasuries and Agency securities.
In our view, short-term and income-oriented investors should also explore equities that display stable fundamentals and are trading at attractive valuations. We believe companies that generate strong, stable cash flows and pay an attractive dividend could be compelling options for these types of investors in the current environment.
Sources: Thomson Reuters, Morningstar, and FactSet. Analysis: Manning & Napier Advisors, LLC (Manning & Napier).