Welcome to another edition of "Elroy's Elliott Wave Weekly." The aim of this series of articles is to review possible scenarios in various markets using Elliott Wave, fractals and other technical analysis.
This is just a quick update as we start the new year. The next article will cover the bigger picture in various markets and set the context for the weekly updates.
Equities
As per earlier updates, I will now focus on the Russel 2000 (IWM) instead of the S&P 500 (SPY).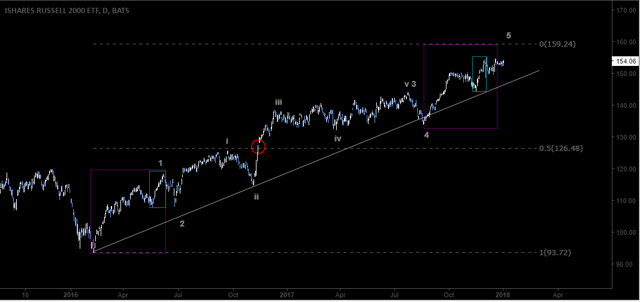 (Source: TradingView)
IWM is approaching the equality target near $160, and from there should roll over for a very significant decline. However, as I pointed out last time, the route there may be slow and choppy, and I'd warn there could be a sharp dip to the $145-147 area first to flush out the early 2018 buyers. I'd be a buyer there.
In my last article, I pointed out the set-up in Alphabet (GOOGL) based on the Apple (AAPL) lead. Here's an update.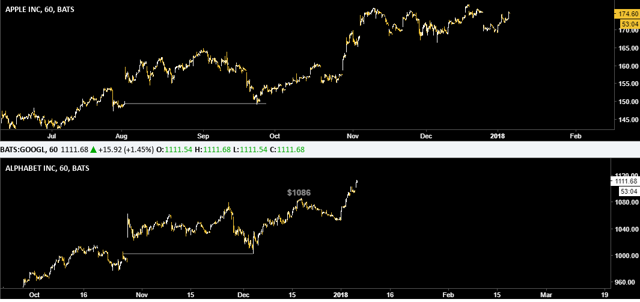 So far so good; we got the pullback from the $1080 area, the 50% retrace and the ramp higher. However, when GOOGL reaches $1128, I will be on the lookout for a sharp fall back to $1050.
At Matrixtrade, we have identified a leading market for the US indices, and it suggests there could be an 8% pullback in the near term.
Precious Metals
A lot has changed since my last update. Silver (SLV) has recovered well and should continue above $17.5 and even the $17.85 trend line to complete a trend sequence.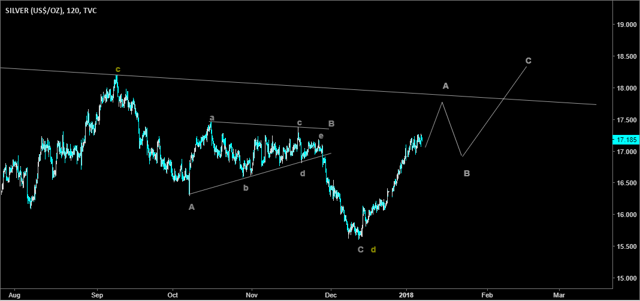 Once this is sequence is complete, it must be corrected. The longer-term count is still not too clear, but if silver can break $18.2, it will shift more bullish (but will remain in a long-term range).
Oil (USO)
Oil finally pushed through $60 and on to $62, which is where I closed out longs at potentially significant resistance.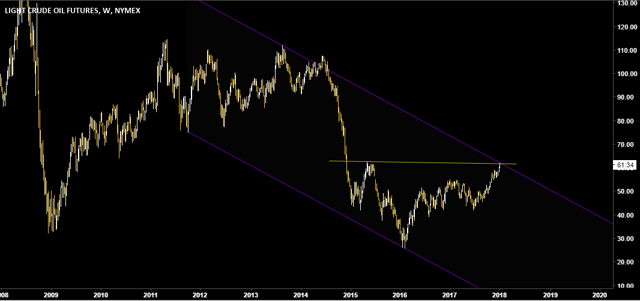 So what next?
Regular readers may recognize the 2009-2011 comparison which served as a useful guide for so long. Actually, I started to doubt it would continue (mainly because I tried to zoom in too much), but as a rough guide it still looks decent.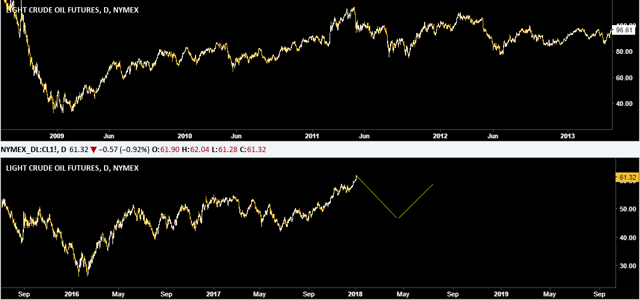 Natural gas (UNG)
Natural gas is still a complete mess, with the occasional nice set-up in the lower timeframes. Last time around, I pointed out a long set-up simply because I saw a short-term trend sequence completing around $2.6. This time there's nothing so clear, as the moves in both directions are corrective at this time.
The most likely scenario is perhaps illustrated below.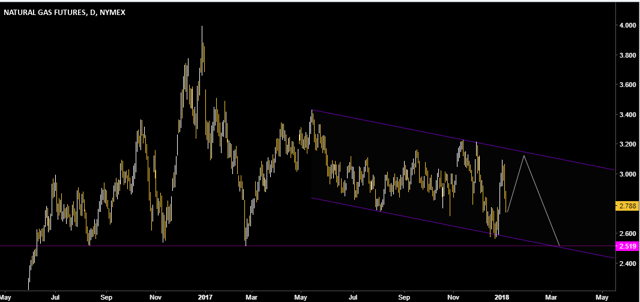 I'd expect the lower pink line to eventually break for the low $2s, but the timing is tricky.
The Dollar (UUP)
There's still no change to the dollar view, and it should soon trade at new lows. It's worth updating the fractal I posed in late October to illustrate the kind of move I am expecting.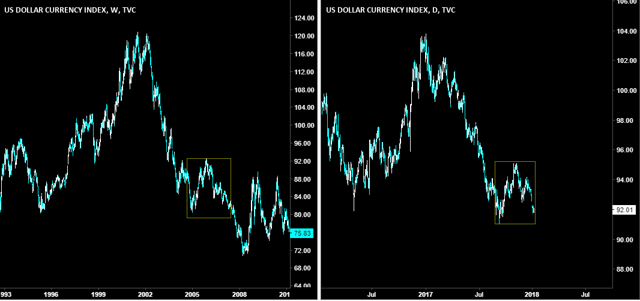 Interestingly, I saw a note from Deutsche Bank making a connection between the two periods highlighted, but at a fundamental level...
Current dynamics look very similar to the 2004-06 Fed cycle: back then the dollar weakened even as the dollar became one of the highest-yielding currencies in the world. The dollar's vulnerability in 2004-06 was a sharp deterioration in the current account: weaker flows mattered more than rates. We believe flows will matter more in 2018...
The target is down near 88, where a large recovery should take hold.
Conclusions
The above charts map what I think are the most likely scenarios in various markets and are based on my interpretation of probabilities. Combined with other analysis and good money management, they can help frame profitable trades.
Disclosure: I am/we are long GLD. I wrote this article myself, and it expresses my own opinions. I am not receiving compensation for it (other than from Seeking Alpha). I have no business relationship with any company whose stock is mentioned in this article.
Additional disclosure: I am long GOOGL and gold spot.