New investment inflows are declining relative to the "depreciation" of investments. On the surface, it seems there is too little investment.
In this week's release of the 13 December 2017 meeting minutes, the FOMC participants pondered the effects of the GOP tax plan on business investment:
Many participants judged that the proposed changes in business taxes, if enacted, would likely provide a modest boost to capital spending, al­though the magnitude of the effects was uncertain. The resulting increase in the capital stock could contribute to positive supply-side effects, including an expansion of potential output over the next few years. However, some business contacts and respondents to business surveys suggested that firms were cautious about expanding capital spending in response to the proposed tax changes or noted that the increase in cash flow that would result from corporate tax cuts was more likely to be used for mergers and acquisitions or for debt reduction and stock buybacks.
We all have read the pundits' commentary both positive and negative whether the tax plan will indeed improve investment. There is no crystal ball to accurately forecast how business will respond to the expected rise in net profits (and repatriation of funds) triggered by these new tax codes. As I am a cynic, I never believe Washington can produce legislation which actually matches the rosy words spouted. In fact, I believe that although the global and USA economies are improving, there still is an abundance of existing capacity to produce any envisioned growth of goods and services.
Capacity is not necessarily a litmus test for investment - but profits are always part of the litmus test. If a company is not making enough money, it tends to delay investment. But in all instances, if an investment would trigger a significantly higher return on investment, even companies with low profits will borrow or recapitalize.
The following graph indexed real (inflation adjusted) nonresidential investment (blue line) to the real nonresidential deprecation (red line).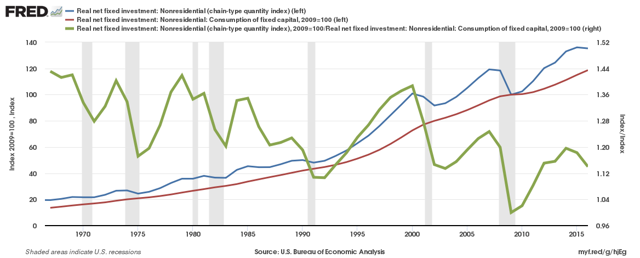 To further clarify the red line in the graph above - from Wikipedia:
Consumption of fixed capital (CFC) is a term used in business accounts, tax assessments and national accounts for depreciation of fixed assets. CFC is used in preference to "depreciation" to emphasize that fixed capital is used up in the process of generating new output, and because unlike depreciation it is not valued at historic cost but at current market value (so-called "economic depreciation"); CFC may also include other expenses incurred in using or installing fixed assets beyond actual depreciation charges. Normally the term applies only to producing enterprises, but sometimes it applies also to real estate assets.

CFC refers to a depreciation charge (or "write-off") against the gross income of a producing enterprise, which reflects the decline in value of fixed capital being operated with. Fixed assets will decline in value after they are purchased for use in production, due to wear and tear, changed market valuation and possibly market obsolescence. Thus, CFC represents a compensation for the loss of value of fixed assets to an enterprise.
The green line in the above graph is the ratio of investment to depreciation. Note that this ratio has been degrading. A declining ratio could be a sign of trouble.
But what conclusion can be drawn? A declining investment to depreciation ratio could be explained away as follows:
the transition from a manufacturing economy to a service one requires less costly new investment;
fewer opportunities exist for profitable investment;
a slower growth economy requires less investment;
as the consumption of fixed capital is based on current values, the cost of new investment could be relatively cheaper than the historical ratios;
some of the new investment was made outside the USA (reducing the need for USA investment).
It is interesting to note that one can make a case using this data that business investment may be too meager. Many economists believe that low investment causes poor economic growth. I believe poor economic growth is the cause of low investment. Does anyone want to try to convince me that the cause and effect can flow both ways? I will listen.
My usual weekly wrap is in my instablog.
Disclosure: I/we have no positions in any stocks mentioned, and no plans to initiate any positions within the next 72 hours. I wrote this article myself, and it expresses my own opinions. I am not receiving compensation for it. I have no business relationship with any company whose stock is mentioned in this article.