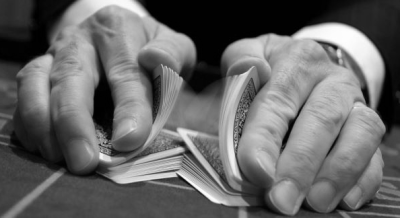 I've written about the DGI For The DIY portfolio for five years now on Seeking Alpha, and throughout that time, my focus has been on building a growing dividend income stream that will eventually fund a portion of my future retirement.
I am quite happy with the results, as my dividend income has steadily grown from $731 in 2013 to $2,005 in 2017. This income growth was produced from three different sources: higher payouts from companies I own, reinvestment of dividends that added to share count, and new cash contributions into the portfolio that purchased new positions.
The first two of those sources will continue, but the last one will not, as the small engineering company I've worked at for the last 15 years was recently acquired by a larger company.
This resulted in the end of cash contributions to my Simple IRA portfolio, as all future monies will now be made into a new 401k account. While this won't affect my reporting on this portfolio, it will somewhat affect how I manage it.
The steady influx of cash was nice in that it allowed me to be opportunistic when stocks went on sale. I was able to use cash contributions to either rebalance existing positions or open positions in new stocks that I had interest in. In either scenario, I was adding shares to the account, which added to my dividend income.
With no new cash coming in anymore, income growth will come strictly from dividend reinvestment and organic dividend growth. Given this, I felt it was time to cut a few dividend laggards loose, and move funds into new stocks with more reliable earnings and dividend growth.

Three Stocks For Sale
As a long-term investor, I am always reluctant to sell anything in my portfolio. However, with wanting to upgrade to some higher quality stocks, I needed to find some positions to liquidate to raise funds.
I ended up identifying three companies to cut loose:
MDU Resources Group Inc. (MDU) was my first target for sale, and is one that I've considered doing so for a while now. MDU was an original purchase in the portfolio when I built it in early 2013, and held some sentimental value to me as it was the company that my grandfather worked for while I was growing up.
MDU has an impressive 27-year streak of dividend growth, which is one of the longer streaks in the utility sector. However, it generally doesn't grow at a very quick pace, with just a 3.8% growth rate over the last decade and just 2.9% annual growth over the last five.
It has also made several missteps in recent years, blowing large amounts of capital on a poor performing oil & gas exploration division, and additional funds on an ill-conceived oil refinery in North Dakota.
This resulted in a "lost decade" for investors, as MDU provided just 2% in annualized total returns against 7.3% from the S&P.
I did much better than that in MDU, mostly because of a timely add-on purchase I made at the end of 2015. This brought my cost basis down and allowed me to exit with a near 40% gain on the position.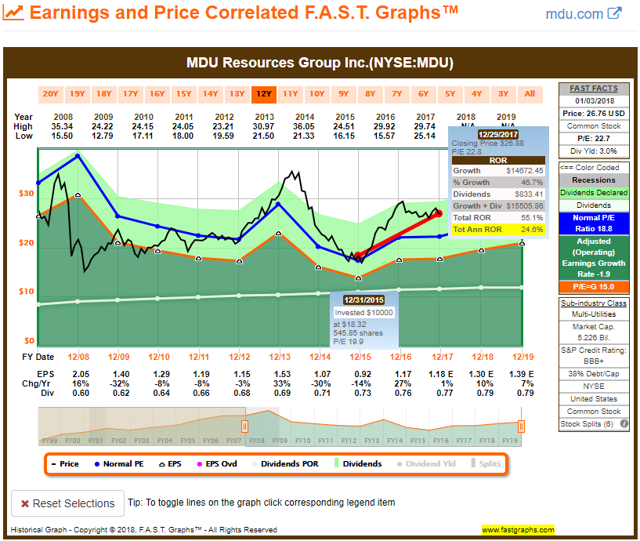 The FAST Graph above is my main concern with the company, as there doesn't seem to be any consistency with growth. I don't want volatility from a utility company, I want a steady increase in income, and MDU hasn't been providing that.
Management not giving any guidance on targeted payout ratio or dividend policy doesn't help matters either. With a dividend payout ratio at 60% of expected 2018 earnings, I think there are still a few years of low dividend growth in store.
It would be difficult to find a more mismanaged company than General Electric Company (GE) in recent years. The company followed up a dividend cut during the recession with questionable acquisitions of Alstom (OTCPK:ALSMY) assets and Baker Hughes (NYSE:BHGE), many billions of dollars spent on share repurchases at higher prices, and the spin-off of most of the financial arm of its business.
This all led to the exit of CEO Jeffrey Immelt and another 50% cut to the dividend. New CEO John Flannery seems like a strong leader who can right the ship, but with high debt and massive pension obligations, I think it will take several years to get this accomplished.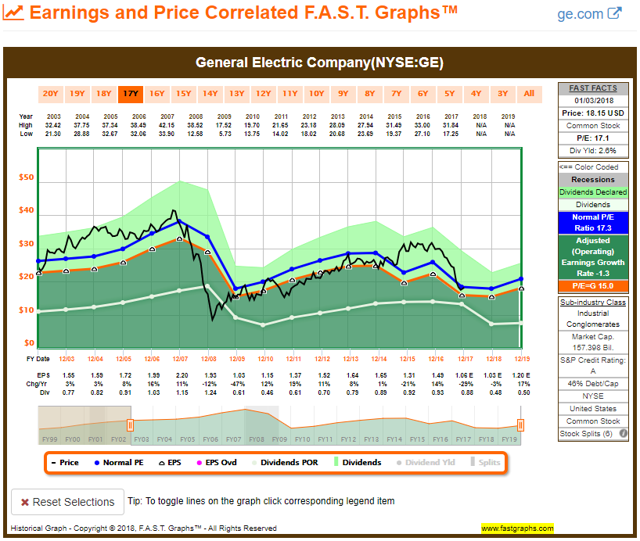 As the FAST Graph above shows, General Electric is neither reliable nor consistent with its earnings. So despite the fact that I think it has some good assets, and has the potential to turn things around, I believe there are much better stocks in the industrial sector to meet my investment goals of growing my dividend stream.
AmerisourceBergen Corp. (ABC) was the most difficult position for me to sell, and is one I could see regretting down the road. It has been a very strong performer through the years, with 14.5 annualized EPS growth over the last decade and 17.1% annualized over the last twenty years.
However, that growth has slowed recently, with 13% growth in 2016, 5% in 2017, and just 3% expected in 2018. Analysts are expecting double-digit growth to return in 2019 and beyond, but I wonder how likely that is.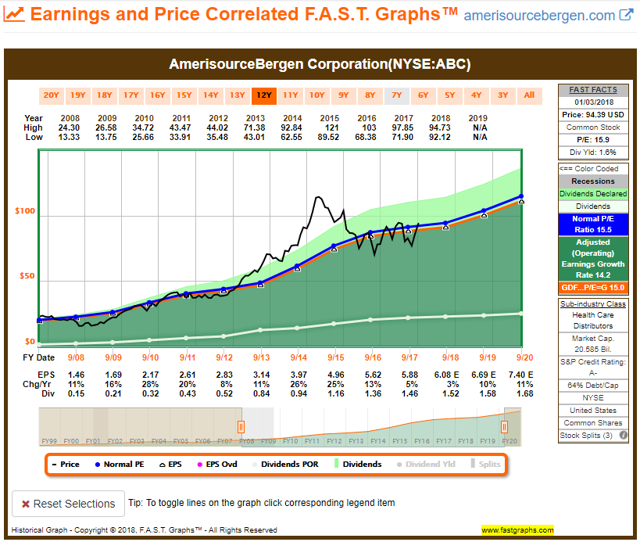 AmerisourceBergen operates in a low margin business, as $153.1B in revenues generated just $4.4B in gross profit in 2017. This concerns me a bit, as increased scrutiny on drug prices and drug distributors by Congress could have a serious impact on its bottom line.
Those question marks, along with a yield of just 1.7%, led me to take my ~90% gains and move those funds into other opportunities.
The Premium Valuation Conundrum
Before I get started on breaking down my new picks, I will reiterate that these stocks were selected based on dividend safety and growth potential, and not based on current valuation. In fact, I'd be hard pressed to call any of the five stocks undervalued, or even fairly valued.
Like many investors, I've avoided buying some of the companies I want the most because of valuation concerns, and have watched them rise another 50%+ in recent years while waiting for more attractive entry points.
This is a recurring theme with these stocks. I've always wanted them, but always found reasons not to buy them, usually because I felt they were too expensive to buy. Anyone who follows my work and reads my quarterly portfolio updates will know that I name stocks on my "radar" at the end of my articles. Trust me, these five names made plenty of appearances on those wish lists.
Those who follow Chowder have heard him pound the table on buying quality over value, and his views have changed my stance a bit on focusing on getting a perfect price with my investments.
I'm coming around to the thinking that it's more important to just get them in your portfolio rather than exactly what price you pay for them. I'm 39 and have another 25+ yeas until retirement. The opportunity cost of avoiding good companies over a few bucks in share price to buy better valued stocks with questionable growth prospects probably isn't the best idea for long-term success.
The Replacements
With that out of the way, the sale of the three companies above, along with the cash held in my account, allowed me to purchase five new companies for the portfolio.
The five companies come from the utility, industrial, health care and finance/info tech sectors, and I think offer a more sure pathway to future income growth for the portfolio.
American Water Works Company (AWK) is one-half of the replacement for my MDU utility position. The water company has been on my watch list for two years since I wrote an article covering the water sector in January of 2016.
The company has consistently grown EPS at a high single-digit rate, and management has guided for a long-term growth rate of 7-10% going forward.
Dividend growth has generally followed earnings growth, and the current payout ratio is on the low end of the 50-60% guidance target. As a result, I expect dividend growth to continue at a ~10% rate going forward.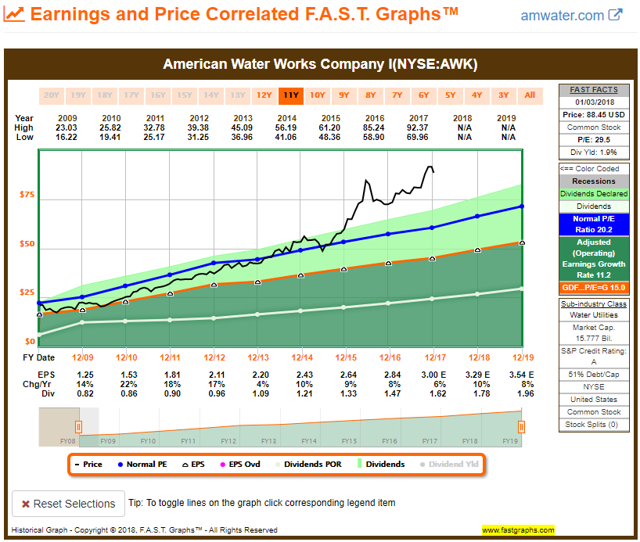 Due to the high valuation, the dividend yield is rather low at just 1.9%. However, it will likely announce another 10% increase in April, which would bring it above to the 2% mark.
With a market cap of just $16 billion, there is plenty of room for future growth. I think it should be able to meet my long-term portfolio goal of 10% annual income growth, especially when factoring in the reinvestment of dividends.
NextEra Energy Inc. (NEE) is the second half my MDU replacement, and is another company that offers a much higher growth rate than what is typically seen by utilities.
NextEra has grown EPS at a 6.9% annual rate, and dividends at an 8.8% rate over the last decade. The dividend growth rate has stepped up in recent years, and management is guiding for 12-14% dividend growth through at least 2018.
Even with the recent outsize increases, the payout ratio remains relatively low at just 54%. This is well below the future target of 65%, which bodes well for continued large dividend increases.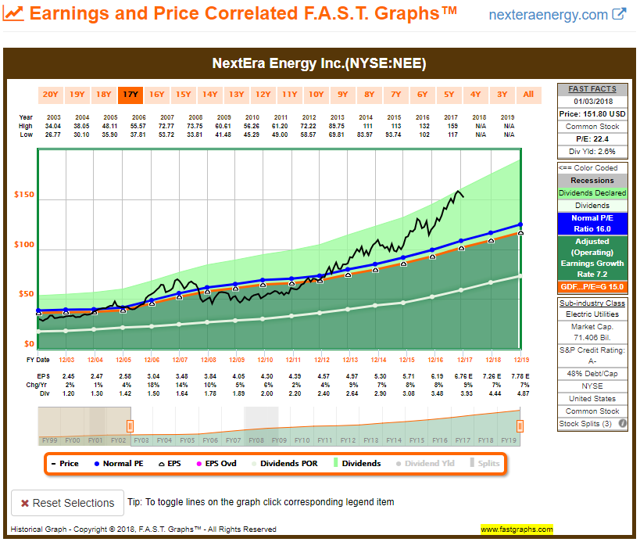 NextEra is also scheduled to announce an increase with the next dividend declaration in February. Another 12% increase would bring the yield to 2.9%, which closes the gap to what MDU offered, and over the long run, NextEra should quickly pass the income generated by that position.
My General Electric replacement comes in the form of 3M Company (MMM). 3M was actually an original member of my portfolio, but I sold it in November of 2013 on concerns of slowing growth and overvaluation.
This turned out to be one of the worst moves I've made, as 3M shares have risen nearly 85% since the sale. Meanwhile, the replacement stocks, Potash Corp. and TAL International, both ended up cutting their dividends and saw large declines in share price.
I consider this a valuable lesson learned about chasing growth in cyclical sectors over staying the course with the boring blue chips. It took me four years to right the wrong, but I finally have 3M back in my portfolio!
At 59 years, 3M has one of the longest dividend growth streaks in the industrial sector, and with a 9.2% growth rate over the last decade, it continues to reward shareholders with increasing income.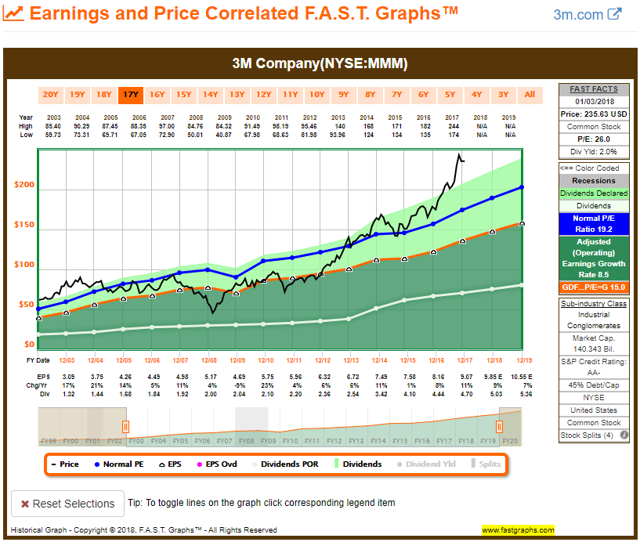 The consistency of 3M is remarkable, as it has had just one year of negative EPS growth in the last fifteen years, and that came during the recession in 2009. Overall, it has grown EPS at an 8.5% rate over that time frame, and it is forecast for 11% growth in 2017.
Management is targeting 8-11% earnings growth through 2020, and I expect the dividend will grow at a similar rate considering the payout ratio is currently just 47.7% against a target of 50%. The dividend will likely be raised in February, and I think the new payout will be in the $1.25-$1.30 range.
Shares are well above historical valuation levels, so I'm not expecting much in the way of capital gains, but the 2% yield and 8-11% growth will more than match my 10% income growth target.
My AmerisourceBergen replacement comes in the form of Johnson & Johnson (JNJ), a company considered as one of the bluest of blue chips in the market. Johnson & Johnson is one of just two U.S. companies with a "AAA" credit rating (Microsoft (NASDAQ:MSFT) the other), and also has the longest dividend growth streak of the stocks on my health care sector watch list at 54 years.
The company is a model of consistency, with a 7.4% growth rate over the last 15 years, and not a single year of negative EPS growth. Earnings did stall a bit during the recession, but the worst year still saw 2% earnings growth.
Johnson & Johnson has managed 8% dividend growth over the last decade, and with a payout ratio at just 43% of 2018 estimates, I think dividend growth will continue at a similar rate going forward.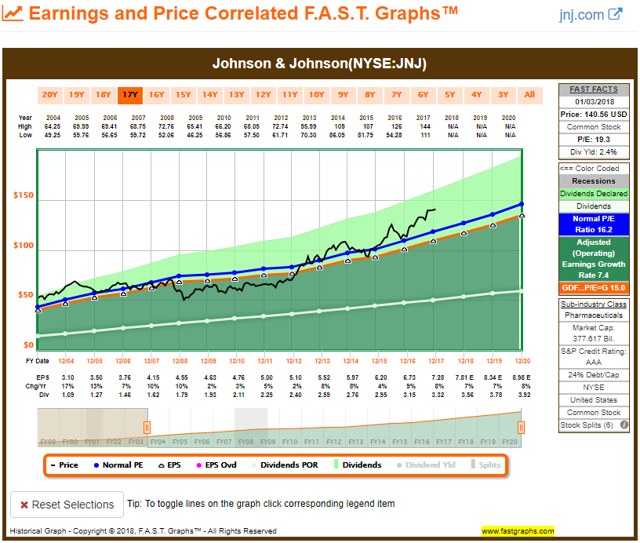 Johnson & Johnson will likely announce a dividend increase with its next declaration in April. I am expecting a 7.1% increase to $0.90 per share, which would provide a forward yield of nearly 2.6%.
JNJ is a company I've wanted to own for some time, and it didn't make much sense having a public dividend growth portfolio without it being a part of it. There aren't many companies in the market with its track record of consistent growth, and I'd be hard pressed to find one with a safer dividend than the one it provides.
The final company I added was bought strictly for growth, as it doesn't provide much in the way of income, and is another that I've had on my watch list for some time: Mastercard Incorporated (MA).
Mastercard becomes the partner to my Visa Inc. (NYSE:V) stake in the portfolio, and I think the two payment solutions companies are a nice duopoly to own for the continued secular trend towards a cashless economy.
Mastercard has produced double-digit growth every year since its IPO, and analysts are expecting ~18% growth going forward. With the focus on growing the business, management has kept the payout ratio at around the 20% level, and I don't expect that to change much any time soon.
Between the low payout ratio and a rich valuation of a 29 forward PE, the dividend yield is just 0.64%. As I said, this purchase was for growth, not income.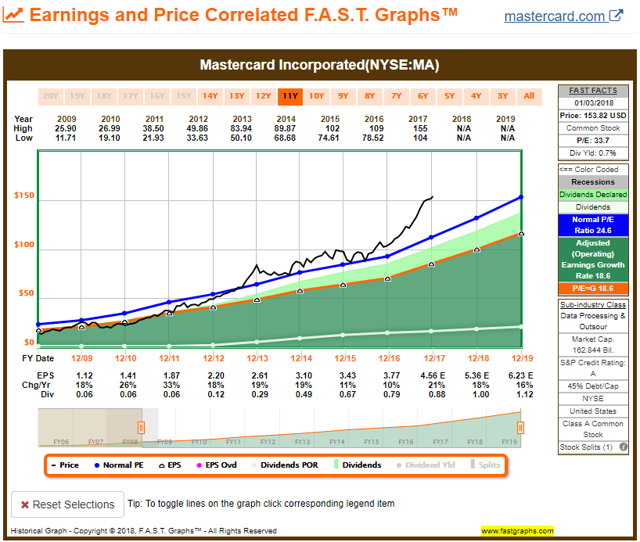 That said, high dividend growth does add up over time, and I suspect that as the business matures, more cash flows will eventually be shifted from growth initiatives to shareholder returns.
On the valuation, I agree with those who say it is overvalued at current prices. According to the FAST Graph, it has been overvalued since the middle of 2012, and even more so during the last couple years I've had it on my wish list.
Visa was a similar situation for me when I bought it in January of 2015 at a 28 PE. It too was one I watched and waited for, but hadn't bought because of valuation. Three years later, I now have a 78% gain on my position, and I am happy I added it to the portfolio.
Hopefully, Mastercard can do the same!
The Income Impact
Due to the cash I had in my account, I was able to trade into higher growth positions while still maintaining the same dividend income for the portfolio.
In fact, my projected income is actually slightly higher at $72.19 vs. $71.91 previously.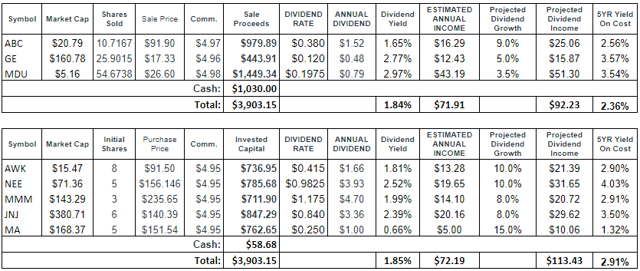 Looking ahead five years, you can see what impact the higher dividend growth rates will have on future income. The replacement companies are projected to produce $113.43 in future income, while the sold companies are projected for just $92.23.
This is an increase of 23% for future income, and is a gap that will likely continue to widen as time goes on. Another byproduct of the higher growth rates is the likelihood of higher capital appreciation, which will help me grow my nest egg.
Of course, this is all dependent on growth occurring as predicted. But looking at past history, I am much more confident in the growth prospects of the five new selections over that of the three that were replaced.
Conclusion
As mentioned in the open, the goal of my portfolio is to produce reliable and consistent income growth with dividend paying stocks. With General Electric again cutting its dividend, MDU continuing to show slow growth, and AmerisourceBergen facing potential headwinds to its business, I believe these moves will help me to better achieve that goal.
Additionally, the new stocks give me more peace of mind. They all weathered the past recession quite well, with only 3M seeing a slight decline in earnings, and I think will much easier to hold when the next downturn eventually hits.
I would love to hear your thoughts on these moves, and share any trades you've made to bolster your portfolio as the market continues its march higher.
Happy Investing!
Disclosure: I am/we are long AWK, NEE, MA, JNJ, MMM.
I wrote this article myself, and it expresses my own opinions. I am not receiving compensation for it (other than from Seeking Alpha). I have no business relationship with any company whose stock is mentioned in this article.
Additional disclosure: I am an engineer by trade and am not a professional investment adviser or financial analyst. This article is not an endorsement for the stocks mentioned. Please perform your own due diligence before you decide to trade any securities or other products.