Welcome to the weekly natural gas recap edition of Natural Gas Daily!
Natural gas prices finished the week lower by 5.35%.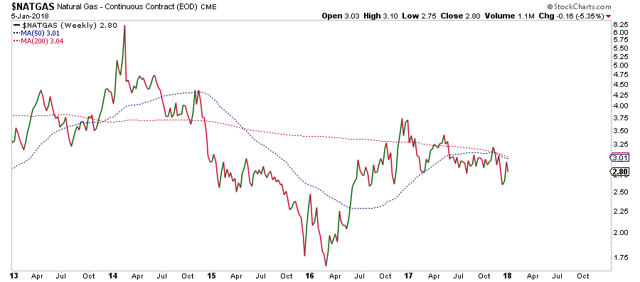 Natural gas (UNG) started the week off to a good start with February contracts almost passing $3.10/MMBtu, but as we wrote on Tuesday, "Although storage draws are bullish the next two weeks, we are starting to see some shifting signs in the latest weather outlook. January 17th is starting to show a warming trend to develop leading to higher than average temperatures across the Lower 48."
Over the week, we saw weather forecasts turn decisively bearish. While some of our readers kept pointing to the storage report next week (it's going to be a record, we know), we said that the report was already priced in.
For those of you that are either new to natural gas trading, and if this is your first-time trading natural gas over the winter, these materially bullish storage draws start to get priced in at least 10 days in advance. Weather models can forecast up to 15 days out with some like ECMWF-EPS and CFS forecasting longer range 3-6 weeks out.
If you are just starting to read that natural gas storage 10 days out are showing X storage draws, that's likely already too late as we give update our storage forecasts daily on each weather model revision.
So what moves natural gas prices over the winter?
There are two weather models you need to follow.
ECMWF-EPS - updated twice daily at 3:00 AM EST and 3:00 PM EST.
GFS-ENS - updated four times a day.
The GFS-ENS isn't as good as the ECMWF-EPS as it has less ensemble members and is subject to more volatility between model runs. The ECMWF-EPS overnight run usually moves the market, and that's why you see most of the overnight natural gas moves happening around 3:00 AM EST.
Each model run will update the latest outlook in the weather forecasts. In ECMWF-EPS, it shows 360 hours out or 15 days out, and GFS-ENS shows 384 hours out or 16 days out. In both these models, there are three weather charts you have to watch for:
500 mb height anomaly
850 mb temperature anomaly
And 2-meter temperature anomaly
Below was a 500 mb height anomaly chart we posted in our Friday NGD: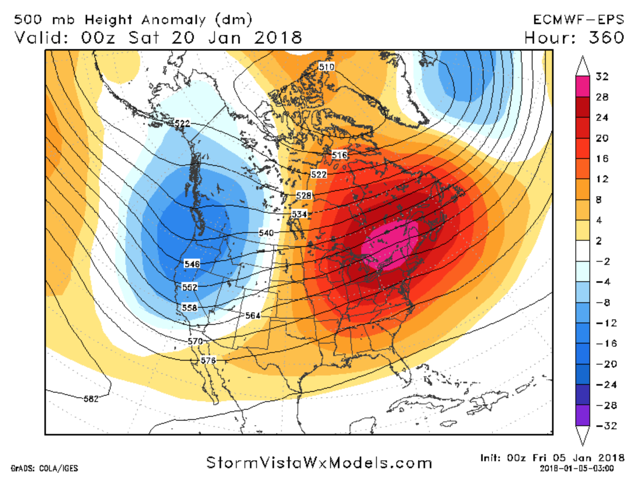 Source: StormVistaWxModels.com
And this is what that outlook translates into 2-meter temperature anomaly: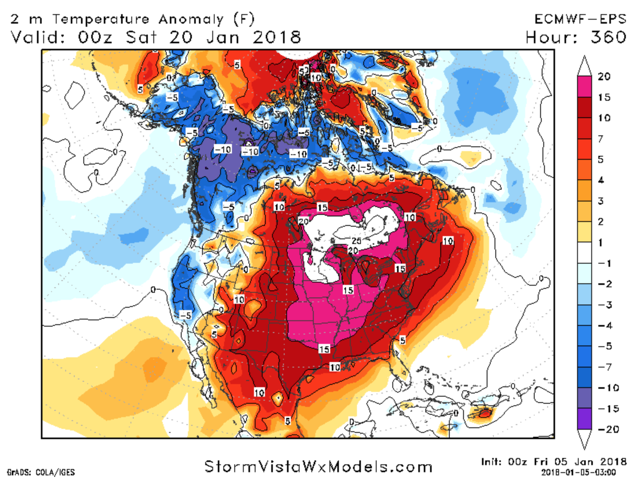 Source: StormVistaWxModels.com
These weather maps are pretty self explanatory. Red means bearish and you can see the scale on the right, the brighter the red, the more bearish the temperature anomaly. The darker the blue (turning into purple), the more bullish the weather.
Some of you are wondering, "what the heck, it's so cold today so why is natural gas selling off?"
Well, you can see that in the short-range weather outlook: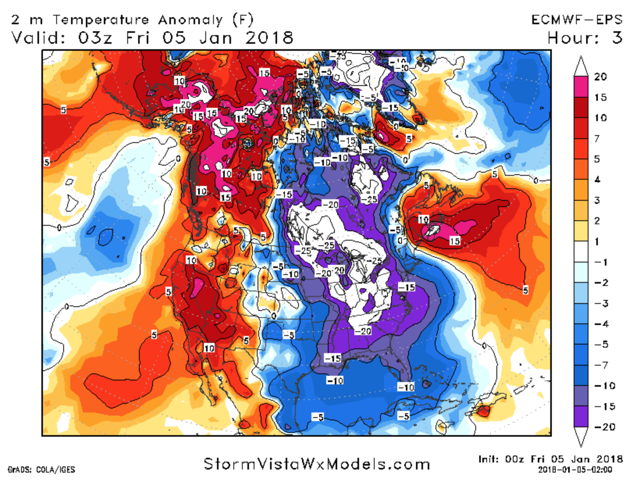 Source: StormVistaWxModels.com
But natural gas trading over the winter is not about the weather TODAY, but the weather in the FUTURE.
So, you can complain all you want about how cold it is today, but natural gas prices won't reflect today's cold - the spot market reflects the weather temperatures TODAY. Natural gas prices will reflect what the trend in the weather model forecast shows.
But storage is going to end withdrawal season so low, so why are prices selling off?
For those of you that read our NGDs, you know we have a very bullish end of withdrawal season storage figure at the moment - 1.36 Tcf (updated daily).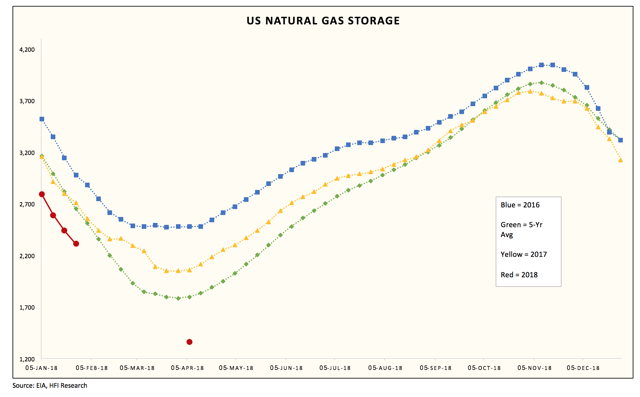 With storage expected to finish some ~440 Bcf below the five-year average, why are natural gas prices selling off?
In an exclusive report we published to HFI Research subscribers, there is approximately ~10.5 Bcf/d of takeaway capacity coming online in Northeast over the coming year. The market is basically saying at the moment that if natural gas storage does end ~440 Bcf below the five-year average, the amount of production increase over the next 9 months will be plentiful enough to refill storage to an adequate level before next winter.
Now based on our analysis, it's not likely that US natural gas production will reach the entire 10.5 Bcf/d of takeaway capacity coming online, but the market is saying it doesn't want to take that risk.
However, there is one thing the market is also implicitly implying by selling off natural gas prices to where they are today - weather will be neutral to bearish in February and March.
In our view, this is a bad implicit assumption the market is making. Here's why:
5-year average February draw - (582) Bcf
5-year average March draw - (146) Bcf
In our latest storage forecast, we had January exiting storage around 2.311 Tcf. If we get neutral weather in February and March, we will end storage at 1.583 Tcf or some ~300 Bcf below the five-year average.
If Lower 48 production increases by another 3 Bcf/d by the end of Q1 2018, that will be enough to offset the deficit in storage to the five-year average.
HOWEVER, if weather turns out to be bullish, February alone could knock more than 800 to 900 Bcf off of storage.
This would put storage solidly below 1.3 Tcf or almost ~500 Bcf below the five-year average. By our calculation, this would require Lower 48 production to increase by ~4.5 Bcf/d to offset the storage deficit and the incoming demand increases.
What will this scenario do to natural gas prices?
Conclusion
Natural gas prices are currently moving lower because weather forecasts for the middle of January is starting to trend warmer. And with gas prices trading where they are today, the market is making implicit assumptions about how much Lower 48 production can grow over the coming months. But it is making one fatal assumption that could upend where gas prices are trading today and that's the implicit assumption that weather in February and March will be either neutral to bearish.
This is why going towards the end of January, it will be so crucial for readers to start watching where weather forecasts are for the first-half of February. With Lower 48 production expected to increase, and market already bearish on prices due to the incoming supply, weather will make-or-break both natural gas bulls and bears.
Mother nature continues to be the dominant force in winter gas trading, and it will be even more dominant in the coming weeks.
P.S. - We just introduced a new long-range natural gas weather report that gives readers outlook 6-weeks out.
Thanks for reading. If you would like to start receiving must-read daily updates on natural gas fundamentals and trader commentary, sign up for HFI Research Natural Gas, a dedicated natural gas publication based on our years of research in the space and regular talks with traders in the industry. Check it out and join us today.
Disclosure: I/we have no positions in any stocks mentioned, and no plans to initiate any positions within the next 72 hours. I wrote this article myself, and it expresses my own opinions. I am not receiving compensation for it (other than from Seeking Alpha). I have no business relationship with any company whose stock is mentioned in this article.