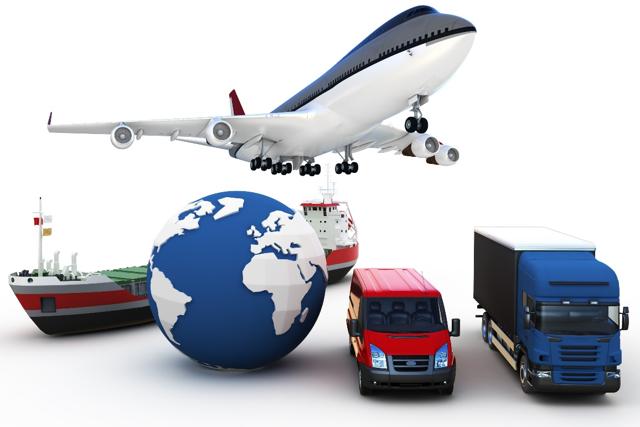 Source: Google Images
As we closed the first week of 2018 on January 5th, transports find themselves in a similar position as was the case during 2017. For me as I write this first weekly update it seems like déjà vu; as much of 2017 was spent defending transports and looking for clues as to how/when they would get back to parity with broader markets, and eventually surpass broader market peers.
I hope all readers had a Happy New Year! I was fortunate enough to spend both the Christmas and New Year holidays with family and frie nds. As most followers and subscribers know, I follow many different volume and pricing information trends. Even though it is early in the year, I continue to see positive results leading me to believe that 2018, although a new year, will continue to offer investors ample opportunities to get strong returns on transport investments.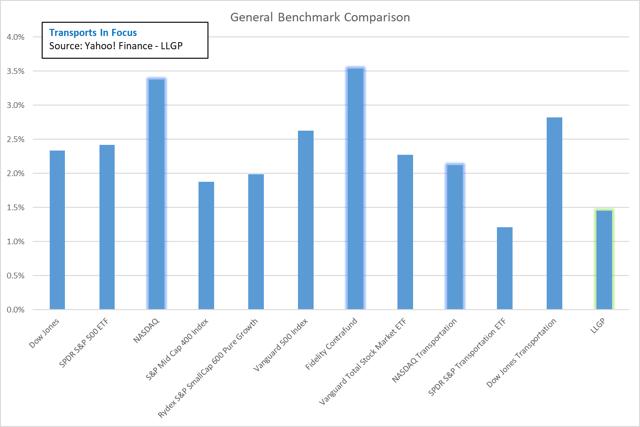 I manage the Lean Long-Term Growth Portfolio (LLGP). To date, performance stood at 1.5 percent, as highlighted in green. There is some déjà vu as transports have once again gotten off to a slower start versus broader markets. There is much stronger parity though across the general benchmark comparison as most indices are up at or above the 2 percent level.
The three top performers thus far have included the NASDAQ (IXIC), Fidelity Contrafund (FCNTX) and the Dow Jones Transportation (DJT) indices. More narrowly based transports indices including the Dow and NASDAQ have outperformed the broader-based SPDR S&P Transportation ETF (XTN).
YTD 2017 SPY Vs. XTN Index Prices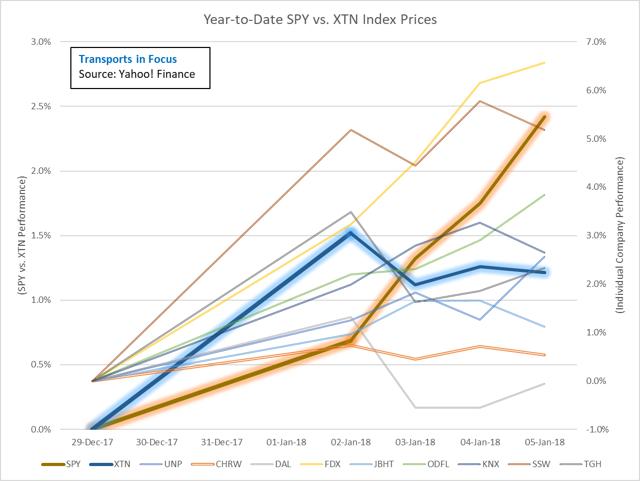 For 1 st week of 2018, the spread between the SPDR S&P 500 ETF (SPY) and the transports XTN was at 1.2 percentage points with the SPY ahead. The SPY increased by 240-basis points (bps) to 2.4 percent; while the S&P Transportation ETF increased by 120-bps to 1.2 percent for 2018.
This seems too much like déjà vu as transports trailed the SPY for most of 2017. As I was adamant last year that transports were undervalued for a good portion of this time, for 2018, this statement is once again relevant. Transports are arguably going to see tighter capacity than was the case in 2017, and with tax reform kicking in, investors and employees will see continued benefits.
Rail Operators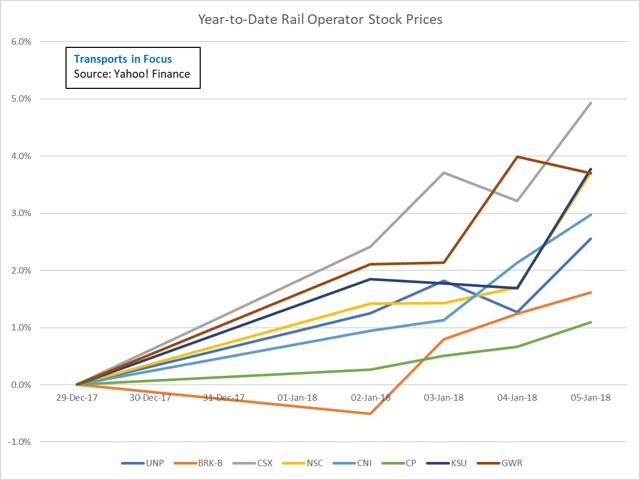 Rail operator performance was up for the week, led by CSX (CSX). I do not see substantial value amongst railroad peers, but I do see a significant discount for Kansas City Southern (KSU) from a relative basis. I recently wrote an article regarding this thesis, as it is my top pick for investment performance for 2018. I view this group as solid for the year, and would not be surprised to see double-digit performance, with valuations being driven by P/E and EBITDA metrics.
The final week of 2017 saw its 16 consecutive weeks of YoY growth snapped. The rate of growth substantially from the previous week to -6 percent from last year. Despite the cool off at year-end, 2018 is initially expected to see sustained positive traffic performance for most commodities. The most recent monthly Class I rail traffic report can be found here.
Railcar Manufacturers & Lessors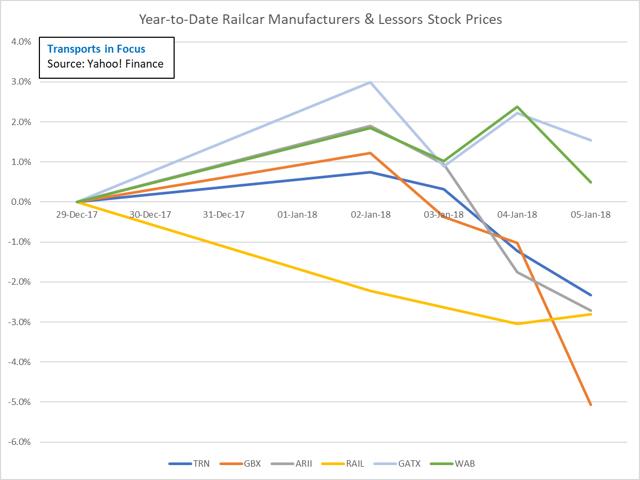 Railcar manufacturers and lessors were mostly down for the week, with exceptions being GATX Corporation (GATX) and Westinghouse Air Brake Technologies (WAB). Greenbrier Companies (GBX) reported last week, and the company's results weighed on peer railcar manufacturers. Greenbrier missed both earnings and revenue estimates, and saw its stock price decline by -4 percent.
According to Greenbrier's slide deck, the company is anticipating acceleration for railcar manufacturing demand for fiscal years 2019 and 2020. Based on historical cycles, this makes sense as railcar manufacturing typically lags rail operator traffic peaks and valleys by a year or two. The only challenge this time around is that we have experienced a very long bull market. As long as economic fundamentals remain positive, Greenbrier's projections may just play out.
Truckload Carriers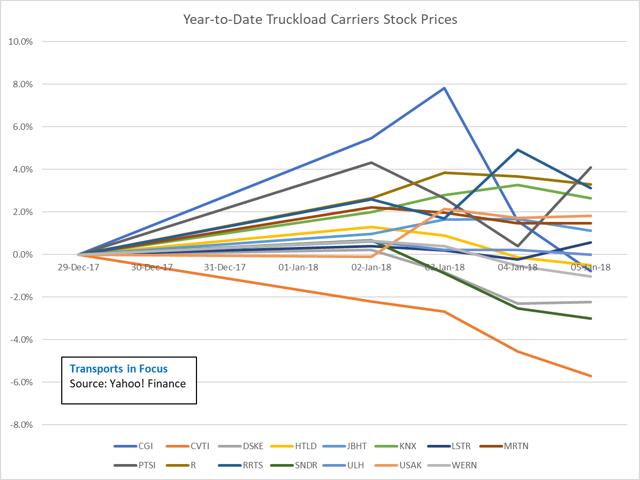 The majority of truckload carriers were up for the week, but there were still many peers seeing down performance for the first week of 2018. Performance was mixed across the board between large and smaller peers. Companies including JB Hunt Transport (JBHT), Knight-Swift Transportation (KNX) and Landstar System (LSTR) were up, while Schneider National (SNDR) and Werner Enterprises (WERN) were down.
Smaller peers were also mixed as companies including P.A.M. Transportation (PTSI), Roadrunner Transportation (RRTS), Marten Transport (MRTN) and USA Truck (USAK) were up, and Celadon Group (CGI), Covenant Transportation (CVTI), Daseke (DSKE) and Heartland Express (HTLD) were down. Last year was strong for trucking peers, I expect that 2018 will continue to offer further upside for this group.
Less-Than-Truckload Carriers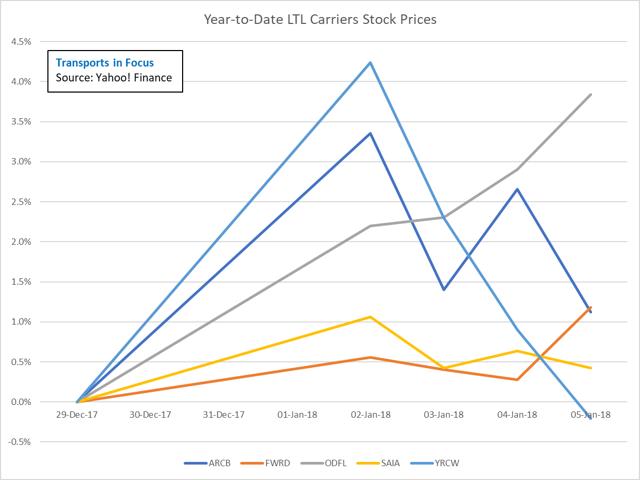 Less-than-truckload ((LTL)) carriers were up for the week, with the only exception being YRC Worldwide (YRCW). After just being beat out last year by Saia (SAIA), Old Dominion Freight Lines (ODFL) is off to a very strong start with performance up nearly 4 percent. For 2018, I still expect both Old Dominion and Saia to lead this group higher.
Many of the same tailwinds for 2018 for truckload peers are also prevalent for LTL carriers. Investors just need to understand that driver turnover is not as high, and that LTL carriers typically have more exposure to industrial and e-commerce, aside form open deck for heavier loads. Pricing discipline has been very rationale over the past couple of years, which should continue to maintain stable and improving financial performance.
Air Freight, Package & Delivery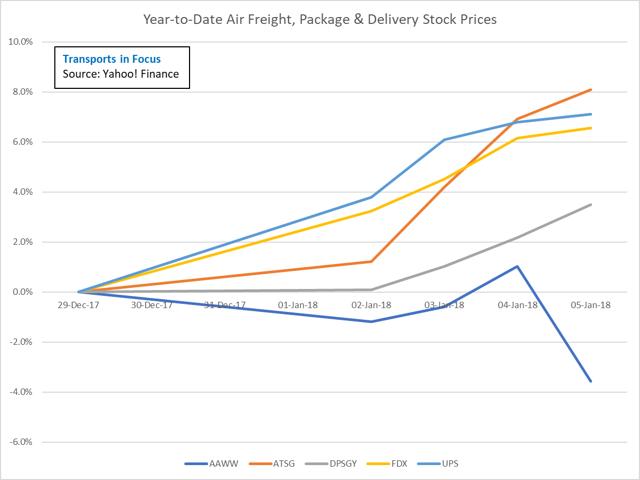 Air freight, package and delivery companies were up for the week, with the only exception being Atlas Air Worldwide (AAWW). Just like last year, Atlas Air has started off underperforming its counterpart, Air Transport Services Group (ATSG). Just as I often stated last year, investors my wish to scrutinize these two companies as Atlas Air is trading at a much higher discount.
FedEx Corporation's (FDX) earnings results have pushed the company to an even steeper upward trajectory for its stock price. Some analysts have increased price targets and even gone so far as to label the company as a top transports pick for 2018. I continue to like companies with exposure to package and delivery, especially as airfreight growth is expected to continue to grow. This year should be much better for United Parcel Service (UPS).
Contract Logistics, Forwarding & Brokerage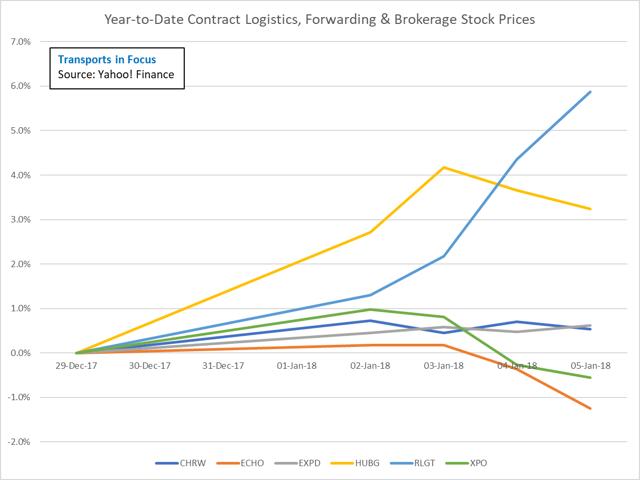 Contract logistics companies were mostly up, with exceptions being Echo Global Logistics (ECHO) and XPO Logistics (XPO). Once again, we see Radiant Logistics (RLGT) atop this peer group, and once again I am not confident that it will stay this way. Hub Group (HUBG) has caught some life to begin the year, it will be interesting to see how the final quarter of 2017 plays out as the company's performance has often been volatile after results.
After some time has passed since Home Depot's (HD) interest in XPO, I continue to believe that XPO will remain independent for most if not all of 2018. You never know, but I do not think that Home Depot, or even Amazon (AMZN) for that matter are good fits for XPO. This year I am looking to see what companies XPO looks to gobble up.
Container Shipping Lines, Charter Owners & Container Lessors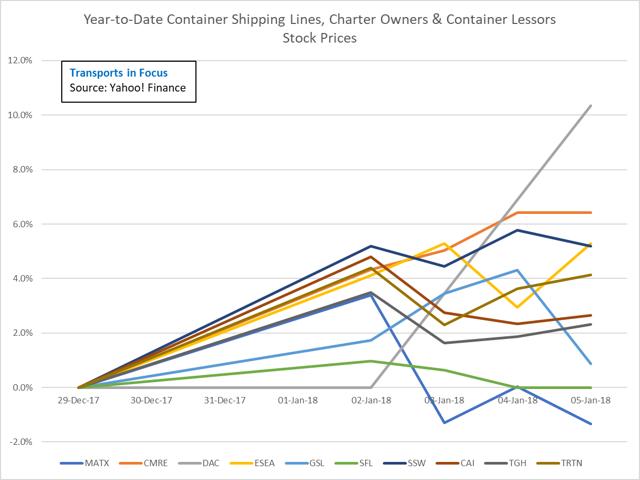 For the container shipping industry, last week's performance was strong with the only exception being Matson (MATX). Charter owners and managers have begun 2018 on a positive note, which is a good sign. Container lessors have continued on from last year's sector leading performance, albeit with some early volatility.
The focus continues to be on global container shipping freight rates and shipping demand for the Chinese New Year. There are indications for tighter capacity for container equipment; if demand can be sustained and/or improve, this group should see the potential for strong returns during 2018.
Airlines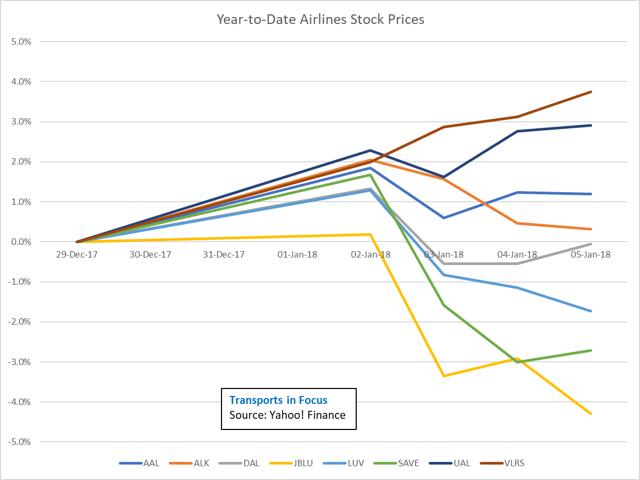 Airline stock performance was mixed across the board with leading performers including Controladora Vuela Compania de Aviacion (VLRS), United Continental Holdings (UAL), American Airlines Group (AAL) and Alaska Air Group (ALK). Just as analysts were getting bullish on airlines, the East Coast witnessed some nasty weather, leading to significant flight cancellations. Contrarily, weather outlooks for later in January are calling for much more moderate weather.
Alaska Air had a challenging 2017 as the industry saw a reversal in performance, and the company has struggled somewhat after its purchase of Virgin America. As time marches by, Alaska Air is poised to see better results from the integration, and investors are set up to see stronger returns.
Demand Trends
Key demand-based indicators that are monitored include Class I rail traffic, trucking industry tonnage, shipments, and loads, air cargo tonnage, container shipping line twenty-foot equivalent units, TEUs, North America seaport TEUs, shipping lane port calls, North America cross-border trade, and freight rates for most of these indicators.
U.S. & Canada Class I Rail Traffic – Carloads & Intermodal Units Carried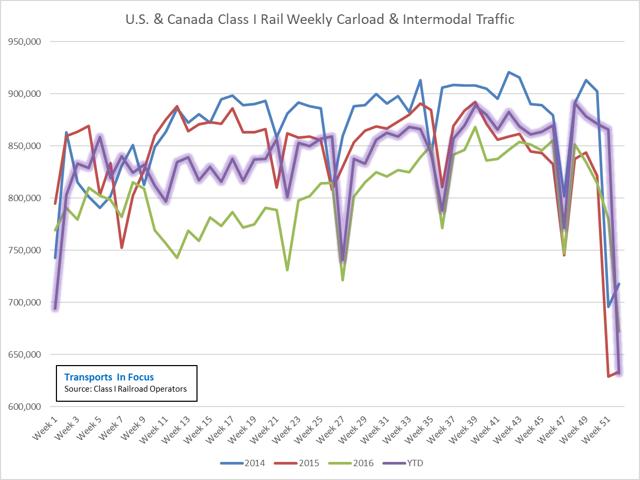 Through the final week of 2017, total traffic was up 4.3 percent with carload traffic up 3.6 percent, a 10-bps decline; and intermodal traffic up 5.2 percent, a 10-bps increase. Week fifty performance declined substantially from the previous week to -6 percent, YoY.
These numbers continue to not be far off from the total traffic originated results of 4.8 percent for the entire year of 2017 for North America rail traffic, published by the Association of American Railroads (NYSE:AAR) data. Investors should remember that total traffic carried includes both originated and received carloads and intermodal units. Additionally, U.S. traffic was up 3.4 percent and Canadian traffic was up 10.6 percent, closely tracking the carried rail traffic when combined. Mexico traffic was up 2 percent, as improvement remained in positive territory.
Container traffic was up 5 percent, flat. Domestic intermodal pricing for both eastbound and westbound averages have remained strong of late, with the former up nearly 18 percent and the latter up nearly 7 percent YoY. Fuel surcharges remain stronger as a solid contributor with oil prices higher.
The final week of 2017 witnessed weekly coal carload traffic at 79,000 carloads carried. This reflected a -12.8 percent decline versus last year, the third consecutive decline. Grain performance was down, at -21.5 percent versus last year. Similar to coal, weekly growth from this point forward will be choppier; this was the eighteenth consecutive week of negative performance.
Motor vehicles and equipment carload traffic performance was down at -9.4 percent versus last year; the breaking four consecutive weeks of positive results. Chemicals were down at -11.1 percent, petroleum products were down at -1.9 percent, breaking an eleven-week positive streak, and crushed stone, gravel and sand was only up 2.6 percent.
Trucking Industry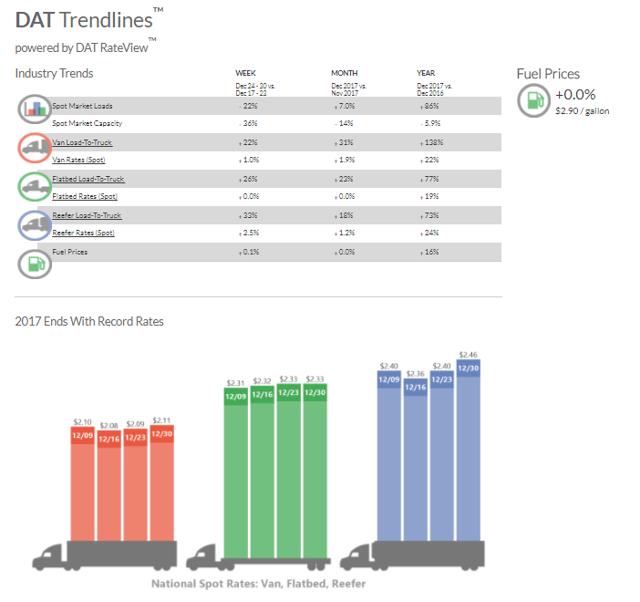 Source: DAT Solutions, DAT Trendlines
The trucking industry had a contradicting 2017 as pricing remained soft through the spring, only to rebound strongly in the fall. Trucking peer stock prices followed suit as performance was strongest during the second-half of 2017. For 2018, the focus will remain on capacity, mostly as it relates to drivers and equipment. Shippers have expressed concerns more for lack of equipment capacity versus increasing freight rates.
On that note, there are currently mixed views as to the level of increase for freight rates that will occur in 2018. Some experts are expecting more modest increases from 2 to 4 percent, while others see the possibility of much higher rate increases towards 10 percent. Either way, carriers will have the double benefit of being more selective with stronger lanes and increasing pricing power.
Diesel prices were up 15 percent to end 2017, reflecting a 70-bps increase from the previous week. For the year, spot market pricing remained up strongly. Spot market loads were up 86 percent from 2016, while capacity was down -5.9 percent. Dry van, flatbed and reefer rates were up 22, 19 and 24 percent for the year from 2016 levels.
Air Cargo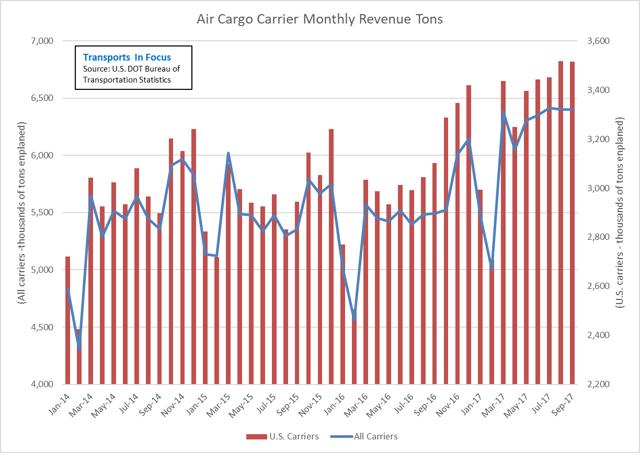 Demand trends have been highly positive for volume growth across all freight modes. For 2018, early expectations are calling for increased growth. While expectations are for a slower rate, 2017's performance stands out as the strongest yearly result after the Great Recession. This is a testament to the Trump administration, as business confidence has soared.
Air cargo continues to see excellent performance. FedEx's results were a testament of what 2018 has in store for investors. As the global economy is also expected to see increasing economic growth, air cargo will benefit strongly from the continued shift to e-commerce. This phenomenon has actually fundamentally shifted air cargo's long-term growth expectations, which are now much more robust.
Container Shipping Lines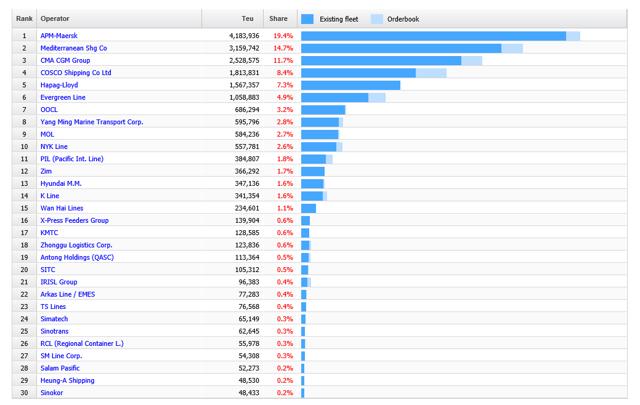 Source: Alphaliner – Top 100 Operated Fleets
Pricing for spot market container rates ended 2017 down for most east-west trade lanes, per the Shanghai Containerized Freight Index (SCFI). As rates accelerated to very high levels after the Hanjin Shipping bankruptcy, higher declines may still occur on a YoY basis in early 2018.
For the first week of 2018, Trans-Pacific freight rates have remained down greater than 25 percent for shipments from Shanghai to the West and East coasts. These current numbers remain elevated from both June and November lows. Asia to Europe rates have declined by greater than 20 percent for North Europe and the Mediterranean. Similar to the Trans-Pacific, rates have improved from November 2017. Trans-Atlantic rates remained modestly positive for eastbound and marginally down for westbound services.
Investors should be looking for sustainability for container shipping rates in 2018. The peak surges experienced during the summer and fall of 2017 were not necessarily a new normal. But despite rates falling by greater than 20 percent from last year's highs, a shift to more moderate price swings in 2018 will bode well for global container shippers, as well as charter owners and container lessors.
North America Seaports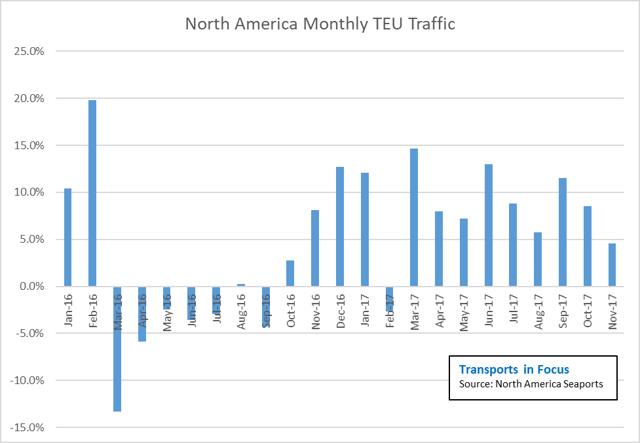 As the peak shipping season winded down, November top North America container TEU traffic dipped some versus the past eight months. Performance was more mixed across geographic regions as well leading to less demand across seaports, whereas previous months had allowed for greater dispersion of TEU traffic.
More seaports are turning to truck appointment systems. Recently, two terminals at the New York/New Jersey seaport, have followed suit from the GCT Bayonne. Some seaport's including New York/New Jersey and Oakland have witnessed very strong efficiency improvements. With unions remaining tough on automation, appointment systems are becoming more necessary. The most recent monthly North America seaport TEU report is located here.
North America Cross-Border Trade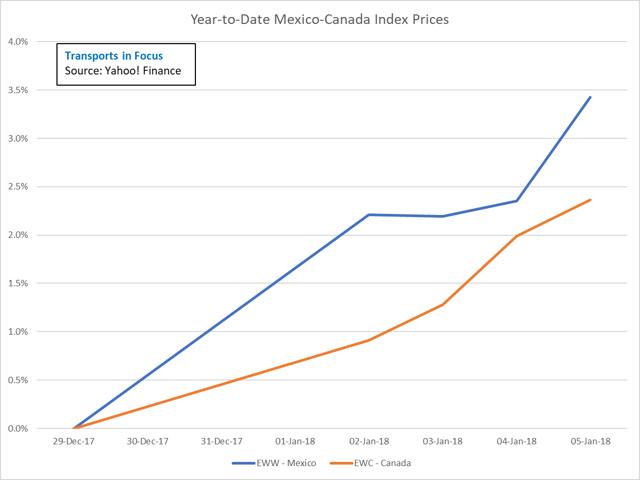 The iShares MSCI Mexico Capped (EWW) was up by 340-bps for the week. The index is leading the iShares MSCI Canada ETF (EWC). The Mexico index is up 3.4 percent for the year versus the 2.4 percent result for the Canadian index; which reflected a 240-bps increase.
Both Mexico and Canadian indices started the year off on a positive note, despite continued lack of progress in negotiating the North America Free Trade Agreement (NAFTA). After some tumultuous volatility in late 2016 and early 2017, both indices did display signs of optimism evidenced by positive performance. NAFTA will remain an uncertainty until the current administration either finds a way to delivery a renegotiated agreement, or ends the multi-country trade agreement.
Summary
Transports have taken a similar slower initial step in performance for 2018 versus broader market peers – this is strikingly similar to how a majority of 2017 transpired. This early in the year, it is much too soon to tell how volume trends will shape up. All we know is that prospects are bright based on experts and leading executives from top transports companies.
Based on the past few years, as long as the economic growth cycle remains intact, transports will be likely to outperform broader industries as they will continue to directly benefit from sustained and/or increasing consumer demand. I am cautiously optimistic that 2018 may serve as the third consecutive year, which transports outperform their broader peers.
Disclosure: I am/we are long ALK, CNI, DPSGY, FDX, GBX, HUBG, JBHT, KSU, MATX, SNDR, TRTN, XPO. I wrote this article myself, and it expresses my own opinions. I am not receiving compensation for it (other than from Seeking Alpha). I have no business relationship with any company whose stock is mentioned in this article.
Editor's Note: This article covers one or more microcap stocks. Please be aware of the risks associated with these stocks.