What this week lacked in volume, it made up for in weight. Markit released its monthly PMI numbers for all the advanced economies. If Europe's numbers continue in this manner for the rest of the year, the continent can expect its best post-Recession growth totals in 2018. Japan's numbers didn't point to record growth, but they did foreshadow continued expansion. Finally, Canada's unemployment rate decreased another .2%, indicating the economy is once again expanding in a solid manner.
The news from the EU couldn't be better. Markit's manufacturing PMI recorded its highest level ever, increasing from 60.1 to 60.6. Output and new order growth were near all-time records, while export orders were very strong. The service reading also increased, rising .4 to 56.6. New business attained its strongest level since April 2000; export orders for EU services were also near an all-time record. Finally, the composite PMI reading was 58.1, the highest since February 2011. This chart from the report places these numbers into historical context: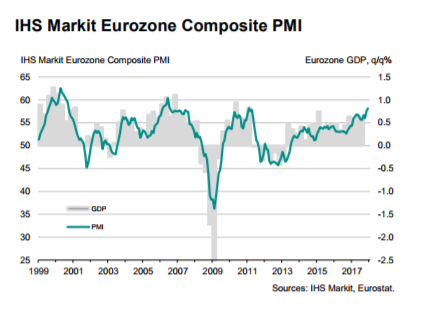 The four largest EU countries also had robust Markit reports. France's manufacturing number was a 17-year high; new orders grew at the fastest pace since 2010 and output achieved its strongest level since 2000. New service orders hit a 6½ year high. While the composite reading declined .4 to 59.6, the overall reading is still impressive. Topping it off for France was The Economist naming it the country of the year for its political and economic achievements.
Germany's manufacturing reading was an all-time high of 63.3, largely thanks to record high export orders and a near-record increase in backlogs. The service sector grew at the fastest pace in 24 months, thanks to the new orders and employment growing being "robust."
Italy's manufacturing PMI reading was .9 lower (falling to 57.4), but new orders were just below a 17½ year high, while exports and employment grew at a robust pace. The service sector grew faster, as indicated by the service PMI increasing from 54.7 to 55.4. New business grew at its fastest pace since 2006, while employment increased.
Finally, Spain, which suffered a devastating impact from the Great Recession, is growing at a solid pace. The manufacturing PMI fell .4 from an 11-year high to 55.8. New export orders were up "strongly," employment was "strong," and production attained a 31-month high. The service number was up marginally, edging higher .2 to 54.6. While this was slightly weaker than the 1H17 numbers, both employment and new orders continued to increase at strong rates.
The following charts from the EU PMI report put the strength of recent numbers into context: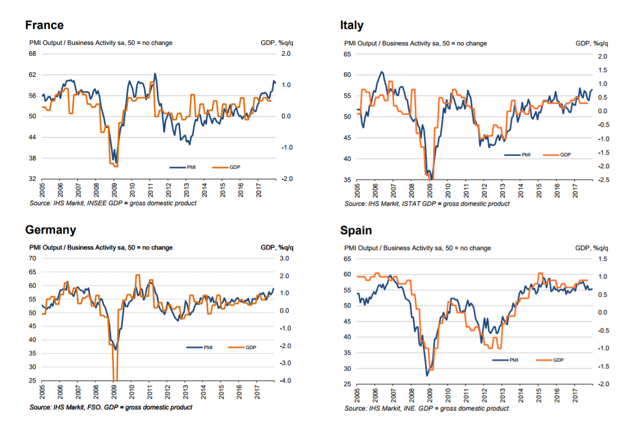 Finally, Canadian unemployment decreased again, this time by .2%. The following two charts show the underlying strength of the Canadian numbers: