On the way to Amazon (Nasdaq:AMZN) putting all brick & mortar retailers out of business, a befuddling occurrence happened – they didn't. The narrative, we've all heard ad nauseum, goes something like this -
Amazon, and other online retailers, go aisle by aisle through the retail 1.0 companies and decimate their sales, profitability, and traffic. No more need for silly things like sales employees and store overhead! All are now relics of a bygone era - all hail the new retail 2.0 concept!
Eh, but wait... What's this – Wal-Mart (NYSE: WMT) at new highs? Costco (NASDAQ: COST) with impressive 11.5% same-store sales growth? Home Depot (NYSE: HD) is now the 4th largest e-commerce retailer in the US? What's with Amazon buying Whole Foods? I thought we didn't want that icky, high priced, retail footprint? Didn't we just go to Target's (NYSE: TGT) funeral last year?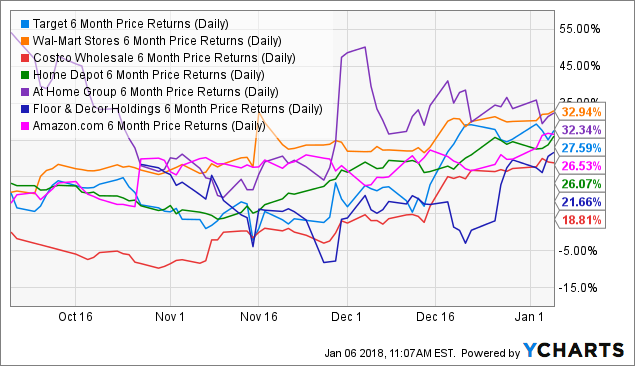 Maybe only Amazon, in the same week, can buy a grocery store chain and be rumored to be negotiating to purchase a workplace app platform (SLACK), and be lauded for their strategic vision! But that shows how the world, and retail, has changed. Ahh, the times, they are a changin… I enjoy this photo below of the difference in Pope Benedict's and Pope Francis' coronations.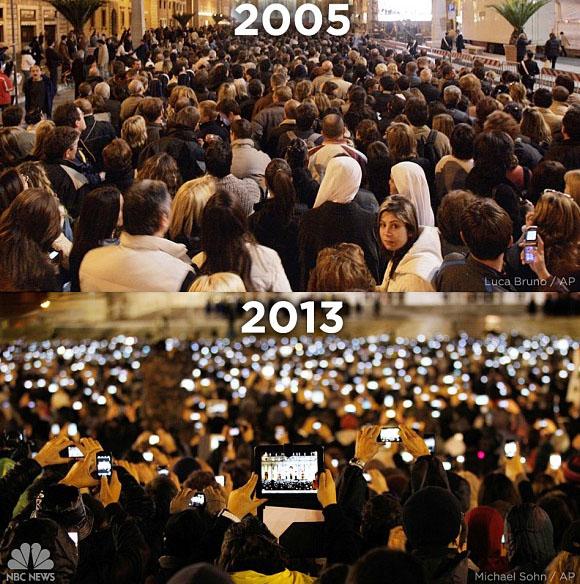 Like many new technologies that come along, we have the early adopters and the "pure plays". But over time, these tools just become ingrained into the standard tool bag. We are getting very close to where we will no longer define a company as a "Brick & Mortar" or an "Internet Retailer" – we will simply call them (gasp) – "Retailers".
There has been a secular shift in how, what, and where consumers buy their goods. The key is for the old 1.0 retailers to adapt to the new world and use these technologies. The 2.0 internet retailers also have concerns. There is now a value to the retail foot presence that they sorely lack. Amazon recognized the fact that some industries and goods are just easier to sell with a physical presence. They have fully justified the 3.0 format with their purchase last year of Whole Foods. In the last-mile competition to deliver the goods rapidly, physical stores represent key jump off nodes for merchandise delivery and returns.
Some of the Winners
One of the best in the business of merging the old 1.0 B&M with the 2.0 online world is The Home Depot. They have done a fantastic job. Years ago, with falling same-store sales, they made a commitment to right the ship. They embraced online selling and improved the overall customer experience. Some simple methods include
Buy Online Ship to Store (B.O.S.S.)
Buy Online Return in Store (B.O.R.I.S.)
Buy Online Pick up in Store (B.O.P.I.S.)
They also include methods to buy online from suppliers, control the access to the customers info, and re-target them for up sales and promotions. It's a brilliant business model. The Home Depot's e-commerce sales clicked in at $6.5 billion for the trailing twelve months (TTM). If they were a standalone internet-only retailer, these numbers would put them in the top 4. But even with their online sales, they do this to enhance the focus on their retail stores. This combination model (retail 3.0) helps to improve the customer experience and to drive traffic.
A more extreme case of the retail 3.0 model can be seen in At Home (Nasdaq: HOME). They use the internet to support their stores and reach their customers – but they don't sell anything online! They are one of the fastest growing retailers in home décor and use the internet to enhance the in-store experience. You can find the store near you, look online at specials, then go in and purchase.
Or how about fast-growing Floor & Décor (NYSE:FND)? It turns out if you are going to remodel your house, you really want to take a real eyes-on look at your floor boards and laminates. But again, they use the e-commerce side to drive traffic and support the stores.
Costco is another winner. They have carved a niche with a high quality, but limited SKU line. Their membership model drives nearly half their income. They have only recently begun to embrace e-commerce in a meaningful way. In the past, they have shown borderline disdain for e-commerce. But with an example of Home Depot doing it the right way, Costco is on track to grow their online presence while still driving traffic to their stores.
The Losers
So, who are the losers? Sadly, an obvious one is the small Mom & Pop type store owners. These are small business owners that may own a clothing store, or a flooring company in a small town. They typically only have one or two stores and cannot justify a large investment in online e-commerce and the technology to support. Companies like Shopify (Nasdaq: SHOP) and Wix might be able to help them manage their e-commerce costs, but it's difficult for them to scale these sites as needed to achieve similar advantages of the larger retailers. It is challenging for these retail 1.0s to move to a 3.0 model.
More losers in all this are the larger companies that cannot, or will not, make the transition. These are companies like Sears (NASDAQ: SHLD), J.C. Penney (NYSE:JCP), General Nutrition (NYSE: GNC), and Bed Bath & Beyond (NASDAQ: BBBY). In some cases, they are trying to make the transition to a retail 3.0 model, but are late to the party, or so debt ridden that time is running out for them. Objectively speaking, Bed Bath & Beyond, due to their relatively profitable operations and manageable debt levels, has the best chance of morphing into the modern retail age, but their mall based locations and eroding margins will continue to slow them for some time. In Sears Holdings case, I see no hope as there is little reason to drive traffic to your dilapidated stores that have been neglected for far too long. The store count continues to decline at Sears with another 100 stores selected for closure. The heavily indebted retailers have little room or time for the new horizon of retail.
Any losers from the 2.0 retail world?
Sure, how about eBay (NASDAQ: EBAY)? Gross merchandise volume has been relatively flat. The stock is not expensive with a forward PE of 16 or so, but it might be harder for them to grow in the new world of retail. Does anyone really need this platform as much as they used to? It's debatable, but I would say merchants may have more opportunity with Fulfillment By Amazon (FBA) or their own e-commerce presence. I just don't see EBAY being a true retailer – they are more of a platform, and a slow growth one at that.
Overstock.com – (NASDAQ: OSTK) – Company seems to be pivoting away from online e-commerce and is now valued as some type of bitcoin (blockchain) play. Pretty scary here and this stock is clearly for gamblers only.
And What Does This New Horizon of Retail Look Like?
It's probably a lower margin world. Prices can be compared far more efficiently and easily than ever before. Stores like a Bed Bath & Beyond that sell OPS (Other People's Stuff) can expect continued pressure on margins. Companies that provide a low margin, but with membership, i.e., Amazon and Costco, will continue to gain share from higher margin retailers. Even companies with a nice moat, like a Tractor Supply (NASDAQ:TSCO), can expect to be forced to lower their margins to gain same-store sales comps. Scale, operational excellence, and fine-tuning products to an ever-fickler customer, will separate the winners.
Amazon, with already legendary operational and logistics excellence, will continue to find ways to expand their B&M presence into the retail 3.0 model. They are currently working on the food side with the recent addition of Whole Foods, but once they perfect this model, we could see many more transactions into new categories for them. Pharmacy, healthcare, and home décor would be natural places for them to expand their real-world presence.
For the 2.0's it's "Clicks to Bricks"
There are surprisingly few online only retailers of any size left. Many have been acquired and several have even started "clicks to bricks". Here is a list of smaller retailers that started online only, but then built out a physical retail presence.
Frank & Oak – www.frankandoak.com – Menswear
Warby Parker – www.warbyparker.com -Eyewear
Bonobos – www.bonobos.com – Clothing
Boston Proper – www.bostonproper.com - Women's Clothing
Athletica – www.athletica.com – Clothing, now owned by GAP (NYSE: GPS)
Looks like the best way to sell apparel is still a physical presence. The key is to merge this with an online experience to combine them into the retail 3.0 format.
Companies That Made the Right Moves Recently
Wal-Mart – In 2016, Wal-Mart spent an eye popping $3.3 billion to take over e-commerce startup Jet.com. The consensus seemed to be that Wal-Mart dramatically overpaid. Since that deal – their e-commerce sales have risen 63% and it looks like a runaway success. Time will tell, but the future looks bright for the king of retail. In a rather candid interview, former CEO of Walmart.com, Carter Cast, had these comments:
I think there are store closures ahead of Walmart that are going to be good for the company and good for shareholders,
And…
I believe Walmart will continue to use the internet and grow their e-commerce sales from about 4 or 5 percent now to well over 10 percent.
Target Corporation – Target recently bought Shipt for $550 million. They seem to finally be making moves into the 3.0 model. This will rival Instacart and provide same day delivery service.
With Shipt's network of local shoppers and their current market penetration, we will move from days to hours, dramatically accelerating our ability to bring affordable same-day delivery to guests across the country, – Target Chief Operating Officer John Mulligan
They are moving to a $99 annual fee membership, in line with our 3.0 model thesis. Membership fees will be a growing part of many retailer's earnings in the future. Look for those that can make them stick.
It's a Brave New World of Retail
It's a difficult time to try to value retail stocks on conventional metrics. They can be a guide, but if the company strategy is not evolving, or can't evolve into the new world of retail – I'll avoid the stock. Sometimes this will mean "Paying up For Growth" – like my article on Floor & Décor here: Floor & Decor - Pay Up For Growth
Sometimes it will mean avoiding a value trap stock like a Bed Bath & Beyond (Although I am warming up to it as their e-commerce grows). They key, as usual for these new paradigm retailers, is a familiar one - same-store sales. If they don't have outsized comp gains, you must avoid the stocks. Wait for that metric to improve as proof of concept. It is not a fair world; stocks with large comps will trade at disproportionate multiples to stocks without comp gains.
Don't just be locked in on e-commerce gains. Some stocks don't sell on the internet much at all, At Home comes to mind. But that doesn't mean they are not using the internet in a constructive way. Other companies that fit this mold are Ross Stores (Nasdaq: ROST), Dollar General (NYSE: DG), and Burlington Stores (NYSE: BURL).
When you are looking at a retailer, ask yourself how will it fit into the new world of retail? Are they making the right long-term moves to position themselves for in-store pickups, deliveries, and overall customer experience? Is your opinion being validated by increasing comps? Does their strategy make sense? After they make that cut – only then can the financials can be reviewed to see what the investment potential might be.
As always, good luck out there. If you agree or disagree, please feel free to comment in the section below!
Disclosure: I am/we are long FND, COST, HOME.
I wrote this article myself, and it expresses my own opinions. I am not receiving compensation for it (other than from Seeking Alpha). I have no business relationship with any company whose stock is mentioned in this article.