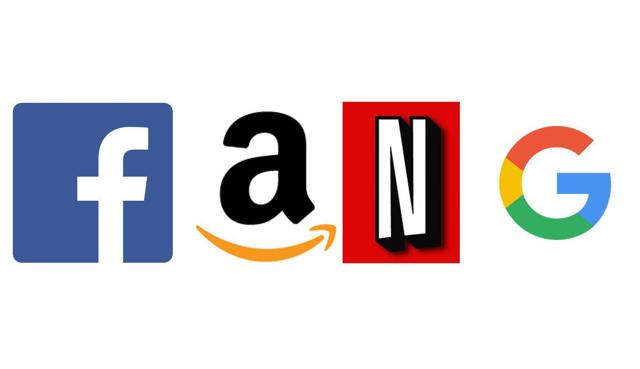 Source: Seekingalpha.com


FANG stocks had an amazing 2017. In fact, over the last 52 weeks, Facebook (FB) gained 55%, Amazon (AMZN) increased by 59%, Netflix (NFLX) gained 61%, and Alphabet (GOOG), (GOOGL) is up by 38%. FANG stocks were clear outperformers over the last year as the Nasdaq 100 (QQQ) increased by 34% and the S&P 500 (SPY) gained 23%, respectively.
So why are FANG stocks performing so well? What makes these companies special? Are they likely to continue their stellar performance in 2018? And should you own all, or some of these stocks in your portfolio?
What FANG Stands For
Aside from the obvious acronym, FANG means dominant technology industry leaders with significant growth potential for 2018 and beyond. Since FANG represents technology-based market-leading companies, it is only fair to expand the FANG family by adding Microsoft (MSFT) and Apple (AAPL) to the mix. The new acronym FAANG+M may not appear as neat as the original version, but it is more indicative of the leading names in the overall technology industry.
After all, Microsoft is the world's largest software maker and is up by an impressive 44% over the last year. Apple is the largest company in the world by market cap value, has a very diverse portfolio of products and services, and has essentially become a massive profit generating machine in recent years. Its stock is up by about 52% over the last year.
On average, the FAANG+M stocks are up by 51.5% over the last year. This is incredible performance for a basket of what are essentially large-cap mega stocks now. The average market cap of the six companies comes to $594 billion.
However, their performance is still dependent on the overall health of the economy and the trajectory of stock markets in general. For FAANG+M to continue to do well and outperform, stocks need to resume their historic bull run, and fortunately, for FAANG+M holders, this scenario appears highly likely.
Bullish Factors for FAANG+M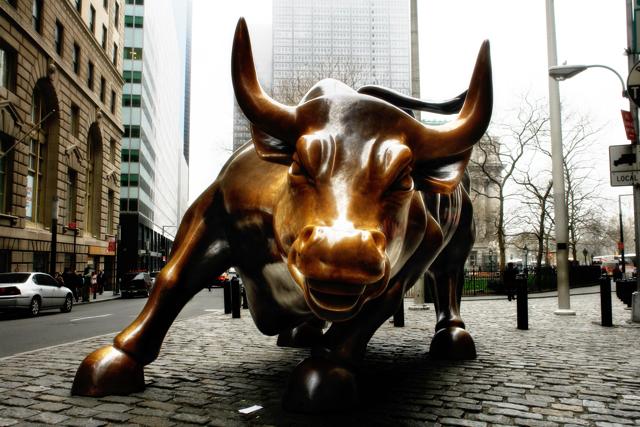 Source: CNBC.com
Increased Economic Activity: The U.S. economy is doing well, practically firing on all cylinders. Unemployment is low, consumer sentiment is high, and most economic indicators are suggesting strong economic growth will proceed going forward.
GDP Expansion: The U.S. recently clocked in back-to-back 3% plus GDP prints for the first time since the great recession, and we are likely to get a third in Q4 2017. Average forecasts call for a yoy rise of about 3% in Q4 GDP, which is somewhat remarkable, considering where we were economically under the previous administration. Under President Obama it appeared 3% growth was basically a phenomenon of the past. Donald Trump's administration appears to be proving a lot of people wrong, and three consecutive quarters with over 3% GDP expansion looks extremely bullish for FAANG+M going into 2018.
Inflation: Along with economic expansion, and growing GDP, inflation also is beginning to rise noticeably. In fact, the PPI's last reading came in at above 3%, a multi-year high. Moreover, the CPI is trending at above 2%, suggesting that inflation is alive and well in the U.S. economy. Rising oil, gold, and other commodity prices, a falling USD, elevated PPI and CPI are all indications that inflation is here, and is not about to go away any time soon. Increased inflation is great for commodities, but also is bullish for stocks in general and should therefore help enable FAANG+M to move significantly higher in 2018.
The Fed: The Fed has become accustomed to downplaying inflation and the way in which the Fed measures inflation always seems to portray it lower than it actually is. Nevertheless, this is a good thing for stocks and FAANG+M in particular. The Fed is likely to keep the monetary atmosphere relatively easy for the foreseeable future and is likely to normalize rates at a dovish pace in 2018.
Weak Dollar: The dollar had an extremely weak year in 2017, declining by about 10%. A lower dollar can be perceived as another byproduct of rising inflation, and the phenomenon of a lower dollar is likely to continue going forward. Having a weak dollar is extremely positive for FAANG+M companies as they have extensive international operations. A weak dollar not only makes these companies more competitive in overseas markets but it also creates higher profits due to favorable currency exchange rates.
USD 1-Year Chart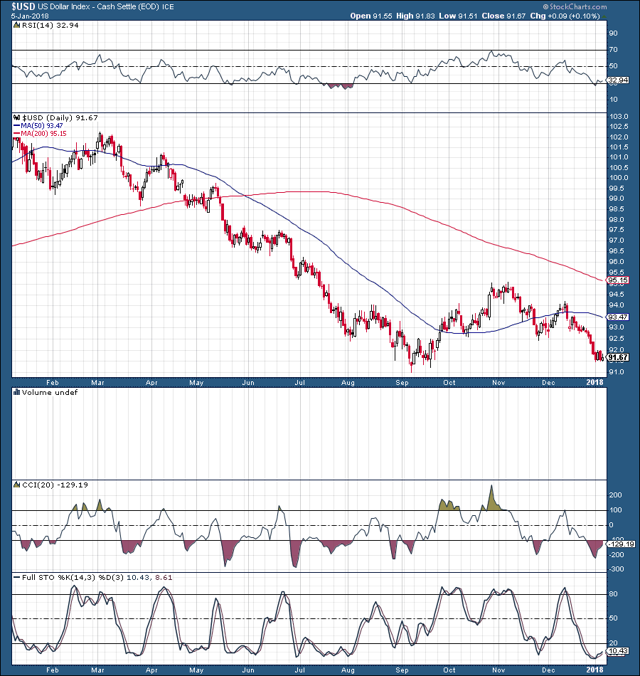 Source: stock charts.com

The dollar appears like it is going to break through the neckline of the evident head and shoulders pattern that has materialized over the past few months. Even if the dollar catches a temporary rebound here any upward move is likely to be transient in nature, as the dollar's downward trend is well intact and is supported by fundamental elements.
Increased Corporate Profits: The monetary atmosphere provided by the Fed is very easy. This, coupled with 3% growth, and a weak dollar, creates an ideal environment for corporate profits to expand in. Tax cuts will amplify the profit producing effect, which ultimately translates to a much higher share price for FAANG+M in 2018.
Tax Cuts: No matter how high profits are already, they can always be higher, and that is where tax reform comes in. Corporate tax cuts, repatriation of capital, and other factors will contribute to overall economic activity in the U.S. and will create even greater profits for corporations in 2018.
Positive Sentiment And Low Volatility: Investor sentiment is extremely high. Market participants are very comfortable with the current economic landscape. Volatility also is exceedingly low, and there doesn't appear to be anything on the horizon that is likely to shake investor confidence in the current market environment. Thus, FAANG+M is unlikely to be derailed in 2018.
The current bull appears to have room left to run, and as we enter the later stages of the advance stocks are likely to appreciate at an increasing pace. As FAANG+M advance toward the exuberant stage of this expansion the underlying stocks will continue to outperform the broader market, likely at an increasing pace.
FANG Momentum
FAANG+M stocks have significant momentum on their side. People want to own these fast-growing technology juggernauts. Therefore, as the bull market progresses and the rally intensifies these companies will continue to be favored and their stock prices are sure to reflect this phenomenon.
What About Rotation?
Some market participants suggest that capital may leave FAANG+M at some point to flow into other sectors of the economy, such as energy and banking. While it is possible that some short-term profit taking may occur from time to time, this is likely to be a transient manifestation. Any temporary outflow of capital from this group of big tech is likely to provide buying opportunities throughout 2018. The only significant threat this group faces is a prolonged correction or a full out bear market. In fact, it is likelier that FAANG+M stocks attract rotation from other sectors as the returns they provide intensify throughout the year.
FAANG+M Stocks: What Makes Them Special
This is a unique group of names, because each one holds a dominant position in a very lucrative technology based market segment. Moreover, despite being large-cap companies, many of these names are still growing at 20% or 30% per year. Also, some of these stocks are surprisingly cheap given their dominant market positions, impressive growth rates, and relatively low P/E ratios.

Source: storyful.com
Facebook: Facebook is the clear global leader in social networking. Moreover, the company has been extremely successful in monetizing its various businesses. Facebook trades at just 28 times this year's projected earnings, and with a projected revenue growth of 33% the stock appears very cheap. Furthermore, the company consistently beats earnings estimates, therefore is likely even cheaper than it appears. Judging by the company's growth rate, the stock's past performance, relatively low P/E, and dominant positioning, the stock could have another 50% plus year in 2018.
Key Statistics

Forward P/E: 28
Profit Margin: 42%
2017 Revenue Growth yoy: 45%
Projected Annual Revenue Growth 2018: 33%
Quarterly Earnings Growth yoy: 79%
52-Week Change: 55%
Short % of Float: 0.93%
Dividend: N/A
FB 1-Year Chart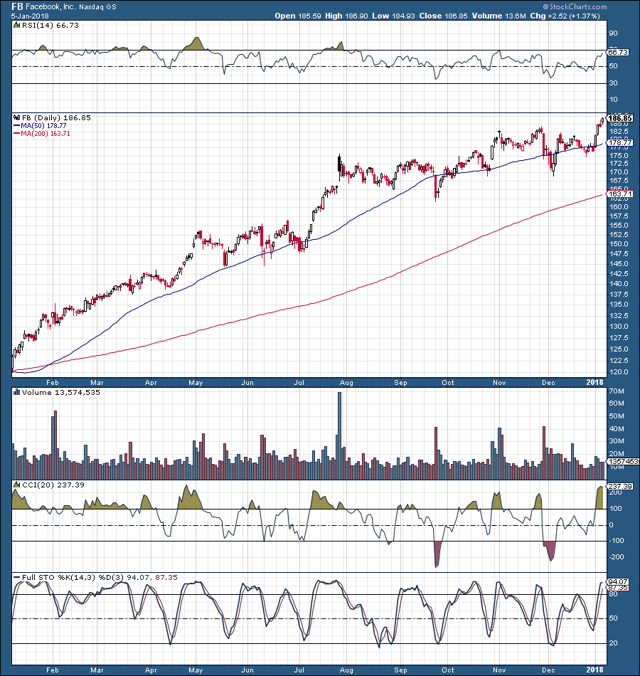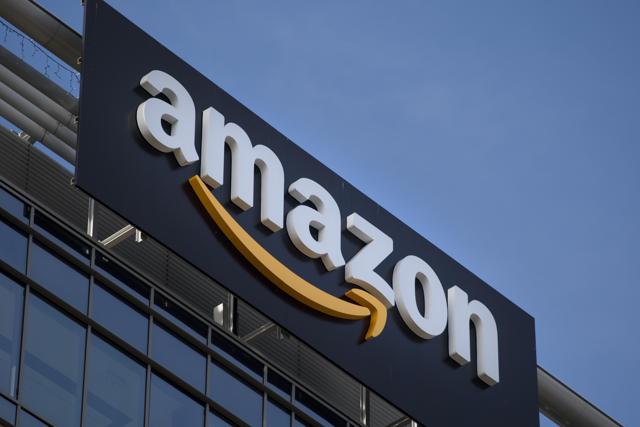 Source: fortune.com
Amazon: Amazon is basically a monopoly of online retail in the U.S. as well as in a growing number of other countries around the globe. Furthermore, the company continues to turn more and more people into online shoppers, year after year. The growth at Amazon is staggering, and the company's stock indicated this with its rapid rise throughout 2017. As far as profitability goes, Amazon has a lot of pricing power and could turn itself extremely profitable at any moment that it chooses.
However, in the meantime, the company will continue to focus its resources on expanding revenues at a rate of about 30%. Its share price is very likely to continue to grow along with its astounding revenue increases. Therefore, AMZN could realistically see another 50% surge in 2018 despite the relatively high P/E ratio.
Key Statistics
Forward P/E: 155
Profit Margin: 1.2%
2017 Revenue Growth yoy: 30%
Projected Annual Revenue Growth 2018: 29%
Quarterly Earnings Growth yoy: 1.6%
52-Week Change: 59%
Short % of Float: 1.4%
Dividend: N/A
AMZN 1-Year Chart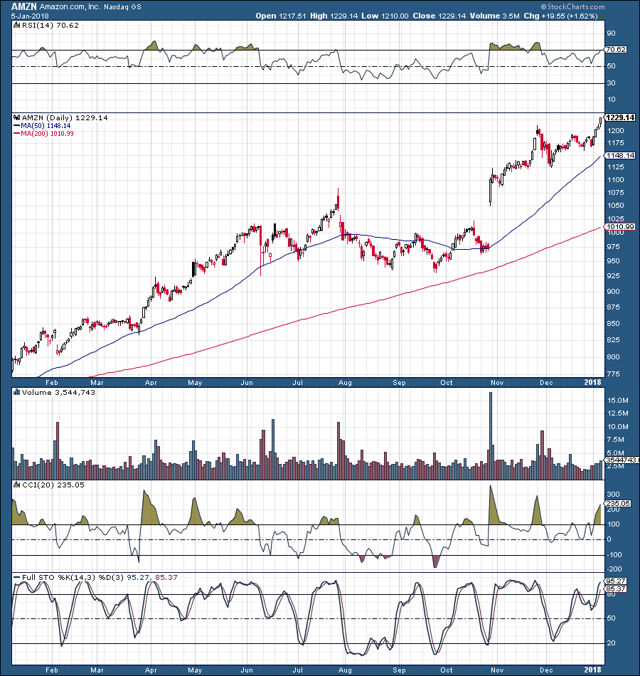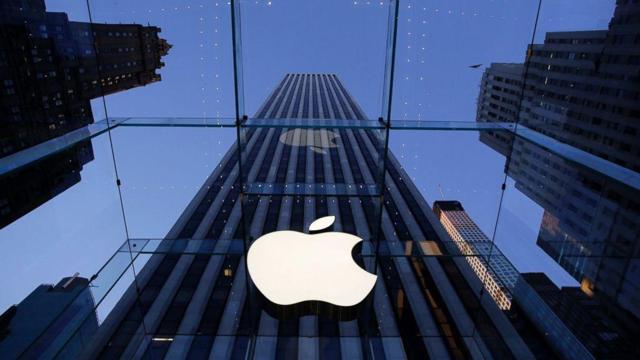 Source: abcnews.go.com
Apple: Apple is another remarkable market leader trading at just 14 times this year's earnings estimates, incredible for a company looking to grow revenues by 20% this year. The company should have a record year with the rollout of the iPhone 10 and other new generation products. Also, Apple is likely to increase its market share in China, and other regions, and should continue to grow its services segment significantly this year. Ultimately, the stock looks significantly undervalued here, and should have no trouble getting to $200-$225 by mid-year 2018.
Key Statistics
Forward P/E: 14
Profit Margin: 21%
2017 Revenue Growth yoy: 7%
Projected Annual Revenue Growth 2018: 20%
Quarterly Earnings Growth yoy: 19%
52-Week Change: 52%
Short % of Float: 0.82%
Dividend: 1.44%
AAPL 1-Year Chart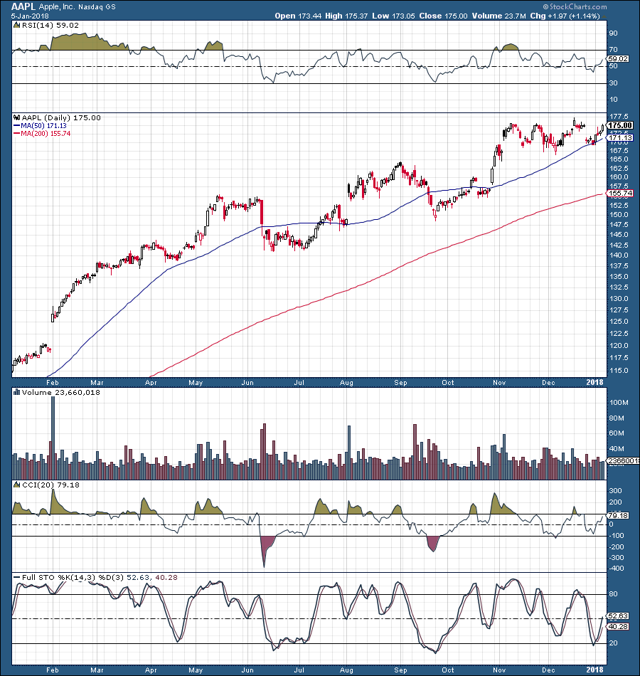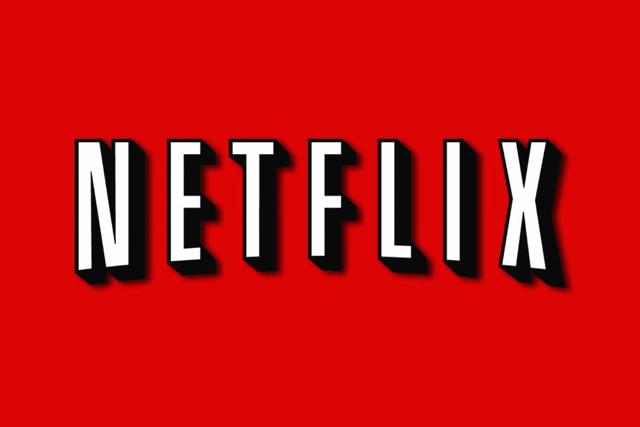 Source: time.com
Netflix: This is likely the most speculative part of the FAANG+M composite. Nevertheless, Netflix could also be the one with the greatest long-term growth potential. The company is aggressively growing its user base outside of the U.S., and has an enormous amount of potential market share to conquer in the world streaming markets. Still, at 90 times this year's earnings NFLX is far from cheap, but it does offer exposure to incredible long-term growth possibilities.
Also, both Main Street and Wall Street seem to love the company. Therefore, so long as the bull market continues and Netflix doesn't disappoint with subscriber growth figures, the stock should continue to head higher in 2018. Like Amazon, Netflix deliberately does not put an emphasis on generating excess profits. Both companies are currently concentrating on generating market share growth and revenue increases above growing profits.
Key Statistics
Forward P/E: 90
Profit Margin: 4%
2017 Revenue Growth yoy: 32%
Projected Annual Revenue Growth 2018: 28%
Quarterly Earnings Growth yoy: 151%
52-Week Change: 61%
Short % of Float: 7.5%
Dividend: N/A
NFLX 1-Year Chart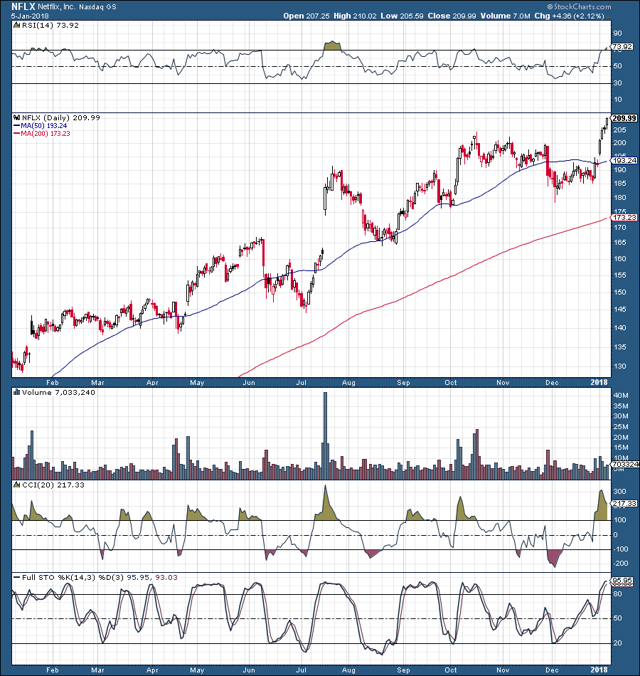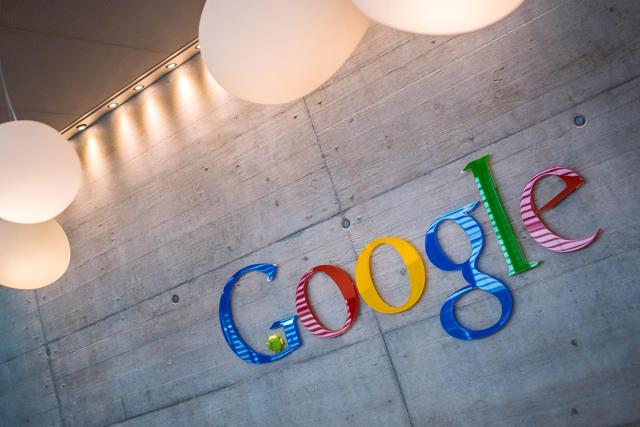 Source: digitaltrends.com
Google: Google, or Alphabet as it's known now, owns nearly 92% of the world's search market. The company has an extremely strong market position and represents remarkable value. GOOG trades at just 26 times this year's earnings and is likely to continue to grow revenues at roughly 20% for the foreseeable future. Looking at Alphabet from this perspective makes the stock appear quite cheap, suggesting its stock has significant upside potential in 2018.
Key Statistics
Forward P/E: 26
Profit Margin: 20%
2017 Revenue Growth yoy: 22%
Projected Annual Revenue Growth 2018: 19%
Quarterly Earnings Growth yoy: 23.7%
52-Week Change: 38%
Short % of Float: 0.5%
Dividend: N/A
GOOG 1-Year Chart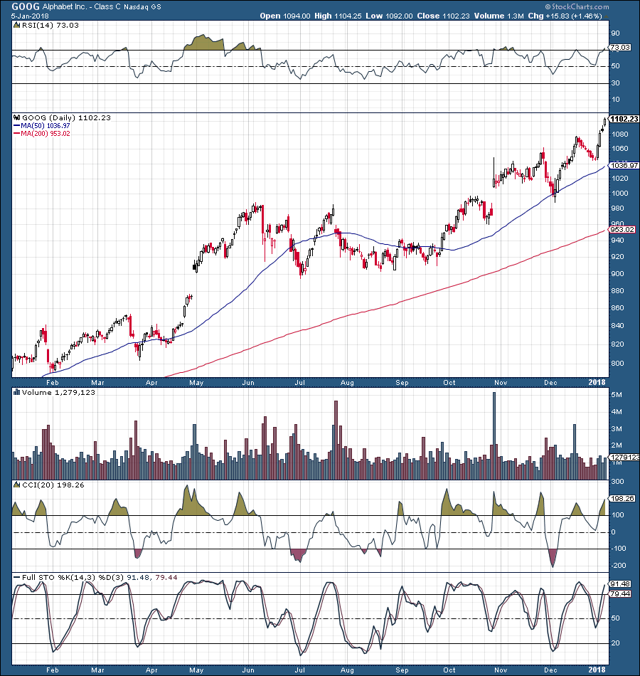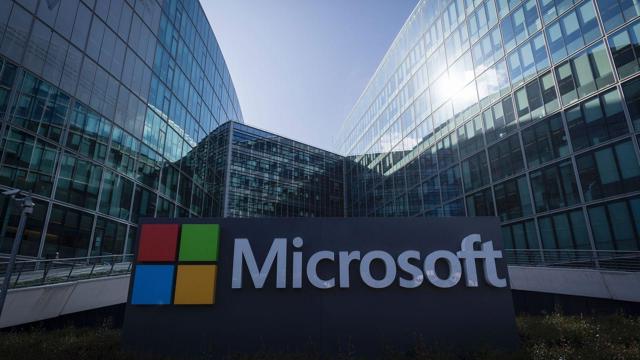 Source: CNET.com
Microsoft: Microsoft is now a relatively mature company, but it is still able to pull off nearly 10% growth year after year. Thus, its 23 times this year's earnings valuation doesn't seem expensive here. Moreover, Microsoft is dominant in several markets where it operates, and the company continuously expands into new businesses. MSFT should have another big year this year as the global tech boom continues to progress.
Key Statistics
Forward P/E: 23
Profit Margin: 24%
2017 Revenue Growth yoy: 10%
Projected Annual Revenue Growth 2018: 8%
Quarterly Earnings Growth yoy: 16%
52-Week Change: 44%
Short % of Float: 0.67%
Dividend: 1.94
MSFT 1-Year Chart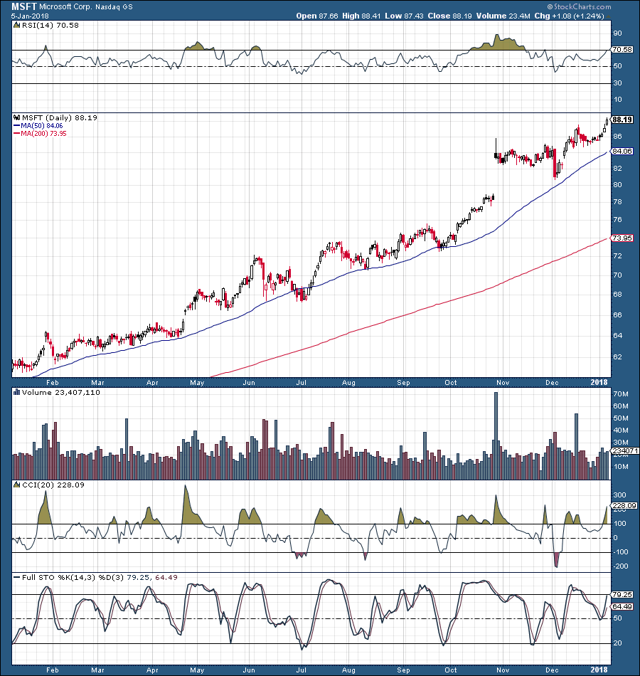 All the FAANG+M stocks illustrate extremely strong, well-defined uptrends, suggesting that their upward trajectories are very likely to continue in 2018. Unless some unforeseen force derails stocks in general this year, this group should continue to outperform the broader market in a big way.
The Bottom Line
The economy is performing extremely well and is continuing to strengthen. Furthermore, there are numerous fundamental factors that are overwhelmingly favorable for economic growth and for stocks in general this year. Thus, stocks will continue to do well in 2018, and since FAANG+M are the go to leaders of the current bull market, they should continue to significantly outperform the broader market. FAANG+M represent the pinnacle of the tech industry, and have enormous momentum that is highly likely to propel them significantly higher in 2018.
Therefore, if you believe in this bull market you should definitely own FANG, or FAANG+M to be exact.

Disclaimer: This article expresses solely my opinions, is produced for informational purposes only, and is not a recommendation to buy or sell any securities. Investing comes with risk to loss of principal. Please always conduct your own research and consider your investment decisions very carefully.

Please visit my Albright Investment Group trading community to receive more information about this idea and other topics we discuss. Join now and receive instant access to exclusive content, trade triggers, trading strategies, price action alerts, and price targets. These significant value generating features are only available to members of our community and are not accessible to the general public.
Disclosure: I am/we are long FB, AAPL, GOOG, MSFT.
I wrote this article myself, and it expresses my own opinions. I am not receiving compensation for it (other than from Seeking Alpha). I have no business relationship with any company whose stock is mentioned in this article.