Though less dominant than ever, Bitcoin (COIN) still remains the market leader of cryptocurrency, but in its shadow much is happening. Recently, Ripple overtook Ethereum as the second largest cryptocurrency by market capitalization. Having only written about Bitcoin previously, I think Ripple deserves some attention at this point. This article will highlight why I think this cryptocurrency - unlike Bitcoin or Ether - should be avoided by investors and speculators.
What is Ripple?
Ripple is both a digital currency and a payment protocol, created by the company Ripple Labs. Here is explained in an easy way how the payment protocol of Ripple works. Basically, IOUs are exchanged between agents in a chain which is connected by trust. The currency about which we are talking right now, ripple (XRP), is a currency of last resort in these chains which is only used when trust is lacking: a counterparty-free currency. To avoid confusion, I will refer to the cryptocurrency as XRP in this article, to the protocol as Ripple, and to the company as Ripple Labs.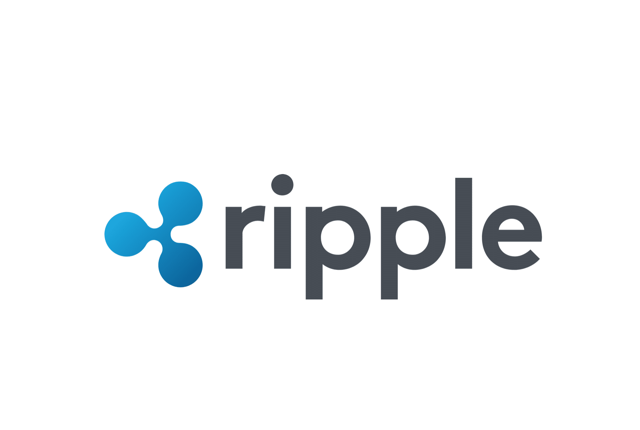 In Ripple, it is possible for users to make payments to each other by using crypto transactions in either fiat currency or in XRP. Ripple will keep track of debt obligations in fiat currency, but since the network has no real enforcement power, people need to trust each other to be able to do transactions in fiat currency over the Ripple network. When two nodes of the network trust each other, they can serve as a 'pathway' between other nodes in this network. This mechanism is called 'rippling'. For a nice video explaining this in the situation of banks, click here.
Ripple is used and experimented with by many banks and financial businesses such as American Express (AXP), Accenture (ACN), and Banco Santander (SAN). The Ripple protocol is not a cryptocurrency by itself; it is just a distributed ledger system that could have huge potential for these companies. There are talks that Ripple is eventually going to replace SWIFT.
From the beginning of this December, XRP exploded from a price level of about $0.25 to more than $3.25, a staggering return in a timescale of just one month.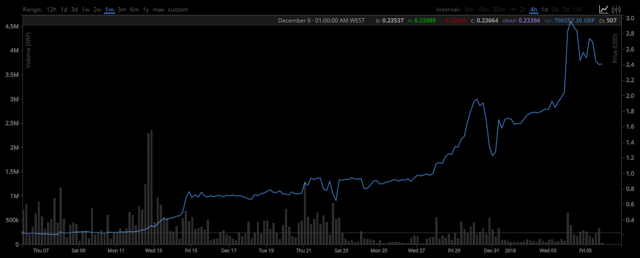 Source: xrpcharts.ripple.com
But that actually looks good, what's wrong with it?
First, let me be very clear here: the Ripple protocol has many benefits for the financial industry and could lead to many improvements for both banks and customers with regard to cost savings and efficiency. The Ripple protocol is not what I have most trouble with.
Though an important part of the Ripple protocol, XRP is an entirely different story. It is understandable why it was developed: especially in the beginning of a distributed ledger system based on trust (in contrast to Bitcoin, which needs no trust), different users need to be able to do transactions, and this is where the counterparty-free currency XRP comes in.
XRP is created and (still) controlled by Ripple Labs. Transactions need to be validated by the company or by designated validators. Still, the CEO of Ripple Labs argues that Ripple is a decentralized network:
Ripple is not centralized. To be clear, if Ripple disappeared today XRP would continue to function. To me that's the most important measure of whether something is decentralized.

Here are some of the facts that demonstrate this:

In May 2017, we publicly shared our decentralization strategy, which is a process that started at the inception of the XRP Ledger and has been ongoing since. First, we announced plans to diversify validators on XRP Ledger, which we expanded to 55 validator nodes in July 2017. We also shared plans to add attested validators to Unique Node Lists (UNLs), and announced over the course of 2017 and 2018, for every two attested third-party validating nodes that meet the objective criteria mentioned above, we will remove one validating node operated by Ripple, until no entity operates a majority of trusted nodes on the XRP Ledger.

That said, Ripple does play a large role in the XRP ecosystem - and I'm very proud of that. We have over 175 employees - and truly some of the planet's most talented C++ developers, focused and dedicated to growing and expanding the XRP ecosystem. We have significant resources that we are able to deploy both internally and externally (more on that soon) to help the entire ecosystem thrive.
Though I understand that it is in the best interests of Ripple Labs to promote shifts to decentralization, I beg to differ with the statement that Ripple is not centralized. Ripple works with validator nodes which need to validate transactions. The strategy of Ripple is to decentralize its network, but the company itself still has a decisive power over it, and I wouldn't call 55 vital nodes decentralized. Independence from a centralized authority is one of the major reasons why people like Bitcoin and other cryptocurrencies so much. Many cryptocurrency purists thus view the Ripple protocol and especially XRP as a currency made by banks for banks.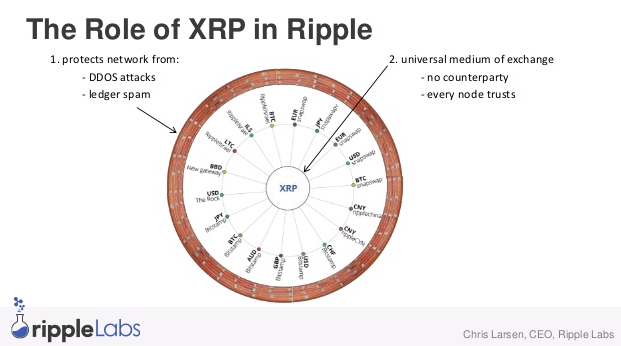 There is another problem: XRP was 100% pre-mined. 100 billion of XRP was created at the start, and this amount will never increase. Of course, these pre-mined XRP were meant to perform as 'grease' in the distributed ledger system until all nodes start using IOUs. Of all the 100 billion XRP, only 38 billion are currently in circulation. The rest of the existing XRP, almost 62 billion, are owned by the company of Ripple Labs. The founders of the company also own a huge part of the existing XRP already in circulation. The company's co-founder Chris Larsen is reported to personally own 5.19 billion of XRP.
Naturally, one of the biggest fears of investors was that Ripple Labs could flood the market and dilute the price of XRP by doing so. To reassure investors, Ripple Labs decided to put 55 billion XRP in escrow, and will release a maximum of 1 billion of these per month to be put into circulation. This seriously calmed down investors and led to the skyrocketing of the price of XRP in December.
Though the solution of Ripple Labs looks pretty at first sight, the company and its founders still own a huge amount of XRP after the transactions of the 55 billion XRP have been finished. And this, combined with the problem that Ripple is still a centralized system, gives Ripple Labs and its founders much power and a ridiculous amount of money. If all of the XRP would be sold at the current price level of $3 (which has probably changed again when this article is published) the company would be worth more than $150 billion! At the very least, it is certain that the company and its founders will be by far the biggest beneficiaries.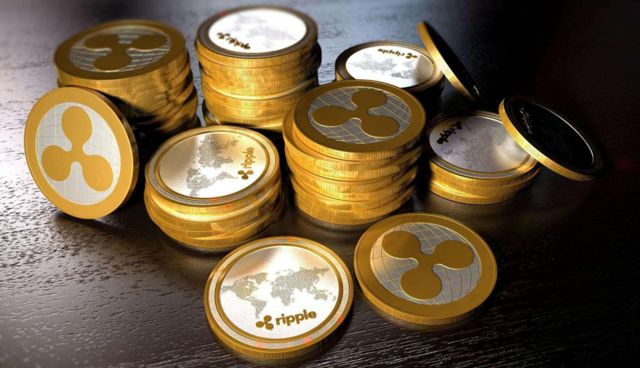 Didn't cryptocurrency users want to move away from a system where a single party has so much power? A fully private company which bears allegiance only to itself would be one of the worst possible choices for a central actor in a payment system. It is like a private central bank not tied to any country or economy which can do whatever serves its best interests.
I'm not saying XRP is a scam, but the combination of these problems does at least have the potential to create some very questionable situations. If there would occur a big downturn in the crypto-world - and they seem to happen from time to time - Ripple Labs and its owners might choose to partially cash out and trigger an even bigger crash and mayhem for Ripple owners, though they did limit this with their escrow solution.
Conclusion
I am of the opinion that Ripple Labs and its owners have way too much power over XRP, and it is thus extremely risky to put money in XRP. I do not know the people behind the company, and chances are big that it is actually an honest business. The problem is, we have no way to know that for sure. The whole Ripple protocol sinks or swims with trust, and the counterparty-free currency of XRP is tied to the company. Investors need to be aware that the counterparty risk they are taking consists of the interests of the company Ripple Labs. Though Ripple Labs tried to mitigate these fears by putting a large part of their holdings in escrow, this is not enough. As long as the incentives of the company seem to be aligned with those of the investors there should not be any problem. When incentives are not aligned, investors will lose.
Last but not least, because of their huge XRP assets, the company and its owners are sure to be - by far - the biggest beneficiaries of the success of the cryptocurrency and the protocol. Because of the escrow solution, XRP is sure to be continuously diluted heavily during the coming 55 months.
I would avoid investing in Ripple at all costs.
Thank you for reading! If you liked this article please click the Follow button next to my name. If you have any opinion about Ripple, please write a comment below!
Editor's Note: This article covers one or more microcap stocks. Please be aware of the risks associated with these stocks.