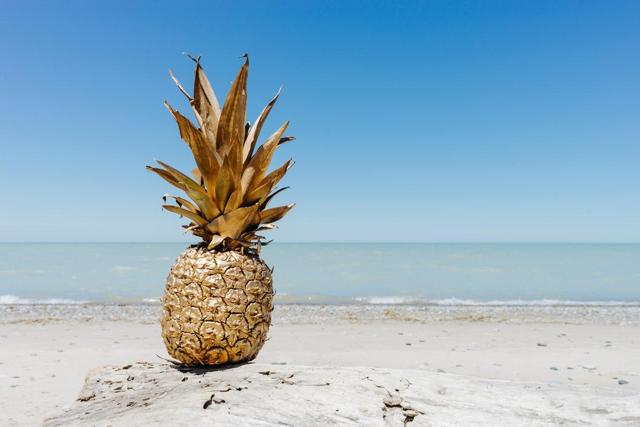 Introduction
Welcome to my Gold Weekly.
In this report, I wish to discuss mainly my views about the gold market.
To do so, I analyse the recent changes in net speculative positions on the Comex (based on the CFTC statistics) and ETF holdings (based on FastMarkets' estimates) and draw some interpretations about investor and speculator behavior. I conclude the report by sharing my trading positioning.
Speculative positioning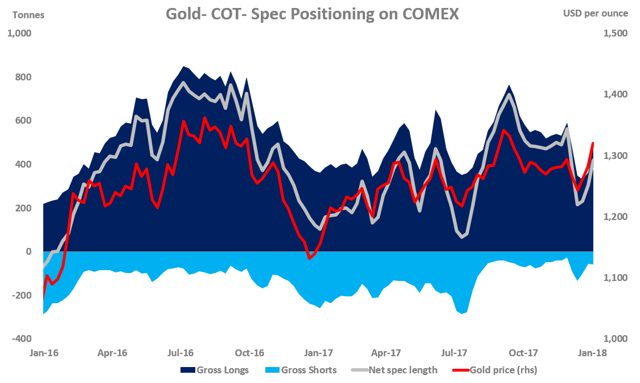 Source: CFTC
According to the latest Commitment of Traders Report (COTR) provided by the CFTC, money managers lifted remarkably their net long position over the reporting period (December 26, 2017-January 2, 2018) while spot gold prices rallied a whopping 3% from $1,282 per oz to $1,320 over the corresponding period.
The net long fund position - at 420.07 tonnes as of January 2 - increased 114.58 tonnes or 38% from the previous week (w/w). This was driven exclusively by long accumulation (+115.41 tonnes w/w), while shorts lifted their positions by a marginal 0.83 tonnes w/w.
In 2017, the net long fund position in gold rose 182.55 tonnes or 149% while spot gold prices rallied by a decent 13%.
Investment positioning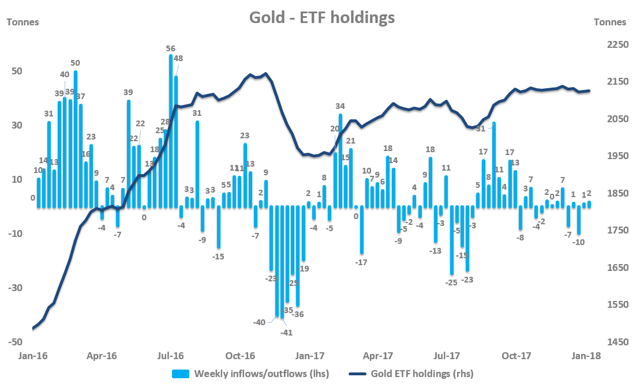 Source: FastMarkets
ETF investors bought 1.46 tonnes of gold over December 29, 2017-January 5, 2018 while spot gold prices rose 1.3% over the corresponding period.
The trading activity in the ETF space was broadly quiet across the precious metals complex, with the exception of palladium ETF holdings. According to ETF estimates, palladium ETF holdings dropped ~8,000 oz or 1% last week to reach ~1.330 million oz as of January 5.
Back to gold, ETF investors were net sellers of 4.35 tonnes in December after leaving their holdings broadly unchanged in November (+0.75 tonnes) and October (-0.79 tonnes).
In the whole of 2017, ETF investors were net buyers of 173.38 tonnes of gold, which represents an increase of 8.8% in gold ETF holdings.
As of January 5, 2017, gold ETF holdings totaled 2,125.13 tonnes according to FastMarkets' estimates.
My global macro view on gold
The macro environment remained supportive of precious metals late in December into early in January, with a notable decline in the dollar and US real rates over both reporting periods (Dec. 26-Jan. 2: spec positioning/Dec. 29-Jan. 5: ETF positioning), as can be seen in the charts below.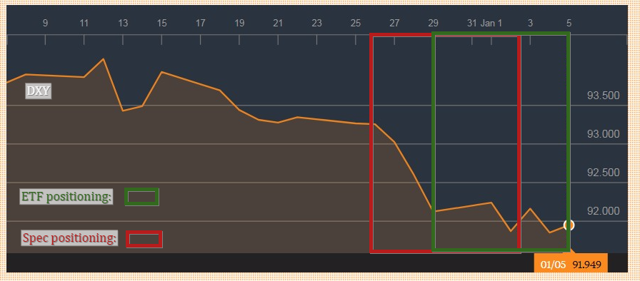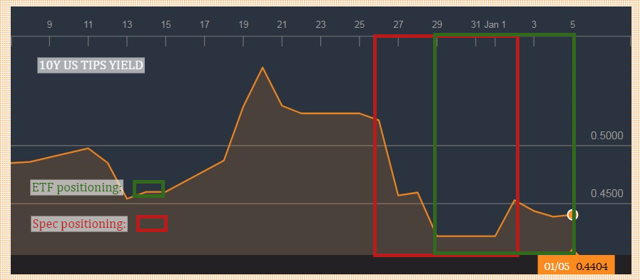 Source: Bloomberg
The weakness in the dollar was apparently driven by lower demand for dollar funding globally. The fall in US real rates (i.e., 10Y US TIPS yield) came along a similar move in US nominal rates (i.e., 10Y UST yield), suggesting that inflation expectations remained unchanged. The fall in the 10Y UST yield was probably the result of further profit-taking after the approval of the US tax reform by the Congress on December 20 and the signature of the tax bill by president Trump on December 22.
This friendly macro backdrop prompted speculators/ETF investors to boost their long positioning in gold. This was more evident in the speculative space where money managers tend to be more sensitive to the fluctuations in the dollar and US real rates. In contrast, ETF investors tend to hold their holdings with a longer-term approach, preferring accumulating on dips rather than buying into strength.
The release of the US jobs report on December 5 did not produce any meaningful reaction in the financial markets. While nonfarm payrolls disappointed (+148K vs. 190K expected and an upwardly revised 252K in November), average hourly earnings picked up in line with expectations (0.3% m/m vs. a downwardly revised 0.1% in November), and the unemployment rate came in at 4.1%, unchanged from November and in line with the market consensus. More visuals below.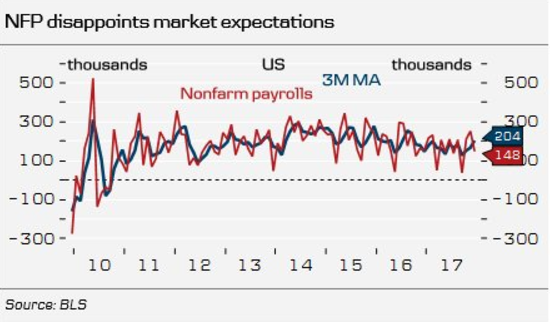 Source: Danske Bank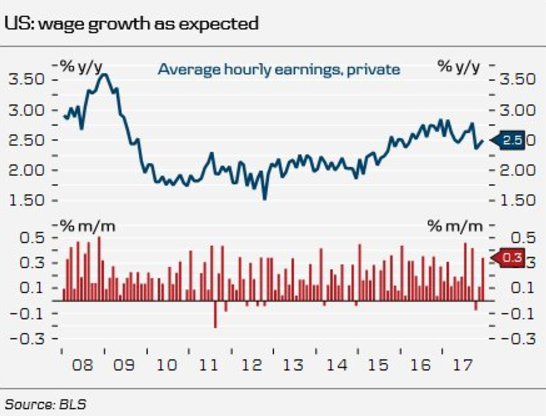 Source: Danske Bank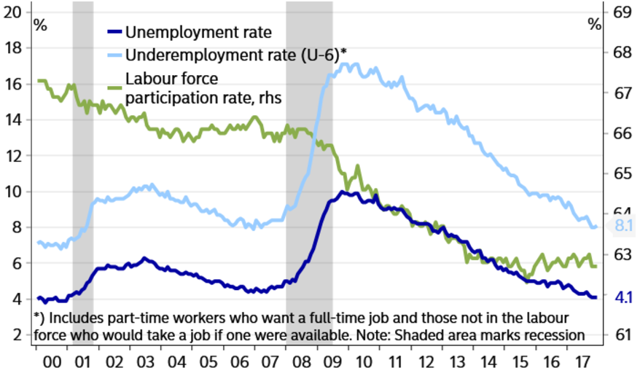 Source: Nordea
The immediate reaction was a slight contraction in Fed tightening expectations, as can be seen below.

Source: Danske Bank
While the dollar and US real rates moved initially lower, they closed the day on a positive note, thereby shrugging off the slightly weaker-than-expected US jobs report. Against this backdrop, gold is under slight downward pressure.
From a broader perspective, I continue to think that the dollar and US real rates may experience further weakness in 2018, principally due to the Fed's intention to keep the neutral rate (R-star) low, thereby producing a ceiling for forward rates due to a contraction in term premiums and exerting negative spillover on the dollars. The Fed clearly wants to proceed to only a gradual tightening and avoid another "tantrum" repeat. So far, the Fed has succeeded in making the market docile. My guess is that this should continue this year.
In this context, I expect the speculative/investment demand for gold to remain robust in the coming months.
Trading positioning
I have been long SPDR Gold Trust ETF (GLD) since last summer to express my bullish view on gold.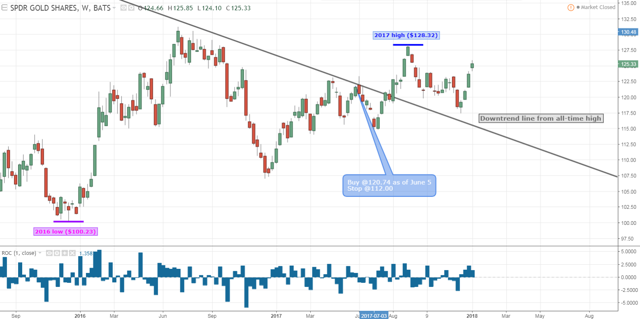 Source: TradingView
The technical picture has improved notably since late 2017, with GLD up for fourth straight week. My momentum-based indicators signal that the current uptrend is strong and sustainable. The nearest resistance level lies at the 2017-high of $128.32, which I expect to be cleared by the end of the month.
The bullish breakout pattern, which started this summer, is still in place, inducing me to keep my bullish bias on GLD intact.
For the sake of transparency, I will update my trading activity on my Twitter account and post my trade summary at the end of each report.

Final note
My dear friends, I would like to thank you so much for showing your support by pressing the "Follow" button and sharing this article. I look forward to reading your comments below.

Disclosure: I am/we are long GLD.
I wrote this article myself, and it expresses my own opinions. I am not receiving compensation for it (other than from Seeking Alpha). I have no business relationship with any company whose stock is mentioned in this article.