By Baruch Lev and Chenqi Zhu, New York University
The Wall Street Journal recently wrote: "Today, the battery industry is mustering for exponential growth as car makers electrify their fleets… The path to profitability is far from clear… Investors looking to benefit from this gold rush need to take a long-term view." Good advice, but how could an investor form such a long-term view? The main players in the batteries space are large car companies and dedicated battery developers/manufacturers. The battery operations of the former, like Toyota (NYSE:TM) and GM, are very small relative to their conventional car business and not separated in the financial reports. The latter (battery developers) are relatively young companies with limited financial history. Although investors could find historical financial reports for battery makers such as LG Chem (OTCPK:LGCLF) and Samsung SDI (OTC:SSDIY), they seldom discuss their technological strategy and R&D progress and therefore provide investors with very limited insight about future growth opportunities. It's, therefore, very difficult for investors to differentiate among the various players in the batteries industry and assess their long-term potential.
Patents to the rescue: In the long run, the winners in the fast-evolving batteries space will be those with superior technology, potentially disrupting other competitors. Patents are obviously the best source of information for investors about technological progress and prowess. There are two useful sources of patent data in the U.S.: (1) Publicly disclosed application documents for patents granted to the company, usually around three years after application, and (2) pre-grant patent disclosures: A much earlier exposure of the entire patent document by the U.S. Patent Office, made 18 months after patent application. These early and detailed patent disclosures provide a comprehensive view of the invention (technology, intended use, relation to current technologies) and are an invaluable information source on firms' innovativeness, technological strategies, and future course. A few investors are already exploiting the trove of early patent information, as evidenced by studies showing that the early (18 months) patent disclosures trigger increases in the trading volume of the inventing companies. In the following sections, we provide various insights into the batteries space derived from patent information, hopefully, useful for investors in this industry.
As made clear by Figure 1, there has been a surge of battery patents, both granted (left panel) and early disclosed (18 months after application), since 2008-2009. The figure provides the number of battery patents granted or disclosed (left scale) and the percentage of battery patents relative to all patents. By all measures, the past decade has witnessed a surge of innovation in battery technology and it doesn't seem to slow down. This is definitely an exciting industry for investors focusing on innovation and growth.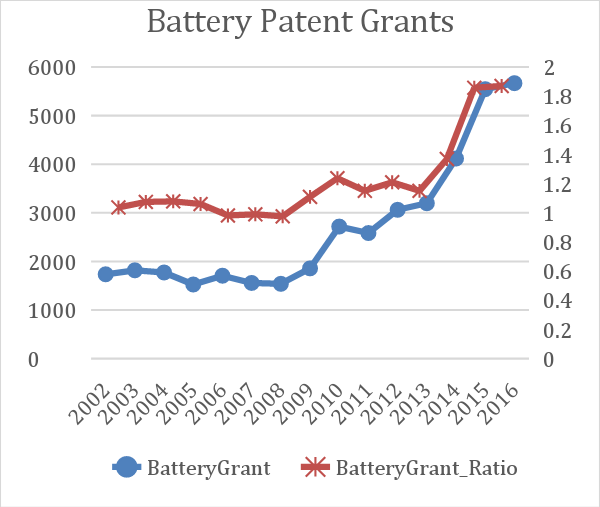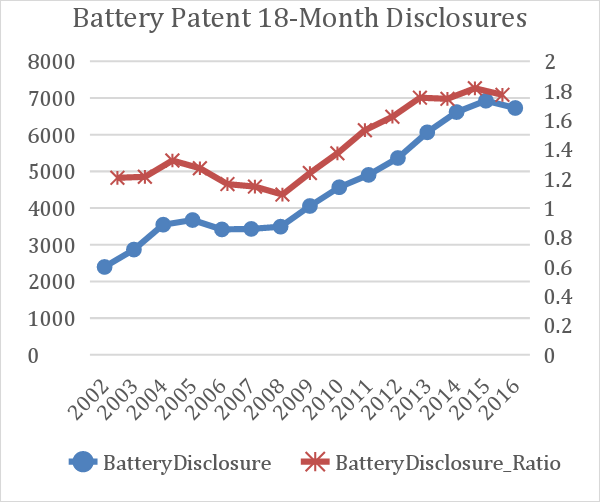 (Figure 1)
(We use International Patent Classification (IPC) to identify battery patents. The technological patent classes we focused on are: H01M (processes or means, e.g. batteries, for the direct conversion of chemical energy into electrical energy); B60L/8, B60L/9, B60L/11 (electric propulsion with power supplied within or external to the vehicle). It should be noted that our IPC-based battery patent identification may not be comprehensive. For robustness checks, we add another patent class of H02J (circuit arrangements or systems for supplying or distributing electric power; systems for storing electric energy), which does not change our results qualitatively.)
The Players: We focus on the following key players in the batteries space: Car manufacturers - GM, Toyota, Nissan (OTCPK:NSANY), Tesla (TSLA), and BYD. Battery Developers/producers - LG Chem, Samsung SDI, Contemporary Amperex Technology Co. Limited (CATL), Sakti3, and Panasonic (OTCPK:PCRFY).
Figure 2 shows the annual number of patent disclosures (including the 18-months post application disclosures, or for patents without pre-grant disclosures whose grant disclosures are the first-time exposure to the public) for the major car producers (left panel) and the battery developer/producers. Most striking is Toyota's surge in patent disclosures. While the patent disclosures of other car companies and battery producers tapered off in 2014-2015 (mainly due to data truncation as patents that were filed after 2015 haven't been disclosed to the public by the end of our sample period [early 2017]), Toyota's innovativeness is remarkable: from 100 new patent disclosures a year, to almost 500 in 2016. Definitely, a company to watch. Among battery producers, Samsung SDI and LG Chem, both Korean entities, are the most active in patenting. We get a similar picture when we focus on the innovativeness of patents measured by the intensity of references ("prior art") to scientific development (in contrast to references to prior patents).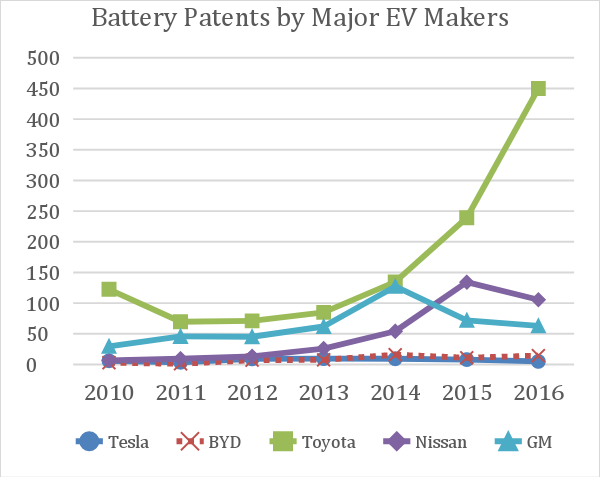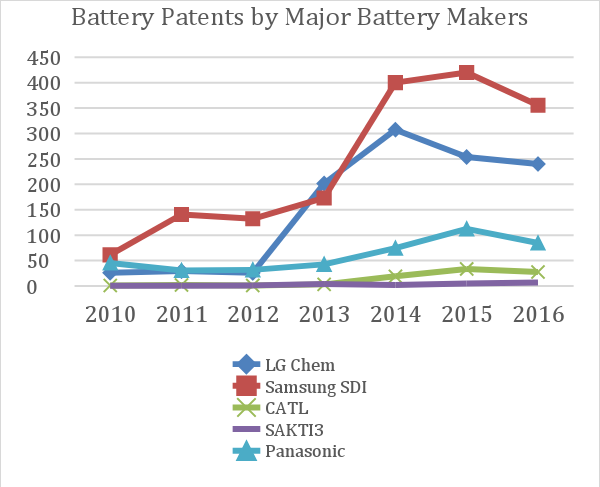 (Figure 2)
Focus of innovation: Our computerized key-word search of the patent abstract (summary of the invention), along the dimensions of safety (e.g., fire resistance), performance (e.g., storage capacity, power-to-weight ratio), longevity (e.g., service life, durability, cycle performance), and speed (charging time) yields Figure 3. This analysis indicates the different innovation emphases of the various enterprises, which is of particular importance to investors. For example, it is evident that Tesla focuses on battery performance: a full 6% (0.06) of Tesla's patent documents have explicitly mentioned performance improvement. CATL, Toyota, and LG Chem emphasize battery safety, and Sakti3 focuses on longevity. This allows investors to make a distinction among industry players in terms of what matters for future industry growth and profits.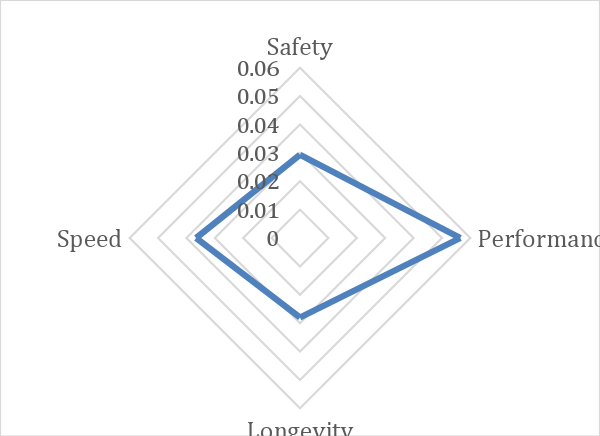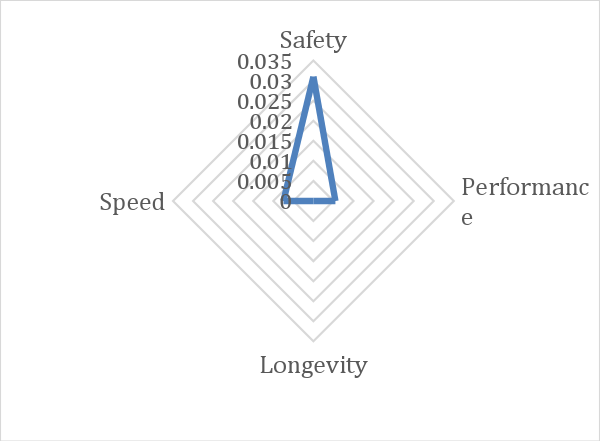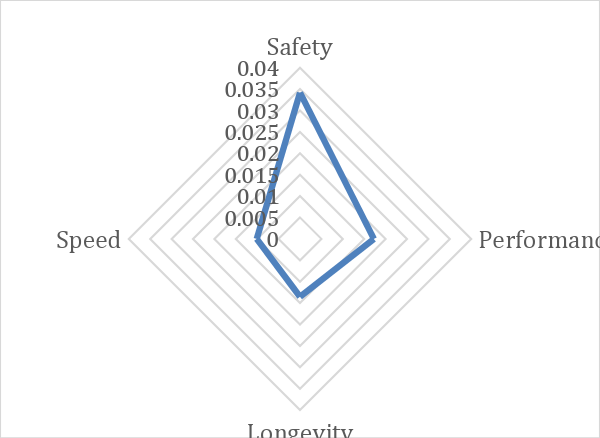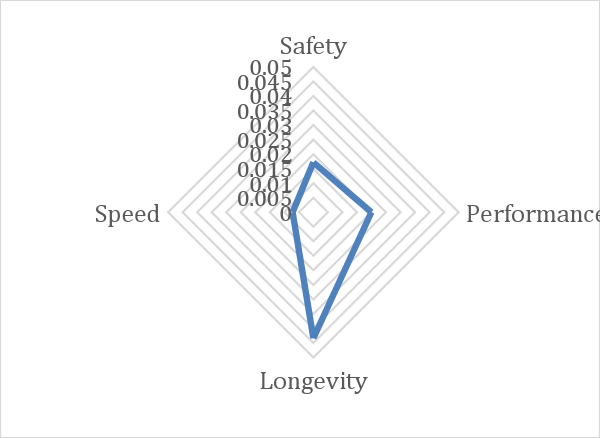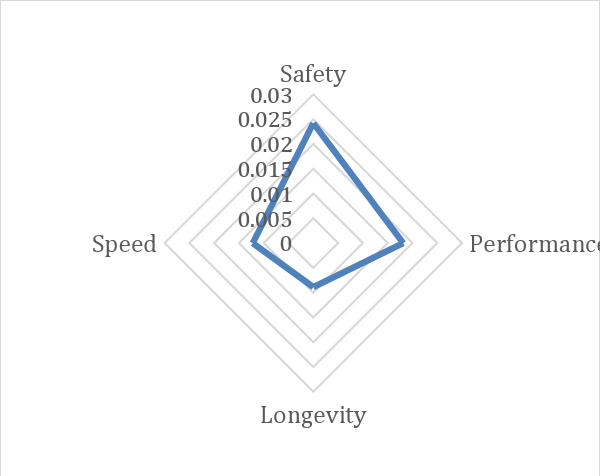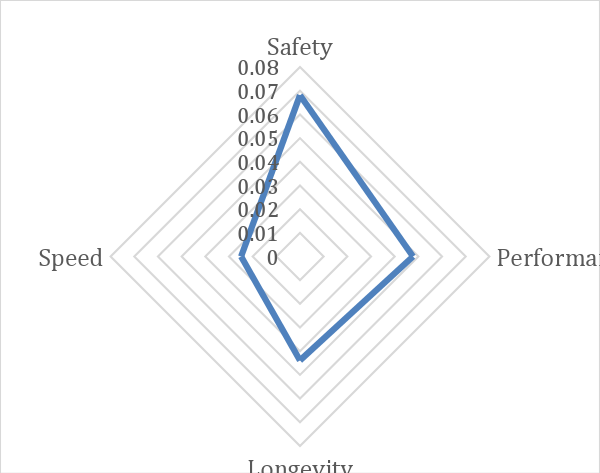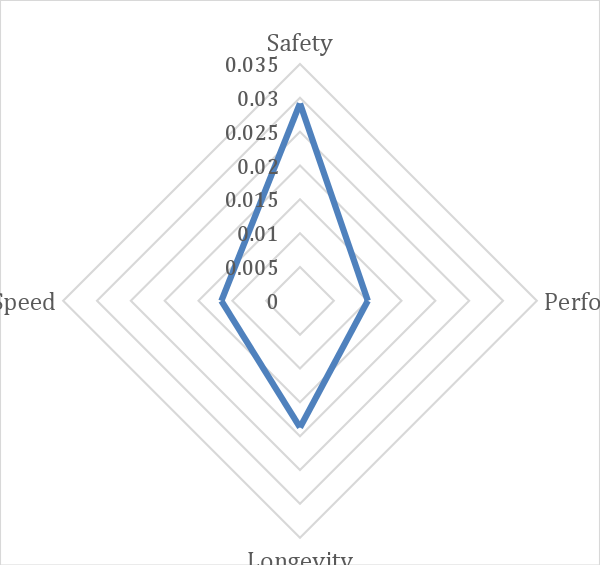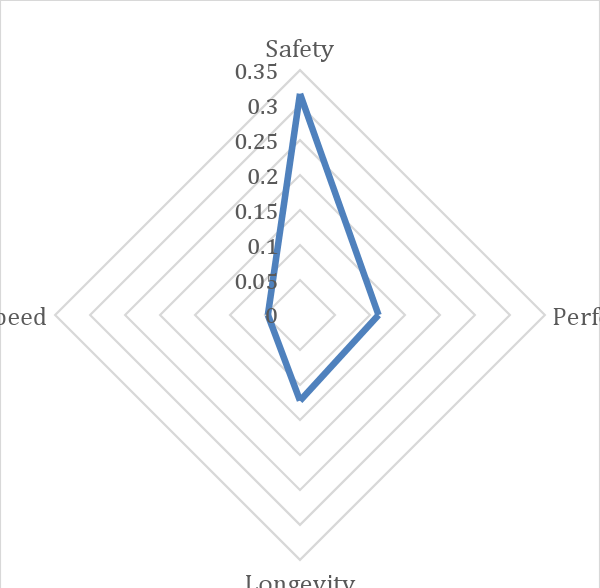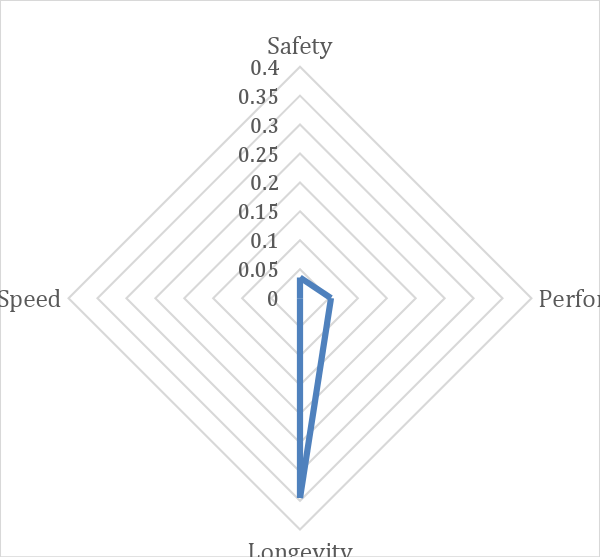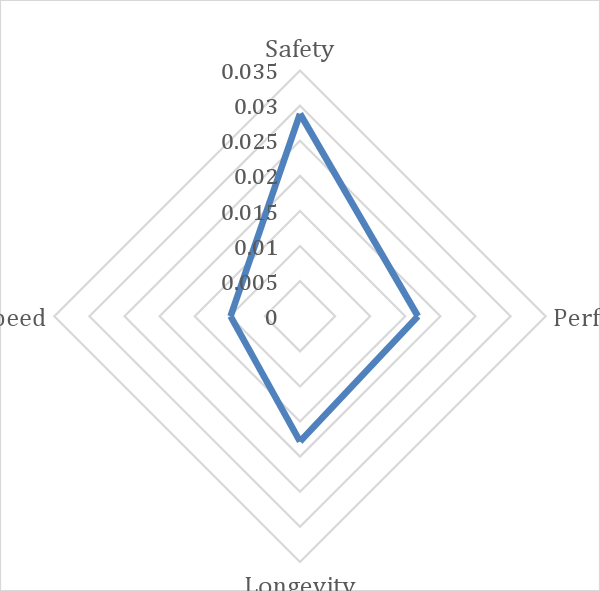 (Figure 3)
Trending Technology: Currently, electric vehicles mostly use lithium-ion batteries, but solid-state batteries which exhibit a higher energy-to-weight ratio than lithium batteries and have longer shelf life (Wikipedia) appear to be the next battery technology. The two pie charts in Figure 4 present the patent share of the various players. While Toyota, CATL, GM, and LG Chem are the main players in lithium batteries, Toyota is clearly dominant in solid-state, followed by Sakti3 and Nissan.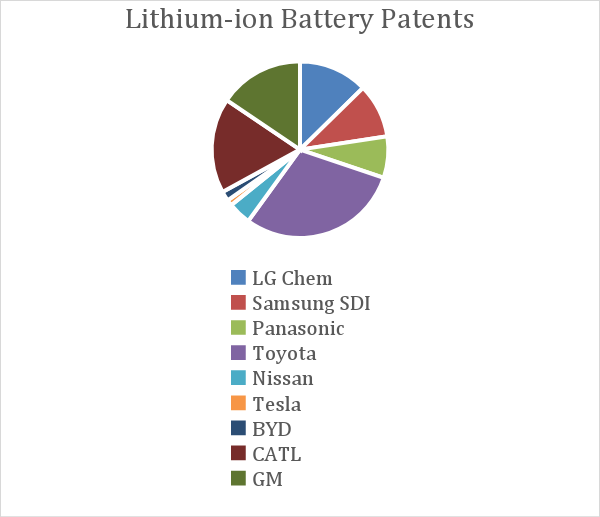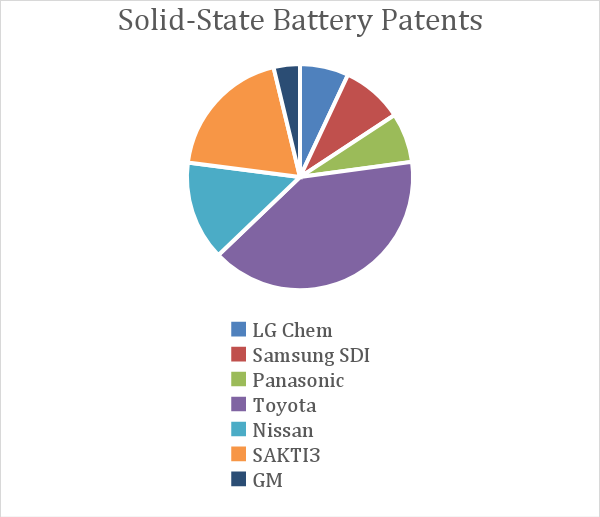 (Figure 4)
Summarizing, patents and particularly the early patent document disclosures allow investors to penetrate the battery industry black box, understand the technological focus of each player along the crucial dimensions for this emerging innovative industry and bet on the upcoming technology. The growth of players in this industry crucially depends on new technologies which patents help to unravel.
Disclosure: I/we have no positions in any stocks mentioned, and no plans to initiate any positions within the next 72 hours. I wrote this article myself, and it expresses my own opinions. I am not receiving compensation for it. I have no business relationship with any company whose stock is mentioned in this article.
Editor's Note: This article discusses one or more securities that do not trade on a major U.S. exchange. Please be aware of the risks associated with these stocks.