Welcome to the it's going lower edition of Oil Markets Daily!
The risk of additional loss in Venezuela's oil production is probably the least talked about 2018+ risk in the oil markets today. In fact, when we were analyzing investment bank sell-side reports in May 2017, analysts had Venezuela's oil production averaging 1.9 million b/d in 2018! Where are those forecasts now?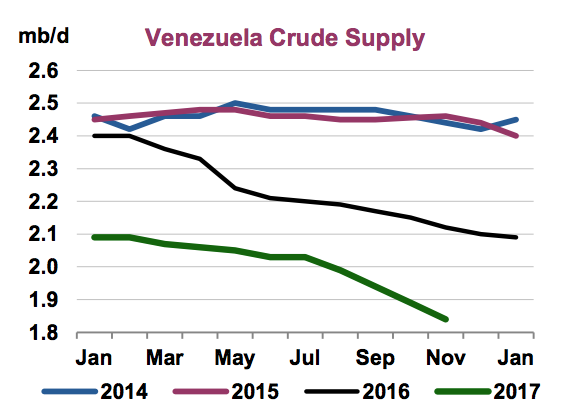 Source: IEA
For most of 2017, the first-half of the oil market stories were focused on the resurgence in Libya and Nigeria oil production. Yes, we did see a comeback from Libya and Nigeria, but both countries are now producing at max capacity:

Source: IEA
Recently, Libya had issues with power plants that caused production to fluctuate 100k b/d on and off, and Nigeria continues to struggle with pipeline outage issues resulting from rebel groups demanding ransom payments.
As we move deeper into 2018, the two supply surprises from OPEC in 2017 (Libya and Nigeria) won't be able to surprise again. And with the other two delinquents in OPEC, Iraq and Iran, producing at max capacity, there won't be any upside surprise risk from OPEC this year: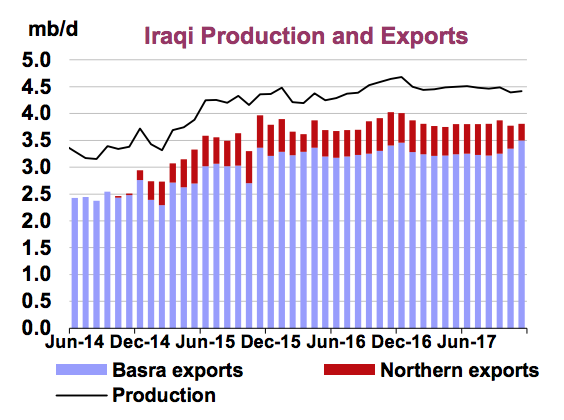 Source: IEA
As a result, the fall in Venezuela's production this year will go directly into lowering OPEC's oil production. Venezuela entered 2018 producing at around 1.8 million b/d falling some 300k b/d exit-to-exit, and this will likely accelerate to a fall of 1.4 million b/d or 400k b/d exit-to-exit by end of 2018.
In most analysts' oil storage balance in 2018, we are seeing only a decline of ~100k b/d average across the board, meaning that this could provide another unexpected 300k b/d to the deficit.
How does that impact the oil markets?
The recent decline in Venezuela's oil production has directly impacted the US. If Venezuela's production continues to decline as we expect, this will directly impact the crude imports into the US, leading to other producers to benefit from the fall.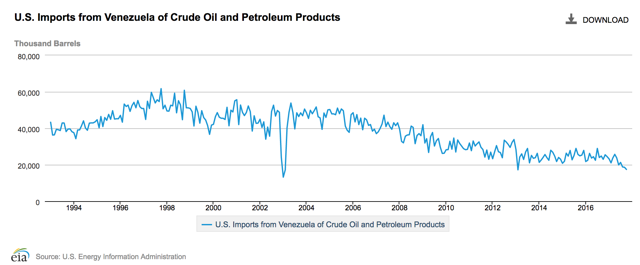 We think the biggest beneficiary of lower crude imports from Venezuela is Canada, which we have already seen a surge in import volumes over the last several years.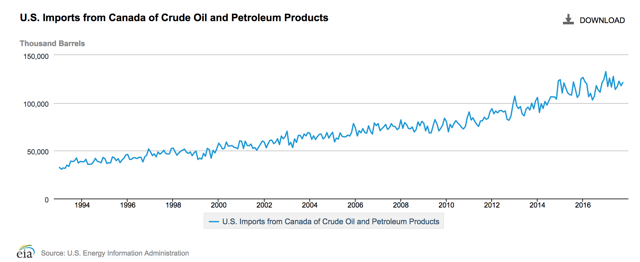 While there are still concerns in Canada with takeaway capacity issues, we think most of that headache will get resolved by the middle of the year when rail capacity catches up to the increase in production.
In addition to Canada benefiting from lower Venezuela oil production, China's reliance on Venezuela oil imports will also start falling as crude quality deteriorates. This will see China import more crude from other countries like the US, which will keep US crude exports reasonably high throughout 2018.
In the end, if Venezuela's production declines, the supply will need to get replaced from another source, which we think will see the global oil markets further tightening throughout 2018.
In our view, the supply risk in Venezuela is overwhelmingly to the downside.
P.S. For our latest outlook on oil, please see our last week's weekly recap on Q1 2018 US crude storage.
For those of you that have found our articles insightful, interesting and different. We think you should sign up for HFI Research. Our incentive is aligned with our readers as we put our money where our mouth is, and our contrarian analytical framework was what set us apart when we made the $65/bbl Brent call in June 2017 and $60/bbl WTI call for the end of 2017. For more information about our service, please see this link. We look forward to seeing you join the HFI Research community.
Disclosure: I/we have no positions in any stocks mentioned, and no plans to initiate any positions within the next 72 hours. I wrote this article myself, and it expresses my own opinions. I am not receiving compensation for it (other than from Seeking Alpha). I have no business relationship with any company whose stock is mentioned in this article.