Last year has been my best year measured in USD, gaining 37%. The stock market saw some good overall performance, with the S&P gaining 19.4%. More memorable was that it made a profit in all twelve months of the year for the first time ever. However, the market was not that smooth if you look at individual sectors. Some sectors, like retail, malls and media companies, performed poorly and had much greater movements, while others like technology had great performance. A strong decline in the value of the USD after a couple of strong years helped stocks with international exposure and my portfolio a lot to reach this eye-watering performance.
Investment returns 2017
The returns in 2017 were helped by the strong allocation to European companies. In total, it managed to have a cumulative time-weighted return of 37%.
Investment Portfolio Wubbe Bos
The stocks responsible for most of the performance are all European companies, which combined good operating performance, a strong appreciation of the euro and changing sentiment to deliver outstanding returns.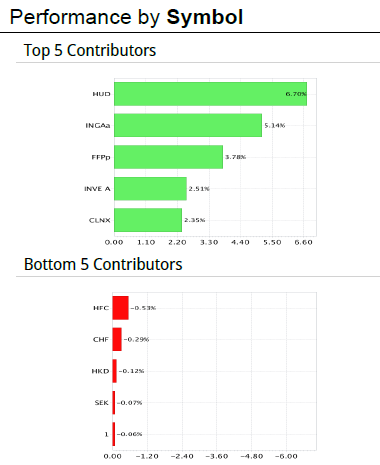 Top performers portfolio Wubbe Bos
Hunter Douglas (OTCPK:HDUGF) was again a great performer. After good results in 2016, it returned 57%. This was slightly lower than Groupe FFP at 61% and Cellnex Telecom (OTC:CLNXF) at 59%, but responsible for more of the performance due to its growth in 2016 which created a larger position size.
Changes at the start of 2017
While I usually do not make changes at the start of a new year, 2017 was different. The strong rise in my US stock portfolio after the election of Trump made me sell some of my great performers of 2016, which included Bank of America (NYSE:BAC), Discover Financial Services (NYSE:DFS) and Wells Fargo (NYSE:WFC). I also made the mistake of selling my position in HollyFrontier (NYSE:HFC) for a quick gain. While most of them indeed sold off after the strong rally, they increased in the second part of the year, helped by persistent interest increases and a strong economy, which allowed most financials to increase their profitability at a stronger rate than I expected.
I invested some of the proceeds in Brookfield Asset Management (NYSE:BAM), which had been on my wishlist for quite some time. Brookfield's combination of great management, good assets and leverage through its asset management business means I think it is a good long-term position for most portfolios. Given the higher valuations in the US, most of the proceeds were invested in Europe. Europe, in my view, was and is lagging the US economy, which I thought would mean good returns enhanced by a weak euro.
While the unemployment in the euro area continued to drop, which is a good sign, it did not translate in stronger household spending yet.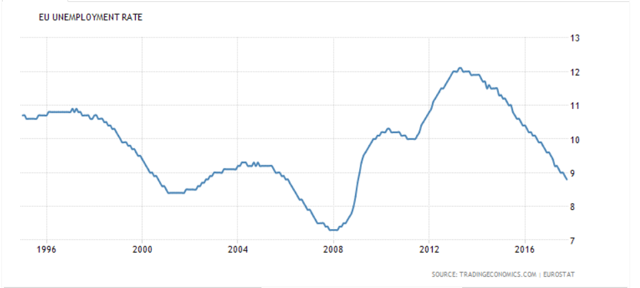 (Source: Trading Economics)
Household debt-to-GDP continued to drop. This is good news for the safety of the financial system, but hurts the economy. Saving consumers spend less, which means less economic growth.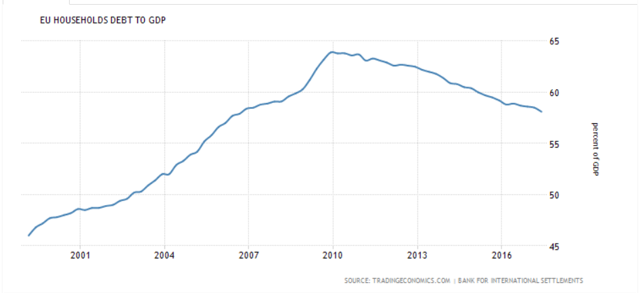 (Source: Trading Economics)
The result of the shift to European stocks was that only 25% of the portfolio is in US-listed stocks, with most of them except for Berkshire Hathaway (BRK.B, BRK.A) having significant international exposure. 75% of the portfolio now consisted of international stocks, but some of them have significant US exposure, like Hunter Douglas and BMW (OTCPK:BMWYY). In addition, holding companies like Pargesa Holdings (OTCPK:PRGAF), Groupe FFP and Italmobiliare (OTCPK:ITSMF) are also exposed to the US market through their investments.
Current portfolio
The current portfolio for 2018 is still heavily focused on Europe. While a cheaper dollar makes US products more competitive, the US is still having a large trade deficit, which means a large flow of capital has to flow to the US each and every year to keep the dollar from depreciating.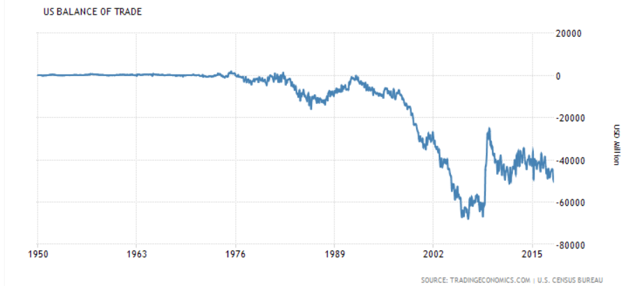 (Source: Trading Economics)
In Europe, however, even weak economies like Italy currently have a trade surplus. In addition, Europe is still a bit behind the US in its economic recovery, which means further improvement in the economy is likely to be seen in Europe during 2018.
Given that growth seems to be returning in many areas, investors might decide to invest their capital more locally. If the flow of capital to the US diminishes, then the USD could depreciate further even when interest rates go up. Repatriation of cash in 2018 is a tailwind, but given the lower valuations and maybe a home bias, I feel more comfortable investing in Europe.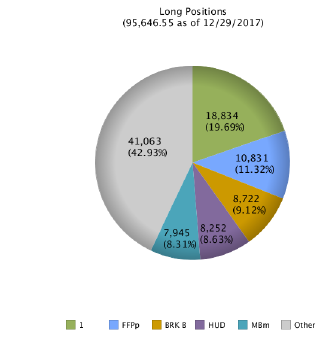 Current long positions Wubbe Bos
The largest current position is CK Hutchison (OTCPK:CKHUY), a conglomerate based in Hong Kong but with many European holdings. That is trading at attractive valuations with a strong balance sheet. With a large cash balance, a low P/E of 11.3 and strong positions in defensive industries, it is a good position while we are deep in the cycle.
Portfolio yield
Many investors are very focused on the yield of their portfolio. For me, this depends on the reinvestment opportunities of the companies. My US part of the portfolio has a very low yield. Of the four US-listed companies, only Brookfield Asset Management is paying a dividend and yields just 1.29%.
Yields on some international investments, however, are quite attractive. Car manufacturers have a nice dividend yield, and in addition, are hoarding cash for a potential disaster which, in my opinion, is unlikely to unfold next year. Especially in Europe, the situation seems quite safe, while the US auto loan market is becoming stretched and something to keep an eye on.
In 2017, I received $2106.22 in dividends, which is 3.3% yield on starting capital plus additional investments. Due to strong increases, the current yield is lower, but this could change somewhat again due to stock rotation during the year.
What worked in 2017
Most things worked out great in 2017, but some really stand out. The best decision was to focus more on European companies. While most people on Seeking Alpha write more on US companies, European companies were not popular at all. The old continent has lost it, and it was a dominant view that new elections would ruin everything that was not already broken. While this view has improved, I still see quite some negative or sceptical comments around Europe, and I think that European companies are still trading at more attractive levels than US companies.
Something else that worked well in 207 was being aggressive. Since the bull market is getting quite old, a lot of people hide in defensive sectors like utilities or "safe" companies like Coca-Cola (NYSE:KO) or Proctor & Gamble (NYSE:PG). While I agree the bull market is old, the next recession is likely going to be different from the last one. I know car and housing companies are cyclical, but their valuations are just at very cheap levels, while companies supplying them have much higher valuations and are just as cyclical, like Caterpillar (NYSE:CAT).
This year, problems emerged in retail and malls which nobody predicted and ruined some "safe" stocks. Safe stocks are just not as safe as commonly believed due to their valuations. Utilities in Europe got decimated due to low energy demand and new generation possibilities. This can happen in the US as well, but still, utilities like Dominion Energy (NYSE:D) are viewed as very safe, while being heavily leveraged. Especially utility companies with heavy exposure to unregulated businesses are at risk when a recession hits. Many tech stocks trade at high valuations which could easily collapse - and don't even get me started on cryptocurrencies. I'd rather buy companies with known risks that people are overestimating because of what happened in the last recession.
Mistakes
Even in a great year like 2017, mistakes were made. The most important one was selling too soon, which happened in the case of both HollyFrontier and Voestalpine (OTC:VLPNF). In both cases, I just underestimated how much profitability would improve when the situation changed. Higher oil prices led to increased oil production, and combined with hurricane Harvey, increased operating spreads for HollyFrontier. Voestalpine benefited from more economic activity and higher tariffs against Chinese steel. The lesson learned is that one should not underestimate how much things can actually improve. While it did not make a buy and hold investor out of me yet, it makes me more cautious in selling off good companies that I believe are more or less fairly valued now. Examples are Berkshire Hathaway, Brookfield Asset Management and Cellnex Telecom.
Mistakes of omission do not show up in the results, but are nearly as important for your investment returns. One clear stupid mistake was not investing in Apple. It is fairly obvious and easy to see that the company was cheap and making serious cash. Buffett was buying as well - what more evidence do I need to see before I start a position in such an attractive company?
Another mistake was not buying a US homebuilder. Those stocks all shot up, and it was obvious to me that this would happen, but not to the degree that it did.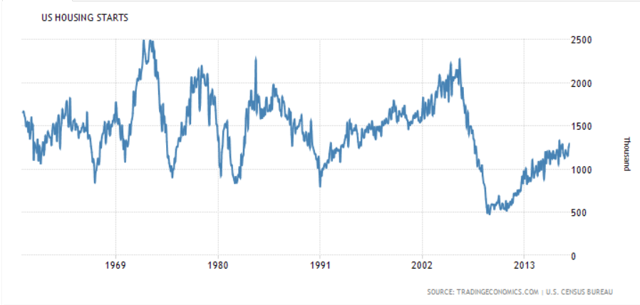 (Source: Trading Economics)
Housing starts have been low and are still below the long-term average, so they are likely to improve further, but valuations of home builders have increased significantly. I did have significant exposure to the US housing market through Hunter Douglas, but should have added a homebuilder like NVR, Inc. (NYSE:NVR) or Lennar Corp. (NYSE:LEN).
Outlook 2018
The global economy is growing, but risks are also growing. Especially the credit and housing bubble in China is slightly worrying to me. This means that I am positioning slightly more defensive than I did in 2017, with a large position in CK Hutchison. In addition, I might add a position in Nippon Telegraph and Telephone Corporation (NYSE:NTT), a strong Japanese company with good earnings and a strong balance sheet. European holding companies are also still an attractive place to invest, given the high discounts to NAV. However be wary of the management costs that are hiding in these structures. I recently unveiled my stock picks for 2018, which you can find here.
Conclusion
The results in 2017 were beyond expectations with a return of 37%. These results, however, are not yet a reason to drastically change the strategy. The bull market is getting longer, valuations are getting richer and more people are starting to invest in stocks. Investors should therefore be even more prudent and not take risks for insufficient rewards. This is especially true in case of popular markets like the US and companies popular for their growth potential or perceived safety.
Disclosure: I am/we are long BRK.B, BAM, LBTYK, DISCK, RNSDF, CLNXF, ING, MDIBF, CKHUF, PRGAF, ITSMF, HDUGF. I wrote this article myself, and it expresses my own opinions. I am not receiving compensation for it (other than from Seeking Alpha). I have no business relationship with any company whose stock is mentioned in this article.
Additional disclosure: I hold shares in Groupe FFP, Credit Agricole Du Morbihan and some preferred shares in BMW
Editor's Note: This article discusses one or more securities that do not trade on a major U.S. exchange. Please be aware of the risks associated with these stocks.