In light of the recent discovery of two significant security flaws going under the name of Meltdown and Spectre, the big three processor manufacturers have come under fire. ARM, as they are owned by the SoftBank Group (OTCPK:SFTBY), are somewhat insulated from the market in terms of suffering from share price falls, however, AMD (AMD) and Intel (INTC) are not so lucky. Intel has seen its share price fall from $46.83 to a low of $43.12 (-8%), stabilizing in the $44.50 range (-5%). AMD has suffered less of a drop, falling from $12.09 to lows of $11.55 (-4%). The firm's shares now trade at around $11.70 (-3%). Other processor manufacturers may also stand to be hit by the fallout from the crisis, including Nvidia (NVDA) and Qualcomm (QCOM), although markets have yet to fully digest this fact.

Intel 5 Day Share Price Shows Spectre and Meltdown Impact, but Also A Recovery Rally. Source: YCharts.

AMD Hit by Spectre and Meltdown, but Less Than Intel - For Now. Source: YCharts
The impact of the Meltdown and Spectre flaws may yet be quite far-reaching, owing to the ubiquity of these hardware/software flaws across all major CPU architecture and the essential nature of the systems and services they underpin, despite potential, and already ongoing, legal issues. Still, it seems unlikely that share price falls will be sustained in the longer term.
Nevertheless, these falls are a reaction to a significant problem, and further falls in the near term ought not to be ruled out, given news about Spectre and Meltdown may still have legs. That is especially so if Kim Forrest, Senior Equity Research Analyst at Fort Pitt Capital Group, is proven correct, and big customers demand compensatory discounts from the likes of Intel and AMD.

Fort Pitt Capital's Kim Forrest Suggests Negotiations Could Get Tough for Intel. Source: The Guardian
Undoubtedly, should Intel and AMD have to discount their products at the same time as they ramp up their R&D spend in terms of security, whilst also suffering the threat of potential legal action, this adds up to a rather unholy trinity of headwinds for the firms to face. That said, the longer term may show that turning a blind eye is the only reasonable response to the security problems, given the global economy's absolute dependence on the wares of leading processor manufacturers.
Additionally, whilst a hefty R&D boost might hit the balance sheet, the longer term benefits of such spending will likely be positive. What this means is that the long-tail impact of these security concerns may provide the type of R&D boost that gets the likes of Intel and AMD thinking about the architectural paradigms underpinning their products, which could produce interesting results. Put more simply, although these stocks have been hit where it hurts, and might well suffer more in the short to medium term, a longer term view might see a buy opportunity.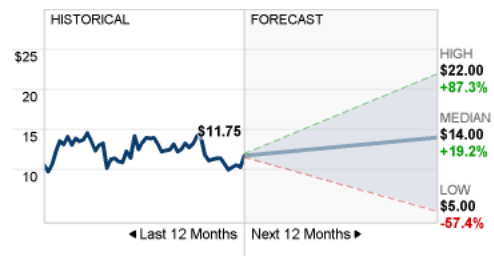 Price target highs gleaned from analysts by CNN May seem highly optimistic, but add to the narrative, showing huge upside potential.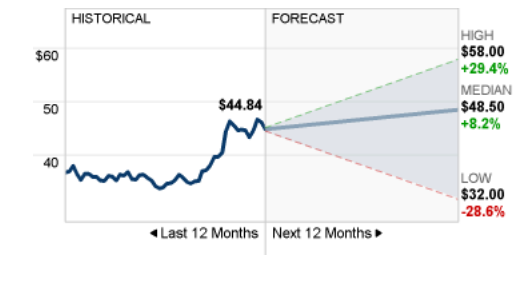 Price target highs from analysts polled by CNN suggest Intel could provide strong long-term returns. Source: CNN
What are Spectre and Meltdown
Rather than provide an in-depth analysis of the two security flaws, and such analyses can, for instance, be found here and here, I'll put it more simply. Spectre and Meltdown represent long-standing flaws in the underlying architecture of processor manufacture, albeit ones just recently discovered.
Meltdown enables the exploitation of the interaction between a system's core memory and user-ran applications. What this means is that hackers with a sufficient level of expertise can trick applications, for instance your web-browser, into providing secret information, for instance passwords.
As Daniel Gruss, a researcher at Graz University of Technology, observes, Meltdown is "probably one of the worst CPU bugs ever found." Any application running locally on a computer, inclusive of Javascript, can potentially be used to steal data.

Jack Gold, Founder of J. Gold Associates, a technology analyst for the past twenty five years, suggests there is less to fear than many think. Source: Network World's Jack Gold
Spectre, whilst currently harder to take advantage of, is expected to prove more difficult to fix, and the fallout from the security flaw is thus likely to be much longer-lasting. As the website now dedicated to the two security flaws, spectreattack.com, explains, "Spectre breaks the isolation between different applications. It allows an attacker to trick error-free programs, which follow best practices, into leaking their secrets. In fact, the safety checks of said best practices actually increase the attack surface."
Blind Eyes, Price targets, and Potential Gains
The real question is to what degree the market will consider Meltdown and Spectre a game-changer. Both bugs are likely to have long-lasting ramifications. Processors may slow down. There are also almost certain to be major data breaches as a result of their discovery, as hackers adapt to integrate these bugs into their arsenal.
Yet, given the fact that these threats are ubiquitous, although this is speculation, they may well simply become accepted risks, with the feeling being that there is no other choice. Shutting down a significant portion of online architecture, from the cloud, to the IoT, to banking and trading, well, that simply isn't an option.
Although this story remains fluid, and assessing the market impact for firms like Intel and AMD, as well as for 'smaller' producers like Nvidia (NASDAQ:NVDA), remains a work in progress. It might be worth considering the presently available price targets for the two firms as a benchmark to where long-returns might lead.
Shorting both firms in the near term does present an interesting possibility. But given the premise of this article - the belief that ubiquity will trump concern - price target highs and upsides of between 12% and 25% tempt a buy with a view on the longer term.
Highs of between $50 (+12%) and $53 (+17%) are forecast for Intel by Nomura and B. Riley, respectively. For AMD such targets sit between $17 (+16%) and $19 (+25%) and are set by Mizuho and Jefferies Group. Given Intel's 2017 share price growth of 27%, and less so AMD's of 5%, such targets, whilst optimistic, do not seem impossible.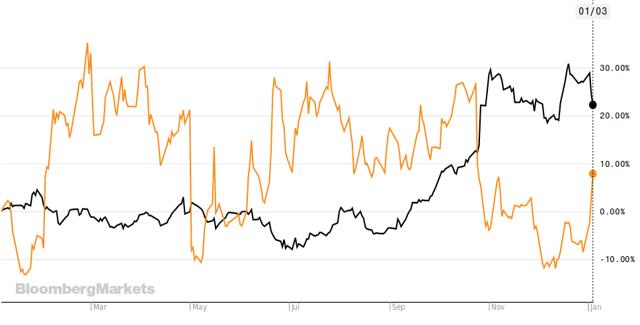 AMD & Google (NASDAQ:GOOG) (NASDAQ:GOOGL) share price performance 1 year. Intel proves steadier, but volatile AMD shows rewards are on offer if the timing is right. Source: Bloomberg
Conclusion
That said, the fallout from the security storm is likely far from the run, what is not of immediate concern often gets relegated to the back burner. Unless these security flaws become priced in as a permanent risk in all IT stocks, which is unlikely as a number of security patches are already becoming available, the market is likely to bounce back and to continue to do so after instances of the flaws' exploitation.
Clearly, Spectre and Meltdown present interesting short opportunities, but ultimately, since investing in the infrastructure that underlies our interconnected world is generally a wise long-position, each security flaw sparked share price fall presents a buy opportunity. Spectre and Meltdown, although significant security risks offer long rewards for those keeping a sharp eye on the processor manufacture market, and AMD and Intel in particular.
Disclosure: I/we have no positions in any stocks mentioned, and no plans to initiate any positions within the next 72 hours.
I wrote this article myself, and it expresses my own opinions. I am not receiving compensation for it (other than from Seeking Alpha). I have no business relationship with any company whose stock is mentioned in this article.
Additional disclosure: CFDs, spread-betting and FX can result in losses exceeding your initial deposit. They are not suitable for everyone, so please ensure you understand the risks. Seek independent financial advice if necessary. Nothing in this article should be considered a personal recommendation. It does not account for your personal circumstances or appetite for risk.