U.S. stocks hit record highs as President Donald Trump signed a $1.5 trillion package of tax cuts into law, shortly after the Fed's mid-December gathering.
This article is an update of an article I did in the lead up to the tax package and now includes the new numbers and is a pleasant increase on the last effort. The update will show how the recently passed federal tax reforms will impact macro-fiscal flows and investment markets.
A stock-flow consistent sectoral flow model is used to assess the impact of the tax reform.
Stock Flow Consistent Sectoral Flow Analysis
British economist Professor Wynne Godley developed Sectoral flow analysis and accurately predicted all our recessions since 1970.
Growth inflows come from three broad sources:
1. Private credit creation. [P] - Banks lend more than is repaid. (credit money)
2. Government spending. [G] - The government spends more than it taxes. (state money)
3. Externally from overseas trade and commerce. [X] - Exports earn more than exports cost, less capital flows. (credit money and state money from other countries)
GDP = P + G + X
This is an accounting identity and correct by definition.
The following chart shows the interplay of the three sectors over time: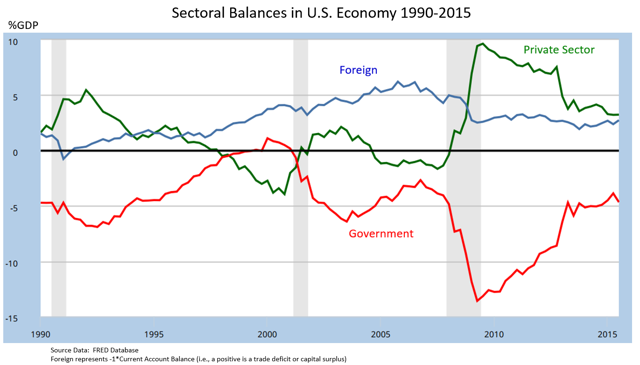 From the chart, one sees that the government flows mirror the flows of the private sector and external sector with the symmetry of butterfly wings. Note how government budget surpluses and low-deficit spending proceeds a recession. One sector's loss is the other's gain and vice versa.
The government deficit is the private sector's surplus and vice versa. Because the Fed manages its interest rate target with bond buying to soak up excess reserves, Treasuries (the dreaded national debt) can be defined as the net money supply.
If we add the sector flows, we can work out how much money is flowing to the private sector and how much the GDP growth rate is. If the result is positive, then financial assets in the private sector, such as stocks and bonds, can be expected to rise in value.
Each flow will be examined in turn as we assess each income channel to the private sector.
Private Credit Creation
Credit creation in 2016 was quite high averaging over 5% for the year and made a contribution of 0.7% to GDP.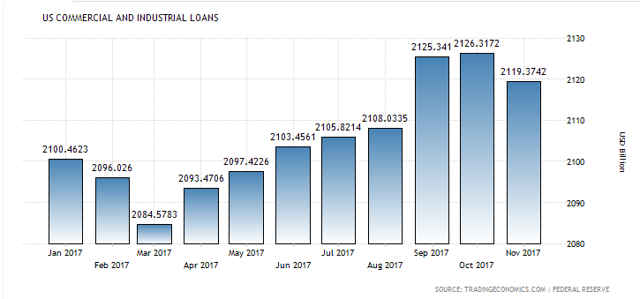 For 2017, the story is different. Credit creation has added only $18.9B to the economy so far this year, and this represents only 0.10% of GDP.
The chart below shows how the stock of total private debt from credit creation is building for both the household and corporate sectors: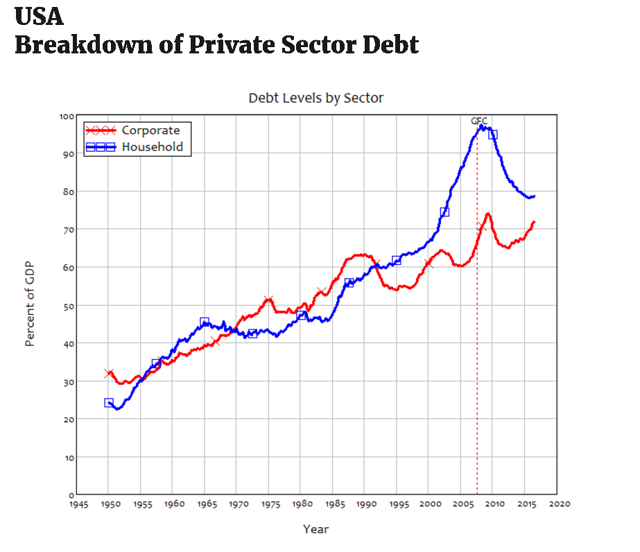 (Source: Professor Steve Keen)
Household debt as a total percentage of net disposable income, 2015 (OECD), is 111.6%.
The mainstream neoliberal economic model depends on a money supply provided at interest by private banks and not by the government via state money.
When the private banks are not able to expand the money supply through lending, then GDP growth stops. The money supply is constrained by the number of creditworthy borrowers ready, willing and able to take out a loan.
Loans create deposits and generate the required reserves at the Fed. Repayment of loans reverses this process and shrinks the money supply and is deflationary.
Loan repayment is deflationary, federal taxation is deflationary, and a current account deficit is deflationary, as they all drain money out of the economy.
External Sector
The external sector is trade and commerce with other countries and is shown in the current account. The current account is exports subtract imports, and it also includes capital flows in and out of the country from financial transactions and investments.
The chart below shows the current account balance. The chart shows the current account is both negative and therefore a leakage of dollars from the economy of -2.6% of GDP each year. This year is tracking to be a bigger deficit than last year and could easily be -3% of GDP.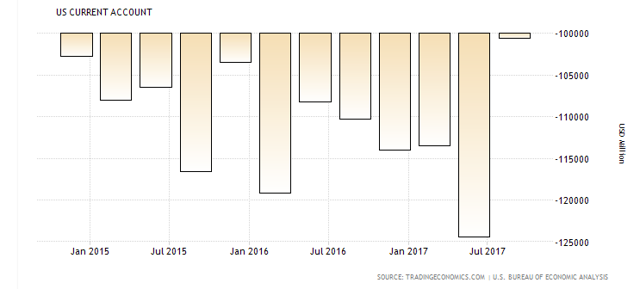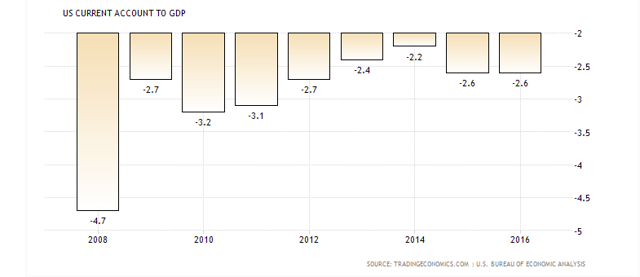 A large current account deficit is deflationary because it drains the economy of money in return for goods and services from overseas.
Federal taxation is also deflationary as it removes money from the economy. More on this later.
The role of federal taxation in a monetarily sovereign country like America is to control inflation by removing spending power, which then reduces aggregate demand.
The external sector can perform the same fiscal deflationary role but with the benefit of goods and services from overseas.
What would one rather have?
Imports of real goods and services for dollar credits, meaning lower inflation, lower taxes, and lower unemployment; or
Exports of real goods and services, meaning higher inflation, higher taxes, and higher unemployment.
The former is the wiser choice and the one we have, though few understand this concept.
Government Sector
The chart below shows the government budget: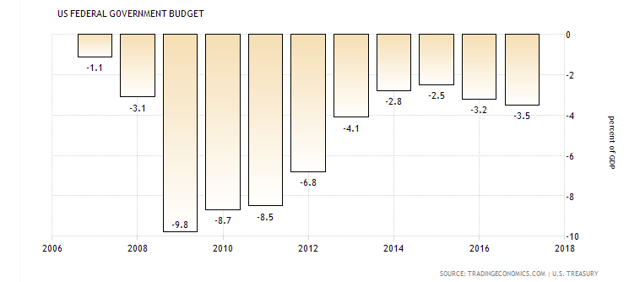 The government spent approximately 3.5% of GDP into the private sector in 2017 and good increase over 2016.
The chart below shows the near-term government budget to November 2017. The budget deficit is larger than for 2016, and this is expansionary as it expands the economy and does not grow private debt, it allows private debt to be retired.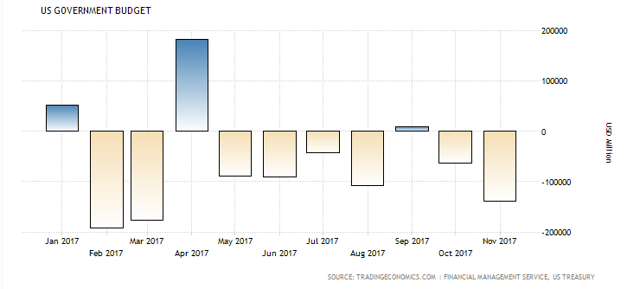 The Trump government's tax reform means that less will be taxed out of the economy. The tax reform has now been signed into law by the President, and the numbers are firmer and larger than they were. The tax package is worth $1.5T in tax savings over ten years. In the American system, one billion is 1,000,000,000, and a trillion is 1,000,000,000,000, so one trillion is one thousand times one billion.
So each year the government will add $150 billion to the private sector by not removing it via taxation. $150B is approximately 0.8% of GDP and would move the federal government contribution to total GDP from 3.5% to 4.3%, based on the 2017 result shown in the chart above.
The sector flows at present and for some key historical points of reference are shown in the table below:
Private Sector Credit Creation

[P]

External Sector

[X]

Government Sector

[G]

TOTAL

[P]+[X]+[G]

2016

0.7%

-2.6 %

3.2%

1.3%

2017

0.1 %

-3%*

3.5%

0.6%

2018 with tax reform

0.1%

-3%

4.3%

1.4%

2009 post GFC Trough

1.04 %

-2.7 %

9.8 %

8.14 %

2007 pre GFC Peak

1.17 %

-5.1 %

1.1 %

-2.83 %

1943 War economy

NA
-0.9%

25%

24.1%

2000 pre-Dot Com Boom peak

3.9%
-4.05%

-0.94%

-1.09%

2001 Dot Com Bust, peak flows

3.2%
-3.74%
3.37%
2.83%
(Source: Trading Economics, FRED and Author calculations based on same)
*estimated, the final number not in yet.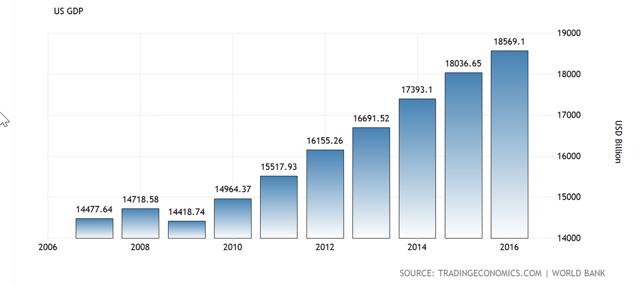 The GDP growth rate delta (rate of growth of the growth rate) is going to be 1.4% of GDP or about $269B. This means that $269B of net financial assets will be created in the private sector in 2018 and flow into the value of stocks, bonds, and real estate.
There is a divergence occurring between Gross Domestic Product and Gross Domestic Income as shown in the chart below. As a fact of accounting GDP = GDI and cannot long remain out of balance before a correction occurs to balance the flows. We were headed for a negative correction in that income was falling below production which means that production must fall to meet it. Now that less income is taxed out of the economy by the government GDI can now rise to match production rather than pull it down. One of them had to give and I am glad it was a move upward in GDI rather than the misery of a fall in production, employment, capacity utilization that goes with falling incomes.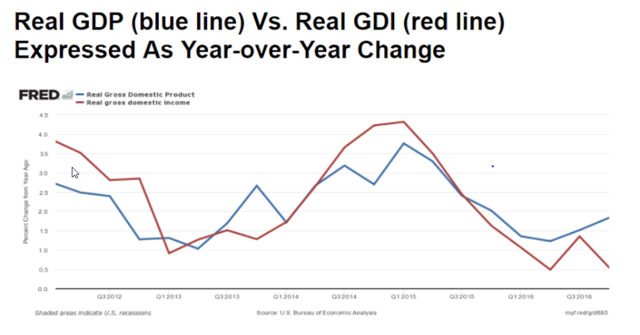 Investment markets have an upward bias based on macroeconomic fundamentals.
How can one trade this decision?
There is now a trade-able financial decision point that one can use. From a macro-fiscal flow perspective, the decision is good news for the economy and gives financial assets in the private sector fiscal space within which to grow in value.
One can get investment access to the U.S. via these ETF funds.
The condition of the U.S.A economy is of world importance as it tends to be the tail that wags the dog due to the U.S.A being 25% of world GDP and the US$ is over 60% of foreign reserve holdings. The USA is the anchor.
To see why US banks are a good opportunity and likely to see a large share of this increase in the money supply, please read this article on the impact of Fed interest rate rises on the stock of private debt identified in the chart above.
Disclosure: I/we have no positions in any stocks mentioned, and no plans to initiate any positions within the next 72 hours. I wrote this article myself, and it expresses my own opinions. I am not receiving compensation for it (other than from Seeking Alpha). I have no business relationship with any company whose stock is mentioned in this article.