On January 1, Bulgaria took over the European Union's presidency in a major milestone for the Union's poorest member. Observers stress that the occasion represents a unique opportunity to drive the Balkan state's agenda. They are also warning that Sofia should temper its excitement and expectations.
Investors and stakeholders looking to Bulgaria and Europe's other emerging markets should take that advice to heart as well. After December's Eurozone summit played out against a backdrop of buoyed optimism but faltering resolve to pursue reforms, there are growing concerns that "reform fatigue" could leave even the Continent's most agile economies failing to deliver on expectations. Top Eurozone officials continue to insist that bringing the EU's remaining non-euro countries into the fold remains a priority, but top candidates (like Bulgaria) could turn out to be high-profile tests for both the country and the currency union.
If European leaders in Brussels are nervous about those stakes, they are not showing it. Council President Donald Tusk originally proposed the Eurozone summit in September to discuss how the monetary union would evolve after Brexit. At that point, the future and expansion of the monetary union was at the top of the agenda, with the newly elected and ambitious Emmanuel Macron bringing strong enthusiasm for advancing the single currency project. Europe was on a high: except for Brexit and a fluttering of instability in Catalonia, the Continent was celebrating strong, synchronized economic growth and the resiliency of the Franco-German axis. The jovial attitude fed talk of unifying defense policy and expanding the Eurozone.
However, as Angela Merkel and her CDU continue to grapple with coalition talks, the agenda shifted to more pressing topics, namely the politically elusive but long overdue Eurozone banking union. Instead of a unified push for necessary reforms, competing factions are pushing different priorities and diverging time frames.
What does that mean for Eurozone candidate countries like Bulgaria? At first glance, the former communist enclave seems like it would be a poster child for the benefits of EU membership. A decade after joining the EU, the country has substantially improved its fiscal position, with a rating increase of its sovereign debt by both S&P (from BB+ to BBB-) and Fitch (from BBB-minus to BBB) at the start of December. The ranking of the country's macroeconomic environment has also climbed in the World Economic Forum's 'Global Competitive Index' (GCI) report, from 42nd in 2016-2017 to 25th in 2017-2018. That improvement is largely thanks to a budget surplus of 1.6% and a healthy 28% debt-to-GDP ratio that bests most of its European peers.
In rubber-stamping the progress Sofia has made, S&P also highlighted the risk from "financing flows, particularly in foreign direct investment" which has been reduced "significantly". The numbers clearly support that analysis. Although inward foreign investment has picked up since 2014, it is well below the peak seen in 2005 and lags behind neighboring Romania. The anemic foreign investment trend has moved largely sideways since 2010, largely a result of low investor confidence in the rule of law. Investors most often cite corruption, but also "frequently changing legislation and weak law enforcement". Even improved financing flows are still mainly financed by remittances from Bulgaria's substantial migrant population in Western Europe, which remain the major contributor of hard currency receipts.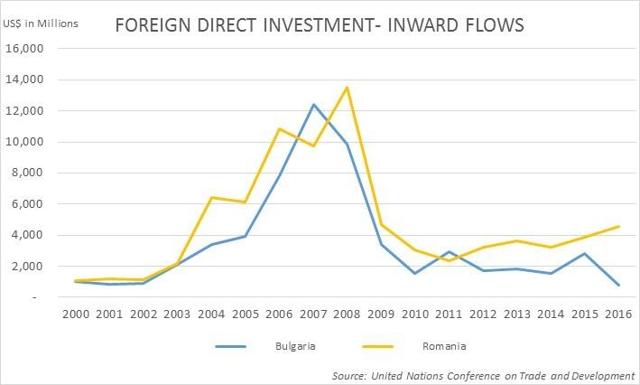 Whereas Romania has seen a steady rise in foreign direct investment and positive wage growth, Bulgaria is hard pressed to explain the persistent misalignment with the living standards of its EU peers. Bulgaria remains the poorest member of the 28-strong EU club by a significant margin. Its 6,600 EUR GDP per capita is below its Eastern European neighbors, and only a sixth of Germany's (34,600 EUR).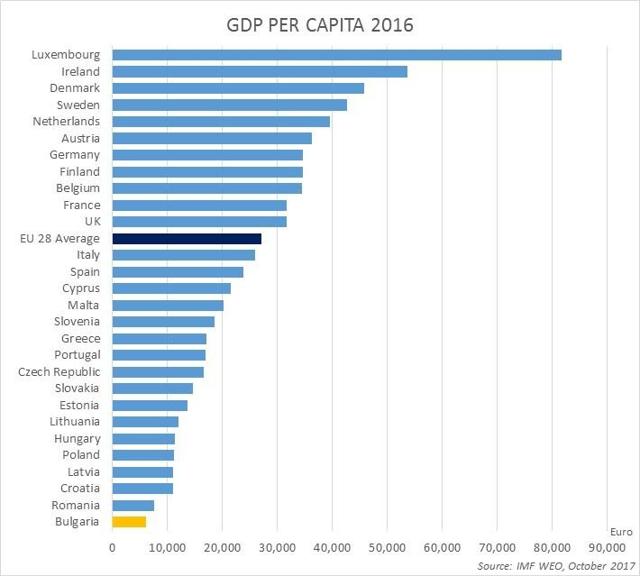 Wage growth stagnation has pushed Bulgarian citizens to seek out better livelihoods elsewhere in Europe. The IMF estimates Bulgaria's population has fallen by 5.9% since 2010, which is compounding one the lowest birth rates in Europe to play havoc with the country's demographics and dent future output potential. Romania, also known for its large diaspora population, only saw a 2.6% reduction in its population over the same time period. It is hard to fault workers in Bulgaria for leaving when they can only expect an average hourly wage of 4.4 EUR - the lowest in Europe and less than a fifth of the euro area average of 29.8 EUR.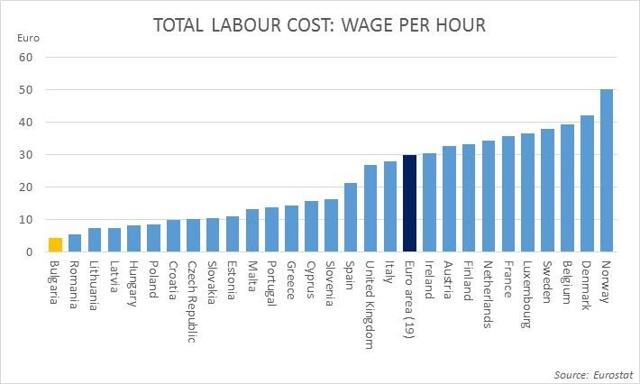 The most visible malaise hampering the country's potential, however, is its stifling corruption. Bulgaria suffers from the worst levels of corruption of any EU country. Transparency International ranks the country in 75th spot worldwide, with its score showing no improvement since 2012. Bulgaria's corruption is a chronic problem with real costs; the European Parliament estimates it is dragging down GDP by figures approaching 15%.
It is also a systemic problem. The World Economic Forum ranks Bulgaria 98 out of 137 for the quality of its public institutions and 122 out of 135 for protection of property rights, citing corruption and inefficient government bureaucracy as the biggest impediments for doing business. Incumbent Prime Minister Boyko Borisov is himself a target of various corruption allegations, and an embezzlement controversy over the refurbishment of the National Palace of Culture - which will host the main events of Bulgaria's EU presidency - is a fateful reminder of the corruption the country grapples with.
Unfortunately, the uphill struggle to rein in that corruption is far from over. President Rumen Radev has put the fate of landmark new anti-corruption legislation in jeopardy by vowing to veto the text. Radev argues the "instruments envisaged in this law are ineffective". He makes a valid point. The bill stipulates that members of a new anti-corruption unit would be appointed by (and beholden to) parliament, setting the whole structure up to potentially be used as a political weapon.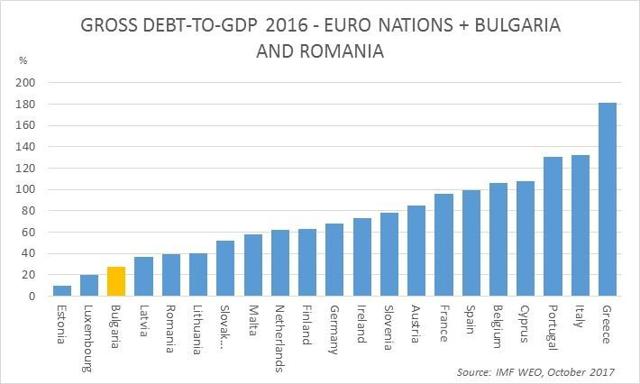 These deep-seated issues may be red flags to potential foreign investors, but the Eurozone has been far more enthusiastic about Bulgaria adopting the single currency. European Commission President Jean-Claude Juncker professed that "I have to say bluntly that Bulgaria is ready". Even if accession to the euro could spur investment and serve as a beacon of national pride, Bulgarians themselves are less convinced. Fully 59% of them are against joining the Euro, primarily because of an expected surge in the price of goods and services.
By pushing Bulgaria's membership and glossing over corruption concerns, are Juncker and his counterparts taking the wind out of the sails of reform? Possibly, but not necessarily. Similarly concerns existed prior to Latvia and Lithuania joining the euro. At the outset, both countries experienced market fluctuations that would seemingly give Bulgarians reason to fret. After joining the euro on 1 January 2015, inflation increased between 0.04 and 0.11 percentage points in Lithuania, an impact described as "significant" by the European Commission. The changeover for Latvia on 1 January 2014 was even more pronounced: the EC calculated the one-off euro changeover impact at between 0.12 and 0.21 percentage points.
The example of Lithuania shows that the initial shock does not reflect the long-term prognosis. One year after Lithuanians exchanged their litas for euros, business and consumer confidence shot up, drawing more investors to its shores and pushing up levels of consumer consumption.
Those benefits, though, come with certain obligations. Bulgaria will have to contribute to both the European Stability Mechanism (ESM) and the European Central Bank (ECB). Whilst the economy grows at a strong tick, this should pose no immediate problem. If the economy is not structurally reformed, however - a big task with corrupt and lethargic lawmakers - complying with EU obligations will become tougher.
Strong recent economic growth, spurred by an increase in domestic and EU demand, masks some of the inherent structural shortcomings. Sofia, though, needs to focus on structural reforms in order to stave off potential growth decay. The fall in potential growth, owing largely to a slump in investment, is also driven by the poor labor dynamics and declining total factor productivity. State owned enterprises (SOE) feature bottlenecks that are inhibiting higher productivity. These SOEs suffer from poor governance as well political interference, weighing on investment and competition.
For Bulgaria (and indeed for other Eurozone candidate countries), preserving a sound fiscal position is essential to ensure continued compliance with Europe's Stability and Growth Pact (SGP). Any slippage in growth prospects, whether because of sluggish reforms or external shocks, will test the country's ability to remain compliant and draw into question any ambitions for joining the euro.
Shortcomings and all, the country intends to embark on the gauntlet of requirements required to join the Euro shortly by applying to join the ERM-2 exchange rate mechanism, known as the Euro "waiting room". With a mandatory two-year period in that "waiting room" before full adoption, we are still years from euros being exchanged at the National Palace of Culture. Investors looking to the potential of a major new European growth market will have to wait and see how that waiting period plays out.
Disclosure: I/we have no positions in any stocks mentioned, and no plans to initiate any positions within the next 72 hours. I wrote this article myself, and it expresses my own opinions. I am not receiving compensation for it (other than from Seeking Alpha). I have no business relationship with any company whose stock is mentioned in this article.