Investing in the big three US video game companies has been child's play over the past five years.
During this period, Activision Blizzard (ATVI), Electronic Arts (EA) and Take-Two (TTWO) have all experienced strong year-on-year stock price growth every year.
For example, Activision Blizzard and Take-Two have seen more than 50 percent year-on-year growth for three of those five years, while EA's stock popped over 100 percent in 2014.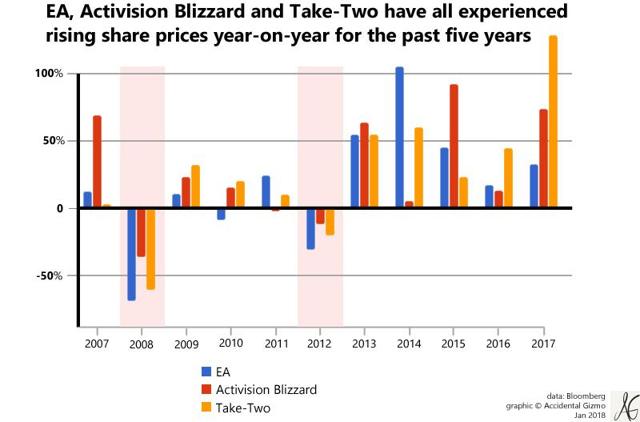 Of course, this trend goes beyond these three companies. While 2017 was a great time to be the owner of stock, the global games industry demonstrated almost universal success. Of 29 floated game making companies around the world at the start of 2017, only two - both Japanese publishers with significant non-game operations - failed to post share price growth during the year.
Indeed, excluding two small Nordic small caps, Take-Two was the best performing game company in 2017 - up over 120 percent - and this despite pushing the release of its most anticipated game back into FY18.
Show me the growth?
Let the good times roll, you might be thinking, but looking behind the scenes, there are indications the trends which have gifted this industry a free lunch for so long are coming to an end.
This situation is best demonstrated by considering how these companies' sales have changed over the past five years which can be defined as the PlayStation 4 and Xbox One era. Both consoles were released in late 2013.
(Note: In this article, I've used bookings on a Trailing Twelve-Month [TTM] basis as my key metric, rather than GAAP revenue which artificially confuses trends. You can read about the differences between the two in this Seeking Alpha article.)
Since 2014, Activision Blizzard and EA have experienced moderate bookings growth, with EA up 23 percent and Activision Blizzard 49 percent, although in the case of Activision Blizzard, this would have only been 8 percent if its $5.9 billion acquisition of King, which closed midway through Q1 FY16, is stripped out of the equation.
Demonstrating the accretive power of its King deal, EA and Activision Blizzard would be broadly the same size with around $5 billion of TTM bookings if that deal hadn't happened.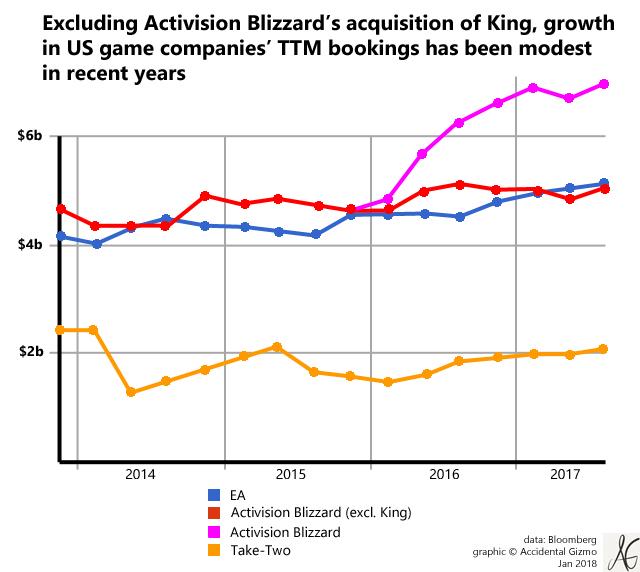 Take-Two's TTM bookings, however, actually declined by 14 percent. Partly this is an artifact from to the release of the 85 million-seller GTA V in September 2013 providing a high comparison point to start from.
As with EA and Activision Blizzard, what TTM booking growth Take-Two has experienced has been concentrated since 2016.
Solving the dichotomy
Clearly, these two trends - low top-line bookings growth and explosive stock growth - don't add up in any conventional reading of business performance.
The reason they do make some sort of sense, however, is over the past five years, the game industry has experienced strong structural change in terms of how it distributes, operates and monetizes its games.
Crudely put, people used to go to brick-and-mortar retailers to buy their games, which were delivered on physical discs that contained the entire game. Obviously, this meant retailers took a large cut of each game sale, but monetization was also limited to a binary $60 buy-or-don't-buy decision for the gamer.
Now, however, the majority of bookings for Activision Blizzard, EA and Take-Two are online. This doesn't mean there aren't any retailers to take a cut. Digital distribution platforms such as PlayStation Network, Xbox Games Store, Steam, the Apple App Store, etc., take their share of sales, but there is additional flexibility in terms of the available pricing and retail offers, and these platforms' reach is global.
More significantly, digital sales provide the opportunity to sell games in different ways, with additional content regularly made available and sold in bundles or subscriptions. And, as the current controversy over loot boxes demonstrates, the opportunity to sell in-game currency or virtual items to provide players with a small advantage or cosmetic differentiation has opened up yet another revenue stream.
In this context, looking at how the proportion of these companies' bookings have changed from majority offline to majority online (or digital) demonstrates why there's a logical underpinning for the rise in share prices.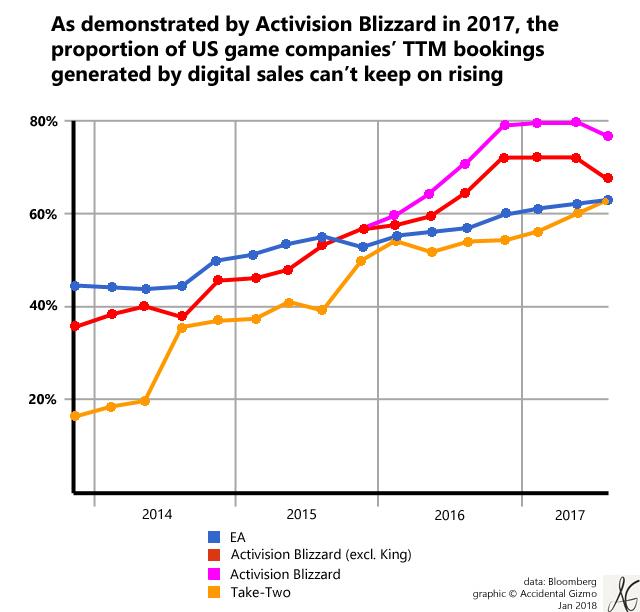 Indeed, this is particularly the case for Take-Two, which only became a majority digital company in early 2016, but now, alongside EA, gains over 60 percent of its bookings from digital sales.
Given it's a rule of thumb, each game sale that moves from a physical sale to an online sale nets the publisher $10 of "direct profit improvement" (so said Activision Blizzard CFO Spencer Adam Neumann during its Q3 2017 earnings call) and it becomes clear why the rise of digital has been such an important trend.
A metric that does capture this value of transference is TTM gross profit. Looking back over the past five years, the rise in digital sales is clearly demonstrated especially by EA and Activision Blizzard's normalized 2013 total, which rises to over 300 percent in 2017.
Remember this compares to EA's TTM bookings being up 23 percent since 2014 and Activision Blizzard's (including King) up 49 percent.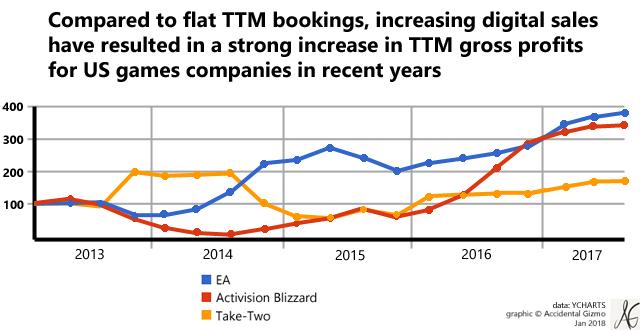 Trending or ending?
Yet, the trajectory of Activision Blizzard's percentage of digital bookings demonstrates this transfer of profits from retailers can't continue forever, and for most companies, it will halt well before the 100 percentage mark.
Again, splitting Activision Blizzard into two parts - the historic Activision Blizzard and Activision Blizzard and mobile games company King, which is 100 percent digital - gives us an idea of the process.
In terms of its console and PC business, the digital shares of Activision Blizzard's business plateaued at 70 percent in mid-2017, falling to 68 percent with the release of Destiny 2 in Q3. This total is likely to drop further in Q4 following the release of Call of Duty: WW2. This is because blockbuster games are more likely to be bought as physical items, either because they appeal to a more mass market audience, or because they are bought as gifts.
Even in the case of Activision Blizzard King, which adds in King's almost $2 billion of TTM bookings - the graph plateaus at 80 percent and then falls away.
Hence, while EA and Take-Two do have some headroom - maybe another 10 percent - to continue to grow their digital businesses, current growth levels seem unlikely to stretch much into 2019.
2018's opportunities
So what does this mean for Activision Blizzard, EA and Take-Two stock in 2018?
Given their performance in 2017, 2016, 2015, 2014 and 2013, it certainly wouldn't be a surprise to see some revision to the norm, although whether that means more modest growth or an actual decline will likely be reliant on wider market sentiment.
In this regard, it will be interesting to see if there is further player kickback with respect to loot boxes. Certainly any governmental moves in terms of consumer protection for this monetization techniques could have a significant impact, at least in the short term.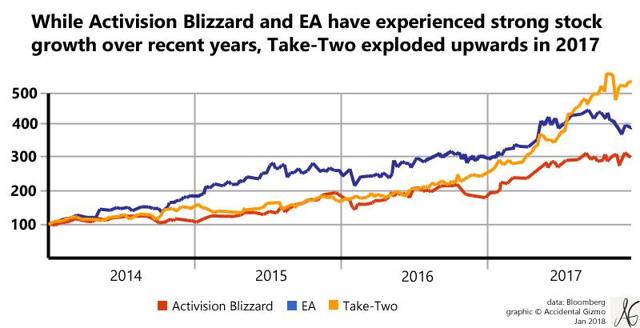 More positively, though, each company can point to specific future opportunities, ranging from new games and business initiatives to the tail-end of digital growth and the continued globalization of markets.
For Activision Blizzard, the success of its eSports Overwatch League in 2018 will be of prime importance, if not for immediate profit, certainly for long-term growth.
EA had a poor 2017 both in terms of new games such as Need for Speed Payback and Star Wars Battlefront II, and the wider loot box controversy which dented investor confidence. Its 2018 slate - including a new Battlefield game - is unlikely to underperform on a similar basis.
Finally, the release of Take-Two's Red Dead Redemption 2 will provide the first key metric in terms of whether expectations of the original's 15 million sales are already baked into the company's share price or not. It won't be the company's only big release during the year, however, as it has long trailed "a highly anticipated new title from one of 2K's biggest franchises".
More generally, it is also sensible to be aware a cursory consideration of various P/E ratios that suggests EA is somewhat undervalued compared to Activision Blizzard, while Take-Two is strongly overvalued.
Of course, aside from organic growth, there's also the probability that either or all of the three companies will leverage low interest rates and their own cash levels to buy growth via acquisitions.
During 2017, Take-Two spent $250 million on mobile developer Social Point, while EA spent $151 million, potentially rising to $455 million, on Titanfall developer Respawn. Given the upward trajectory of Activision Blizzard's financials and stock since it spent $5.9 billion on King, 2018 could see more substantial deals, however.
Growth get harder
In conclusion, growth is still on the cards for Activision Blizzard, EA and Take-Two, but the market is becoming more zero sum, which will make growth harder.
This is reflected in now maturing trends such as the rise of digital distribution and globalization, which while opening up markets in Asia to western companies, also brings increased competition into western markets.
For example, the most successful new game of 2017 was the South Korean-developed PlayerUnknown's BattleGrounds, while Chinese giants like Tencent and NetEase will continue to use their vast domestic sales to buy into western markets. Of the three US companies, only EA generates the majority of its sales from outside North America.
In the coming years, then, to maintain their success, game companies like Activision Blizzard, EA and Take-Two will have to demonstrate their ability to operate and compete at the highest level. The days of profitability gained passively by the rising tide of digital revenues that's floated all boats amidst static sales is over.
Disclosure: I/we have no positions in any stocks mentioned, and no plans to initiate any positions within the next 72 hours.
I wrote this article myself, and it expresses my own opinions. I am not receiving compensation for it (other than from Seeking Alpha). I have no business relationship with any company whose stock is mentioned in this article.