I like to revisit my bearish research quite often, particularly those that did not work out as well as hoped. In the current bull market that continues to wind higher, it has been an incredibly tough job to create value on the short side. To put the odds in perspective, over the past year, 75% of S&P 500 companies had positive returns. For those of us that take a bottom-up fundamental approach, it has been a struggle fighting the tape.
For this reason (among others), I've always taken a "basket of junk" approach to my short investments to balance out risk. While I've had more than a few winners – Mattel (MAT), TreeHouse Foods (THS), Constellium (CSTM), Celadon Group (CGI), US Ecology (ECOL) are all closed shorts that were profitable in 2017 – there were several snafus that didn't play out quite right. Tutor Perini Corporation (TPC) is one of them, and is the company of discussion today.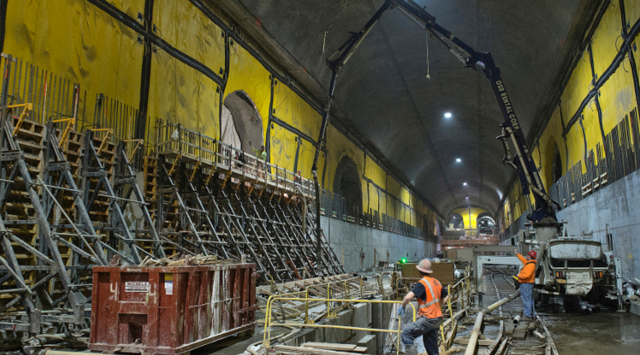 *Tutor Perini workers working on the East Side Access project in Manhattan
The company was a short call for mine within Industrial Insights late in 2016 heading into the election - it ended up being the perfect example of how sometimes investors on the short side need to get out of the way of massive prevailing market sentiment. Tutor Perini went parabolic on the news of the Republican victory, with shares spiking nearly 50% peak to trough from early to mid November.
While nothing in the thesis had changed, it was readily apparent that sentiment was going to outweigh any catalyst opportunities for the next several months. Shares peaked at more than $30/share – outlandish in my view – before starting to slowly bleed off throughout the middle of 2017. As a refresher, the short thesis here revolved around a few key points:
Poor cash flow conversion and consistent negative working capital, primarily from claims and change orders. For those that do not know, these are add-on costs that the company deems unforeseen and not the contractor's fault that the company books to complete a project. These are not included in the company's initial bid to win contracts. The company recognizes revenue based on these claims based on management's opinion that these claims are eventually recoverable.
The above ties into the second point: poor industry reputation. Tutor Perini has built a reputation for submitting the low bid on contracts, only to come in later on with a vast variety of claims to make up the difference. This reputation admittedly spans decades, and investors can find instances mentioning this as early as the beginning of the 1990s.
Potential catalyst within its revolving credit line. Bank of America, the long-standing lender, has grown increasingly frustrated with poor cash flow conversion, and began pushing for covenants regarding liquidity and leverage. While the company has cash, a large portion of it has historically been locked up in joint ventures with access restrictions, unavailable for use. Back late in 2016, the credit line was amended to bring the maturity of the revolving credit lien ahead of the maturity of its 2018 bonds.
It was simple and sweet, and the market has chosen to fundamentally ignore continued problems at the firm. While there are some positives as far as project awards go throughout 2017 (backlog up 20%, particularly strong in the high margin Civil segment) and book-to-bill remains high, there are strong negatives at play here. The guidance cut is, of course, the predominant issue most investors will latch on to. As part of the Q3 2017 conference call, management cut expectations, with the mid-point of its outlook now at $1.83/share for the year, down from $2.25/share prior.
That's a cut of nearly 20%. Less clear to the average investor is management's consistent failure to overpromise and underdeliver. I question management's decision to conduct a survey among buy and sell-side analysts, portfolio managers, and other shareholders to figure out why the company continues to trade at such a large discount to peers:
The areas of concern included not surprisingly, our history of inconsistent cash flow generation driven by our unbilled receivables issue and our debt level. In addition to certain participants noted that our results at times have not matched up with expectations set by management.
Who would have guessed? I hope that study didn't cost much in the way of administrative costs or take too much of CEO Ronald Tutor's time. While on the topic of results not matching with expectations set by management, I think it is worth highlighting this statement from the Q4 2016 conference call:
In addition we continue to focus intensely on reducing our unbilled costs and of course the ensuing cash collections and have generated the strongest operating cash in the last eight years. We believe that 2017 will again significantly reduce our unbilled costs which of course will generate the cash flow that follows.
Keep in mind "strongest operating cash flow in eight years" still meant a $62mm negative working capital build that year, resulting in just $113mm in cash from operations. The bar was incredibly low, and 2017 has seen the company resume old habits. Through the first nine months of 2017, despite management committing to fixing its cash flow problems as highlighted above, Tutor Perini has booked another $143mm of negative working capital as accounts receivable have continued to build.
This could worsen by year end, given Q4 has historically been one of the worst quarters for the company when it comes to working capital. To put these numbers in perspective on a nominal basis, versus 2016 year-end there is an additional $88mm in unapproved change orders floating around out there, as well as another $28mm in claims. Total costs and estimated earnings in excess of billings now stands at $902mm. There is a lot of risk floating around in those murky waters in my view, despite management saying progress has been made and it is simply hard to see in the financials.
Debt Refinancing
This was an overall positive for Tutor Perini, but there are some issues to call out. Heading into the end of 2016, the company had $298mm outstanding on its 6.875% Senior Notes, $148mm on its Revolving Credit Line, and $55mm on its Term Loan, all expiring this year. Management capitalized on the Trump win and hopes for several big years coming up in its higher margin Civil Infrastructure segment, issuing $500mm in new 2025 Senior Notes at 6.875% in a private placement.
I think those notes are, honestly, a steal for the firm given the underlying risk. On the Revolver, the company has kicked Wells Fargo to the curb, with SunTrust now the Agent and Swing Line Lender. This matures in 2022, and has $350mm in available capacity. The facility carries interest rates at LIBOR plus between 150-300bps based on consolidated leverage, which is largely in-line with the rates on the prior facility. Weighted average rate of interest expense was 3.86% during the first nine months of 2017, and this should move incrementally higher throughout 2018 as there is no fixed to variable interest rate swap in place.
SunTrust is protecting itself here, with a maximum consolidated leverage of 4x in the beginning, stepping down to 3.25x by Q1 2019. Importantly, that level of aggressiveness was not in the prior agreement. While at first glance there appears to be $664mm in net debt, restricted cash needs to be backed out, which totaled $66mm at the end of Q3 2017. That brings actual net debt, as mandated by the loan documents, to $730mm. Leverage, as a result, is 2.8x given new 2017 adjusted EBITDA guidance.
That's pretty tight, and in sum total a 20% contraction in ttm adjusted EBITDA from 2017 levels would be enough to force a covenant violation. That's a slim margin for error (see California High Speed Rail Project note below), and underpins management's confidence, at least at this stage, in their future earnings potential.
Takeaway
Out of the company's publicly-traded peer group, which includes Fluor Corporation (FLR), AECOM (ACM), Jacobs Engineering (JEC), and McDermott International (MDR), Tutor Perini continues to trade at a substantial discount. At the end of the day, that discount comes down to cash flow conversion. Until management can stop making excuses and show real, tangible results on this facet of the business, it is never going to see materially higher prices.
Sell-side analysts on Wall Street love the company; the average price target on the Street is 35% above current share prices. EBITDA expectations are certainly high at $325mm. This more than 20% bump is largely due to expectations that the California High Speed Rail Project, a $1,500mm award that was pushed out two years by right-of-way issues, will begin next year after delays. That isn't guaranteed, as despite the fact that construction has begun across most of the state, litigation and political challenges continue to crop up.
Infrastructure spending is a trend I can buy into. Catalysts are high across a lot of sectors to benefit from higher federal, state, and municipal spending, but after all the factors involved here, I don't see the allure on the long side.
Thank you for reading this Seeking Alpha PRO article. PRO members received early access to this article and get exclusive access to Seeking Alpha's best ideas. Sign up or learn more about PRO here.
Note: Subscribers at Value Investor's Edge, as well as my own service Industrial Insights, received an early look at this research. Consider joining two of Seeking Alpha's premier services to unlock access to valuable investment analysis that is not publicly available.
Disclosure: I/we have no positions in any stocks mentioned, and no plans to initiate any positions within the next 72 hours. I wrote this article myself, and it expresses my own opinions. I am not receiving compensation for it (other than from Seeking Alpha). I have no business relationship with any company whose stock is mentioned in this article.