A one-page memo by Attorney General Jeff Sessions sent a chilling wave of uncertainty across legal marijuana industry on Thursday. Sessions provided new guidance regarding enforcement of marijuana laws and rescinded previous guidance by the Justice Department during former president Obama's term. This sent U.S. cannabis stocks plunging by around 30% across the board on that day (up to 40% intra-day) - a painful loss for many investors. The Canadian space dropped 10% on that day.
The Sessions' memo was widely interpreted by the media as reversing the Obama's DOJ policies not to interfere with state laws that allow legal use - see a typical example by USA Today here of chilling news crossing on Thursday morning. But what does it really mean for the budding industry? I'm not a lawyer, and below are simply my opinions based on the analysis of facts as we know them today (all comments are welcome below). From what I read in the DOJ memos, from comments by people involved in the space, and the market's reaction, it seems to me that state legal markets will continue to develop, and U.S. cannabis stock gains will slow, but not stop. See my previous article for reasons why I think gains in the U.S. cannabis space should continue this year, and some general background.
Previous DOJ Memos
Let me first summarize the previous DOJ guidance on marijuana law enforcement. The DOJ had issued five guidance memos on the subject from 2009 to 2014. They are listed in Sessions' memo (you can find them all on the DOJ website, here's the 2014 memo). Their message is fairly consistent:
The DOJ is committed to enforcing the Controlled Substances Act (CSA);
Some states enacted legal use;
Given its limited resources, the DOJ gives principles/priorities on what should be prosecuted at state vs. federal level.
The first, 2009 memo by then-Deputy AG David Ogden specified 7 "characteristics" pertaining to illegal activities of "potential federal interest." These characteristics are fairly broad, including:
unlawful possession or unlawful use of firearms;
violence;
etc.
However, in the last three memos by then-Deputy AG Cole, there are 8 "priorities," and those that correspond to Ogden's are now more narrowly defined, e.g.:
preventing violence and the use of firearms in the cultivation and distribution of marijuana.
So, you can see how confusing it could be to federal attorneys and law enforcement: should we use the 7 priorities from 2009 or the 8 Cole's principles? What if there's an armed robbery of large quantity of marijuana from someone's house, not in "cultivation and distribution"?
Sessions Cuts The Clutter
Let us remember that AG Jeff Sessions, formerly a long-time Republican senator, doesn't just dislike Obama-era DOJ marijuana policies. He probably dislikes all Obama's policies. Most of previous president's executive orders were repealed early by the new administration - so, rescinding some old DOJ guidance should not come as a surprise.
Only three paragraphs long (again, you can read it here), it cuts to the chase:
The DOJ is committed to enforcing the CSA;
In deciding which marijuana activities to prosecute, follow well established principles that govern all federal prosecutions, first

set forth by AG Benjamin Civiletti in 1980.
What's missing are state laws legalizing marijuana use, but Sessions mentions "all applicable laws, regulations, and appropriations" - one can assume that these include state marijuana laws. So, most of the elements present in Sessions' memo were already present in the earlier DOJ guidance, and the message is generally consistent: the CSA will continue to be enforced. The largest shift, as I see it, is reverting to the laws and "the Department's well-established general principles," cutting layers of marijuana-specific DOJ "guidance" which he sees "unnecessary."
Make no mistake, however: Sessions is fully committed to be tough on drug-related crime. Sessions' opens his memo with:
In the CSA, Congress generally prohibited the cultivation, distribution, and possession of marijuana. [cites statutes] These statutes reflect Congress's determination that marijuana is a dangerous drug and that marijuana activity is a serious crime.
Let's compare it to corresponding language from the Cole memos. In August 2013 Cole writes:
Congress has determined that marijuana is a dangerous drug and that the illegal distribution and sale of marijuana is a serious crime that provides a significant source of revenue to large-scale criminal enterprises, gangs and cartels.
And in February 2014:
...Congress' determination that marijuana is a dangerous drug that serves as a significant source of revenue to large-scale criminal enterprises, gangs and cartels.
"Serious crime" disappeared in 2014, and we can clearly see the softening of the DOJ's guidance, which Sessions stops on its tracks. But then again, neither the earlier 2009-2014 guidance, nor Sessions' memo, change the actual statutes.
What it means for the industry
Recreational and medical marijuana use will continue in the states where it's legal. But it must be responsible and in fact, legal. There have been reports of problems such as increased use by minors (reflected in some of reader's comments to my previous article - thank you). The DOJ's tougher stance should help prevent instances of sloppy controls which may lead to leakage of legal to illegal market. This will be good for the cannabis industry in the long run.
The cannabis community should recognize and make good on its responsibilities if it's expected to be a viable industry. For example, the "seed-to-leaf" tracking system which was botched up, needs to be implemented.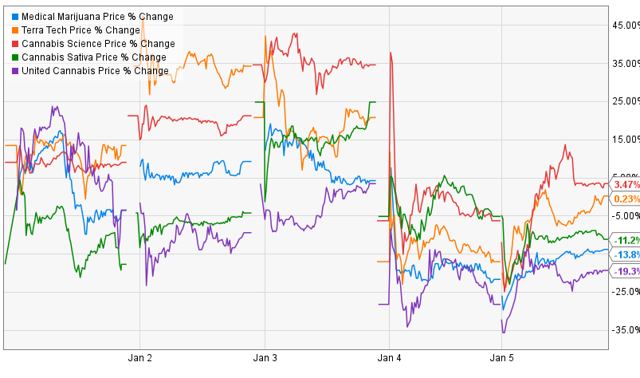 The nearly-10% rebound on Friday, Jan 5, the day that followed the carnage, was encouraging. But I'm guessing that the regime of daily 10-20% gains is over, gains should moderate going forward. I also think that investors will be more selective and differentiate according to company fundamentals (see below).
Stock highlights
I will finalize my Buy/Sell recommendations in the next article, but here are highlights and some of my best/worst favorites at this point. I have listed in this table most U.S. cannabis stocks down to around $50m in market cap (although not all are listed in $50-$100m range). Note that all U.S. cannabis companies are still small- or micro-caps, and most are penny stocks, listed as OTC issues - all this means significant investment risks.

If and when you are ready to invest in cannabis stocks (having done your due diligence and considered very high risks), I would recommend these general portfolio principles:
Invest only a small portion of your overall portfolio in cannabis
Diversify among cannabis sub-sectors: medical and recreational retail, equipment/infrastructure, services, etc. (the Sector in the table is very high level, only a starting point).
Use company fundamentals to select better-quality names.
It's remarkable how terrible fundamentals look for some names that achieved considerable size. My "winner" of the worst stock in the category is WEED Inc. (OTCPK:BUDZ). The company invests in cultivation centers and provides related services. It's based in Tucson, AZ and has three employees. While its press releases refer to a couple of contracts that are expected to generate a couple of million dollars in revenue, the company is not fully-reporting entity - i.e., it doesn't report quarterly financials. Despite of this, its stock skyrocketed and elevated it $875m market cap (as of January 5th), the largest in the U.S. cannabis space.
Several other companies achieved above $100m in capitalization with nearly as bad fundamentals. Many of them have hardly ever generated any revenue: CannaGrow (OTCPK:CGRW), Cannabis Sativa (OTCQB:CBDS) and United Cannabis (OTCQB:CNAB) all earned around $1m in revenue or less last year, and are expected to generate $1.2m or less in 2017. This puts their valuation at 78.6 price/sales or higher. General Cannabis (OTCQX:CANN) and Cannabis Sativa also had considerable net losses, with -$32.8m for CANN. It is true that in such a developing space financials might look bad while a company invests in future growth - but there's a limit.
Finally, those that I like:
Terra Tech Corp. (OTCQX:TRTC)
The company's marijuana business is vertically integrated. It has previously focused on grow equipment business for hydroponics and marijuana cultivation. It's become the leader in this space, with $25.3m in last year's revenue. It has now added a marijuana retail network, with its six brand-name dispensaries now open in Nevada and California, and adding more. We expect current-year revenue to be $40.4m - a 60% YoY growth rate, which gives around 7 price/sales ratio - on the low end for the space. With CA legal sales having just begun on January 1st, we expect a further significant pickup in growth in 2018.
PotNetwork Holding Inc. (OTCPK:POTN)
This is a smaller, less visible company which already achieved strong fundamentals. The company sells its branded medical cannabis products through its website and over the phone, primarily in Florida. it grew its revenue rapidly in the past several quarters, and we estimate current-year revenue of $17.8m, giving it valuation of 2.8x sales, the lowest in the space. Attractive cost structure and spending discipline allowed the company to achieve positive, and growing, net income.
Summary
Sessions' memo from last Thursday signals the DOJ's tougher stance on marijuana law enforcement. I described how this does not contradict but is, in fact, consistent with maturing and responsible legal marijuana industry. I think that that state legal markets will continue to develop, and U.S. cannabis stock gains might slow, but will not stop. I also think that investors will be more selective and differentiate according to company fundamentals, and I provided several of my best and worst picks according to fundamentals.
Disclosure: I am/we are long TRTC, MJNA, POTN. I wrote this article myself, and it expresses my own opinions. I am not receiving compensation for it (other than from Seeking Alpha). I have no business relationship with any company whose stock is mentioned in this article.
Additional disclosure: Roman Chuyan, CFA is a partner of Model Capital Management LLC, a Registered Investment Adviser. This article is for informational purposes only. There are risks involved in investing, including loss of principal. The author makes no explicit or implicit guarantee with respect to performance or the outcome of any investment or projections made by him or Model Capital Management LLC. There is no guarantee that the goals of the strategies discussed in this article will be met. Information or opinions expressed may change without notice, and should not be considered recommendations to buy or sell any security.
Editor's Note: This article covers one or more microcap stocks. Please be aware of the risks associated with these stocks.