MoviePass is not your average private tech company. It is not led by a merely average CEO either. Mitch Lowe, on the cofounding team at Netflix (NFLX) as well as the past President of RedBox, is a maverick. He is not resting on his laurels of being able to twice confound the investment community with the success he had seen at both Netflix and Redbox. He is advancing his dream of redefining Hollywood; This time his aim is to draw upon the desires of the largest population in America, the Millennials! The deal website, Slickdeals LLC, named MoviePass as the #2 highest rated deal in 2017.
The viral expansion of MoviePass has "hit a nerve in America", according to CEO Mitch Lowe as this historic rate of expansion has come at zero cost to the company. One could call him a dreamer although I would use the word visionary. A visionary see things as they can be not as they appear. A visionary in the Movie Experience space, he foresaw millennials as the saving force of the theater industry. This vision came at a time when theater executives were fearful of the future and cashing out on the business altogether as AMC Theaters did in seeking to a Chineese corporation and Regal Theaters recent sale to a U.K. corporation. Tanza Loudenback writes, in an article in Business Insider that "The best purchase I've made all 70% stake year costs $10 a month". Engadget recently wrote, MoviePass, the deal that eliminates the eye-watering cost of going to the flicks, has passed the one million mark in paid subscribers -- not bad for a service that movie chain AMC (AMC) lambasted as "unsustainable" earlier this year." The following photo was taken recently in front of an AMC Theater.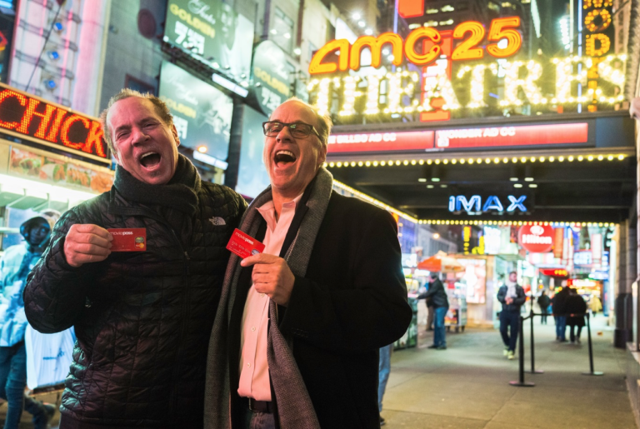 I understand the bullish view and the bearish view and that both bulls and bears have made money on the MoviePass saga to date. The recent reversal of the parent company's stock indicates strong bullish sentiment as Act II of the story unfolds. I also understand as we're seeing with the Spotify IPO filing that Wall Street place huge emphasis on revenue growth rates. Thanks to Helios & Matheson (HMNY) taking a majority stake in MoviePass, ordinary investors are able to invest in a potential Unicorn before the initial public offering. I believe this is the reason for the unrelenting bearishness in financial industry's coverage of MoviePass. Recently, Costco (COST) began offering the annual plan on their website for members and non-members of the club for $89.95 a year including the Fandor streaming service. The deal is set to expire, unless extended once again on January 10, 2017.
MoviePass, which HMNY owns nearly a 70% stake in the potential tech Unicorn, is scheduled to release the filing for the IPO. "The privately held company, which is looking to take itself public as soon as January, does not yet report results". Not everyone understands their vision of a CEO deemed to have on his hands the next unicorn. This was the case with Netflix, Spotify, Tesla (TSLA), as well as Roku (ROKU). You may very well be seeing the moment of a lifetime as we witness the explosive subscriber growth of MoviePass. The revenue run rates in the coming months will continue to tell their story.
One of the keys to this explosive growth rate is the word of mouth of millennials, Generation Xers, and baby boomers alike. Word of mouth carries the MoviePass story as millennials use of YouTube for product and service reviews have exploded with hundreds of young reviewers posting reviews. Here are some links of video reviews from Potato Jet and StephiRaye. Each reaches a very unique demographic and each is comical in their own manner.
It was often at dinner tables during the holidays that millions of more people heard about MoviePass. For every one person who signs up i estimate that they will tell 7-10 people about the service before they even receive their card let alone try the service. No one likes to go to the theater alone! At this rate the service could exceed 4-5 million subscribers before the official start of summer.
MoviePass expects to launch family passes and couple passes that allow multiple tickets on one card as well as a premium service plan that includes both 3D & IMAX to the plan. I have been a MoviePass subscriber since May of 2013 and truely love the service. Back then very few people had heard of MoviePass while now it is the talk of the pub, the restaurant, the barber shop, and in the ear of Uber/Lyft drivers alike.
This article focused on subscriber growth. Also heavy in the minds of investors is the treasure trove of data and analytics that MoviePass will have on their hands. It doesn't end there either as MoviePass users pass 2MM in days the coming weeks. The ability of the tech company to leverage explosive growth through studio deals and distributor deals is equally as explosive. One only has to look to the Goldman Sachs Deal as it facilitated the Studio Movie Grill equity deal with MoviePass to see the effects upon Exhibitors as they partner with MoviePass. They has seen "record attendance" for its cinemas in 2017 as a result.
The ability of MoviePass to draw moviegoers to certain Indie films as well as to Amazon Studios (NASDAQ:AMZN) original motion picture Last Flag Flying this past fall is impressive. As MoviePass gains scaleability I expect those effects to increase even further. If there is one thing Amazon Studios desires is to gain a foothold into the theaters nationwide and it will likely by MoviePass that provides such traction as they push moviegoers to certain films and to certain exhibitors. Amazon has been extremely vocal as to what their vision is. Amazon Studios allows individuals to submit movies scripts and/concept videos allowing "visionary storytellers" to present their ideas with no strings attached. MoviePass helped Lionsgate/Amazon Studios' "realize a further 53.3% increase in ticket purchases for the title."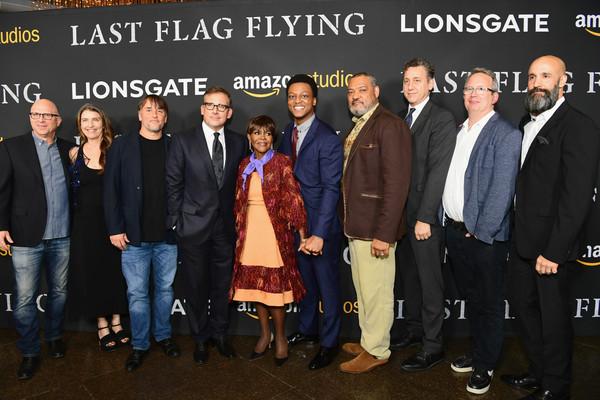 I see 2018 as the year the exhibitors will need to make a decision to embrace this revival fully from the inside or be partially left out. MoviePass, as they further build out the App and the entire movie night experience, is expected to begin to drive participation to partner exhibitors though discounts and marketing efforts.
Helios & Matheson has been actively engaged in the FinTech space since early 2016 and attending FinTech conferences. Their executive, Mr. Crossier, when he came aboard as VP of Financial Services has previously discussed the ongoing transformative FinTech projects under development.
HMNY has also has acquired patents and Tech from Trendit (a U.K. company) that allows for crowd sourced behavior artificial intelligence that uses the GPS of your cell phone. Such tech which originally was meant for RedZone Maps but could easily be integrated into the MoviePass app to provide even more access to big data & AI as it has to do with the Behavior of the Crowd using artificial intelligence.
The final tech the HMNY holds that could be valuable to MoviePass is 20 Million licenses for facial Recognition software from an Israeli biometrics tech company IsItYou that could be integrated into the MoviePass App for security and fraud detection.
If if you enjoyed the article, feel free to comment and/or subscribe to my articles. I tend to write articles regarding Tech, Cryptocurrency, Cyber Security, and BioPharmaceutical. Peace Out!
Disclosure: I am/we are long HMNY. I wrote this article myself, and it expresses my own opinions. I am not receiving compensation for it (other than from Seeking Alpha). I have no business relationship with any company whose stock is mentioned in this article.
Additional disclosure: This article was meant for the purposes of education and should not be seen as financial advice. Any information is purely informational as I report what is already disclosed to the public. You should do your own due diligence and come to your own decision upon the merits of your research. No price targets are provided. While I was engaged in the venture capital industry in the past, I currently am not involved with any investment firm and do not provide financial advice of any kind to the public. Before you even think of investing in any opportunity you should first due your own due diligence and/or contact a financial advisor that understands your risk tolerance as well as investment time horizon.
Editor's Note: This article covers one or more microcap stocks. Please be aware of the risks associated with these stocks.