Now that 2017 has passed it's time to summarize what's happened during these 12 months and try and see if one should change anything in the strategy for 2018 or just continue with the same investment strategy as previous year.
I can just start with saying that I think I did ok this year. I did not beat the S&P500 and it will have some impact on how I will tackle 2018. It was also a tough year as a non-US investor since the value of the Dollar (USD) went down 10% compared to the Swedish Krona (SEK) during 2017.
Changes in the portfolio during Q4 2017
I sold my position in New Senior Investment Group (SNR) because of several articles which concluded that the dividend probably was unsustainable and would have to be cut within a year. I took a loss on my position but would have lost more to wait longer with selling (as it looks today).
Sold my Kroger (NYSE:KR) stocks. Food being a low-margin business and with a meager 4% increase to the dividend together with a low yield got me to take my profit and put the money elsewhere.
I trimmed my Starbucks (SBUX) position. I'm pretty fed up with the non-movement in the stock price but want to keep part of the position due to the dividend growth.
I added to my positions in Boeing (BA), Omega Healthcare (OHI) and Uniti Group (UNIT). I believe Boeing will go higher during 2018 and the company has a very nice dividend growth along with a decent yield. Omega Healthcare is down a lot and I see the current price as a buying opportunity. Same goes for Uniti. I believe the stock price will somewhat normalize during 2018 which together with a high dividend will make up some nice gains.
I also bought stocks in a Swedish industrial goods company Atlas Copco (STO: ATCO-B) (OTCPK:ATLCY) (OTCPK:ATLKY). The company will split into two separate companies in early 2018 and I believe this will create more value and boost the combined stock price.
Portfolio performance
My portfolio value on Jan 1st, 2017 was $13,161 or 120,028Kr (SEK/USD:9.12). The value on Jan 1st, 2018 was $25,472 or 208,872Kr (SEK/USD:8.20). I've added a total of $9401.5 or 81000Kr throughout the year.
Since the capital has been added continuously every month it's hard to get an accurate percentage number to evaluate the performance. Therefore I've compared the absolute numbers. If I'd invested all the money directly into the S&P500 I would have had $25,690 at the end of the year so I didn't beat the index, but I was only a smidge off with $25,472. The S&P was up 20.41% in 2017. Counting backwards from this gives us my portfolio performance, +19.39%. The numbers don't look as great when looking at them in SEK. Performance in SEK was +7.34%, which still is better than the Swedish index (OMXSPI) which ended 2017 +6.59%.
Dividends collected were up 11.83% compared to 2016 despite changing the portfolio composition from high-yielders to more conservative companies and growth companies.
Hopefully the USD will get more expensive again but until then I'll be buying more stocks with cheap dollars.
Portfolio as of Jan 5th 2018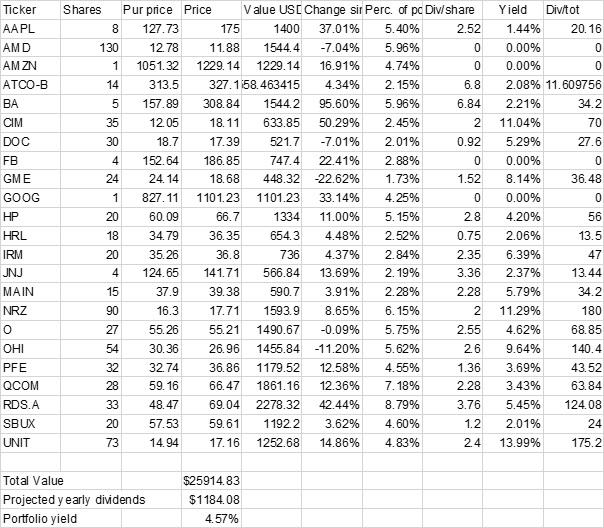 Strategy for 2018
Since I got beat by the S&P 500 this year (although only by a teeny tiny bit) I've thought a bit about if I should make any changes to my portfolio. I could introduce an ETF to more closely follow the index. I could also add more companies to further diversify and make the portfolio more index-like. Both options will reduce the impact of losses as well as gains in a single company, which has its merits but also removes some of the excitement about stock picking. This will take some thinking but for now I will just keep the portfolio as it is and gradually add to my positions. I do have a watch list with companies I'd like to add eventually but I haven't had the cash to do so yet. The watch list contains, among others, Microsoft (NASDAQ:MSFT), Honeywell (NYSE:HON), Texas Instruments (NYSE:TXN), Visa (NYSE:V) and 3M (NYSE:MMM).
Disclosure: I am/we are long UNIT, BA, OHI, SBUX. I wrote this article myself, and it expresses my own opinions. I am not receiving compensation for it (other than from Seeking Alpha). I have no business relationship with any company whose stock is mentioned in this article.
Editor's Note: This article discusses one or more securities that do not trade on a major U.S. exchange. Please be aware of the risks associated with these stocks.