The U.S. Energy Information Administration (EIA) should report a very significant change in natural gas storage this week compared to the prior week. We anticipate a draw of 335 bcf, which is 10 bcf less than the comparable figure in ICE's latest report for the EII-U.S. The EIA Financial Weekly Index was 177 bcf more than a year ago and 142 more than the five-year average for this time of the year. Indeed, this Thursday's report is likely to set many records.
First of all, it will be the first 300-plus draw in recent history. In fact, it will probably be the biggest storage draw ever to be reported. Second, it will be the biggest draw in relative terms (i.e., compared to the five-year average and year-ago figures) since December 2016. Third, this week's report is likely to confirm that the natural gas storage level is now below its five-year minimum level, which has not happened since December 2014.
We estimate that the number of heating-degree days (HDDs) increased by 18% WoW across the country (except for the western states). Bitter cold not only spurred heating demand but also put a temporary dent in dry gas production - specifically in North Dakota's Bakken region. The latest weather models are returning some mixed results. The ECMWF midrange forecast is projecting the following:
Above-normal HDDs for the week ending Jan. 19
Below normal HDDs for the week ending Jan. 26
Normal HDDs for the week ending Feb. 2
The ECMWF 00z Ensemble short-range model has started to trend less bearish, especially since Jan. 16. The CFSv2 long range model is still projecting above-normal HDDs in both January and February. Overall, we believe that the number of HDDs will drop some 35% this week, but rise by 19% next week (see chart below). We expect natural gas consumption to rise by 18% YoY in January.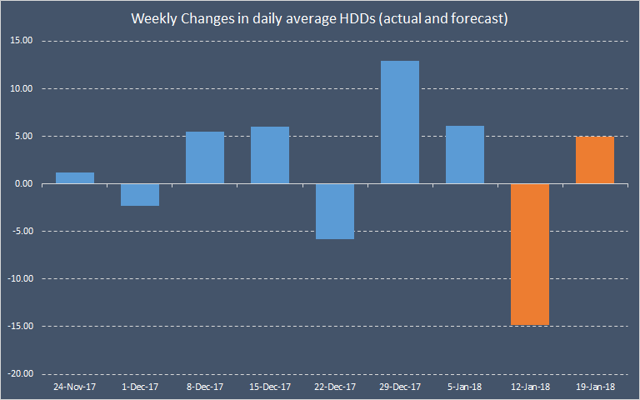 Source: Bluegold Research
There is currently a double deficit in natural gas inventories - i.e., the amount of natural gas in underground storage is smaller compared to the previous year and also compared to the five-year average. We expect this double deficit to continue expanding, albeit at a slower pace than previously. That does not mean, of course, that natural gas prices should just rise in an uninterrupted fashion. If you want to know how we're navigating through the current market environment and see our trading exposure, consider signing up for our exclusive content (see link below).
We project that natural gas inventories' deviation from the five-year average should expand from -5.79% today to -15.94 % for the week ending Jan. 19.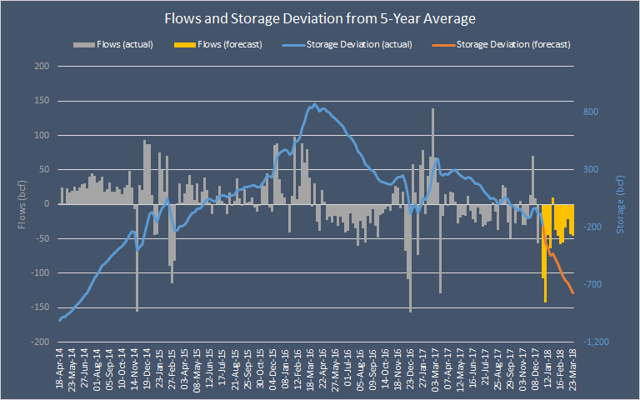 Source: Bluegold Research
Thank you for reading our weekly report. We also write a daily update of our forecast for key natural gas variables: production, consumption, exports, and imports. Interested in getting this daily update? Sign up for Natural Gas Fundamentals, our Marketplace service, to get the most critical natural gas data.
Disclosure: I/we have no positions in any stocks mentioned, and no plans to initiate any positions within the next 72 hours. I wrote this article myself, and it expresses my own opinions. I am not receiving compensation for it (other than from Seeking Alpha). I have no business relationship with any company whose stock is mentioned in this article.
Additional disclosure: We are long natural gas futures and short natural gas cash.