Most baseball fans will have issue with this analogy, given the Philadelphia Phillies were bottom dwellers again in 2017 while U.S. stocks were highly successful, but bear with me. While the Phillies' lousy winning percentage (.407) shares nothing in common with the capital appreciation seen in stocks last year (+21.8% total return for S&P 500 Index), the Phillies' prospects for the year ahead may share much in common with equities. Few baseball fans would give the Phillies a chance again in 2018, and many stock market enthusiasts would likewise argue against stocks now on the basis of valuation, but this diehard fan of each is seeing the Phillies and stocks under-appreciated for the value creation I expect in 2018.
It's true that my independent track record with stocks is far more accurate than my home-fan favoritism of the Phillies et al Philly sports clubs, though I did become a season ticket holder in 1993 in anticipation of the World Series run my club made that year. In the case of the Phillies, nobody outside of Philly is buying yet based on popular value assessment, or lack thereof. Even I believe the team is still a few key pieces away from perfection. In the case of stocks, many argue that their perceived rich P/E valuations and Fed policy are serious red flags for the year ahead. I think both points of pessimism are wrong, though I'll discuss the reason for Fed policy in-depth in my next market report. Each asset class, the Phillies and stocks, should reward relative enthusiasts and true believers in the year ahead. For stocks, I believe that means we can look forward to returns like those witnessed in 2017, or better.
Why the valuation argument doesn't hold for stocks (or the Phillies)
The rich performance of the stock market last year does not dictate poor (or rich) performance this year. The random walk theory shows that the performance of stocks in the future (on a day-to-day basis, anyway) should have nothing to do with past performance. Though, we know that stock price dances around an equity's intrinsic value driven by changes to various factors, whether they are macroeconomic, industry or company specific in nature. Over the long-term, these dynamic fundamental factors do dictate the price performance of shares, or are fundamental to share price performance.
While I share these views, I also believe something is changing in the marketplace that is worth noting, especially for very short-term holdings. Today, I believe so many investors/traders (and invested capital) are employing algorithms and technical analysis that they are actually causing the manifestation of what their technical analysis tells them will happen, in the short short-term anyway. Capital flow drives capital after all. With the broad delivery of technical trading tools to individuals and the feels like increasing use of mathematical models by money managers, we are perhaps superficially solidifying beta coefficients near 1.0, again, for the short short-term. Call it a self-fulfilling prophecy, and my original theory for a development in short short-term performance.
Fundamentally speaking, value minded investors will make arguments against stocks or groups of stocks when valuations exceed historic or otherwise justifiable levels, and they do well to be so mindful of value. The P/E ratio of the S&P 500 Index, tracked by the SPDR S&P 500 ETF (NYSE: SPY), is today (January 5) approximately 22.1X or 26.4X on an "as reported" basis, versus the historic average mark of just 15.7X. The forward P/E ratio of the S&P 500 Index is approximately 19.3X (on forward estimates for 2018), which still looks expensive to the layman and most experts, on the surface. But critical observers of the measure of value must acknowledge that it is today flawed.
Over the course of the coming days and weeks, in some cases, analysts will be adjusting their earnings estimates for the companies they follow to account for the significant shift in America's taxation policy. I know from experience as a senior equity analyst that we should not expect consensus estimates to immediately reflect the important change that is occurring to P/E ratios due to significant tax reform and its impact to earnings. The result of the analytical community's adjustments to their earnings models will be a gradual downshift or drop in P/E ratio to a level significantly lower than before the tax change. Believe it or not, many of the changes may not occur until after this quarter's earnings are reported. Thus, what seems expensive today will look okay tomorrow, and stocks are reflecting that understanding with their advancing prices since the legislation was penned into history.
I believe we just witnessed the most important fiscal-policy-driven creation of value for shareholders in my lifetime, and possibly ever. Moving from a 35% corporate tax rate to a 21% rate frees up a significant level of pretax earnings to fall to the bottom line. More importantly, it serves free cash flow (in awesome fashion), which is the most tangible basis of value for a going concern in my view. Thus, I believe the strong start to 2018 is completely justified and still understated. I expect this is just the beginning of what should be another excellent year for equities. I wrote about it in two earlier pieces that are suggested for your reading: Why Tax Reform is Huge for Stocks and Waiting with Bated Breath for Perfection.
But there is more
Both stocks and the Phillies are underappreciated, because of their prospects. Tax reform benefits should be counted on by companies and analysts, and become a permanent part of corporate capital spending decision making, and also analysts' valuation models. Similarly, the future prospects of the Philadelphia Phillies are far better than their recent past because of important changes. Few realize that while the Phillies finished the season 31 games back, they played .500 ball through the second half of the season. In other words, for those of you unfamiliar with baseball linguistics, the Phillies performed far better in the second half of the season than their fatal finishing record indicates.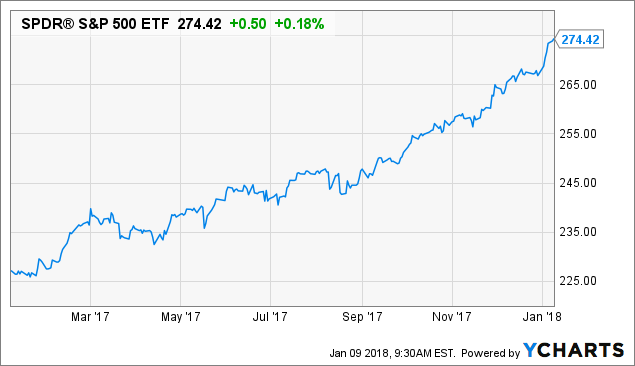 Stocks performed well last year too, but they too finished superbly, I believe on the back of tax reform expectations developed and realized. And the prospects for stocks are likewise hopeful, in my view. Most equities should see capital inflows as they benefit in some form from their tax-relative forward free cash flow windfall. And there is a trickle-down effect to the broader economy, extending through to vendors, suppliers, equipment providers, customers, employees and shareholders. It's a circle of life, so to speak, that feeds itself. And one benefit even I didn't see coming is the immediate sharing of the windfall with employees (some 100 companies so far), most publicly at AT&T (NYSE: T) and Bank of America (NYSE: BAC).
The Phillies have a couple of prospects coming up through their minor league system that I have been following for some time. So they too will be feeding their own success. One of those prospects, like tax reform legislation, started to serve the team in 2017. Rhys Hoskins, who plays first base and now the outfield after the free agent signing of Carlos Santana, hit 18 home runs in just 50 major league games last year; and that was after lighting it up in the minor leagues over the last two years. That projects out to near 60 home runs for a full season folks. Even if he doesn't hit that many, Phillies fans should enjoy long-term benefits from his presence in the years ahead, same as stocks will continue to benefit from tax reform.
Furthermore, a few fresh catalysts are also likely in store for the Phillies and for stocks in 2018. An overachieving second baseman who has fought his way tooth and nail to the major leagues is about to make his debut, and with a splash. Scott Kingery wasn't supposed to be much of a player, but nobody told him that as he worked hard to earn everything he got. After a strong college career, he hit like thunder through the Phillies minor league system, and in 2017 posted 26 home runs and a .304 batting average. MLB Pipeline lists Kingery as the league's top prospect at second base now. In my opinion, he gives the Phillies infield options, after moving their quality shortstop Freddy Galvis for a pitching prospect to make room for the long-hailed arrival of J.P. Crawford at shortstop. If Kingery keeps up the good fight, Cesar Hernandez or Maikel Franco likewise become trade-bait for better starting pitching.
For stocks, investors have long awaited the Administration's infrastructure spending plan (read even more fiscal stimulus), and they could get it in 2018. Here we have something both Republicans and Democrats can vote for, as it should serve job creation further, and serve economic prosperity as well. There is just one problem, and it applies to both the U.S. economy and the Philadelphia Phillies; each has a limited budget.
Exceptional players and fiscal stimulus are a cost to the system on the front-end. Budget-minded congressmen and the Phillies GM Matt Klentak must be careful not to fully rely on trickle-down benefits and World Series runs to provide the hoped-for return on investment. They must also mind the budget as well as possible, and make smart moves to serve the strategy. Klentak has done a fine job at that, in my view, smartly signing quality free agent pitchers and position players with upside and trade value each season, and turning those players into building blocks for the farm (minor league system) by each season's end.
As for our government, well, varying views of where budget cuts are best made may clog the process. Ticket prices (taxes) are going down, so where will the money come from to buy that big-name pitcher we need to make it to the promised land? Some creative work, and bipartisan cooperation, is going to be necessary to find a way to finance all this fiscal stimulus, at the front end anyway. I am a believer in the trickle-down effects of tax reform, as well as its other intended effects. Thus, I expect significant capital to be repatriated from overseas and companies to move operations to U.S. shores as a result of the reform. So I do not believe we need as much in expense cuts as we have seen in revenue cuts to balance the budget and avoid future pain.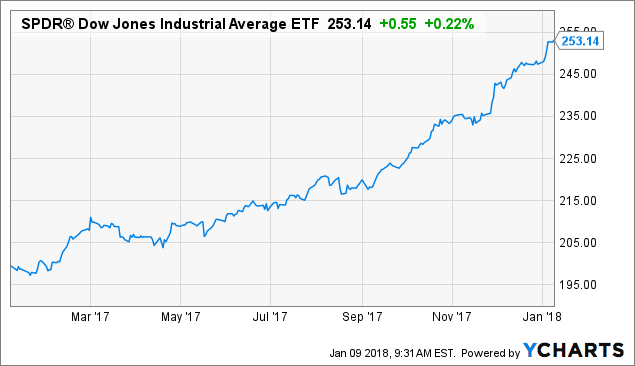 A significant infrastructure plan, along with the global economic recovery we see now in process, along with the U.S. economic surge I see in 2018, serves industrials (NYSE: XLI) like Caterpillar (NYSE: CAT) and basic materials (NYSE: XLB) stocks. The shift into these issues and those in the financial sector (NYSE: XLF) like Bank of America on deregulation, tax reform and economic growth makes for broad-based stock market gains.
Initially, we've seen capital flows disrupted from the tech sector winners of last year in the PowerShares QQQ (Nasdaq: QQQ), like Facebook (Nasdaq: FB) and other FANG shares, but they too benefit from good times. That is why in December, when Facebook came under pressure, I advised investors to see the decline as opportunity. Advertising spending should increase, after all, in good times with strong consumer spending. So, I say buy these shares on any capital flow weakness. Small caps like those in the Russell 2000 (NYSE: IWM) benefit too, by the way, from tax reform, deregulation and freer capital access, as well as from expanding GDP domestically. And expanding global demand for energy serves that sector (NYSE: XLE) as well, but is just one of the many reasons I outlined in 2017 as reasons for oil to finally break out of its range, as it has.
In short, I see good times ahead for the stock market and the Philadelphia Phillies in 2018, two of my favorite things. Let's buy our season tickets and shares in stocks and passive ETFs too like the SPDR S&P 500 (NYSE: SPY), and enjoy the ride. For more of my work on markets, asset classes and equities, readers are welcome to follow the column here at Seeking Alpha. Many thanks, and go Phillies!
Disclosure: I/we have no positions in any stocks mentioned, and no plans to initiate any positions within the next 72 hours. I wrote this article myself, and it expresses my own opinions. I am not receiving compensation for it (other than from Seeking Alpha). I have no business relationship with any company whose stock is mentioned in this article.