When Superstorm Sandy swept ashore on the U.S. East Coast in October of 2012, almost 8 million customers, from the Carolinas to Canada, lost power. Yet, if you could have looked at a cloud-free satellite photo the night after the hurricane, you would have seen "islands" of light in the darkness. Why? Welcome to the world of energy storage and microgrids.
Solar- and wind-powered batteries are coming to a grid near you
Using batteries, often wind or solar charged, for utility-scale power storage is a new, but rapidly growing component of the utility industry. Batteries, with their instantaneous response time, help flatten the duck curve by storing, then releasing energy during evening peak demand hours. The batteries can reduce or even possibly eliminate the need for peaker plants.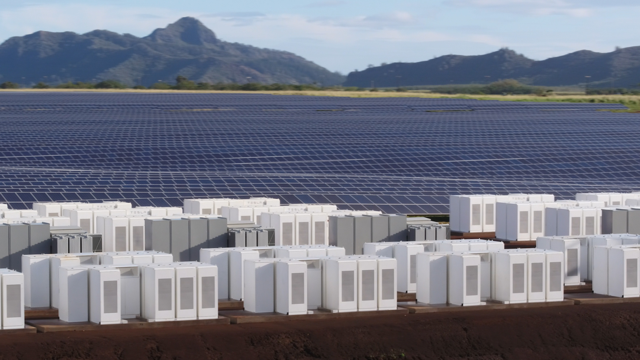 Microgrids are small (roughly 2-40 megawatt) electrical grids with on-site energy storage, increasingly using batteries. Normally connected to the main grid, microgrids can isolate themselves when the macro grid goes down due to storms, accidents, glitches, hacking, etc., and provide power to their covered area for a period of time, usually ranging from hours to days or longer.
Thanks to fast falling solar, wind, and battery costs, renewable charged batteries are becoming advantageous. And, as Elon Musk showed with his now famous 100-day Australian bet, batteries go in fast and once in place can instantaneously feed power as needed into the grid.
Islands and other remote areas are leading the way
Several years ago, I was in Matagalpa, Nicaragua, a small city in Nicaragua's mountains, a region known for its coffee plantations. Curious, I asked how the town got its electricity. The answer: Diesel fuel is trucked up into the mountains and then burned locally in an old generator. The resulting electricity is then distributed over an unsightly tangle of power lines to customers.
And so it goes for most off-the-beaten-path places; if you want electricity, you could get it but... It's expensive, polluting, and vulnerable to storms, accidents, bad roads and other supply chain disruptions.
For these situations, local, renewable-powered electric generation (wind, solar, hydro - whatever works) with storage is often best. Solar is becoming increasingly common, whether it be small microgrids or rooftop. Much of Africa outside of the cities is now, thanks to small solar systems, for the first time, getting electricity to power lights, smartphones, cooking, and more.
The Hawaiian island of Kauai (called the Garden Island for its lush scenery) has 67,000 residents, hordes of tourists, traffic jams, fast food establishments, and many resorts. Last May, Tesla (TSLA) put in a 52 megawatt-hour solar project in Kauai with powerpack storage. As the rest of Hawaii, Kauai, due to costly fossil fuel imports, has electric rates nearly triple those of the U.S. mainland so local renewables work well.
But Tesla is not alone in Kauai. AES Corp. (AES), an international utility, is now making bold moves into renewables+storage and is building a solar-storage peaker plant in Kauai. Peaker plants are usually powered by natural gas, but gas in Hawaii is expensive as it must be imported as LNG. This makes renewables the better choice. The AES facility will have 28 megawatts of solar photovoltaic capacity paired with 20 megawatts of five-hour duration batteries. Once the AES system is complete, Kauai will be generating 50% of its electricity from renewables - solar, biomass, hydroelectric, and wind.
Hawaii as a whole is on track to generate 67% of its electricity from renewables by 2030 and well on the way to achieving the state's goal of having renewables generate 100% of its energy by 2040.
Are renewable microgrids the answer in Puerto Rico?
In September 2017, Hurricanes Irma and Maria ravaged Puerto Rico and its decrepit electrical grid. Wind and falling trees took out transmission lines and other power infrastructure. Approximately 95% of the island went dark.
Even now, over three months later, the monopolistic utility PREPA (Puerto Rico Electric Power Authority) is still struggling to provide up to half of its customers with electricity. PREPA was bankrupt even before the hurricane so no one quite knows where the estimated $45 to $95 billion needed for repairs will come from.
The initial U.S. governmental response was a fiasco and that motivated Puerto Rico's government to look at alternatives. A series of microgrids almost certainly would have withstood the hurricanes in a much better shape than the traditional power grid and those in the battery+storage power business recognized the opportunity. Tesla, AES, a state consortium, Sonnen (partnered with AES), and the Puerto Rico Energy Commission all seem to agree that microgrids are probably the best way for Puerto Rico to rebuild its power grid. (I wonder how many microgrids they could build for $45 to $90 billion?)
Renewables+storage are on the mainland too
Okay, storage may make sense in areas with high electric rates. But what about the heavily populated, mainland areas which already have extensive up to date electric infrastructure?
Well, in California, Tesla, Greensmith, and AES recently completed a total of three large-scale lithium-ion battery projects totaling 70 megawatts. The idea, spawned in response to the Aliso Canyon natural gas disaster, is to store excess grid power generated during the day and then feed it back into the grid during peak evening demand hours. CPUC (California Public Utilities Commission) President Michael Picker said, "I was stunned at the ability of the batteries and the battery industry's ability to meet our needs."
I know, critics may say: "Well, that's California. What do you expect from the granola state?"
But it's elsewhere too. A small town in Massachusetts expects to save millions with its solar+storage microgrid and across the U.S. microgrids are springing up. With the appearance of utility-scale solar and wind farms storing the excess energy is becoming a necessity.
Another place to watch is Australia. This vast continent with its scattered population centers has been traditionally serviced by large, locally sourced, coal-fired plants. While Australia has lots coal, it's cumbersome to move and long transmission lines are vulnerable. This makes the sunny continent a natural for renewable powered microgrids paired with storage.
Three companies investors may wish to consider
Investors looking to invest in the utility storage market have several options. Here I profile three companies (two mentioned above) involved in renewables or renewables+storage: Tesla, First Solar (FSLR), and AES.
Tesla has a market cap of $53 billion and, at this point, is not profitable. As almost everyone knows, its main business is manufacturing electric cars (EVs). The company, however, also has its toes in several "new energy" areas. In addition to EVs, the company is into energy storage (as noted above), electric semi-trucks and pickups (planned), EV charging stations (best in the world at this point), solar panels (from the SolarCity acquisition), and solar roofs (in development). All of these areas have huge future potential.
Tesla and its oracular CEO Elon Musk is much discussed on Seeking Alpha and elsewhere and I won't rehash the bull and bear arguments for Tesla here. Rather, those interested can read for themselves. Seeking Alpha bulls include ValueAnalyst, Victor Dergunov, and Ross Tessian. Bears include John Petersen, Montana Skeptic, Bill Maurer and many others. Much to the chagrin of the bears, the bulls seem to be ahead at this point.
An important thing for investors to keep in mind regarding Tesla is that Musk (unlike most CEOs) is not driven by profits, money, success, or even fame. What drives Musk? Well, in his own words: "The thing that drives me is that I want to be able to think about the future and feel good about that." Not many CEOs have that as their first priority.
Although Musk's top priority is not his shareholders, you still might be able to go along for a ride (so to speak) with him and Tesla into a glorious future. (Perhaps not a bad bet, he is, after all, a multi-billionaire.) But do keep in mind that with Tesla's admittedly dicey financial metrics, the company may flounder.
First Solar is one of the world's largest makers of thin film PV modules and providers of utility-scale PV power. The company's technology is unique in that it sells cadmium telluride solar modules (most other solar manufacturers use silicon). The company sells its products both in the U.S. and globally and its inexpensive and efficient panels look to be a natural to pair with batteries.
First Solar has a long list of projects recently booked or completed. In just the last two years, it has completed or booked projects in Australia, India, the U.S., Jordan, Thailand, France, Pakistan, and elsewhere.
In an important development, last December, the company introduced its Series 6 modules which at least one Seeking Alpha author thinks may reduce manufacturing costs by up to 40%. Considering that the even before the Series 6 the company was considered one of the sector's low-cost producers, the Series 6 may be a very bright future, once again driving down solar costs.
Finally, regarding First Solar, it should be noted that if the Trump administration puts punitive tariffs on solar imports, First Solar would, by default, inherit by default most of the U.S. solar market.
AES is a $7.2 billion market cap international utility with power generating plants in Central and South America, India, U.S., Europe, and elsewhere. The company uses a mix of fuels to generate electricity - coal, gas, hydroelectric, wind, and solar. A complex but pragmatic company, AES now appears to be moving away from its fossil fuel origins and into the renewables+storage arena.
Starting in 2011, AES has been remaking itself. It's been selling fossil fuel based assets (most recently in the Philippines) and using the proceeds to pay down debt and boost the dividend. If you are a renewable purist, however, AES may not be for you. The company, with an eye toward shareholders, still builds coal plants, such as these two in India, if they feel it's beneficial for shareholders.
What's interesting, and somewhat unheralded, though about AES is its battery+storage business - possibly the largest in the world. As noted above, the company has storage projects in Hawaii and Puerto Rico. AES and Siemens have just joined forces and created Fluence, a joint venture with whose goal is to capture large segments of the global energy storage market. AES has an agreement with LG Chem (051910.KS) to supply much of its batteries.
AES offers investors diversity (international utility portfolio), a 4.8% annual dividend (just raised 8.3%), plus a world-leading stake in the promise of renewable power+storage. AES appears to be targeting the world through Fluence.
The future looks very promising for renewables+storage
Wind and solar paired with storage are now replacing fossil fuels on islands and other remote areas. In the mainland, storage is being used primarily for grid stability, but, as battery economics improve, the need for large gas-fired peaker plants will diminish.
Renewable energy, especially solar, goes in fast - the world's largest solar farm, 648 MW in India, was set up in 8 months. Likewise, as Tesla's projects in Australia and California show, utility-scale batteries can quickly be set up and be functioning. Utilities are beginning to see the advantages in these fast to set up power sources (a rarity in the utility industry).
With prices continuing to fall in recent years (and the trend looks to continue), this is an exciting area which is just now getting started.
Disclaimer: This is an "overview" type article. Investors looking to invest in equities mentioned are strongly advised to do more research and exercise due diligence before investing.
Disclosure: I am/we are long FSLR.
I wrote this article myself, and it expresses my own opinions. I am not receiving compensation for it (other than from Seeking Alpha). I have no business relationship with any company whose stock is mentioned in this article.