Andrew Carnegie: "Show me the cost sheets."
When Charles Schwab was discussing his very profitable business figures of Bethlehem Steel Company with Andrew Carnegie, Andrew Carnegie said:
"That's all right; those profits are very satisfactory; but let me see the cost sheets. I can tell when I see those whether we've been making improvement or not."
Schwab and Carnegie were Steel industrialists, very successful ones for that matter, who put a great emphasis on reducing the cost to produce a ton of steel as the true measure of success.
Accountants call this the cost sheet. It's the measurement of the costs that go into performing a task or producing a good or service.
Industrial engineers work from the design of the product to create the work flow and process flows to achieve the lowest end cost while not compromising the integrity of the design.
Finally, economists work to economize everything related to the costs to perform tasks utilizing these 3 components:
Time (labor) + Energy (NYSE:BTU) + Capital (money)
Productivity
The end result in improving the cost sheets (reducing the cost) is the gain in the output per hour. This acts as a counter weight to the inflationary impacts of credit creation. Standards of living rise when the output per hour of work is improved, so long that the same number of hours are worked.
One of the key factors in producing a ton of steel was the number of man hours it took. What Carnegie wanted to see was the reduction in man hours per ton of steel produced to measure Schwab's ability as a manager.
Impact of Regulations
Regulation may well have good intentions, but those intentions are countered with a cost that goes into the cost sheet.
You'll need a degree for that job now
You'll need to hire an architect now
You'll have to wait 4 months for that permit
Filing fees increased
Taxes just went up because we now have to pay for the labor to enforce the new regulations
A study was done in 2014 that compared labor productivity of industries that were more regulated Vs. industries that were less regulated and found a stark difference.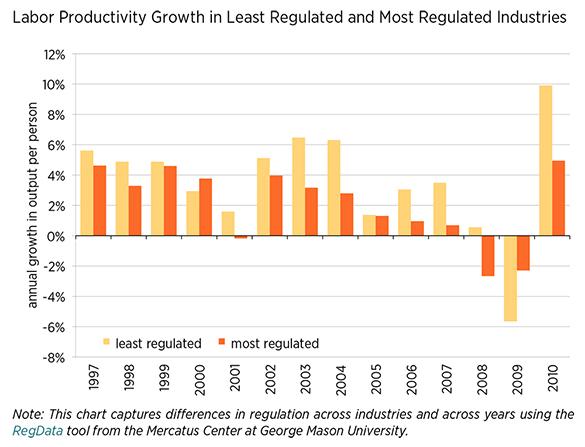 One of the costs is that it stifles productivity. Thus, by reducing regulations, the inverse will happen. Productivity will rise.
Trump Administration To Reduce Regulations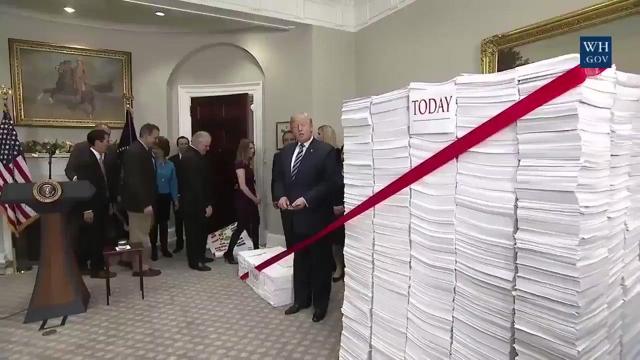 President Trump is dead set on cutting regulations. In December, he held a press conference to talk about the progress they've made thus far.
Trump stated, "Let's cut the red tape. Let's set free our dreams and yes, let's make America great again; and one of the ways we're going to do that is by getting rid of a lot of unnecessary regulation."
The goal for 2017 was to cut 2 regulations for every 1 new one. They ended up cutting 22 regulations for every 1 new one.
In the picture above, he's standing next to 2 piles of pages. One pile is 20,000 pages which represents the amount of regulations America had in 1960. The other stack is 185,000 pages, representing the number of pages of regulations we have today. Trump stated he wanted to get regulations back to levels below that of 1960 even! Perhaps that'll prove to be another one of his tall tales, but there is no doubt, regulations are being slashed.
Productivity Has Been On The Move
After having 0% productivity growth in the year 2016, so far in 2017, the average of the first 3 quarters is now 1.33%.
Looking at the chart below, we can see that since 2011, the highest level of productivity growth was in 2015 at 1.24%. This is well below historical rates of productivity.
So 2017 is shaping up to be the highest annual gain in productivity since 2010. Granted this is off of 2016 when productivity was 0%.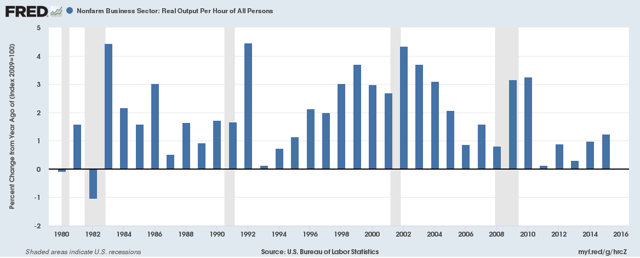 GDP to 3%+
Simply put, how we get to 3%+ growth is the aggregate hours worked X the output per hour has to be enough when added together.
This chart below compares total civilian employment x average weekly hours x output per hour Vs. Real GDP year over year % change: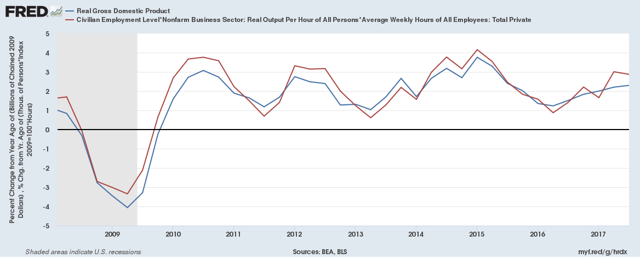 Unemployment rate is very low now at so GDP growth is going to be very dependent on productivity growth in the years ahead. So while aggregate hours may only grow 1% - 2%, productivity can grow 2% - 3% and that'll be how we can get 3%+ GDP growth.
As regulations get cut, that should help the cost sheet side of the equation. Time and capital will be freed up to do other productive tasks and that other productive tasks will help to grow in the economy.
Productivity may well surprise to the upside and add that to how the economy is going to perform with the tax cuts, then 3%-4% GDP growth in 2018 is not out of the question.
I'm looking for 2018 level of productivity growth at 2%+.
Disclosure: I/we have no positions in any stocks mentioned, and no plans to initiate any positions within the next 72 hours. I wrote this article myself, and it expresses my own opinions. I am not receiving compensation for it (other than from Seeking Alpha). I have no business relationship with any company whose stock is mentioned in this article.