All amounts in US$ unless otherwise noted.
China announced a series of ban and restrictions on importing waste and recycles from other countries, causing major havoc among North American and European countries. Waste Management (NYSE:WM) has ~10% of its 2016 revenue tied to recycling, the highest among the top 3 solid waste companies. We expect the China ban to negatively impact WM's recycling business, but the impact will likely be moderate as mitigated by tax cuts and announced capital management programs including share buyback and dividend hike.
Recap of The Event
In 2017, China announced a National Sword initiative which involves lowering the threshold for contaminants in imported material for recycling. China has long been the largest global importer of many recyclable materials. According to the U.S. Census Bureau and the U.S. International Trade Commission, China imported 776,000 metric tons of reclaimed plastic and 13 million metric tons of recycled paper from the U.S. in 2016. The total value was $2.3 billion.
However, coming July 2017, the Chinese government announced big changes in its rules governing the import of recyclable materials. Starting on January 1, 2018, China is banning the imports of 24 types of recyclables and solid waste. The move was driven by a rising awareness among the government and locals for a better environment.
The recycling materials being imported to China comprised primarily of paper and plastic. Although the new rule does not ban the import of recycled plastics and paper outright, it does limit North America's ability to export to China. The Chinese government is proposing to lower the minimum required contamination level from 1.5% to 0.5% and banning the import of 24 categories of solid waste (e.g., unsorted waste paper, waste raw textiles, vanadium slag, etc.).
The new threshold of 0.5% has been described by many in North America as impossible to meet. Many recyclers in the U.S. are scrambling to upgrade their ability to sort through the collected recycles hoping to meet the new contamination standards. The process of sorting through recyclable materials collected from households is a manual one. Typically, recyclers would have machines sort things first, and then have workers do a second, manual sort — they pick out a lot of trash from the bottles and cans. The problem with meeting increasingly stringent contamination standard is the need to significantly increase the workforce, and also slower processing times. Many have declared the new standards from China impossible and indicated other options are required to solve the problem.
Impact to the Industry
According to the Independent, "European countries export 87% of the recycled plastic collected directly, or indirectly (via Hong Kong), to China. Japan and the US also rely on China to buy their recycled plastic. Last year, the US exported 1.42 million tons of scrap plastics, worth an estimated $495m (£373m) to China." China is the largest market for U.S. exports of recycled commodities. Some estimates had China accounting for nearly 50% of all exports of recycled commodities out of the U.S. Given the significant reliance of U.S. exporters on China, the impact will be painful short term but might provide an opportunity to force social and structural changes in the long run:
"Wishful Recycling"
Wishful recycling is when people put items in the recycling cart that they think might be recyclable or should be recyclable, and they may think they're doing the right thing by not putting it in the garbage. But in fact they are making it more difficult to recycle the items manufacturers actually need. In other words, wishful recycling is actually a form of contamination for the industry. Due to the contamination caused by unwanted garbage, the recyclers have to spend significant resources sorting through garbage in order to be able to extract value from the sorted recyclables.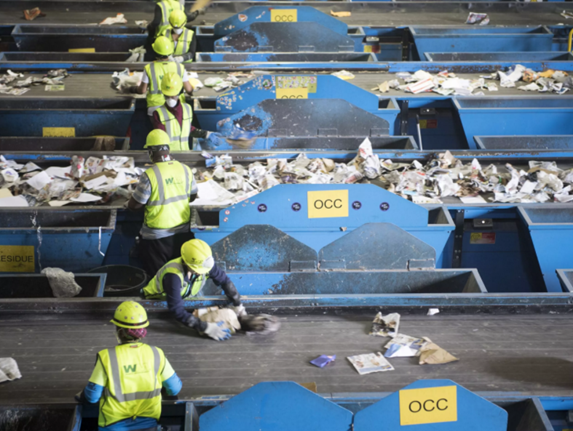 Source: Waste Management reports
Given the new Chinese rule, the industry will be forced to either find a way to lower contamination or stop taking recyclable materials from households all together. The industry is facing significant headwinds from lower pricing realized on recycled materials and significant cost involved in the operation. It is in the best interest of the government and waste management industry to reinforce correct recycling practices among the households in order for the operation to remain profitable for many industry players.
Opportunity for Risk Sharing with Government
Solid waste companies have historically relied on the profit from selling recycled materials to sustain its recycling operations. The result is significant exposure to the commodity price of recycled materials and a large fixed cost structure. According to USA Today, a study found that the average market value of a ton of mixed recyclable material arriving at a recovery facility in the state dropped from just over $180 in early 2011 to less than $80 at the end of 2015. The price has recovered to around $100 but remains significantly lower than the 2011 levels. The China ban on recycle import will certainly further pressure the current pricing. Solid waste companies should take this opportunity to establish risk-sharing mechanism with municipalities. Potential structure could be a fixed fee charged for processing recycles and a split of revenues from selling the recovered materials.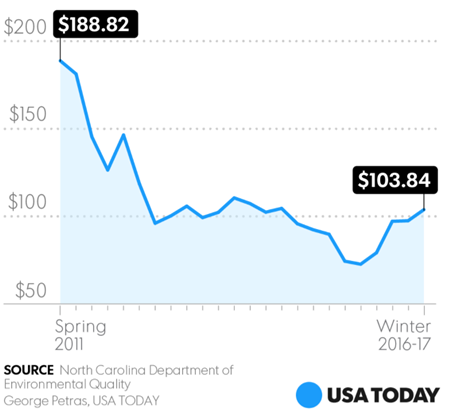 Source: USA Today
Implications for Waste Management
To assess the impact of expected pricing weakness for recycled products, we should evaluate the exposure to this particular commodity among the top 3 industry players. Waste Management has the highest exposure to recycling. In 2016, WM generated $1.2 billion in revenue from recycling, which involves both in-house and third-party recycling programs. The expected impact of Chinese ban on waste import would be most felt by WM, compared to its peers Republic Services (NYSE:RSG) or Waste Connections (NYSE:WCN), both with less than 5% exposure to the recycling. Note that for the third party portion of its recycling business, WM is able to pass through any pricing risk to the vendor through a dynamic rebate policy. WM will pay a "rebate" to vendors from whom it purchased recycled materials based on the final sale price, thereby protecting margin and limit pricing risk.

Source: BMO, company reports
Conclusion
Albeit the negative impact from expected lower pricing for its recycling business, WM will be able to mitigate part of the impact from expected tax reduction and pass-through nature of its third party recycling business. As the company just announced a 10% increase to its quarterly dividend and $1.25 billion share repurchase program, we believe the company is still well-positioned to generate strong returns for the investors in the long term. We are positive on the long-term prospect of the solid waste industry due to its defensive nature and track record of strong execution and M&A. However, we would like to use this article to raise a potential near-term headwind for WM who has a large exposure to recycling.
If you are interested in the solid waste sector, you will benefit from reading our recent article on another leading industry player: Waste Connections: Premiere Franchise in the Solid Waste Industry.