Gambling, it's your thing. Modern portfolio theory, again you're reading this article because it's your thing. The two are not mutually exclusive. Finally, volatility, the wrecking ball of all good ideas. The theme of this article is to address these three points by way of either Las Vegas Sands (NYSE:LVS) or the VanEck Vectors Gaming ETF (NYSE:BJK). While none of us own a casino, we can all get paid like one.
The real economy is accelerating at a rapid pace, and is affecting consumers in ways that haven't happened since prior to the Great Recession. Evidence is provided in the most recent Consumer Confidence Survey which states, "…consumers' expectations remain at historically strong levels, suggesting economic growth will continue well into 2018." There was a slight dip in December, but it is nothing more than that. Follow Doug Short's analysis on Seeking Alpha to get a full perspective on the significance of the consumer surveys.
The consumer is strong, but there are many outlets for consumer discretionary spending. Among the many outlets for the investor to participate in strong consumer spending, gaming provides investors with the most optimal risk/reward proposition in the investing universe. From a macro perspective, within consumer discretionary, the gaming industry benefits from real economy acceleration. This graph shows a data set that starts to explain this relationship: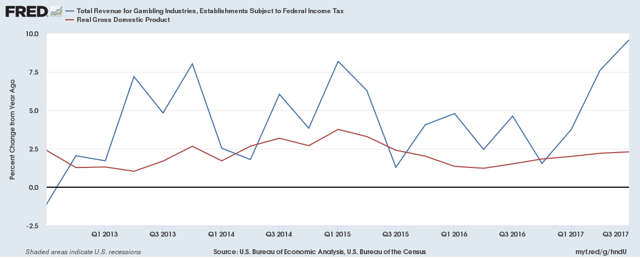 While not the full picture, notice that percent change in gaming is always higher than the change in real GDP. The acceleration since Q1 2017 of last year is quite impressive. Of course, revenue win is different than earnings, but this strategy is not a "fundamentals" play.
This is a pure gambling play. Before addressing the other two points of my theme, let's take a look under the hood of the ETF first. Keep in mind that the broader market is frothy, very frothy. Buy-side analysts are positively re-rating all equities to justify ever higher valuations. Take Las Vegas Sands (NYSE:LVS), for example. In their November 6, 2017 research report titled, Las Vegas Sands - 10% EBITDA Growth, 5% Div Yield, <2x Levered; Overweight, Morgan Stanley analysts got very creative in basing their price targets. After 17 pages of analysis, they arrived at their price target of $72 by raising the forward multiple by 10 percent. Below you'll note how they cherry pick the 15.1 multiple from a volatile data set: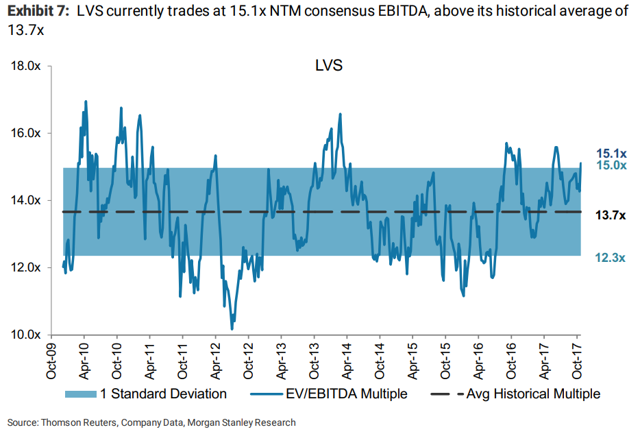 Listen, I feel sick to my stomach. Why you might ask? Because I remember when the stock traded at $12. However, momentum is what momentum does, and for the time being the stock market is momentum driven. If the market needs a story to get behind, then damn the torpedoes!
The following chart represents where LVS could continue to climb higher: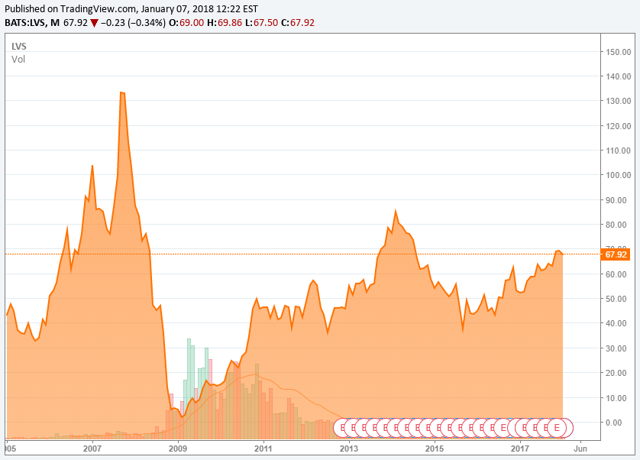 You'll see there is resistance at around 85, and all-time highs at almost the double the stock price. The stock could get to both of those levels before the party is over.
LVS is the single best representation of the broader gaming group. Sheldon Adelson, undoubtedly has his finger on the zeitgeist of world capitalism, and reminds me that President Trump, a casino owner himself, just signed into law tax legislation that will prove to be very generous to the casino space. Consider Adelson's move to approve a $3 per annum dividend, as SA analyst Howard Jay Klein points out in his article Las Vegas Sands: All In On Asia, But What About A Place Called Las Vegas?. In my opinion, the windfall tax savings should pay for that dividend increase. A real catalyst for the gaming space would be if other casino owners demanded their joint follow suit. Think of the impact on BJK should that happen. Cha-Ching!
However, this is not just an article advocating LVS. While it's good to know about the composition of a fund by studying an individual member of the holdings, I believe that the play is to invest in the VanEck Vectors Gaming ETF with its own 3% dividend yield. Here's a graph of its chart: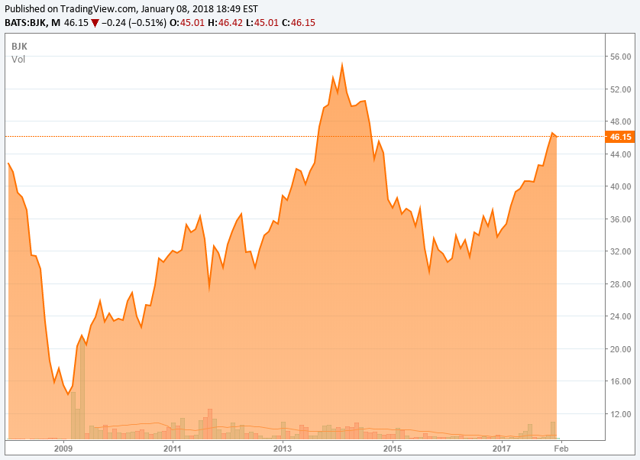 There are risks involved in owning the ETF too, as you can see that volatility is a real concern. In addition, this ETF has very low volume, so be ready to hold on with unrealized losses should the market turn negative. The real advantage to a gaming ETF is that a bad "run" in one casino is not going to hurt you as much.
The three year average beta on the BJK fund is 1.31, and for LVS is 1.87, which means that both run higher than the S&P500 (NYSE:SPY). Since smart beta is all the rage, unless you are capturing the frothy bubbles of the market, your retirement account is underperforming. In momentum-driven markets, you can add this ETF to move further up the risk/reward curve of the modern portfolio as shown in this graphic from the Wikipedia page discussing the Markowitz bullet: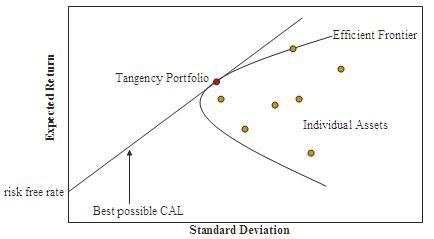 Here's more support to add BJK in your portfolio. The latest Morningstar report written was on August 23, 2012 by Robert Goldsborough. That's a long, dry spell of coverage, but I like uncrowded trades like this one (see me previous article titled, SPDR Select Energy ETF -Real Growth, Real Returns for insight into another one.) Mr. Goldsborough must have moved on, but he was on the right path when he described the fund as a "tactical holding to compliment a diversified portfolio." In other words, this is how we achieve the efficient frontier.
Here's more color insight from Goldsborough: "Investors might think of this ETF as a way to tap into the growing worldwide middle class with increased disposable income and a taste for spending that income on games of chance. The ETF requires that constituent companies generate at least 50% of revenues from activities directly related to gaming. Most of the 53 companies in this ETF operate casinos and other sports-betting venues or manufacture and sell gaming equipment and technology to other industry participants. Many investors may find that secular global trends that favor gambling--coupled with resurgent growth in Macau and in Singapore--could make this an ETF worth owning."
There is no question we're in a risk-on environment, and as my dad used to say, "the casinos are the front lines of risk-on." Is this trench warfare? You betcha! We need to grab as many dollars from this momentum market as we can and then get out with those gains locked into cash. According to Lisa Shallot in her December 18, 2017 Morgan Stanley Update for the Global Investment Committee titled Diversify Beta, Concentrate Alpha, she sees this market rallying in the first six months of 2018. Putting that in language that we're familiar with as traders, sell in May and stay away, is firmly in-tact.
Disclosure: I/we have no positions in any stocks mentioned, but may initiate a long position in BJK over the next 72 hours. I wrote this article myself, and it expresses my own opinions. I am not receiving compensation for it (other than from Seeking Alpha). I have no business relationship with any company whose stock is mentioned in this article.