Dividend growth investing is one of the most popular communities on Seeking Alpha. While I have cautioned readers that chasing the highest available yields can lead to underperformance, buying companies with the financial wherewithal to consistently hike dividends over multiple business cycles has been a long-term source of alpha. Investing in the Dividend Aristocrats in not a particularly high dividend strategy, but owning the underlying companies has delivered risk-adjusted outperformance over time.
The S&P 500 Dividend Aristocrat Index, replicated by the ProShares S&P 500 Dividend Aristocrats (BATS:NOBL), produced a 21.8% return in the first half of 2017, slightly trailing the market on the year despite an underweight to the high-flying tech stocks that drove gains for the S&P 500 (SPY) last year.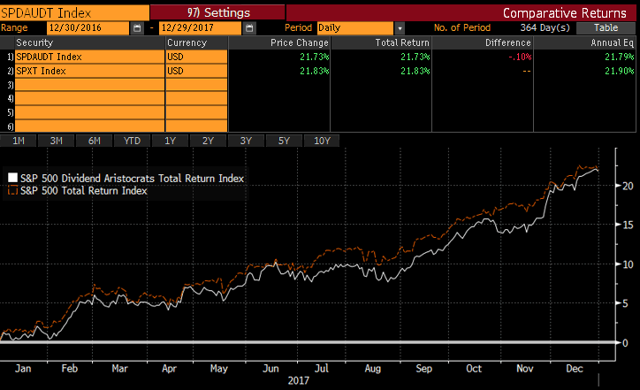 In a period stretching back nearly 30 years, the Dividend Aristocrats have produced market-beating performance with less variability than the broader index. The cumulative return series of this group of dividend growth stocks is graphed against the benchmark below, capturing the long-run outperformance of the strategy. The Dividend Aristocrats have outpaced the S&P 500 (NYSEARCA:SPY) by 232bp per year, nearly doubling the cumulative market return over this time horizon.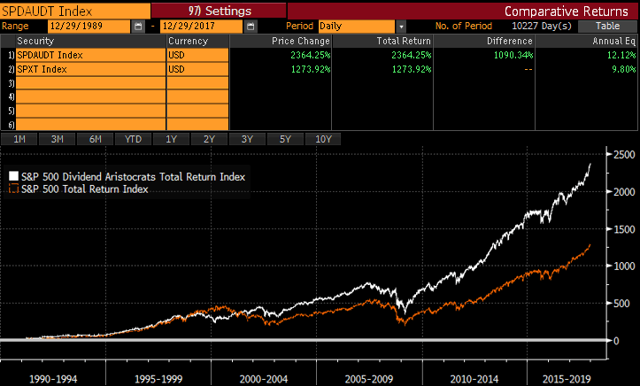 This index measures the performance of equal-weighted holdings of S&P 500 constituents that have followed a policy of increasing dividends every year for at least 25 consecutive years. This underlying index has generated this long-run outperformance with only four-fifths of the historic volatility of the broader market. These index returns are inclusive of reinvested dividends.
Downside Protection
Notably, the Dividend Aristocrats outperformed the S&P 500 in every down year for the broad market in the sample period, gleaning part of its outperformance through lower drawdowns in weak market environments. Below is a table of returns for the S&P 500 Dividend Aristocrat Index and the S&P 500.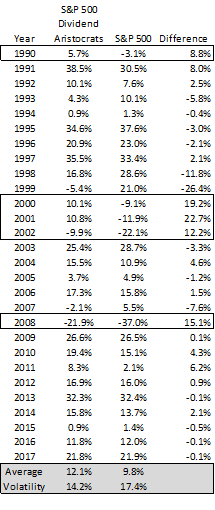 Upside Attainment
In the five down years for the S&P 500 since 1990, the S&P 500 average return was -17.6%, but the Dividend Aristocrats fell by an average of just 1.9%. The S&P 500 has risen in 23 of 28 years, producing a 16.9% average annual return in those years. In those same years, the Dividend Aristocrats have produced a 15.4% average return. That is a pretty good story, in down years for the broad market, you lose 2%, but in up years you produce 15% returns.
That positive skew can be seen in 2017. For the last several months, I have been putting together a period update on the performance of the Dividend Aristocrats in an attempt to glean themes that may help dividend investors spot opportunities. In December's version, I illustrated that there were more companies that produced annual returns of greater than 40% in 2017 (10) than companies that produced negative returns (7).
The business model of Dividend Aristocrats must be inherently stable and produce continual free cash flow through the business cycle or these companies would not be able to maintain their record of paying increasing dividends for decades. While this means that these companies are prone to lower drawdowns, they can still generate strong total returns as we saw in 2017.
Looking again at the historical annual returns of the strategy, another notable factor of the Dividend Aristocrats strategy is that when it underperformed the S&P 500 by the largest differential (1998, 1999, and 2007), the market was headed towards large overall losses. If the Dividend Aristocrats begin to meaningfully underperform in 2018, it could be a signal that the bull market is over-extended.
Disclaimer: My articles may contain statements and projections that are forward-looking in nature, and therefore inherently subject to numerous risks, uncertainties and assumptions. While my articles focus on generating long-term risk-adjusted returns, investment decisions necessarily involve the risk of loss of principal. Individual investor circumstances vary significantly, and information gleaned from my articles should be applied to your own unique investment situation, objectives, risk tolerance, and investment horizon.
Disclosure: I am/we are long NOBL. I wrote this article myself, and it expresses my own opinions. I am not receiving compensation for it (other than from Seeking Alpha). I have no business relationship with any company whose stock is mentioned in this article.