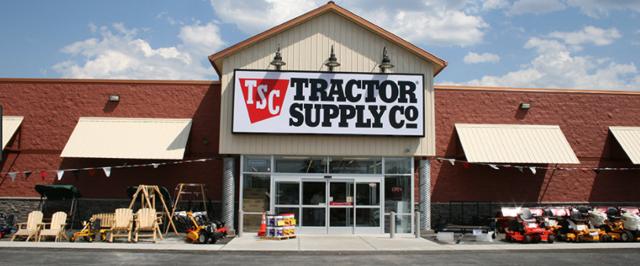 Tractor Supply (TSCO) has been on fire of late. The stock bottomed in July and while it rallied quickly to $63, it almost as quickly fell back to $54. Since that time, however, it seems the bears have run and hid for cover as TSCO is making new 52-week highs near $80 after an epic rally. The problem is that we've seen this before from TSCO and these gargantuan moves higher generally don't end all that well. With the company's Q4 report due out in a couple of weeks and a chart that looks parabolic, the odds of a sell-off are high and an earnings report is a prime catalyst to set it off.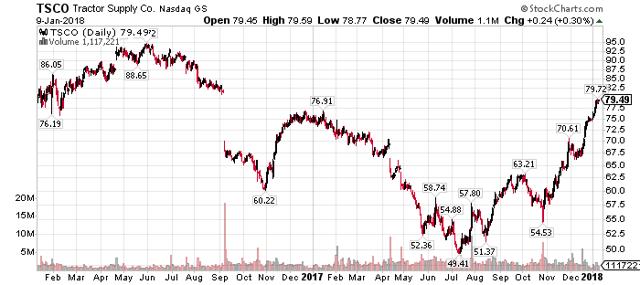 We've seen this before
Tractor Supply was once a hot growth stock as it was producing blistering comp sales gains along with new stores that afforded it double-digit revenue gains and very happy investors. The problem is that the valuation was completely out of hand back in 2015/2016 and the stock was hammered for it once its comp sales numbers started slowing down. Investors punished TSCO big time into this year, but now we appear to be repeating the same cycle.
Fundamentals don't support the rally
The first three quarters of this year have been okay, but TSCO is certainly not what I would call a top tier retailer. The company has carved out a nice niche for itself in a bit of a quirky segment of retail and that's fine; there was a need and TSCO is filling it. But the current valuation is pricing in levels of growth that are simply difficult to believe despite the fact that TSCO has given us absolutely no reason to think that growth is coming. Irrational exuberance has returned and leading up to an earnings report, that can be dangerous for longs.
Total sales have grown 9% so far this year but the vast majority of that is from new stores. Comps have come in at 2.2% after a 1.1% showing in the same period last year. These numbers are fine but hardly amazing. Yes, general line retailers have had a hard time but the consumer spending freeze has been thawing for a while, so I don't find TSCO's results to be overly impressive. And as we know, new stores from openings and acquisitions are necessarily finite; that is why comps are watched so closely. To be clear, I'm not saying TSCO's comps are inferior but I am saying that when a stock has rallied the way this one has, there has to be something extraordinary driving it or it won't last long.
The problem is that TSCO's margins remain weak and in the face of ho-hum comps, there really isn't anything left. Gross margins are basically flat so far with Q4 pending; TSCO's merchandise is so diversified and varied that gross margins really don't move one way or the other. That's fine for stability but it removes a key point of growth potential many retailers possess.
In addition, SG&A costs continue to rise as new stores keep opening and that line item has actually deleveraged 60 bps thus far. We'll see what Q4 shows us but the point is that TSCO has decent comps and negative margin growth, meaning that net income in dollar terms for the first three quarters of 2017 was actually lower than the same period in the prior year, despite a 9% increase in revenue. That's ugly, my friends.
The stock is very expensive yet again
Contrast that with a price tag of 21 times next year's earnings as well as a vertical rally heading into an earnings report and you've got a recipe for a sell-off. Analysts have EPS growth doubling the rate of revenue growth next year, which is curious considering that TSCO has little to nothing in the way of catalysts for such a thing to happen. Either TSCO needs to massively increase its comp sales or it needs to suddenly find a way to boost margins despite the fact that it has shown no ability to do so. I don't know what TSCO is going to report for its Q4 but I do know one thing; the odds of disappointment are very high given the setup I see right now. TSCO isn't that strong in the first place but the sheer pace of this rally should have bulls on edge. If you've been fortunate enough to own TSCO during the rally, consider taking some off the table before the report later this month.
Disclosure: I/we have no positions in any stocks mentioned, and no plans to initiate any positions within the next 72 hours. I wrote this article myself, and it expresses my own opinions. I am not receiving compensation for it (other than from Seeking Alpha). I have no business relationship with any company whose stock is mentioned in this article.